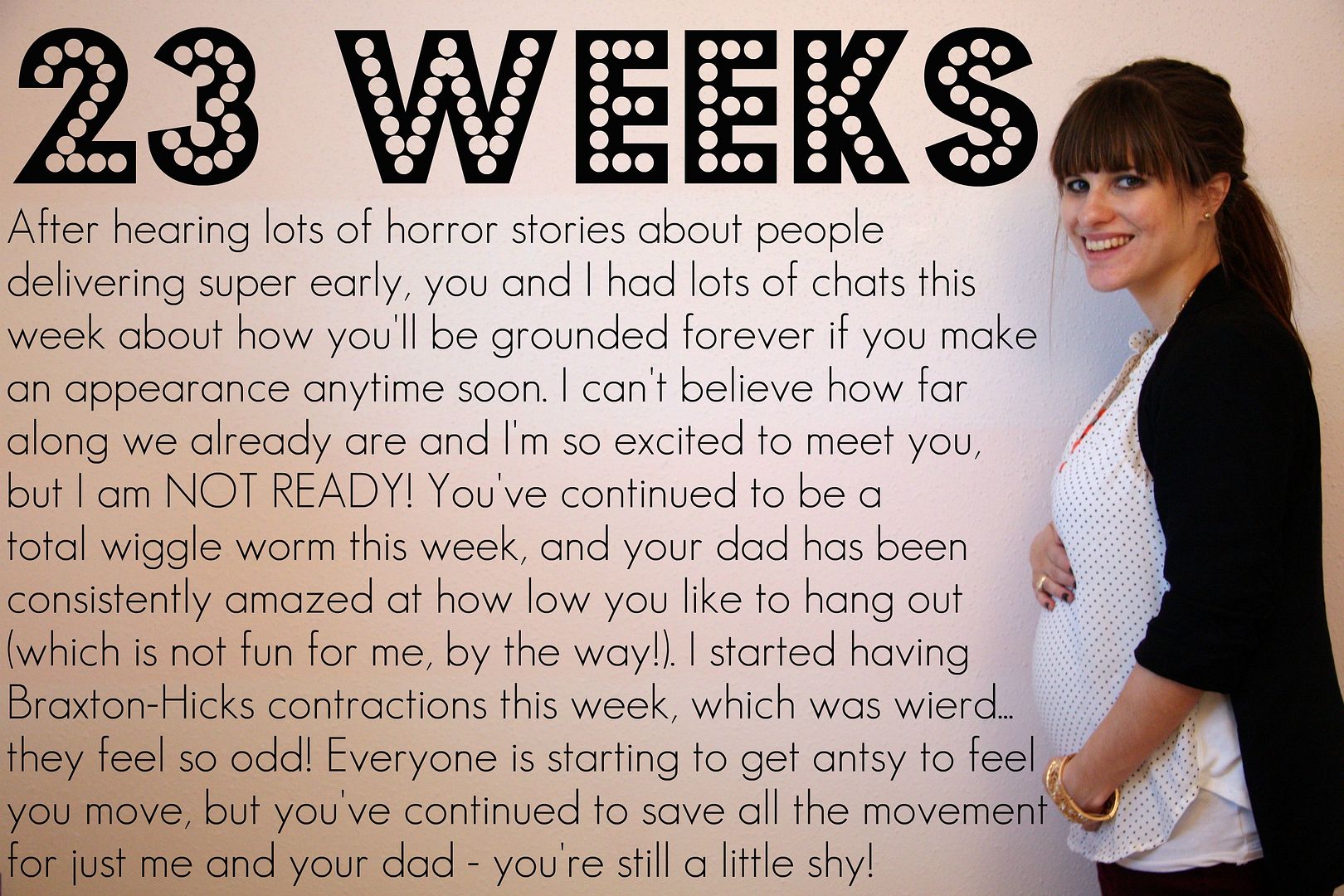 How far along? 23 weeks!
Size of baby: This has been a really lame stretch of fruit comparisons for the last few weeks – apparently he's the size of a grapefruit, but I've been focusing on actual measurements more lately. Everything says that he should be about 11 inches long and a little over a pound. He's getting so big!
Mater­nity clothes? Still in lots of maternity pants, but mostly my regular shirts for now. Leggings have been my best friend lately, and I'm dying for the cold weather so I can break out my scarves and boots!
Sleep: It was iffy this week – I had a cold still all week long, and that definitely affected my sleep! I can't take medicine during the week because the only cold medicine I'm allowed to take completely knocks me out and there's no way I can function at work the next day…so there were lots of sniffly nights! Thankfully it seems to be getting better, so I'm hoping sleep this week will be easier.
Movement: Still tons of it – he's pretty quiet during the day, but when he does kick it's mostly inward…he likes to kick organs during the day! But at night (and first thing in the morning) he flips around and kicks towards the outside so Corey can feel!
What I miss: Being sick and pregnant at the same time is no joke…I took the cold much harder than I would have normally, and it has taken me a lot longer to get over! I miss being able to bounce back quickly and not being so affected by a little thing like a cold!
Cravings/Food aversions: Nothing in particular this week, but my appetite was bigger than usual – Monster must be going through a growth spurt!
Other Symptoms: Still lots of nesting urges, and I had my first Braxton-Hicks contractions! I think I've actually been having them for a couple of weeks now, but I just this week figured out what they are. They are very weird, and I am definitely not used to them yet. Corey got to feel my stomach once when I was having one and he was amazed at how hard it was – we're both totally fascinated by all of these crazy little things that happen during pregnancy!
What made me cry this week: Stress, sickness, and exhaustion – nothing too crazy.
Favorite moment this week: One night Monster was hanging out in a really strange position and Corey and I were able to feel exactly where he was. It's almost impossible to describe, but I was resting my hand on my stomach and suddenly realized there was a very hard spot in the center that just had to be a head or other body part. I pressed it a few times to be sure and it was definitely Monster! He stayed there long enough for Corey to feel it for a few minutes – I think he was asleep, because he didn't move despite lots of poking and prodding from us! We were both pretty awestruck by being able to feel him so clearly – it's pretty amazing!