Okay, before I talk about anything else, I have one important piece of news to get out of the way.
WE BOUGHT A HOUSE!!!
We're so incredibly excited about it, and I have a ton to share about the whole process. The only problem is that I may or may not have accidently left our camera at Corey's parents' house in Austin (hint: I totally did). Luckily, I'll have to make a trip back to Austin later this week for our inspection, so I'll pick it up when I do and then I can share all the gory details.
But until then, I have plenty of other things to talk about, as long as you can excuse the crappy photo quality, since I'll be taking photos with my little point and shoot.
Let's start with the plethora of chairs that have suddenly found their way into our lives.
Yes, those of you who guessed that we bought the gorgeous chairs from last week's Friday Finds were correct. They were a great deal and we couldn't pass them up. Of course, now they're just sitting in our guest bedroom mocking us because we're totally terrified of them.
There they are. Just teasing me.
Unfortunately, they're going to have to sit and tease us for a while longer – we promised ourselves we wouldn't touch them until after the big move, so we can make sure that we know what we want to do with them and where we want them to go before we make any changes.
But, these aren't the only chairs that have entered my life lately.
There's also this guy:
Where did I get him, you ask? Not on Craigslist. Or in a thrift store.
Nope. I got him from our neighbor's curb.
Yeah, I'm one of those people. I was driving home from work one day last week and I spotted this cute little chair sitting on the side of the road. I shot off a quick text to Corey to make sure he wouldn't kill me if I brought it inside, then I ran out and grabbed it!
And the story gets better – later that night, I was browsing DwellingGawker, and I saw this photo from Design Sponge:
Look familiar? This even happens to be the exact color I plan to paint my chair!
Oh, but it gets even better. THEN, I found this on Crate & Barrel's website: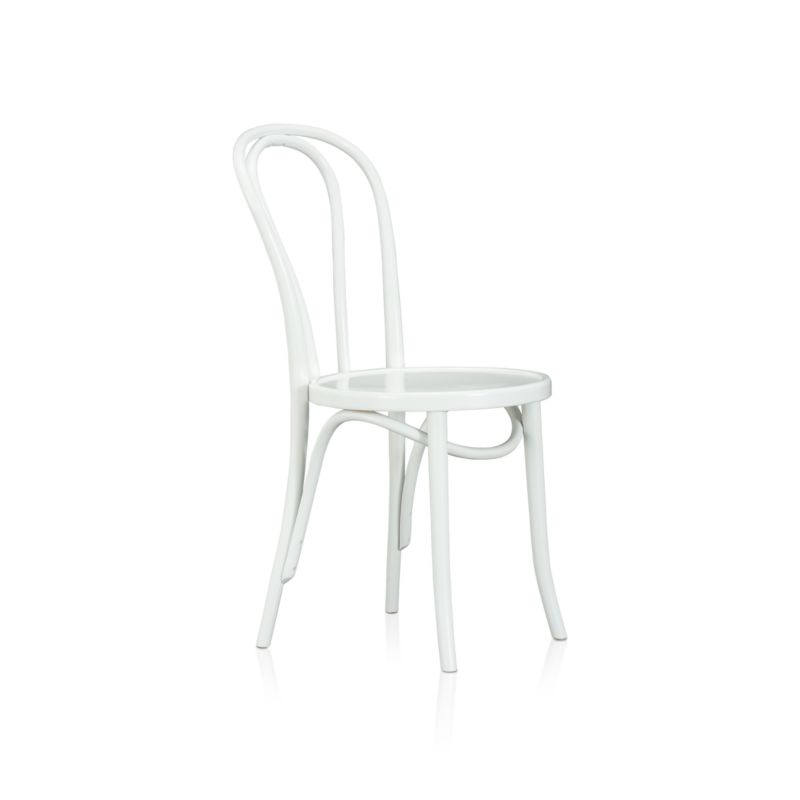 It sells for a whopping $119. After a little more research I found that it's an extremely popular chair design, and usually sells for a pretty good amount of money. And I got mine for free! Hopefully I can get Corey to sand it for me within the next few days so I can make it shiny and new.
I think it's safe to say that I'm proud to be a curbside-furniture stealer.
Have you ever grabbed discarded items off the curb? I'm addicted now!
Like this post? You might also like...