Stats: At his two-month appointment, Jackson weighed 11 pounds, 7.5 ounces and was 24.25 inches long – he's "long and lean," as our pediatrician put it!
Clothing size: We made it into 0-3 month clothes this month, but some of them are still a bit big on him!  I packed up most of his newborn clothes this month, but he still has one or two newborn onesies that fit! He's still in size one diapers, and it looks like we won't be moving up for at least a few more weeks.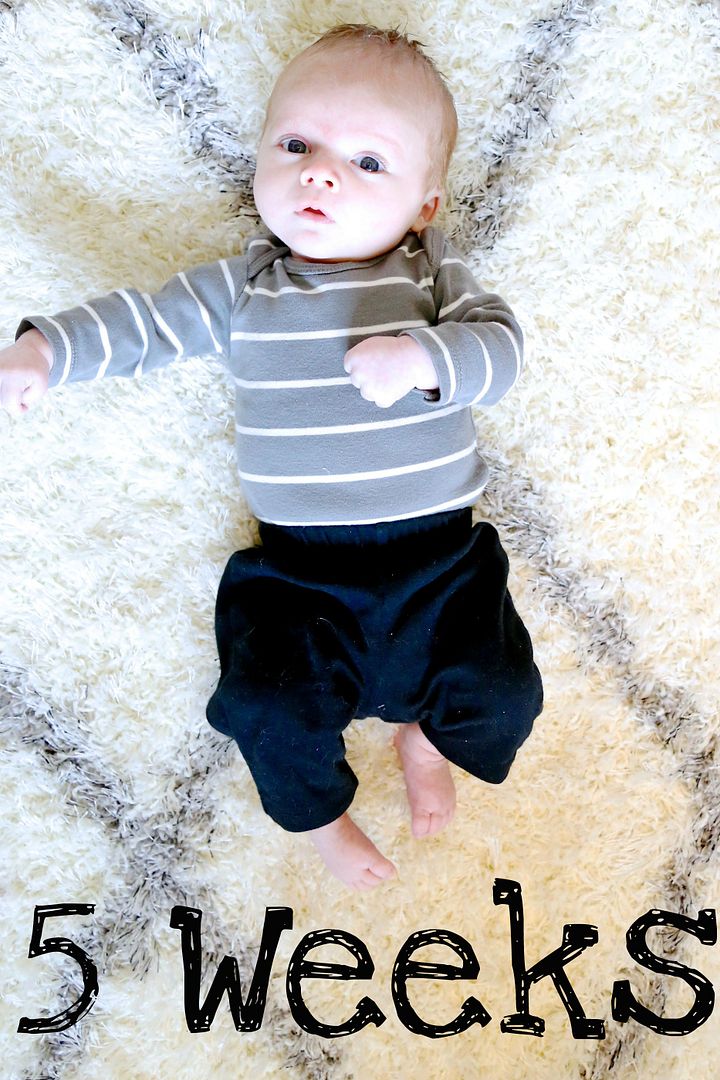 Sleep: Jack is a rock star sleeper! At night we usually put him down between 8 and 9, and he sleeps until anywhere from 3:30 until 6:00 depending on the night! He's consistently only been waking up once a night since right at 5 weeks, and he's slept all the way through the night three or four times now. He's not as awesome at sleeping during the day, but we aren't complaining! He sleeps in his crib all night, but we're still having a hard time getting him in there consistently for naps – he'd much rather nap on us!
Eating: Still breastfeeding – though we've had a few struggles, we're pushing through and going strong. Jackson does great taking a bottle at daycare, and I get to go feed him once every day during my conference period, which we both love.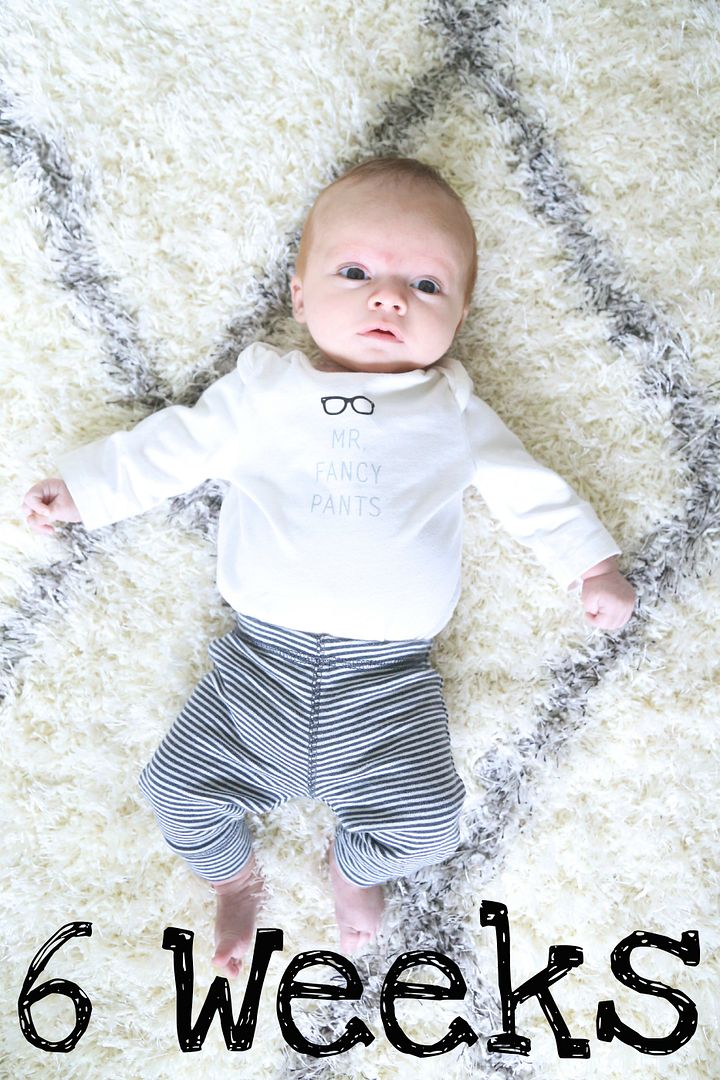 Milestones: Smiles! So many smiles! I love watching his face light up, and he gives us these huge gummy grins. It melts my heart. He's also been cooing a lot over the last couple of weeks, and he's starting to "talk" back to us when we talk to him. He's becoming a lot more interested in the toys on his play mat, though they don't hold his attention for more than a few seconds yet. He's also getting really good at putting himself to sleep at night – when I lay him down for the night he's usually awake, and he just hangs out until he falls asleep, which is huge!
Things we want to remember: We learned how easily Jackson can be over-stimulated this month when we tried to take him to a really noisy restaurant a couple of times. It was a complete disaster, and we'll definitely be skipping out on the loud restaurants for a while. I never want to forget how cuddly and sweet he is right now, and how much I love snuggling with him while he naps.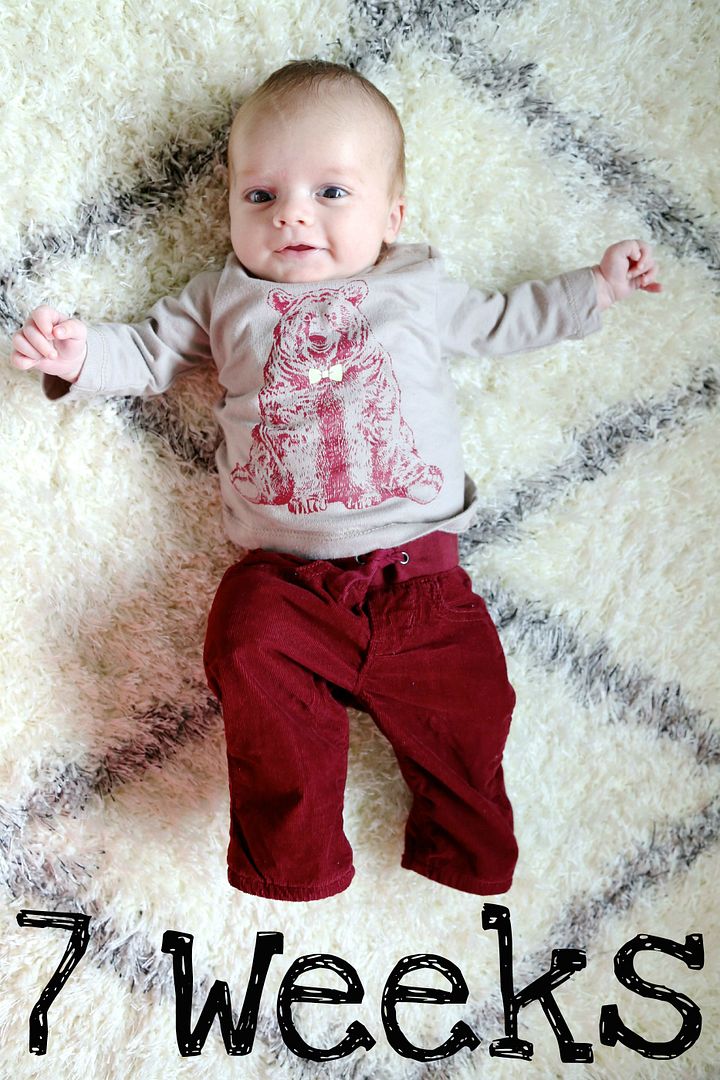 Special outings or adventures: Jack went to church almost every week this month, and we went out to celebrate his Aunt Jennifer's birthday. His Uncle Jeff came to visit for spring break, and Jackson started daycare this month. It was a busy month!
Favorites: Jackson loves to play the "tongue game" where we go back and forth sticking our tongues out at each other. It makes him smile every time! He also loves the Moby wrap and his bedtime routine…they both calm him down almost instantly. He's always all smiles when we are on the changing table, too – something about it seems to make him happy! Bath time is another favorite – he loves having the water poured on his chest and splashing in the water. He'd stay in there all day if we'd let him! We love cuddling with him and how much more focused he is lately. We adore getting smiles from him and are so excited that he's starting to coo a lot more and be more interactive.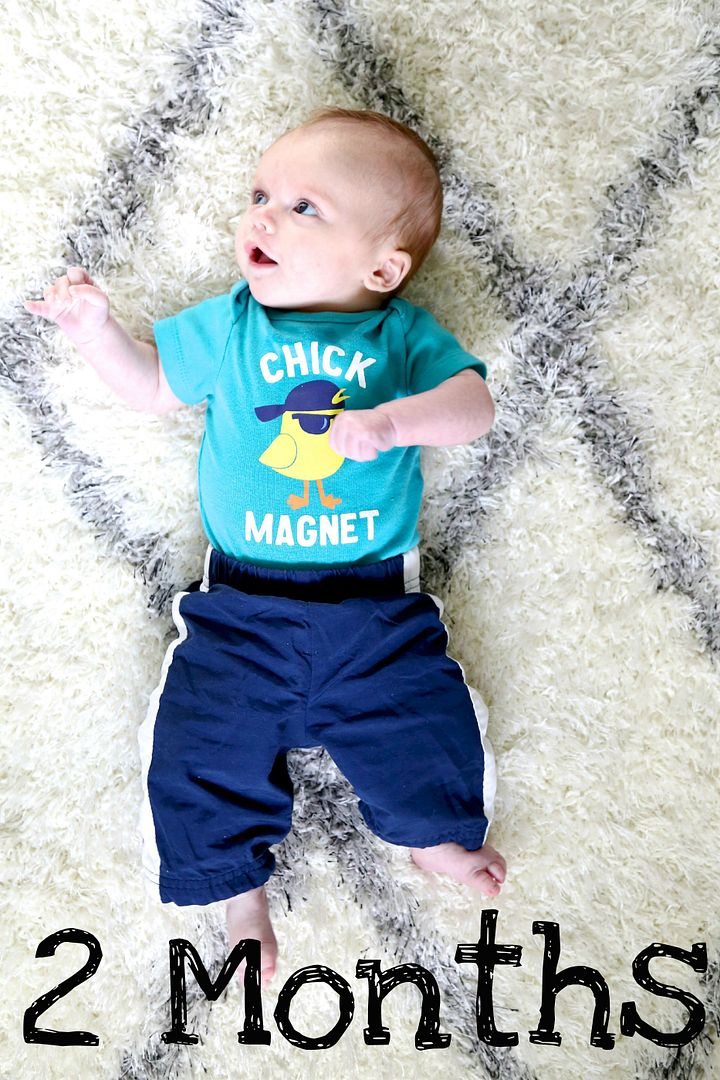 What we've learned: We've started to learn his cries and what they mean, and we're learning that sometimes Jackson just wants to be left alone. We're learning what works and what doesn't with our new life, and we're getting better and better at going places each time we do it. We are continually amazed at Jackson's new developments and how he's growing – it is so fun to watch him change and grow over the weeks!
Like this post? You might also like...