I know it's a cliche thing to say, but I can't believe Jackson is already a month old. How did that happen?
So much has already changed in our last four weeks with him and I don't want to forget a second of it. I originally considered writing a little update with notes for him every week (I was just going to keep it for myself, not share here) but that seemed just a little excessive (and time consuming!) so instead I am going to share a little update every month of the changes we've seen and how he's doing. Get ready, because it's going to be fascinating!
(I also have to note, I wrote this about a week and a half ago, right when he turned one month old, and SO MUCH has already changed since then! He's giving social smiles, 6-7 hour stretches of sleep consistently, and I swear he's getting bigger every five minutes. It's so amazing how quickly things change with a baby!)

Stats: I don't have official 1-month stats because our scale at home is wildly inaccurate, but at 3 weeks, Jack was 9 pounds, 3 ounces and 21 inches long. I'm sure he's grown a bit since then, but that's probably pretty close to where he's at! 
Clothing size: Jack is still pretty solidly in newborn clothing. For most of this month, we had to put him in the smaller newborn clothing (like from Carter's, since their clothes tend to be slimmer and longer), but now he's starting to fit into the "bigger" newborn clothes (like Target's Circo brand), though some of it is still pretty boxy on him. I think over the next few weeks we'll be able to phase out some of the newborn clothes and bring in some 0-3, but at this point he hasn't outgrown anything yet, and all of our 0-3 clothes are comically big. He did, however, move into size 1 diapers this past week, which was a little bit heartbreaking for all of us. 
Sleep: I find it amusing that everyone asks us how he's sleeping, almost as if they expect me to tell them it's going well. He's a newborn – their sleep schedule is crap! Sleep was pretty sporadic most of this month as he adjusted to life on the outside, but now he's settled into a routine of waking up for the day around 7:00, staying awake until 9:00 or so, then napping on and off throughout the day (he typically naps in 2-3 hour chunks for most of the day, with brief awake periods to eat) and then staying awake from about 5:30 until bedtime at 8. We start our bedtime routine at 8:00 (and he's already very reliant on it!) and he's usually down for the night at 9:00. From there, it's anything from 2.5-3.5 hour stretches, though he's given us a few 4 hour stretches and even one 5 hour stretch!
Sleep has gotten a lot better since we got him on a solid routine of medicine for gas and reflux, and since we gave up on having him sleep in the crib and let him sleep in his Rock 'n Play (though he took a nap in the crib recently, so we may be able to start moving back into it soon!). We learned recently that Jackson is a huge Dashboard Confessional fan (just like his mom!) and sleeps 100 times better if we blast their music on the iPod dock in his room all night long. He liked the white noise machine we were using before, but this is much more effective so we're sticking with it. It's pretty amazing – if I start singing "Hands Down," his eyes are droopy before I even hit the first chorus almost every time!
Eating: Like a champ! We're breastfeeding (with some pumping for bottles to get him used to them for daycare) and we haven't had any major issues with it beyond the initial adjustment period. He is getting more efficient and our feeding sessions have gone from 45-60 minutes per session to right around 15-20 minutes (except for the last one before bed, where he insists on eating from both sides and typically takes about 40 minutes).
Milestones: Other than being born? He's getting pretty good at holding up his head and turning it from side to side, though he still isn't a fan of tummy time. His grip has improved dramatically over the last few days and he's pretty much constantly got a fistful of my hair in his tiny little hands. We have noticed over the last week or so that he's much more aware and is checking out the little mobile in his bouncer, studying our faces much more intently, and I'm pretty convinced we are on the verge of getting social smiles any day now!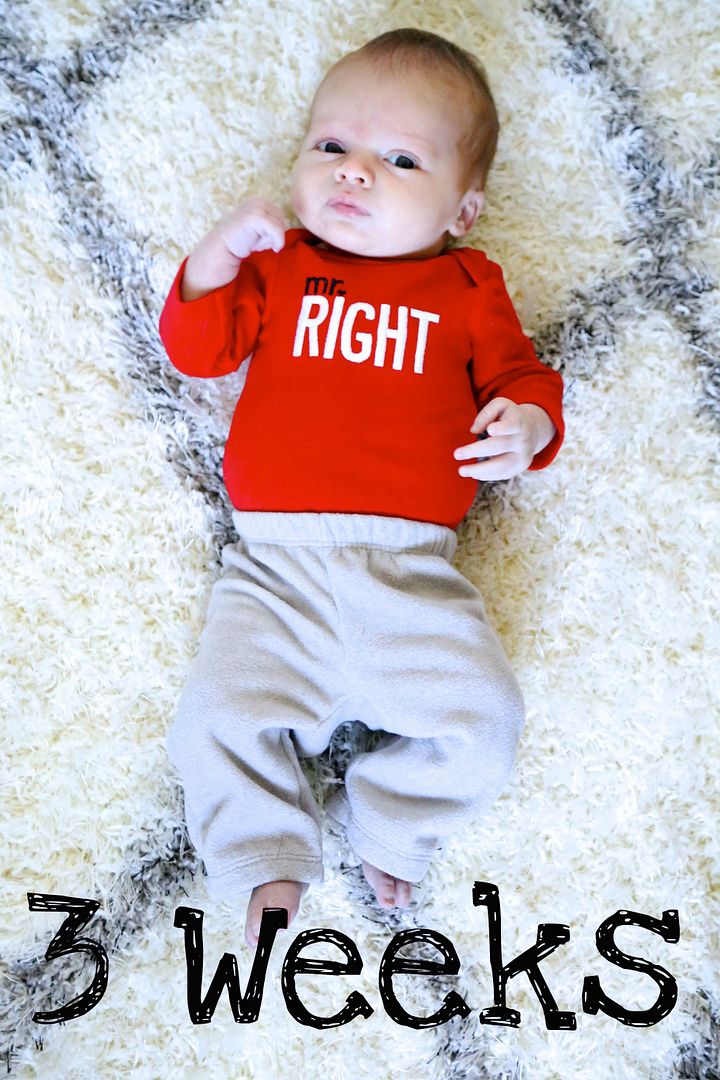 Things I want to remember: He loves to suck on the side of his hand, though I'm trying to discourage that (I was a thumb sucker!) so we push the pacifier. He loves it, and my favorite thing he does is when he's so excited about the pacifier that he opens his mouth really wide and dramatically shakes his head back and forth. I call it his rabid monkey face, because he looks a little crazy. It's not as cute when he does it while breastfeeding.
I also never want to forget how magical it has been to have Corey home the entire first month of his life. We originally had only planned on having him home for two weeks, but decided to extend it to 4 1/2 weeks and it was one of the best decisions we have ever made. I feel like we have truly been a team and we have really been able to learn everything together. I think it's given both of us a lot of confidence as new parents to be able to do this together for so long, and I'm so grateful he was able to be here as long as he was!
Special outings or adventures: Nothing too exciting this month, though we weren't shy about taking Jackson out in public. We kept him covered up and in his carseat (since it's the height of flu season!) but neither Corey or I are very good at being cooped up in the house for long, so there were lots of Target runs and trips to restaurants. Jackson is great when we go out and typically just naps in his carseat, which we are so grateful for. He had his first trip to church this month, and I had my first solo trip out with him when I brought him to Starbucks with me to meet up with a few of my friends.
Favorites: Jack's favorite things right now are cuddles with either of us, sucking on his pacifier, and sticking his tongue out. Our favorite things are letting him sleep on our chests, watching him make faces, and just generally staring at him in complete awe of how lucky we are.
What we've learned: So much. We've learned patience. We've learned how to work together better than we ever have before. We've learned how to survive on very little sleep. We've learned that growth spurts are awful. We've learned how incredibly difficult (and equally rewarding) parenthood is. We've learned that we still have so much to learn.
Like this post? You might also like...