Alternate titles for this post:
Furniture Jenga
Why Won't All My Furniture Fit in My Room?
We Were Super Excited About This Chair, Then We Realized It DOESN'T FIT
How To Squeeze More Furniture Than Necessary Into Your Bedroom
Can you sense the frustration?
Let me back up and explain.
A few weeks ago, when I took you on a quick tour of my mother-in-law's house, I mentioned that there was a pretty, light blue chair in her master bedroom that she had promised to us in the near future. Corey & I have been in love with that chair for quite a while now, and we've been itching to get our hands on it ever since she mentioned that she had plans to get rid of it.
So, you can imagine our excitement last week when she left a message on Corey's phone letting him know that she dropped it off in our garage while we were at work. We couldn't wait to get it in our room – and we already had the perfect set-up for where it would go all planned out in our heads.
As soon as we had a few spare minutes to do some furniture rearranging, we carried the chair upstairs and excitedly got to work. The plan was to take this dresser that sits in a corner of the room:
(Apparently I don't have a better photo of this dresser from before – oops!)
And move it to underneath the television (which is currently what could easily compete for the most-embarrassingly-ugly-spot-in-our house).
Then, we'd plop the chair in the corner, maybe add a cute table, and call it a day.
We pulled the dresser out of the way and put the chair in place – looked good! We agreed that it needed a table, so we started playing around with some options. First, we tried the most obvious solution – the white sewing table that had been under the television.
(Note: Please excuse the quality of the photos in this post. They were all taken on Sunday afternoon, and I forgot how the time change would affect my lighting conditions! Also, you'll see in the rest of the photos that the room is very messy…I was about to wash the sheets, so, um, yeah. Our room isn't always clean – welcome to reality!)
Yeah, it didn't work. The table was way too tall, way too large, and just didn't look quite right. So, not an option.
Next up we tried one of our bedside tables. We've been contemplating replacing them (we still love the look, but they're a bit small for us), and they're a perfect size for this little nook, so we figured it could be perfect.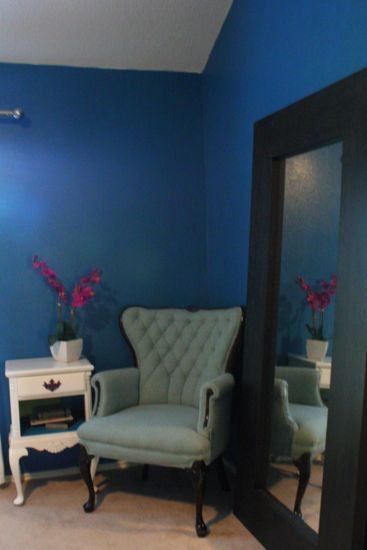 Only, as soon as I got it in place I felt like I had been transported into my grandmother's house. Having two pieces right next to each other with such vintage-y lines (the chair and the nightstand) just wasn't working for us, so that option was out too.
Next up? The turquoise table that used to live next to our couch.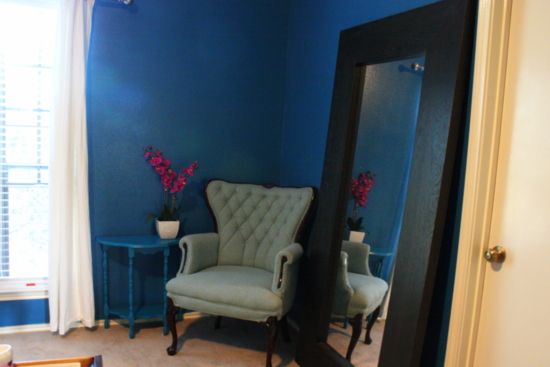 It worked (as long as we painted it a different color, of course), but I still wanted something a little more modern. It was definitely the best of our options so far, and I began to think of some fun options for painting it (white with gold dipped legs?), so I thought it might be the right solution.
Just for good measure, I decided to see what our little laundry basket would look like over there – it would bring in some wood tones and some new textures – and I wanted to make sure I looked at all of my options before making a decision!
I liked the wood tone and texture, but it definitely wasn't the right combo.
So, with the chair corner somewhat figured out, I moved my attention to the dresser.
And that's where the problems began.
I put the dresser where we had planned on putting it (under the television) and while it looked fine from the front…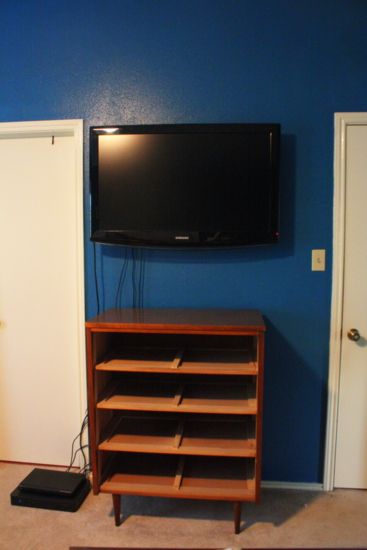 We had a problem from the side.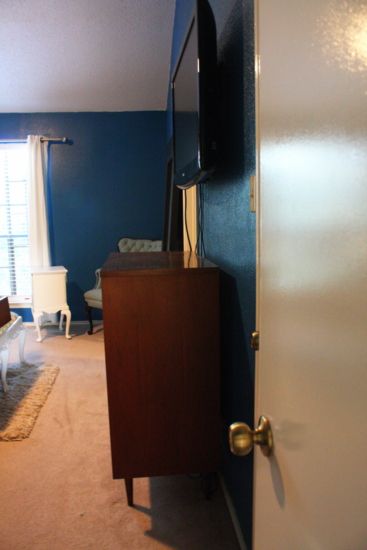 This is the view that you would see immediately upon walking into our master bedroom. Definitely not welcoming. We could possibly get past the dresser-in-your-face when walking in the room, but in addition to that we had the major problem of how far it stuck out from the wall because of the outlet right behind it that has a power strip plugged into it. It's hard to tell in the photo, but it's away from the wall by a good two or three inches, which looked seriously awkward in person.
Not. Gonna. Work.
I was determined to have the chair in that corner, though, so I needed to come up with a better place for the dresser. I sat in the room and stared at it for what felt like forever, and I just couldn't come up with a good solution. I tried it by our bed…
…and it actually didn't look awful, but it was a bit awkward to have a nightstand on one side and a tall dresser on the other, and it wasn't very functional (I actually use my nightstand, so getting rid of it wouldn't be great).
There really wasn't any other good place to put it (I wanted to put it in the trash can at this point, but since it's full of my clothes that wasn't really a viable option), so I tried putting it back in the corner with the chair.
It actually looked pretty cute from the front…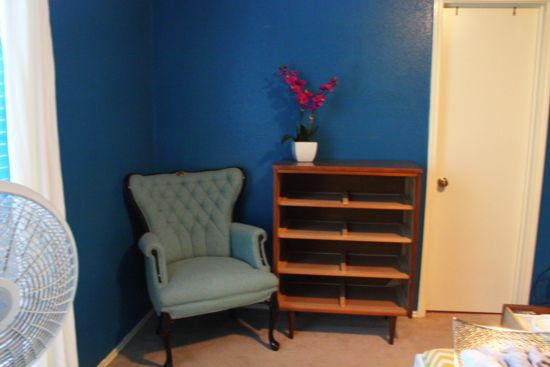 But when you went back to the entering-the-room viewpoint, it just looked strange and awkward.
At this point, I was completely out of ideas, so I just gave up.
No, I didn't throw the chair back in the garage and pretend it doesn't exist (although, I seriously contemplated that option). I decided that maybe this particular corner of the room wouldn't work for the chair, and I decided to try it somewhere else.
The only other viable option in our room currently for the chair was the corner next to my side of the bed. It's a bit cramped, and it's next to my bedside table so there's a tiny bit of the grandma vibe, but the super modern bed and accessories cancel it out enough to make me happy.
And, of course, the dresser is just going to stay in its little corner where it doesn't have to worry about playing nice with the rest of the room. But, I figured since I was already moving it around I would shift it so that it sat flush against the wall rather than being set at a diagonal. It had been bothering me ever since we brought the full-length mirror up to the bedroom, and I thought I'd like it much better if it wasn't sitting at an angle. And I was right.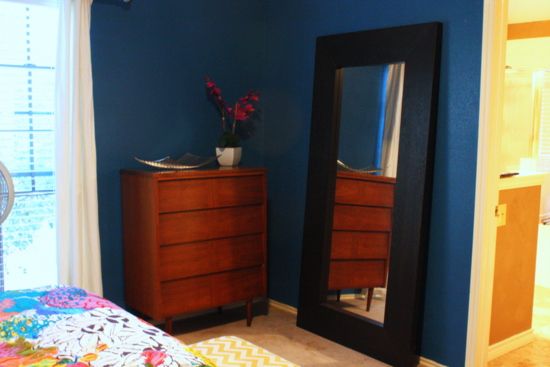 Oh, and while I was at it, I decided I should probably go ahead and make the bed so you can see some true "after" photos.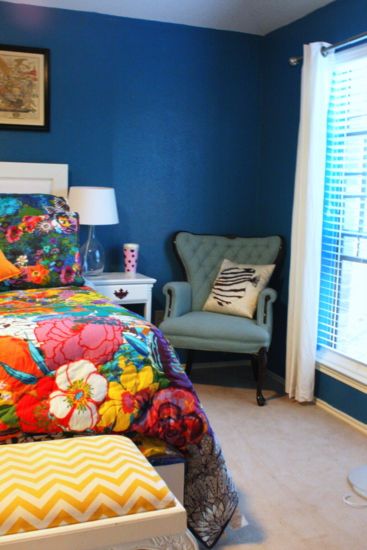 No, it's not a perfect solution. Yes, it's a little cramped. Will it stay like this forever? Absolutely not. Corey and I have plans to eventually replace both of the dressers in our room with very different pieces, so in the long run the chair probably will end up in that corner. It's just not ready to go there yet. And, honestly, I love the chair enough that for now it can hang out in a slightly-wrong-for-it space while we wait until we can fit it into that right space. That's the nature of fixing up your house, no? Sometimes things are messy, and awkward, and not perfect, but we're always working towards making it just a little better!
Do you have any rooms in your house with too much furniture in them? Anyone else have an insane urge to throw some furniture out the window this weekend?
Like this post? You might also like...