Having a baby changes everything.
No, seriously, let me say that again: having a baby changes everything.
I'm sure those of you who are already parents are rolling your eyes at me, but I honestly don't think it's possible to even begin to comprehend how much your life will change until you actually have that tiny little human in your home. Since becoming a parent, I find that I am more relaxed, more confident, and I very quickly learned where my true priorities lie. It's a wonderful change, but I'm still figuring out what all of these shifts are going to mean for me.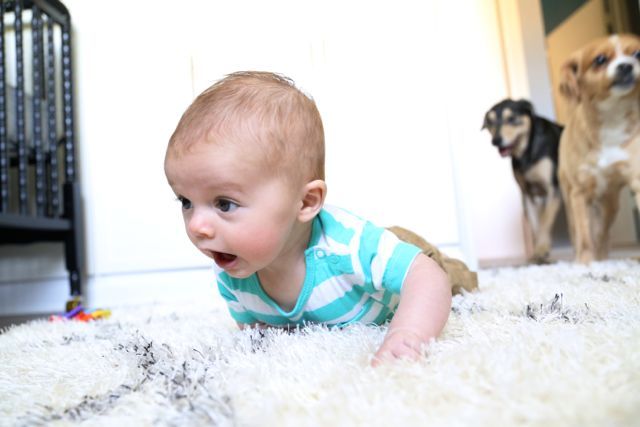 One change that has surprised me the most (and that Corey is the most excited about) is that I have let go of a lot of the things I used to stress about. A messy house used to drive me so crazy that I was in a bad mood until it was fixed – the house had to be just about perfect before I would be willing to invite anyone over, and I spent the majority of my weekends cleaning and organizing. Now? I'm not saying I let my house stay super messy all the time, but I've realized that a slightly messy house isn't the end of the world. I do a bit of cleaning each night to try to stay on top of it, but if Jackson is feeling extra cuddly (or if I am feeling extra lazy), I just don't do it. And while I do a bit of cleaning on the weekends still, I don't let it take over my life.
Why the change? Because I realized that a clean house isn't nearly as important as spending time with my husband and my son. And I realized that if I spend all of my free time cleaning, I have literally zero time for myself. Between work, Jackson, Corey, and the dogs, I feel like I am constantly giving my time to other people – and the little time I have for myself shouldn't be wasted on cleaning. Since I've let go of the cleaning a bit, I've found that I'm happier, Corey is happier, and Corey is actually much more helpful with keeping things clean because I don't do it all before he has a chance to step in.
This is way more important than a clean house! 
Another change that has drastically altered the way we do things around here is that we have significantly shifted our financial priorities. We have a bit of debt (from things like our new windows and other energy-saving upgrades to the house, as well as some we-were-young-and-dumb debt) and we have slowly been paying it down over the last couple of years. But now? Something about having a kid has made me realize I want to get it all taken care of now. I don't want to pay it off slowly, I want to knock it out as fast as we possibly can and never have to worry about it again. That would be why you haven't seen any home improvement projects around here in a while – they just aren't happening because every extra cent we have (which isn't much now that we are paying for daycare!) is going to debt. And I'm 100% okay with that, which is not something I think I could have said before Jackson entered our lives.
Do I still want to get new curtains for the dining room? Absolutely. Does our carpet still drive me absolutely insane? Yes – and I'm dying to replace it. But I know that if we deal with this other stuff first, we'll be able to enjoy doing home upgrades with a lot less stress and a lot more wiggle room in our budget. So for now, I'll let go of the renovations and improvements and live with what we have. And maybe every once in a while we'll be able to splurge on something small (like we did for our bamboo blinds a few weeks back), but for the most part I am going to be focusing on making our house feel like home without spending any extra money. And I'm constantly repeating The Nester's mantra to myself – it doesn't have to be perfect to be beautiful. I'm looking for the beauty in the things we already have in our home, and I'm embracing the imperfections for now. There's no sense in getting worked up about things we can't change yet.
So, as I'm sure you've already figured out, the blog is going to be shifting focus for a bit. I still plan to write about home improvements as we do them, and someday I will get back to doing them much more often, but for now they're just not happening. But what is happening is still worth sharing, in my opinion. We're learning so much about ourselves and our priorities, we're having a blast with a sweet new baby, and we're figuring out this family of three thing (six, if you count the dogs) one day at a time.
I hope you'll stick with me as the priorities and focus of this blog grow and evolve. I'd love to hear from you on what you'd like to see more of. I've had requests for posts about baby sleep (our little dude is a rockstar nighttime sleeper!) and working outside of the home with a baby, so you can expect those coming up, but I'd love to know if there's something else you'd like to read about! I'm excited about letting myself loosen up the parameters of the blog a bit and letting go of the DIY posts for now without feeling guilty. I have a lot of fun ideas, so I promise things won't get too boring around here.
For those of you who have kids, how did it change your priorities and goals? Anyone else learn to let go a bit?
Like this post? You might also like...