I think we all know by now that the amazing Ana White recently released a book. And that it's awesome.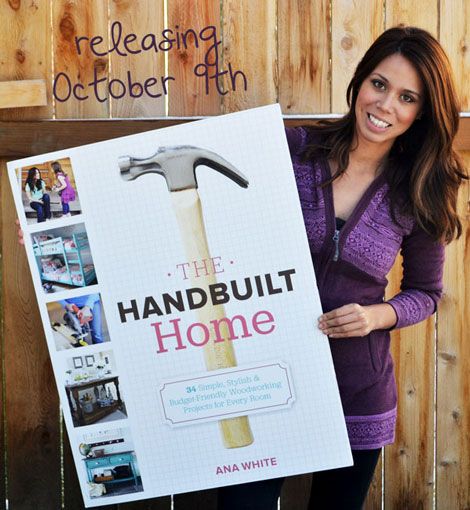 I finally got a copy of it and within about ten minutes of flipping through it had a list of about ten new things I want to build. And I was feeling so inspired, motivated, and excited!
Many of the plans in the book are already available on Ana's website, so don't buy it thinking that you'll get a ton of exclusive projects that you couldn't find anywhere else – but what it does have is a whole section on getting started, including information about what tools you really need to start building and some basic tips and tricks on building furniture. And even though most of the plans are available online, the book has way more (and better) photos of the finished products, and Corey and I both agree that the layout of the plans and the explanation of the plans is much easier to follow in the book than they are online.
It's a fantastic resource for someone who wants to learn more about building things but has no idea where to start. And something about having the plans and photos on paper in front of me is so much more exciting and motivating than just finding them online. I'm definitely a book girl at heart!
I'll be honest – I wasn't originally sure if I wanted to get this book because I've never had too much of a desire to start building things. I've always been mildly interested, but something has been holding me back. But now that I have the book? I'm feeling seriously inspired, and Corey and I have already made a trip to Lowe's to buy the stuff to build something from the book! I'm so excited!
So, long story short – this book is awesome and you should buy it. If nothing else, it's a great way to get you feeling like you actually CAN do this, and it's an awesome source of information for how to get started building your own furniture. I have a feeling this book is going to do awesome things for us and our house!
Have you ever built any furniture? Any desire to?
Note: I was provided with a copy of Ana White's book in exchange for this review, however all opinions are 100% mine and I probably would have ended up buying the book anyways. 😉
Like this post? You might also like...