Corey and I make our big move to Austin in exactly one month – I can't believe it's come so fast! There isn't a day that goes by that we don't discuss how crazy excited we are, and how lucky we feel to be able to be doing this.
So, for my final pre-moving list, I thought I'd talk about a few of the projects I want to take on in the new house. I've been pinning inspiration photos like crazy, and I have so many ideas for what I want to do!
First up?
The kitchen.
This project will probably be one of the last we do because of how expensive it is, but it's probably the one I'm looking forward to the most. If you'll remember, this is what our kitchen looks like now: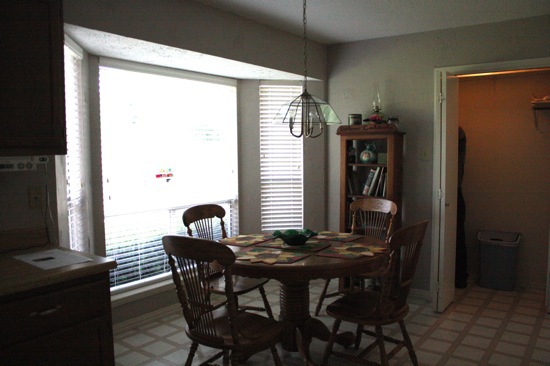 And this is an example of what it will someday look like.
(Source)
(Source)
I love the crisp white cabinets and the industrial light fixture. I'm also obsessed with the giant farmhouse sink and the open shelving on top. We're probably going to go with a darker gray tile for the floor and a darker countertop, but other than that, the first photo is pretty spot on! For the breakfast nook, I love the retro white table with the black chairs – very modern, yet still welcoming!
The dining room.
Here is our dining room currently: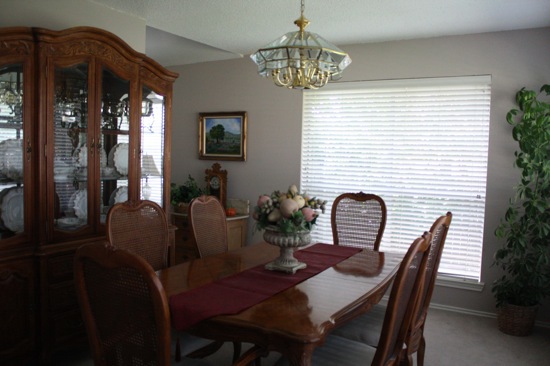 And here's my inspiration
(Source)
There is a lot about this dining room that I love. The flooring is very similar to what we plan on eventually having in our house, and I love the white in the chairs combined with the wooden table. The wall the china cabinet is on in the photo of our house is actually the back of the fireplace, and we plan to do a stacked stone going all the way around, so something like the stone wall in this photo will actually be a part of our dining room!
The living room.
This is our living room currently:
And, the inspiration!
(Source)
(Source)
(Source)
We're going to paint the majority of the walls in the living and dining room in a nice, smoky gray, but Corey is dead set on painting the wall underneath the staircase a bright yellow (like in the second photo). I already agreed to try it out, but unless we can find the perfect shade of yellow, I'm not sure I'll love it. I love the color yellow, but I feel like yellow paint can tend towards being either too modern (and therefore a little cold), or too country feeling. We'll see what happens, though! And, of course, the beautiful deer head will hang out above our fireplace, because he's amazing.
And there you go – some of our favorite inspiration photos for the new home!
We're already itching to start tackling projects in the house, but everything will have to be put on hold until we get me a new car. My car gets about 2 miles to the gallon and with an hour long commute to work every day, I'm going to need something a little more efficient! So, the plan is to take our time and do little things first – then we'll go from there.
Do you use Pinterest to save inspiration photos for your home?