I don't know if it's just me, but we're only a couple of weeks away from Christmas and it seems like some days I spend more time stressing about crossing things off of my to-do list than I do actually enjoying the season.
I can't be the only one.
This is (by far) my favorite time of the year, and I absolutely love everything about this season…but sometimes it's a little stressful. This year, I've been working really hard on slowing down and enjoying the holidays a little more and it's making a pretty big difference. I've spent a lot of time reminding myself what this holiday is actually about (as well as what it's not) about, and that's helped me to keep my focus on the things that are important.
I figured since I can't be alone in occasionally struggling to fully enjoy the holiday season, I'd share a few of the tips I've learned this year to keep things simple and stress-free.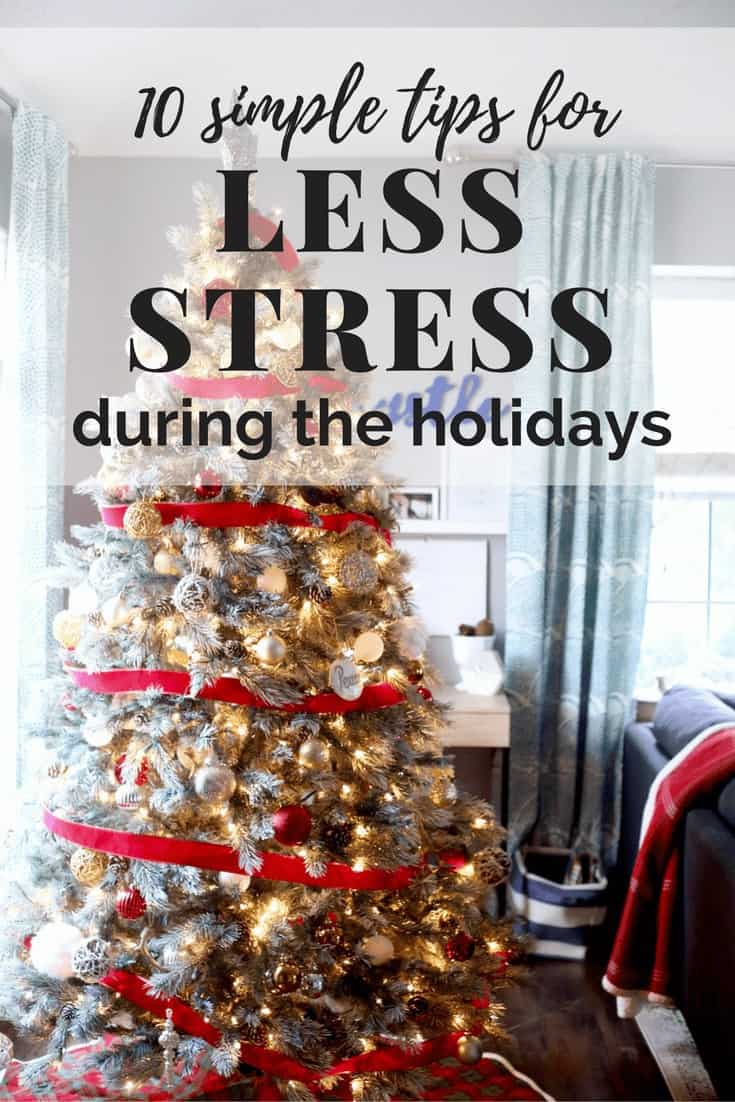 How to Reduce Your Stress This Holiday Season
Wrap gifts as you go. It sounds simple, but this is a tip that I took too many years to learn. I used to gather up all of my gifts in one spot and wrap them in one marathon session – the problem is, I like to add embellishments to my wrapping so I ended up spending hours upon hours getting all of the gifts wrapped and all of the fun was taken right out of it. Now, I try to wrap them as I get them to keep the stress to a minimum and it's a lifesaver. I finished (hopefully) my last batch of wrapping over the weekend and it's so nice to be done!
Shop online. Y'all, when I started to shop for Christmas gifts exclusively online, my life got a whole heck of a lot easier. I love shopping in the store, so I used to hold on to that tradition and insist on heading to the mall to get my shopping done. No more. Now, I get at least 90% of my shopping done on Black Friday/Cyber Monday weekend from the couch while I sip on wine and bask in the glow of my Christmas tree. It's wonderful, so much more enjoyable, and so much less stressful. I get great deals, and I'm often done with Christmas shopping before December.
Embrace the chaos. This time of year is nuts. There's no denying it, and there's no avoiding it. I've learned to just embrace and run with the crazy. The holiday season is entirely too short and it feels like it's over before it even begins – the chaos is half the fun, so just give into it and try to soak up all of the memories you're making.
BUT! Force yourself to relax. While you're definitely going to have some crazy, busy moments (and you should try to enjoy them!), it's also important to set aside time to sit on the couch with your family with a cup of hot chocolate and watch Christmas movies in your (hopefully matching) pajamas. It doesn't get much better than that.
Put your tree up early. I know, I know, I know. Don't throw things at me. I've always been staunchly against ever putting my tree up before Thanksgiving, but this year we decided to get started with our decorating a little early. And you know what? I loved it. So far this season, I've felt less rushed, I've felt like the season is moving slower, and I've been able to enjoy the decorations for even longer than usual. It's been a huge wake-up call for me, and I definitely think I'm going to start putting our decor up earlier. There's just something about not rushing to get everything put up the day after Christmas that makes the season move a little slower and feel a little longer. It's wonderful.
Spread out the fun. This has been another "aha" moment for me this year – we're big Christmas cookie bakers in my family, and normally I spend one day in a marathon baking session to get it all done. It's fun, but messy and a little overwhelming, and we never are able to eat all of the cookies before they go bad. This year, though, I've decided to bake a couple of batches at a time throughout the whole month – it's less stressful and we can enjoy the cookies more! This applies directly to so many things throughout the season, and it's a great reminder. I've been looking at a lot of the different things we do to celebrate and thinking about how we can spread them out to enjoy them longer and make them less stressful.
Let go of perfection. I tend to idealize things in my head – I want every moment of the holiday season to be absolutely perfect and if anything goes even remotely wrong I feel stressed. I'm working on learning to accept that things aren't always going to go well and that's okay. When we look back on Christmas, we tend to remember the happy moments and not the ones where our kids are threatening to kill each other and we feel like curling up in a corner and crying. That (thankfully) means that the little bumps in the road are probably not going to be things you remember. For me, that's a big consolation and helps me remember that everything doesn't really have to be perfect – next year when I look back on it, I'll probably think it was!
Don't take on too much! When it comes to our actual Christmas Eve and Christmas Day meals, we always split things pretty evenly and it's a huge stress-reliever. Regardless of who is hosting, we all split up the menu items so that no one is taking on too much. It means no one gets too stressed and everyone gets to contribute. There's no reason for any one person to have to cook everything!
Remember to give yourself grace and enjoy it. The holiday season can be so stressful, and it can often start to feel like you aren't celebrating it "right". There can be so much (self-inflicted) pressure to celebrate every moment with flair and style, capture the most amazing photos, and never have a family fight while you're doing it. But, um, that's not realistic. For anyone. Remember what this season is actually about – for us, that means focusing on being thankful for Christ's birth and keeping our minds on the things that truly matter in our lives.
If all else fails, drop everything and dance in the kitchen. When I feel like it's all too much and I just can't handle it anymore, I pump up the Christmas tunes, grab Jackson, and get to dancing. There's just something about letting loose and belting out some Mariah Carey (we can all agree she has the best Christmas album, right?) that makes everything okay. I promise – it works every time.
What are some of the ways you keep stress to a minimum during the holiday season?