Budget.
It might not be a four-letter word but it sure feels like one sometimes, doesn't it?
Corey and I have learned over the years that we function and stay on track financially so much better if we actually keep up with budgeting and tracking where our money goes. It's not fun, and it's not easy, but it works.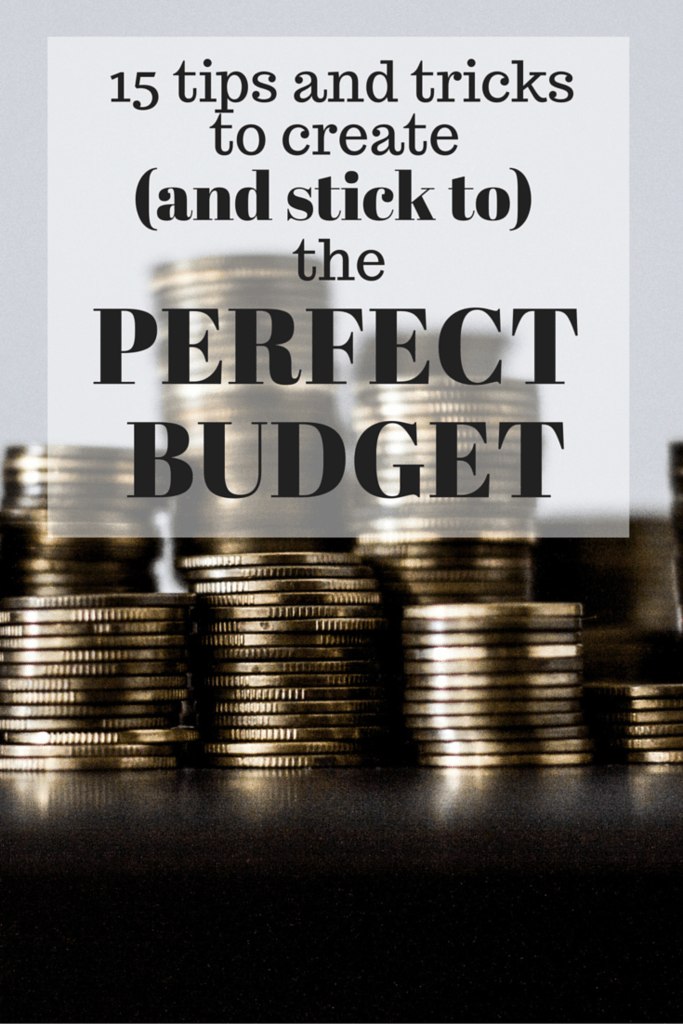 After a lot of trial and error, we've learned what works best for us when it comes to tracking the budget and when it comes to sticking to the budget. So, today, I'm dishing my secrets.
First up, here are 4 things you can do to set up a budget that you'll actually stick to:
Track every cent. It's so tempting to just set up categories for your mortgage, bills, and groceries and call the rest "discretionary," but our budget works so much better for us when we actually break things down a bit more than that. We have a category for every single recurring charges that comes up, and every dollar we earn has a home in the budget. It may feel a little restrictive at first, but once you get the hang of it, it's actually very reassuring to know exactly where all of your money is going!
Update the budget EVERY WEEK. This is the hardest part for us. We get so busy that we forget to update our expenses in our spreadsheet and the next thing we know the month is halfway over and we haven't tracked anything. There are some programs and websites that will track your budget for you, but we prefer to do it ourselves. We try to sit down at least once a week to update everything – it works even better the more frequently we update it, so two or three times a week is actually ideal.
Share the responsibility. I used to have our budgeting spreadsheet on my laptop so I was the only one who had consistent access to it. I then ended up being the one who was always updating it, and I was the only one who really knew where we were at at any given time. Recently, we switched over to using Google Drive for our budget and now we can both access it anywhere, anytime. It's so incredibly nice to be able to update our budget on the go, and it's fantastic now that Corey can see exactly what I see. The entire system works so much more smoothly when you're both invested in it and on the same page!
Give yourself some fun money! Corey and I learned very quickly that we both need a little bit of room in the budget to buy things for ourselves. Our individual discretionary budgets are very small right now, but it's enough so that I can buy a new sweater at Target without feeling guilty and he doesn't have to worry that I'll yell at him if he orders a new board game. It's imperative to us to have at least a small amount of money that we don't have to share with anyone else!
And here are 11 things we do that have been very effective in helping us to stay on budget:
Meal plan. I know, you've heard it before…but seriously, meal plan. We save so much money when we know ahead of time what we'll be eating (it virtually eliminates last minute eating out!) and we don't do a lot of impulse purchasing at the store because we know exactly what we need. Groceries are one area that we consistently struggle to stay on budget, so meal planning is absolutely essential for us.
Make fun (free) plans ahead of time. We are MUCH less likely to decide to go out and spend money if we think ahead to free things we can do on the weekends. We often scout out free festivals or activities to keep us busy and help make sure we don't end up getting bored and deciding to go out to eat or something. We love having something to look forward to that is fun and cheap (or free), and it really helps our budget! I regularly check the site Free Fun in Austin to get ideas – see if your area has a similar blog!
Take advantage of the library. Jackson and I go on weekly dates to the library – it prevents me from buying books because I'm bored of the ones we have, and it's a perfect way to keep Jackson busy on long Sunday afternoons. It has very quickly become one of my absolute favorite parts of the week and I can't believe we haven't been taking full advantage of this (free!) resource all along!
Have you considered cutting cable yet? Corey and I did this a few years back and we have never for one second regretted it. We save over $100 a month and still watch the same shows. It's probably one of the best budgeting decisions we have ever made!
Date nights at home are your friend. Cook a special meal, pop in a movie, and play a board game or two. It's super cheap and just as much fun! We try to have weekly date nights at home where we don't allow ourselves to be distracted by our phones or the internet and we just enjoy each other's company. It's essential to our sanity as a couple and it doesn't cost us anything extra!
Date nights out don't have to be expensive either. We were just discussing this the other day – we have both fallen into the trap of thinking we need to have a lot of room in the budget to squeeze in a date night, but we absolutely don't! When we were in high school, date nights often meant dinner at McDonald's and window shopping at the mall…why can't we do that now? Granted, we don't eat at McDonald's much anymore, but there are plenty of super affordable (healthier) places to eat, and we're still big fans of window shopping! When you have a kid, sometimes just leaving the house alone is enough to count as a date!
Subscription boxes are a luxury, but they can save you money! This one depends on your lifestyle, but if you love to shop this may be huge! There are so many subscription services out there that will automatically send you things that you might be buying otherwise, and they could save you a lot of money! If you love to buy makeup, you could subscribe to Ipsy or Birchbox to get samples each month – it may just help you curb your shopping habits if you know you have something coming your way every month. We have a wine subscription through a local vineyard and, while the wine is a bit more expensive than what we'd buy in the store, we find that we almost never buy wine in the grocery store anymore because we know we'll have a shipment coming soon! In the end, we're actually drinking a bit less wine (but a higher quality) and saving some money in the process!
Have a no-spending day (or week, or month!). What if once a week, you declared that you weren't going to spend any money that day? Or, if once a month you said you weren't going to spend any money for a full week? OR, what if once a year you said that for a whole MONTH you wouldn't spend anything beyond the absolute necessities? Depending on how much you want to challenge yourself, you could save a lot of money. We've done this a few times and always find that it helps us to re-set our mentality surrounding money.
Find a good consignment store. I found that as soon as we had Jackson, I wanted to spend all the money on him. He needed the cutest clothes and the cutest shoes and the cutest toys and blah blah blah. But does he really need those things? No. And I very quickly realized that if I wanted to buy him those things, I could buy them used for much cheaper and it was just as good! We found a great local consignment shop and buy a lot of his clothes and all of his shoes there at a steep discount. He wears Toms and Converse on the regular and we've never spent more than about $12 on a pair of shoes. We also often sell back clothes that he has outgrown for store credit, so we save even more money.
Buy meat in bulk. We have a friend with connections to a local farmer who will give an amazing deal on whole cows, hogs, and chickens. We bought about 15 pounds of various cuts of organic, grass-fed beef for $4 a pound. FOUR DOLLARS. It was the best deal ever and we're eagerly anticipating the next time our friends buy a cow! This isn't one that everyone can do but if you have access to something it's a huge money saver! You could even try contacting a local farmer yourself and gathering a group of friends to go in with you!
Look into a rewards credit card. We use a rewards credit card for all of our bills and day-to-day purchases and pay off everything we spent at the end of the month. Every few months, we'll cash in the rewards and it's basically free money! This only works if you're able to prevent yourself from actually accruing any debt, but it's a great way to get a bit of extra money!
**********
What are your favorite ways to save money?