I have  a less-than-exciting to you but super-exciting to me update today.
We have officially resolved the placemat issue! We were so disappointed after we left Crate & Barrel last week because we had been so excited to find a nice style, high quality placemat (they're harder to find than you might think) and we felt like we had exhausted all of our other options.
Luckily, I got the Crate & Barrel catalog in the mail this week, though, and saw a photo of all of the placemats in that line – and guess what? They have an actual gray one. Not a looks-kind-of-gray-but-is-actually-tan gray, but a full-fledged, charcoal gray. Oh happy day.
We headed to the store to exchange the brown-ish placemats for the ones we really wanted, and we quickly realized that the reason we had overlooked them before was because they looked black in the store. So, we've officially learned our lesson to never assume that just because we like something in the store we'll like it at home as well.
Once we snatched up our new, charcoal placemats and headed back to the house, we knew we had made the right choice.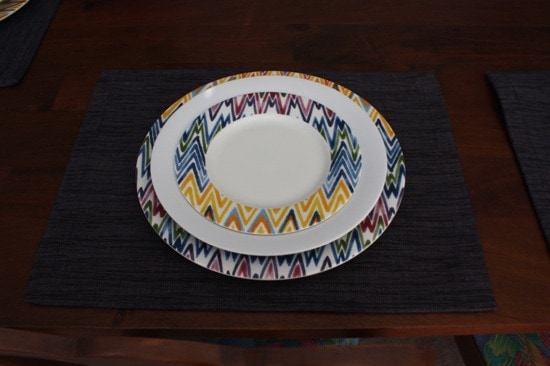 They're definitely a bit more navy-ish than gray, but that's actually perfect for us. We have big plans to bring some navy into the dining room, and we love that these placemats will tie the navy we're going to bring in to the gray walls, since it has tones of both of the colors.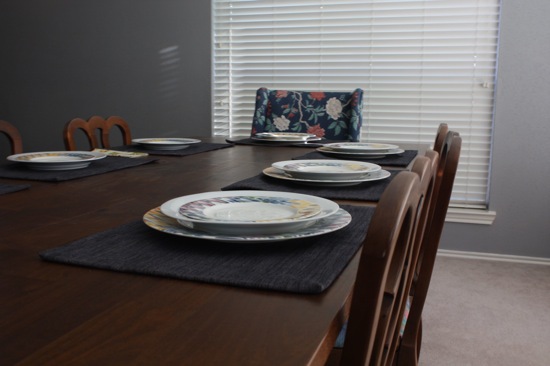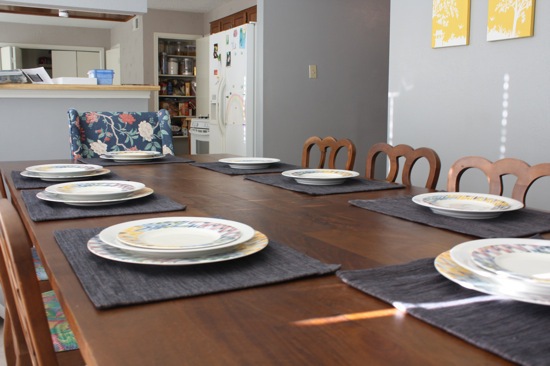 I love that from different angles in the room and under different lights, the placemats change from a silvery-gray to a deep navy. They are gorgeous and they'll hide stains way better than a white placemat would have (which was our alternative).
We are definitely starting to see our vision for the dining room come together – once we get the chairs reupholstered (hopefully soon!), get some curtains, and buy a centerpiece (we know what we're going to do, just have to find the right stuff) we'll be just about done!
And, since I feel bad for giving you a slightly lame update post today, I thought I'd share a quick sneak peek of the fabric we finally settled on for our living room curtains.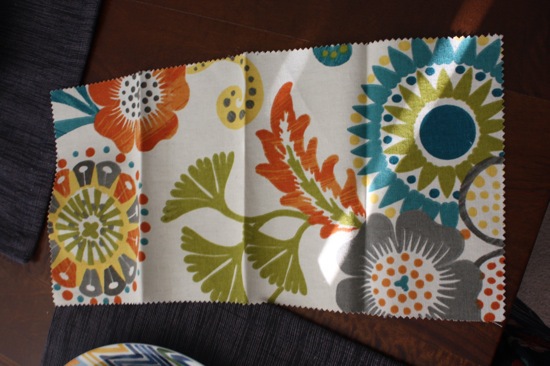 We haven't bought it yet (we just have a little swatch) but we are so excited about the amount of color it will bring into the room, and we can't wait to see how much it brightens up our (very gray) living room.
And, just so you can see how we're bringing it all together, here's a photo of the curtain fabric draped over the chevron plates – all of the colors "go" together so well, and we like how it will bring the two rooms together nicely, without being too matchy-matchy.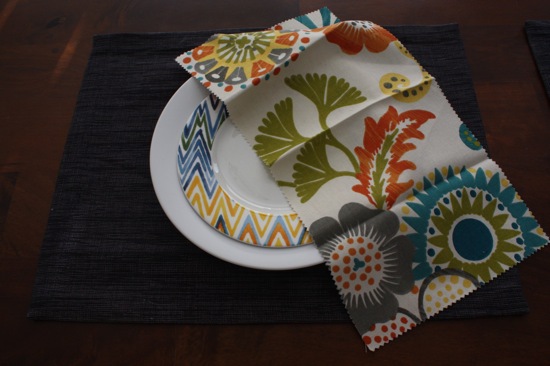 Our ultimate goal for this house is to create a Sarah Richardson-esque space where there are layers of pattern, color, and fabrics that looks eclectic but still put together. We know that things are going to look a little crazy until we get all of the layers put together (like our all-gray living room, or our fun chevron plates with the crazy technicolor chairs) but we think that taking our time will be oh so worth it in the end!
I'm curious – are Corey and I the only crazy ones who like to leave our dining room table set all of the time? It makes us smile to walk past it every day and see that we're ready for a dinner party at any moment! Plus, it prevents us from letting the table become a landing area for papers and other random things. Do you like to keep your table set, or do you keep it empty?