Can you believe that this weekend, 2011 will be over? I feel like just yesterday I was a bundle of nerves, getting ready to be married, but now we're about a week away from our one-year anniversary!
I always kind of love the start of a new year. I'm not big on making official "resolutions," but there's just something special about having a whole year spread out in front of you – an opportunity to do things differently, to accomplish more, and to change some things you might like to switch up in your life. It's a great feeling, and I'm excited to see what 2012 has in store.
Our little blog has gained quite a few new readers over the year, so I thought that it would be appropriate to do a quick summary of what happened in the L&R household over the past year. A "best of" list, if you will.
Let's start at the very beginning – January 31st was the day the first post was published!
In January, Corey and I got married, went on an amazing honeymoon, and I began my life as a college graduate.
In February, we tackled our first ever furniture makeover!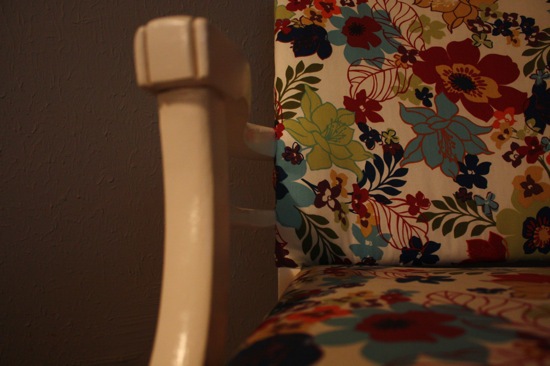 We also began the countdown to our big move to Austin (six months!), started some serious thrift-store shopping, and gave our kitchen table a quick paint job.
In March, I gave y'all a house tour of the duplex (I want to say I miss it at least a little, but I absolutely don't!), the blog got a new design courtesy of my friend Joy, and we scored some Goodwill lamps that we made over (that have since gotten ANOTHER makeover and are living in our bedroom!)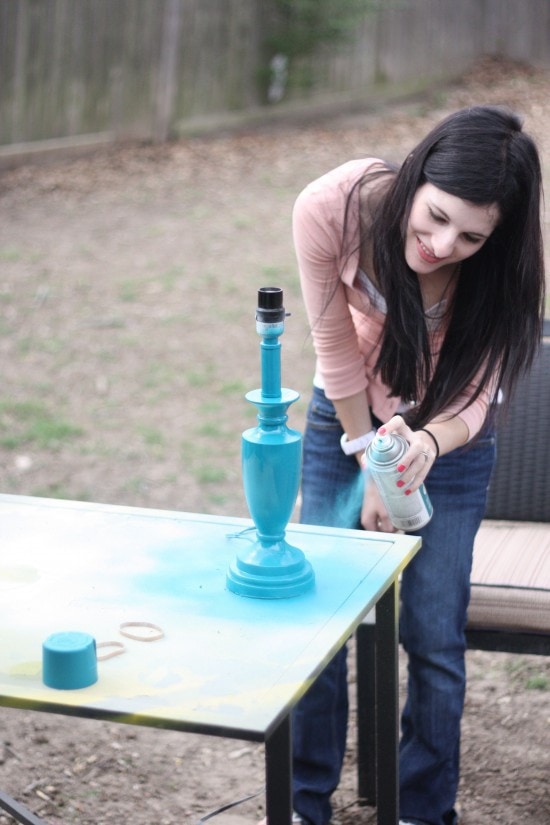 The next month, April, was the first "big" month in terms of the amount of stuff we did. We gave a thrift store table a turquoise makeover, and went to an amazing antique fair where we found a gorgeous vintage fan (that gave us a lot of trouble).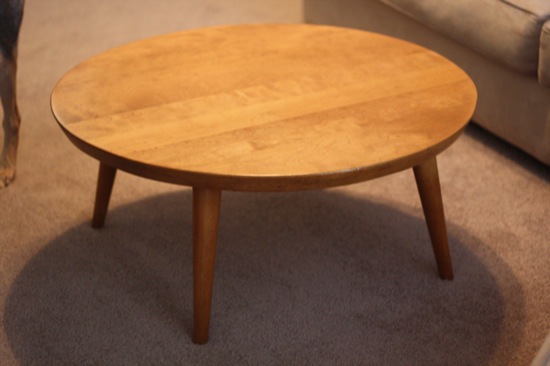 We also found a beautiful mid-century coffee table that we rearranged our living room for, and had our first encounter with Home Goods (and fell in love)! April also marked the first edition of Friday Finds!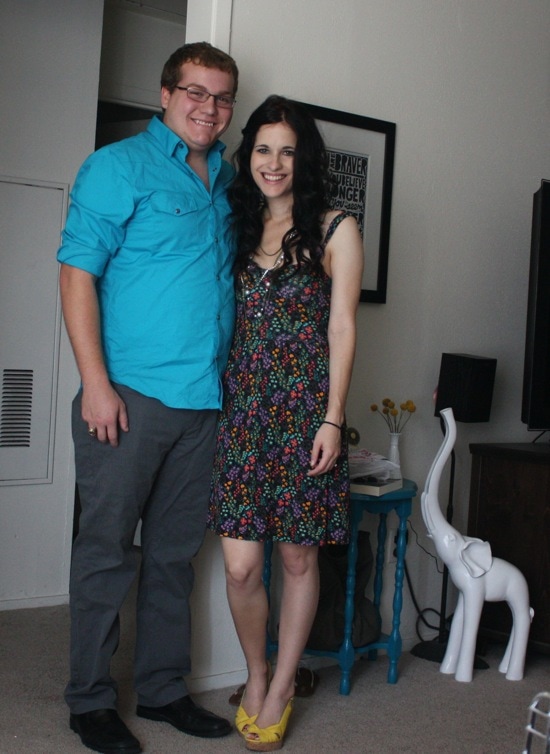 In May, we finally got around to staining our new coffee table, went on a super sweet surprise date (my hubby is the best!) in Houston, and Corey graduated from A&M! May was also the month where I painted our kitchen rug (which is still one of our most popular projects!) and we decided to buy a home instead of renting after our move to Austin. And, as embarrassing as this is to admit, May also happens to be the month that we bought two of our dining room chairs that we have yet to reupholster! I should probably get on that soon.
Once June hit, it was officially summertime (and break time for this teacher!) and it was really starting to feel like our move to Austin might actually happen. I'm sure the reason it felt like it was coming quickly was because this was also the month where we found and signed a contract on our new home! We talked about what we were looking for and played a quick game of House Hunters before we revealed the house.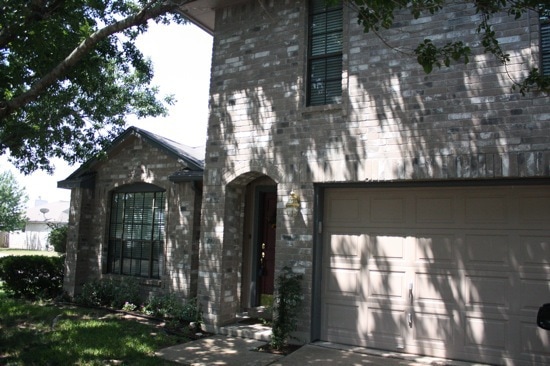 In June we also tackled two more of our most popular furniture makeovers: we converted an old Craigslist dresser into a media console and made over a way outdated bench.
July was an almost surreal month as we began to count down weeks and days to our move rather than counting down the months. It was a pretty uneventful month project-wise, because we were busy packing, list-making, and complaining about how messy our duplex was becoming.
We had a couple of big milestones in July, like our 6-month anniversary and the day we closed on our new home. In July, we also got to spend our first weekend in our new home while we painted like maniacs (and of course, came back to reveal our new paint colors!)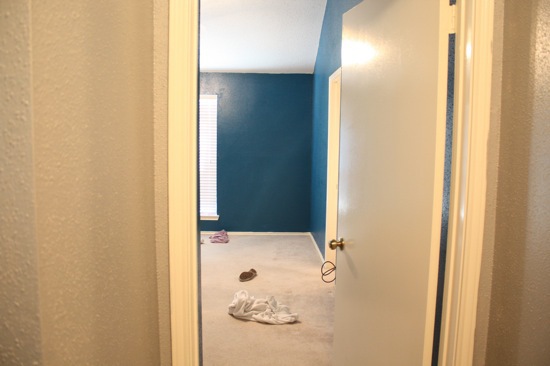 We ended out the month with a final look at our little ol' duplex and got ready to head to Austin!
August started off with a week of guest posts while Corey and I settled into our new home, but I finally managed to pop in with a quick post announcing that we'd made it.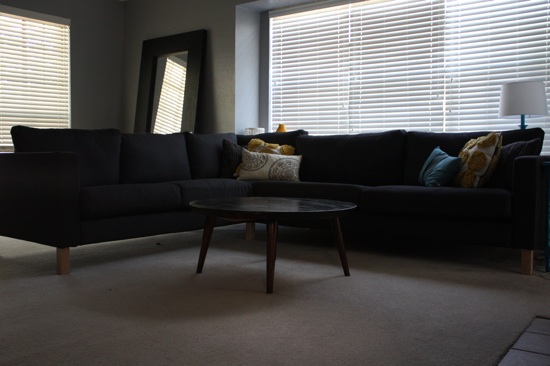 We kicked off the renovations to our new home with some new furniture, some lighting upgrades, a front door makeover, and I took some time to wax poetic about the little things we were loving in our new home. We also bought a dining room table (and exchanged it for a larger one when we realized it was entirely too small!)
September marked the 100th post here on Love & Renovations. We spent some time that month chatting about emergency preparedness and how we plan to bring some more color into our home.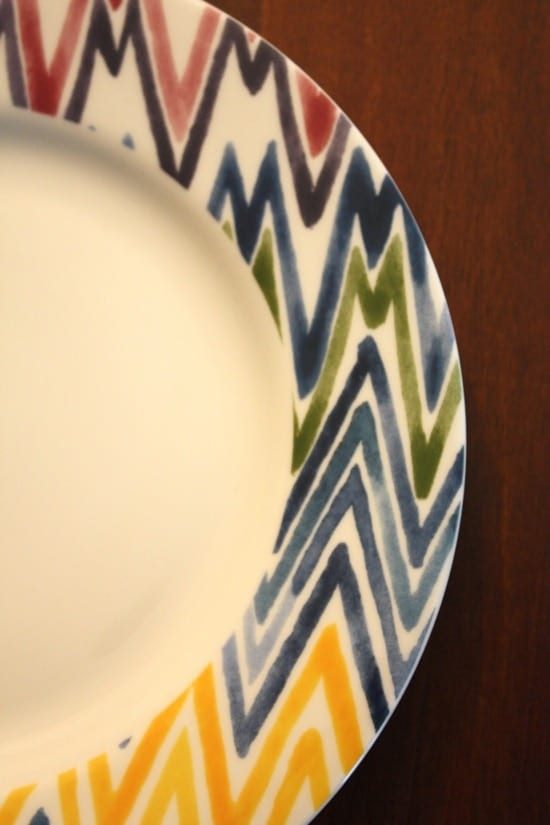 September was also the month where we gave a post-moving house tour and found our beloved dining room dishes, which set the mood for the rest of the colors in our home and helped us gain some color focus!
In October we made good on our promise to bring more color into the house with a giant bed makeover that changed the entire look of our room.
We also painted our pantry, found an awesome lamp for our living room, gave our mid-century coffee table a crazy orange makeover, and gave a pair of $20 nightstands a new life in our bedroom.
In November I joined a group of bloggers to complete a "Interior Design Bingo" and posted every day for the entire month. We also gave those old lamps a new look in our bedroom (by painting them a color you guys chose!), dyed our old duvet the completely wrong shade of purple, created a succulent centerpiece for our dining room table, and gave our awful old chandelier (nicknamed "The Mothership") a big makeover.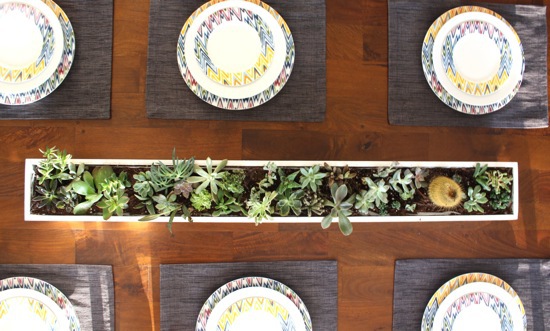 Oh, and we also got a little crazy and knocked down a wall and some cabinets.
And finally, that brings us to December. My favorite month of the year. I spent a lot of time in December talking about Christmas decor inspiration,  and I also made sure to share all the details of the Christmas decorations for our first Christmas in our new home and gave a quick recap once Christmas was over.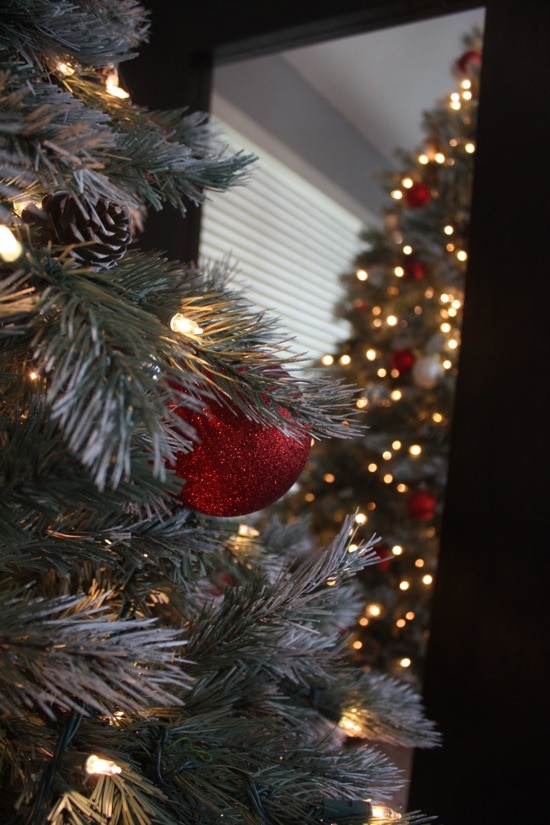 Of course, it wasn't all about Christmas on the blog in December. We also gave our couch legs a quick facelift and completely changed the look of our guest bedroom with a new brass bed.
Whew.
A lot happened this year, right? I can't believe how much Corey and I accomplished in the past 12 months and how much our lives have changed. 2011 was a fantastic year for us, but I'm hoping 2012 is even better!
I'll be back one more time this week for the final Friday Finds of the year (New Years Eve party themed, of course), and once the new year starts I'll be back with a ton of new projects to share – there have been some big changes in our home over the past couple of weeks!
Since you stuck it out with me while I recapped our year, I'm dying to hear about yours. Give me a quick recap of what you accomplished in 2011