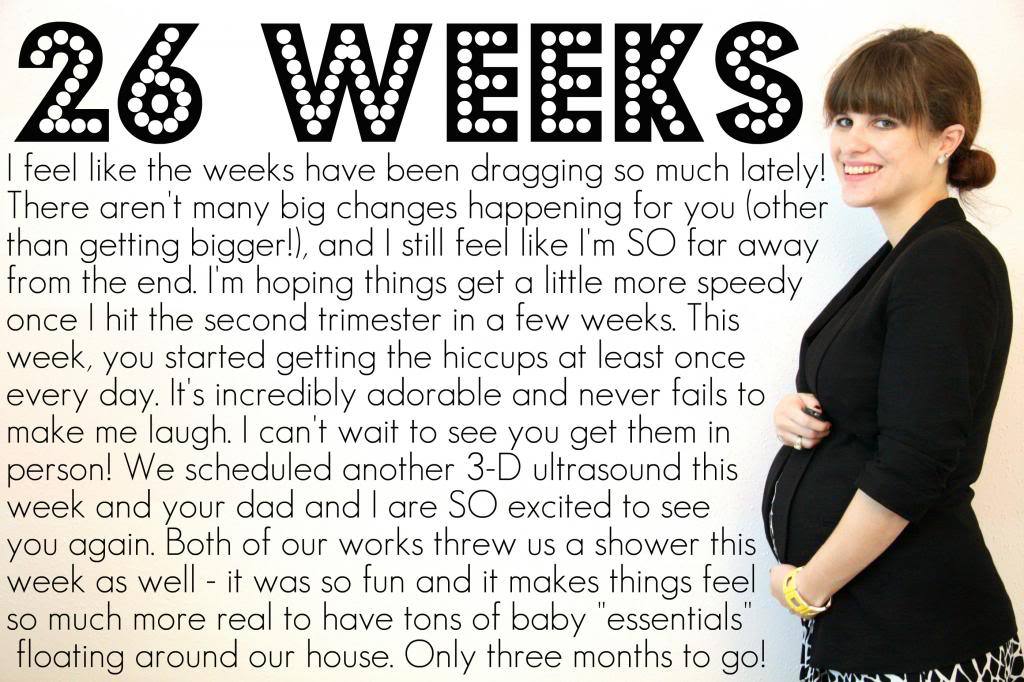 How far along? 26 weeks – I seriously feel like the last 4 or 5 weeks have just bled into one another…this part of the pregnancy is really dragging!
Size of baby: A head of lettuce – he's about 14ish inches and a little over 2 pounds. He's doubled in weight over the last month!
Mater­nity clothes? All the time – I still don't have many maternity shirts, though, and they're the most comfortable thing I own now! I think I'm going to have to stock up on a few more over the next few weeks!
Sleep: Sleep was rough this week – between being out of town and sleeping in an unfamiliar bed, getting heartburn in the middle of the night, and just general lack of sleep, I've been exhausted!
Movement: Still all the time! I've started to feel more "rolling" type movements than kicks, and he's started to get the hiccups, which is just too cute. I'm loving it!
What I miss: Still missing being able to dress myself normally. I'm starting to get to the "I feel like a whale" point, and I know I'm only going to get bigger from here! I'm also missing my sense of balance…I toppled over one day while I was bending down to feed the dogs – apparently I've lost all ability to be graceful!
Cravings/Food aversions: Can't get enough sweets lately – I've been trying really hard to limit it, but it's tough. My craving for Cokes has finally started to subside, and I'm back to only having one or two a week, which is where I was pre-pregnancy. Thank goodness. However, I'm having a really hard time turning down anything with sugar in it – not too unusual for me, but I usually have at least SOME willpower!
Other Symptoms: Still having lots of Braxton Hicks (at least two or three a day), and the heartburn is killing me – I get it every day regardless of what I eat or don't eat. Fun! Also, lots of leg cramps at night (I woke up one morning and my calf was sore for a few hours!) and my sense of balance is all sorts of wacky…I've turned into a total klutz!
What made me cry this week: BAWLED at a particularly emotional moment in an episode of Vampire Diaries. Because apparently I'm a hormonal teenager.
Favorite moment this week: My work shower was so much fun and it was so exciting to come home and pile everything up in Monster's room and see how many things he already has. It's crazy to think we're prepping to bring another human into our house…it's just one of those things that hits you every once in a while, you know?