I've mentioned this once or twice on the blog, but I feel like it's worth repeating: Our kitchen is ugly.
Really ugly.
Allow me to remind you what it looks like as of right now: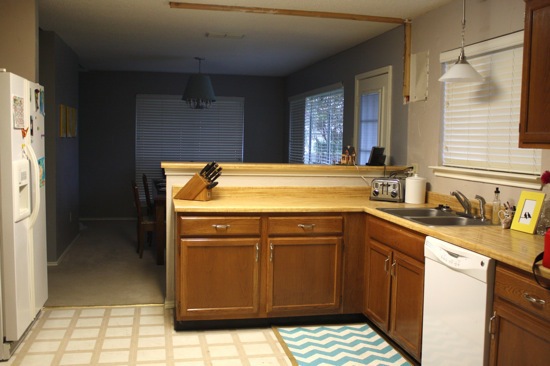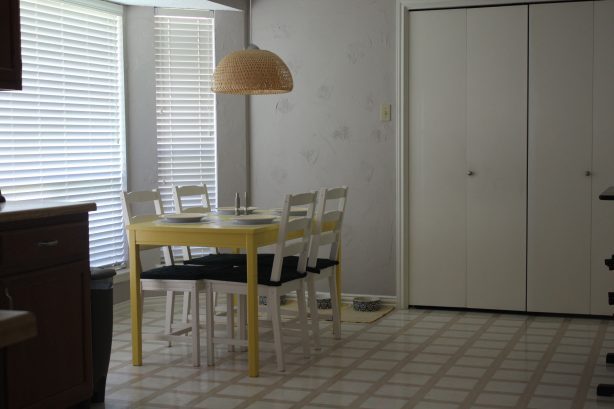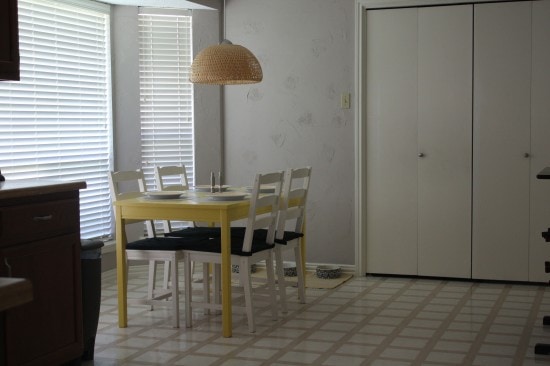 Yuck! It definitely could be worse, but it needs a lot of work before it becomes something we really can be proud of. One thing I can say about our kitchen is that it has a ton of potential. We have a vision for this room that will make it truly beautiful, but it'll be a while before we get there – for now we're trying to focus on making small changes that can make it slightly more tolerable until we can do a large-scale renovation.
One of our favorite areas of the kitchen (or one of the areas that has the potential to be a favorite) is the breakfast nook. We feel incredibly spoiled to have an extra area for eating and hanging out in addition to our dining room, and the giant windows bring in an insane amount of light. We love hanging out in that area while we're cooking dinner, and it's a great spot to sit and work on crafts and other random things – it's definitely a useful area!
But we have this bad habit of not really maximizing our use of areas that aren't pretty. And this area is a lot less than pretty. That little old yellow Ikea table wasn't doing anything to help the area. The table was cute and sunny in our old duplex, but when plopped into an extremely outdated and traditional kitchen, it served to just make the room look even more traditional. So, it was time for it to go.
We knew that we wanted a round table for the area, because the kitchen could definitely use some more soft lines in it, and because we felt like a round table would fit into the bay window area much more seamlessly than a rectangular one, and would leave plenty of room for walking around. After some looking (but, let's be honest, not much – we knew what we wanted!) we decided we had to have a tulip table.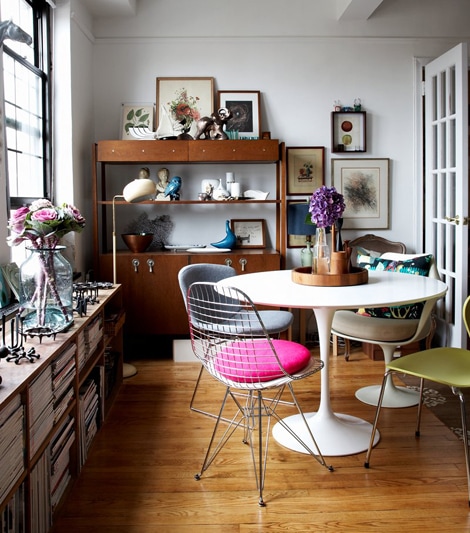 (Source)
They've got a definite mid-century feel to them (which you know we love!) and they look fabulous in almost any room. We also loved the idea of a nice, airy white table in the kitchen, since we'll eventually have white cabinets and would like to tie the breakfast nook in with the rest of the kitchen.
So, like I said, we'd decided that we would someday have a tulip table in the room, but it was one of those things we made a decision on and then promptly forgot about. We weren't actively looking for a table, nor were we planning on getting it anytime soon. Plus, we're just really good about deciding on things and then not doing anything about them.
That is, until we walked into the as-is section of Ikea and saw this waiting for us: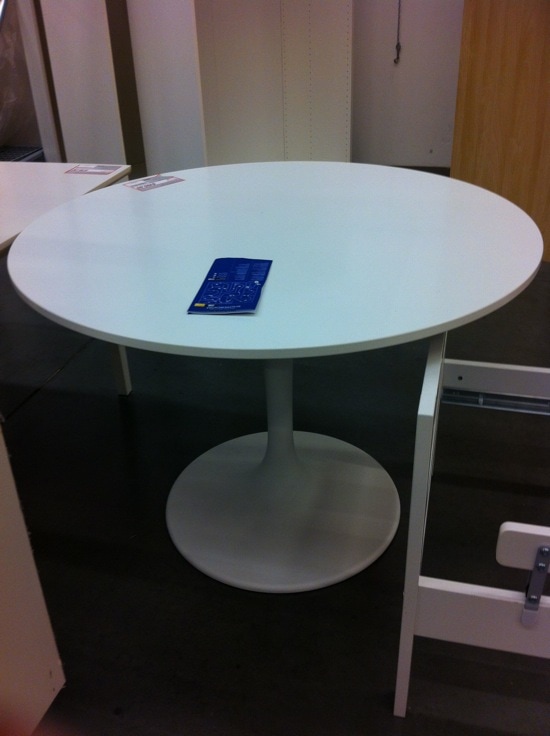 (iPhone photo alert!)
We both stopped dead in our tracks when we saw it and stood possessively over it for about 20 minutes while we debated it. It was 45% off because of a tiny little nick in the finish on the top of the table. A nick that would easily be hidden by a cute centerpiece.
We really just couldn't turn it down. So it came home with us.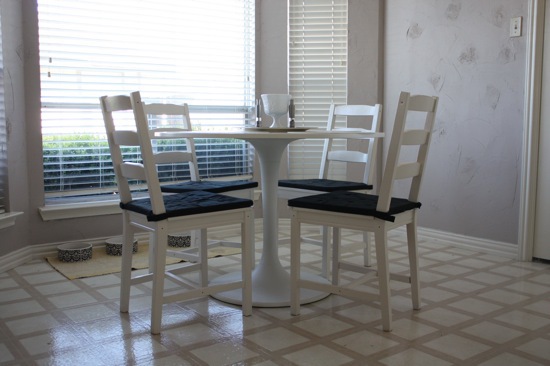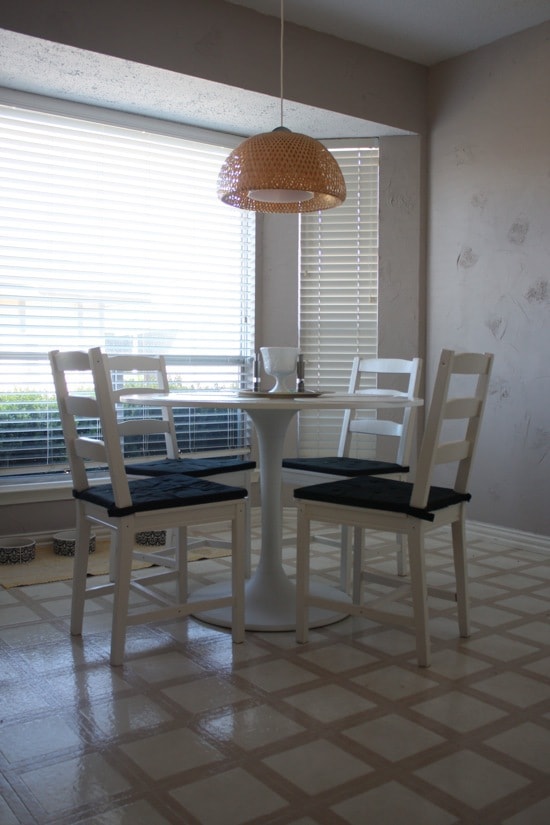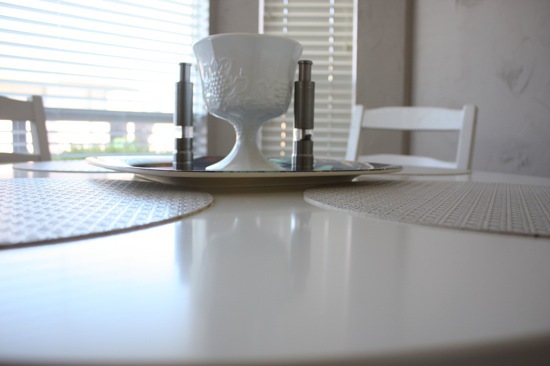 It's so shiny, bright, and beautiful! It fits into the space so much better than the yellow table ever did, and it is a much better match for the look we eventually want to have in the kitchen.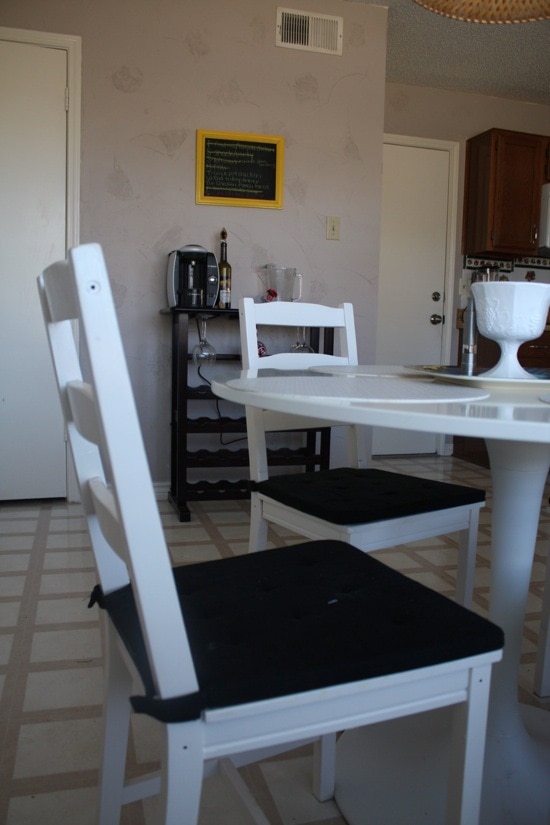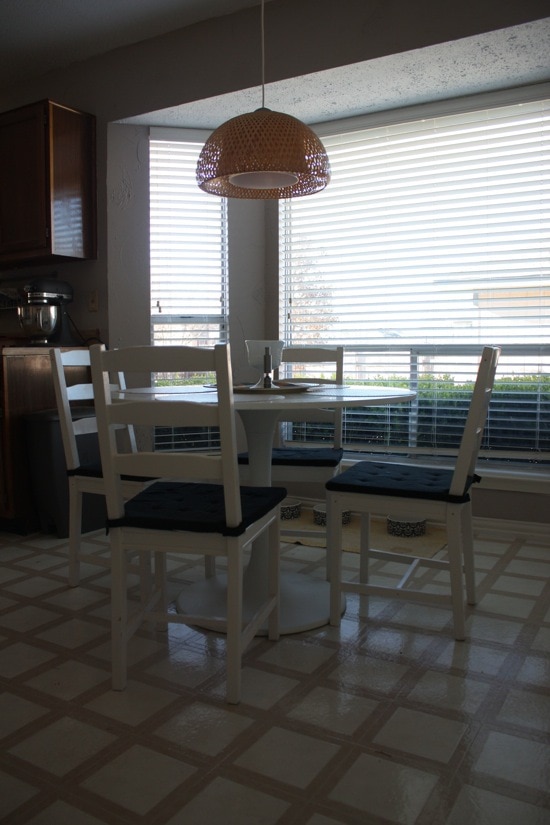 We're so excited that we found such a good deal on it. And all because of this tiny little imperfection: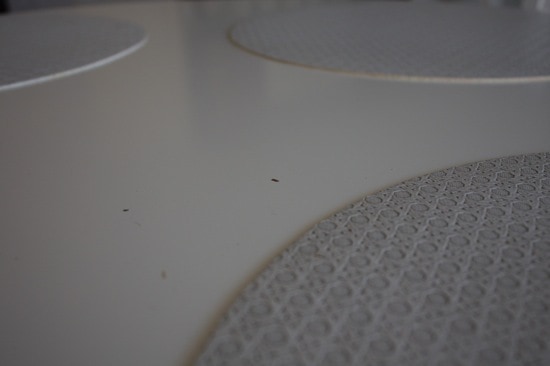 Which, once we place a cute little platter on the table, looks more like this: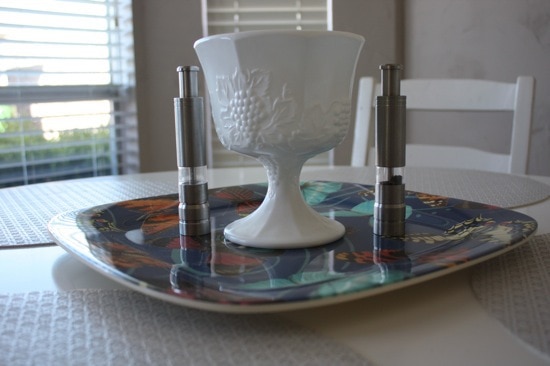 Not bad.
And, just because we all know I'm obsessed some side-by-side before & after action: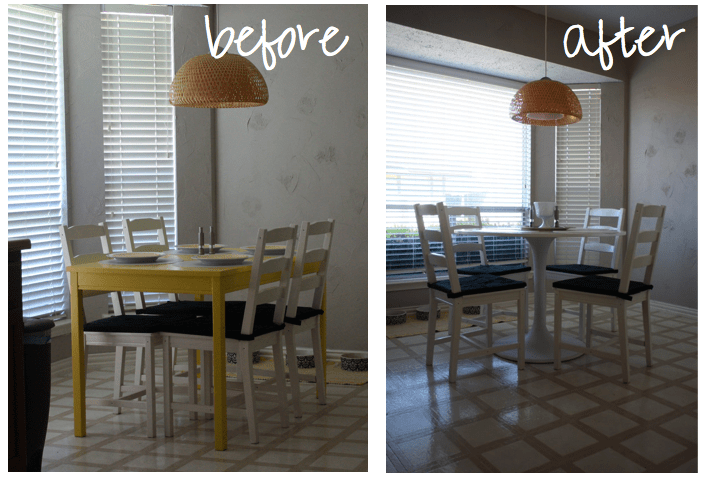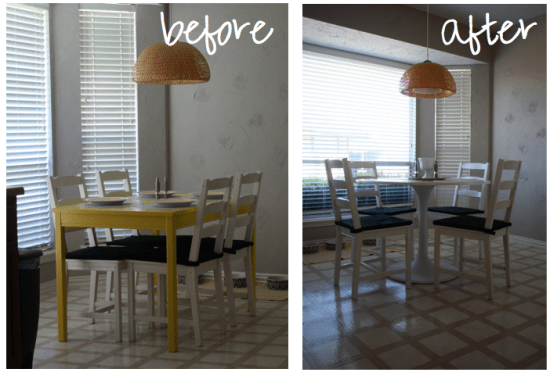 Much better.
Now all we need are some new chairs – we're thinking metal like the ones in the inspiration photo above, and, of course, to finish of the rest of the kitchen with re-textured walls, new flooring, cabinets, etc.
But, you know, baby steps. We'll get there eventually.
I hope.