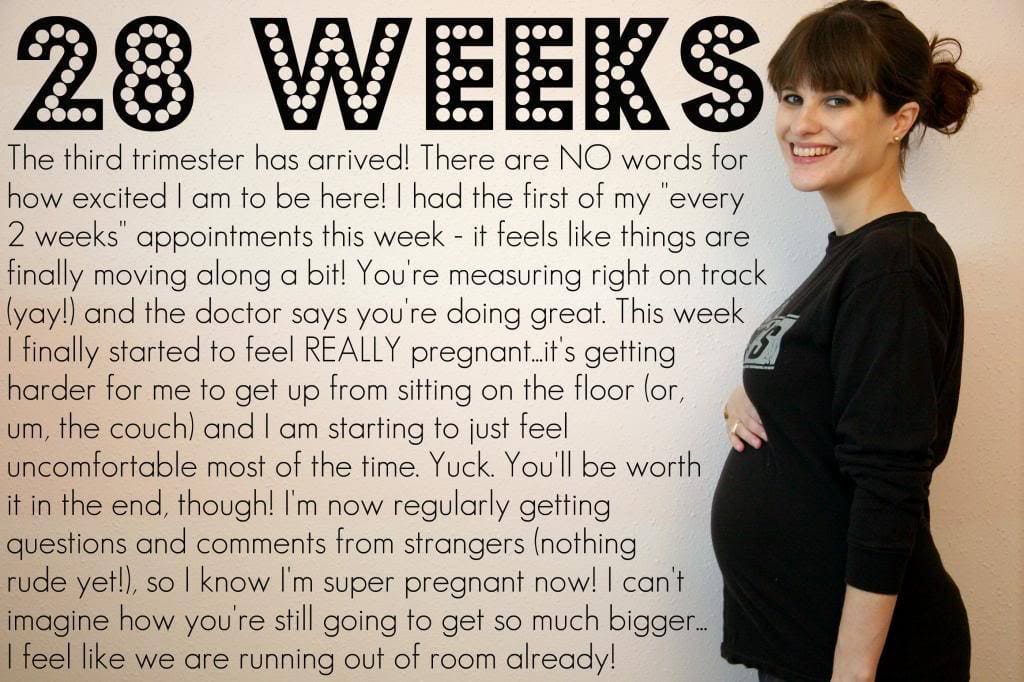 How far along? 28 weeks…finally to the 3rd trimester! I am SO excited!
Size of baby: An eggplant – he's about 14.8 inches and 2 1/4 pounds. It kind of blows my mind that he's still got about 5 pounds to gain over the next 12 or so weeks.
Mater­nity clothes? I bought a few pieces that will hopefully tide me over for the colder months. I'm still going to be very limited in what I wear once it actually starts to get cold, but I think with some layering and creativity I just might make it through. I also had to break down and buy another pair of maternity jeans, since I've been surviving with only one pair so far – it was getting old, especially since they aren't super comfortable!
Sleep: Sleep has officially become kind of stressful. I have a really hard time getting comfortable (my hips hurt a lot at night!) and I'm starting to reach the point where I can't sleep on my back anymore. I do lots of tossing and turning, and I tried an extra body pillow but it just annoyed me. I've been trying to take a long, hot shower before bed every night to get my body relaxed and ready for sleep, and it's definitely helped but I have a feeling I'm just going to be tired for the next, like, 18 years or so.
Movement: Lots of jumping and wiggling during the day. I think he's starting to slowly run out of room in there because I'm noticing him a lot more lately! He's still riding low all the time – lots of my pregnant friends have been complaining about kicks to the ribs but I still haven't felt a single one…he hasn't ever ventured up that high!
What I miss: Sleeping normally! I also miss my flexibility/ability to hold things without dropping them. I don't know what it is about pregnancy that makes me so clumsy, but it's annoying!
Cravings/Food aversions: Still have pizza on the brain a lot, and the Captain Crunch craving returned this week.
Other Symptoms: Leg cramps at night! I woke up practically in tears one morning – they're so awful! I've also just begun feeling a lot of the general "I'm so pregnant" things you always hear about – it's hard to stand up from sitting, I can't reach things in the backseat of my car when I'm in the front, and depending on Monster's position I can't even turn my body all the way in one direction! I've also had some shortness of breath this week – you know that feeling where you have a really hard time getting a good, deep breath in? Yeah…that….all the time. It's so annoying, and I'm dreading knowing that it's probably not going to go away! One thing I HAVEN'T had is any swelling yet, thank goodness! The doctor checked at my appointment this week and said I may start to notice it soon, but there hasn't been any at this point, which is awesome.
What made me cry this week: Just general stress – probably would have made me cry no matter what, but it was definitely made a lot worse by my crazy hormones!
Favorite moment this week: There were several this week – I had a doctor's appointment this week which I always love. It's strange to enjoy going to the doctor now, but I just love getting to have Monster checked on and find out how he's growing. I had my glucose test (which I passed with flying colors – you can have up to a 140 for your glucose level and still be considered "passing" and mine was a 73!), which made me feel officially pregnant – just one of those rites of passage you always hear about! I also was super excited to make some real progress on the nursery this weekend. It's been in shambles for the last several weeks as we've been waiting on finishing some stuff up, and now all of the basics of the room are DONE. I'm ready to start decorating!