I figured that since I wrote a post for the last two months with some sort of list about our big move to Austin, it was only appropriate for me to continue that this month.
So what am I talking about today?
A list of the top 4 things that I can't wait to do once we're in Austin.
1. Visit my sister anytime I want. We have entire conversations about the awesome things that we'll do once we live in the same city again. We'll have weekly family dinner nights (alternating houses, natch), we'll have monthly girls nights at Melting Pot, and we'll randomly drop by one another's house all. the. freaking. time.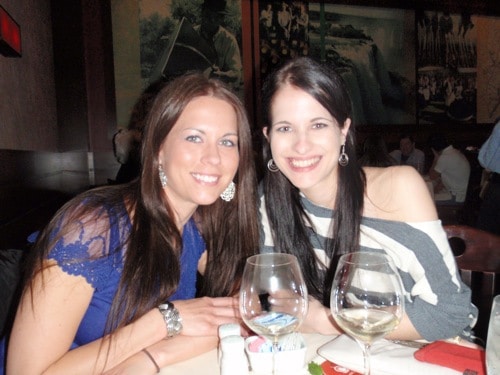 My sister is my best friend in the whole world, and I can't wait until we live just minutes away from one another, and not hours.
2. Visit all of the places I've missed so dearly. There is a serious lack of good shopping here in good 'ol College Station, and I can't even begin to tell you how excited I am to be close to a Crate & Barrel, a HomeGoods, a Z Gallerie, AND a West Elm. Plus about a million other amazing home goods stores. I'll be in heaven, but my wallet will be in serious trouble.
3. Spend a ton of time downtown. When I moved out of Austin, I was a mere 18 years old and hadn't truly come to appreciate the wonderful qualities of downtown Austin. I couldn't get into any of the bars yet, and my parents never went downtown, so I hadn't spent a ton of time there yet.
Now? I'm obsessed with downtown Austin and I can't wait to explore it some more. There are so many fun things to see and do, and I can't wait until Corey and I are just a mere 20 minute drive away instead of a two hour drive. I have a feeling we'll be spending a lot of time at our favorite bar, Pete's.
Pete's is a dueling piano bar, and Corey and I are kind of obsessed. So. Much. Fun.
We're so excited to have the chance to frequent this place as well as a bunch of the other bars and stores around town!
4. Go visit people without having to lug my dogs along. Don't get me wrong – my dogs are awesome. But Ranger has some serious social skills problems and he isn't really the type of dog that we can just bring anywhere we go. As of right now, if we want to go to Austin we either have to drag the dogs along and spend our entire visit worrying about what to do with them, or spend a ton of money to board them. We aren't really a fan of either of those options, so we're looking forward to the day where we can go have dinner with our parents and simply leave the dogs at the house!
And all of these reasons (plus about a million more) are why I am so excited that in a mere four months Corey and I will be packing up and heading back to the town we love so dearly!
Did you find a new appreciation for the town you grew up in once you moved away?