Thanksgiving is upon us! This week! How did that happen?
We are hosting a (small) family gathering at our home this year for Thanksgiving. It will be our first year ever to host and be in charge of the entire meal, so I'm spending the next few days scrambling to get the house clean and get as much food prepped as I can. While this might be our first Thanksgiving to host, it isn't our first rodeo when it comes to hosting events at our home. We love to entertain, and we do it every chance we get!
If you're new to this whole hosting gig and you're stressing about the last minute stuff, I'm here to help. Here are five things I can't live without when I'm hosting a family holiday (or, really, any event!)…the only thing missing is the wine! (This post contains affiliate links for your convenience)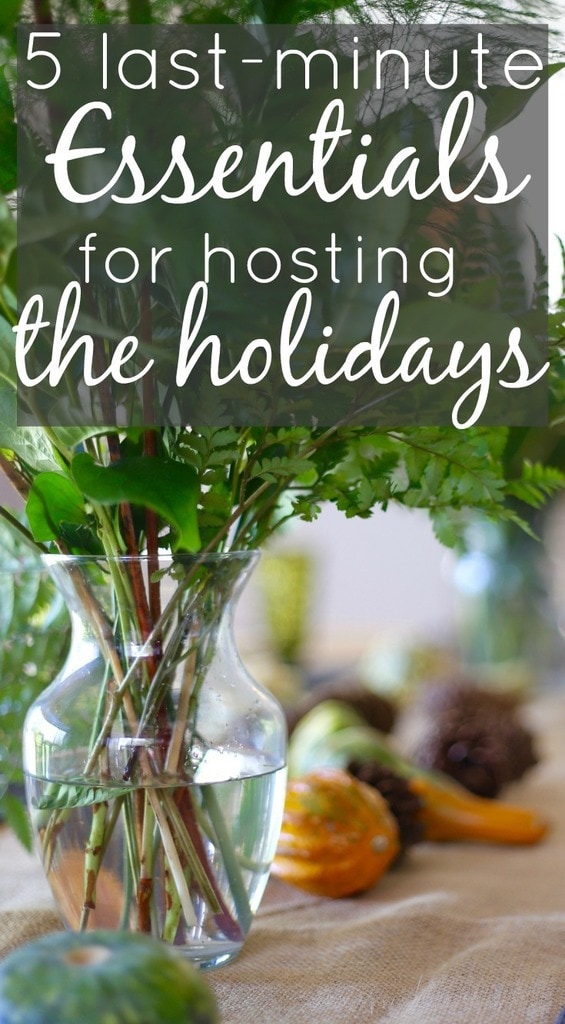 Music! We have this bluetooth speaker and love it. The sound quality is fantastic, it's easy to use, and it's actually really pretty so I don't mind it sitting out all the time. We use it on a near-daily basis at home and it's an absolute must-have when we have guests over. Any Bluetooth speaker will work just fine, but I highly recommend this one!
Candles. Nothing makes your home smell better and feel cozier. Bonus points for turning off the overhead lights and using lamps and candlelight only.
Pretty place settings – but keep it simple! We don't have a lot of seasonal decor, so I have to get a little creative when it comes to setting a pretty table for Thanksgiving. We have plain white dishes, which means it's super easy to mix and match anything I want to add to the table. I bought a big bag of gourds at Target on sale (after Halloween!) and they've lasted for a long time. They instantly add a fall feel wherever I put them, and they're perfect for our Thanksgiving table. We also grabbed some fall greenery from our grocery store for $5 a bunch (we got three bunches for a nice, full display), and we already had a big piece of burlap in the house and some pinecones just waiting to be put to good use. Add them all together and you've got a quick and easy tablescape that cost us under $20 total!
White serving dishes. We registered for several white serving dishes when we got married and they're still some of our favorite items in the kitchen! I love that they go with anything, they make any food look delicious (there's something about that stark white backdrop that makes food look tastier!), and they're always a classic. We have a couple of more colorful, fun serving pieces as well, but the white ones are what we go to over and over again when we have guests.
A comfortable outfit! Look, if you're hosting Thanksgiving you'll be running around all day trying to take care of the little things. Then, you'll eat until you want to burst and pass out on the couch (right?). So, while it may be tempting to grab the most stylish outfit you have so you look cute in your photos, you want to aim for comfort here. The last thing you need is to be stressing about too-tight pants or a precious sweater that you're afraid to ruin. Leggings are your friend in these situations – add a long, cozy top and some cute accessories and you look fantastic without worrying about comfort. This may be a no-brainer for some, but it took me entirely too many years to figure this one out. This year, I'm wearing this flannel shirt, this crazy cozy vest, and my stretchiest black leggings.
**********
What are your go-to tips for hosting the holidays?