Spring cleaning is great and all, but summer can be an even better time to take care of a few of those tasks around the house that you've left lingering for too long. Here are a few tips for how to cross those annoying tasks off your list.
One thing I've been trying to focus a bit more of my energy and attention on lately is all of those tiny little tasks around the house that are just so easy to ignore. Things like the water rings in the bedside table, the streaky, fingerprint-y appliances, and the mis-matched light switches around the house.
Individually, they're really all just tiny to-do list items that probably won't make a huge difference in how the house feels. But put together? These tiny little details can really add up and give the house a bit of a neglected feeling. I'm a card-carrying member of the 95% club, and I'm notorious for getting projects or cleanings tasks all the way to aaaaaalmost done, then just forgetting about them.
One thing I really regretted in our old house was that I never took care of these little tasks until it was time to move – so I never actually enjoyed the house in its 100% stage! I'm determined not to make that mistake again, so I'm looking for ways to squeeze in these little tasks here and there over the next few months. Today, I'm going to show you how I tackled a few of the items on my list – and maybe, if you're like me and have some tiny little to-dos that you're putting off too, we can make this a regular thing so we can all push our house through to that last 5%!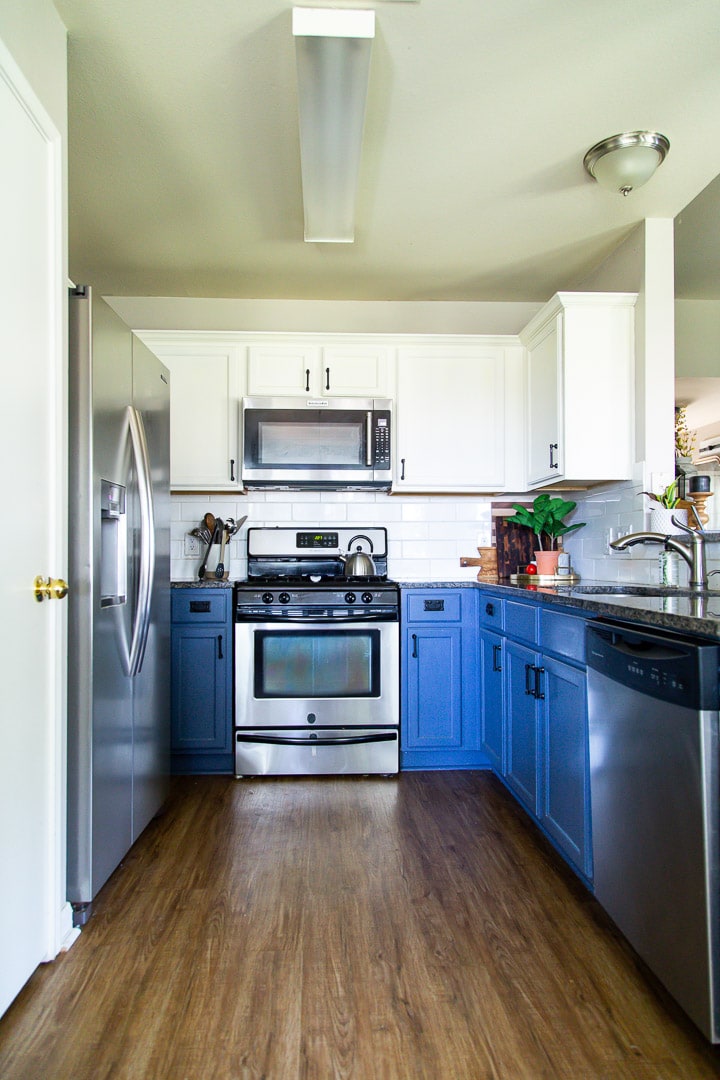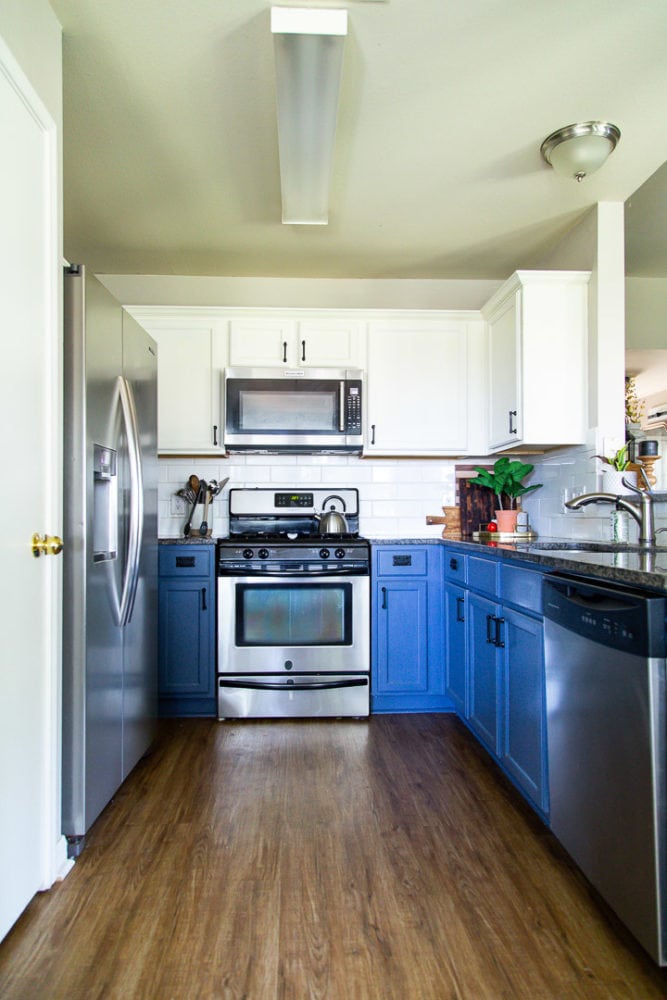 This post is sponsored by Mohawk Consumer Products and contains affiliate links, but all opinions and ideas are mine. Thanks for supporting the brands that support Love & Renovations!
Simple Summer Maintenance tasks
I put together a quick little video to show you all of the products I tried out in action. This month's round of tiny tasks is all about solving some of those problems that can feel unsolvable, so I wanted to make sure you got to see the results in real time! After you watch the video, read on to hear my thoughts on how it all turned out!
1. Fix those sticky drawers
I think we've probably all got a few drawers in our houses like this – they're sticky enough to drive you a little bit crazy every time you use them, but not quite sticky enough for you to actually fix them.
I grabbed a jar of Mohawk's Slideez and walked all around my house fixing every single drawer that wasn't opening smoothly. It's a lubricant that can be used on metal, wood, or plastic, so it's even effective on drawers that don't have actual drawer slides (which applied to several of the sticky drawers in my house!).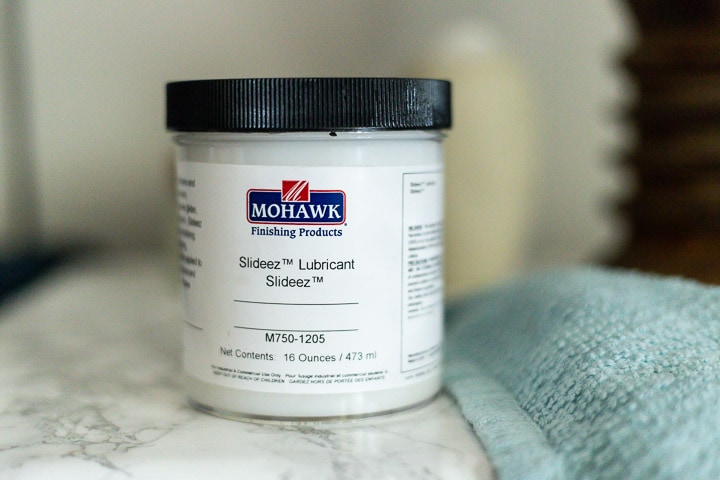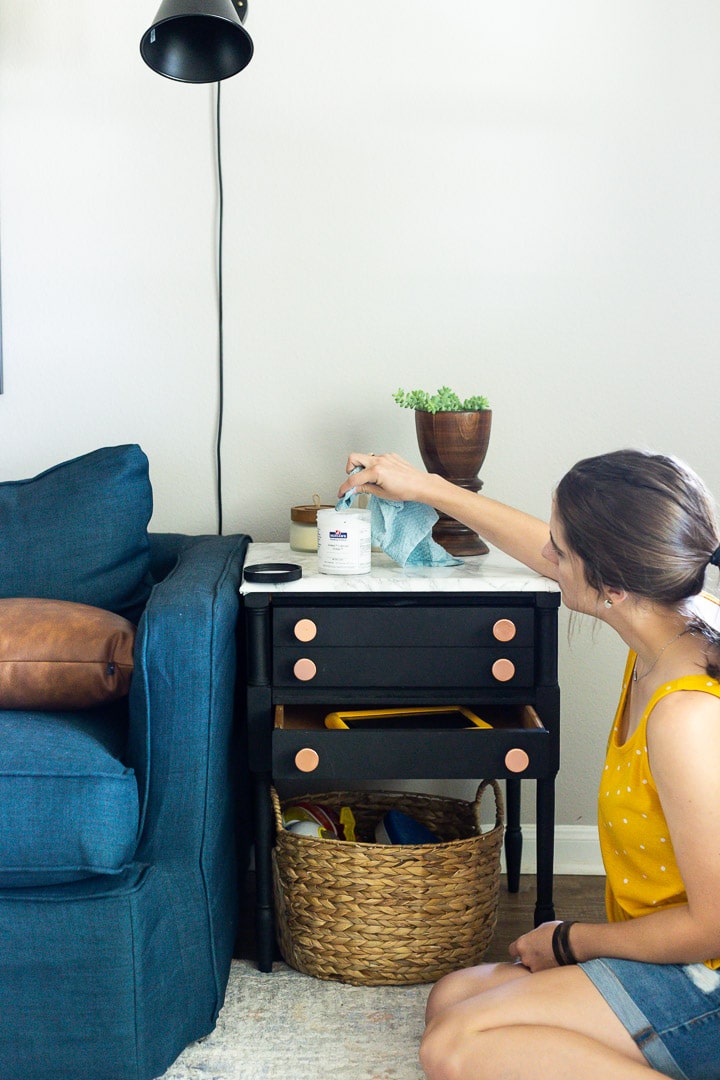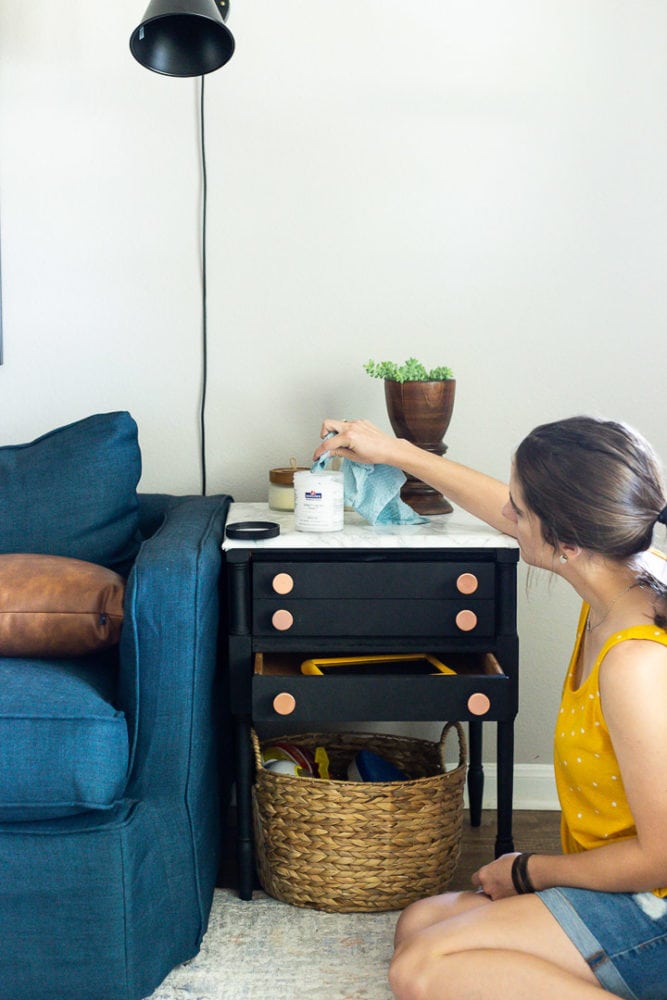 It's incredibly simple to use – just grab a lint-free cloth (or a small brush, or a spatula – basically, whatever you've got lying around) and rub it on the area that's sticking. Just like that, it should start opening smoothly. It can also be used on windows that stick (I have a few of those!), squeaky doors (those too!), and blinds that get stuck.
Product Used: Mohawk's Slideez
Time taken: 5 minutes. Why did I wait so long to tackle this?!
2. Tackle the water rings
Ooooooh water rings on wood furniture. The worst, right?! I'm really adamant about making our house as livable, comfortable, and casual as possible, so I absolutely refuse to be that person that is constantly pushing everyone to use coasters. But, of course, that can come with a price – in the form of annoying water rings aaaaaall over everything.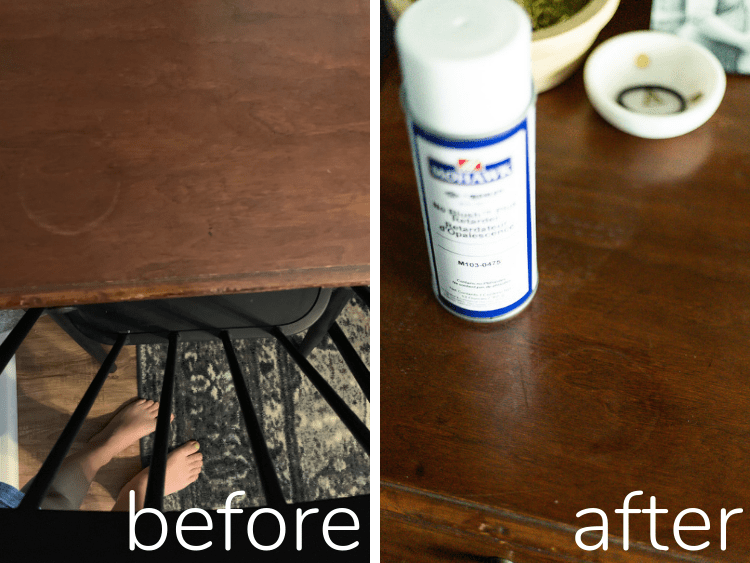 I'll admit that I was a little skeptical about if No Blush was really going to work to help get rid of the marks on our furniture, but I figured it couldn't hurt. No Blush is an aerosol spray that helps release any trapped moisture in your furniture and gets rid of the "blush" (the white marks). When I was researching it, I learned that it's not just sweaty water glasses that can cause blush on wood furniture – really cold weather or humidity can cause these white marks too!
I tried it on my wood desk (pictured above) and it got most of the water ring out – the wood is laminate, not solid, so it probably would have worked even better on real wood. I used it on Corey's nightstand too (which is painted) and it got rid of the water stain immediately. It was hard to capture in a photo, but if you watch the video you can literally see it disappear before your very eyes. It's pretty impressive! All you have to do is shake the can and spray a light misting onto the affected area, then let it dry.
Product Used: Mohawk's No Blush
Time taken: A whopping two minutes.
3. Get your appliances nice & Shiny
Appliance cleaning is probably my least favorite task in the kitchen. We have stainless steel appliances and oh my goodness it's impossible to keep them looking nice. They've always got fingerprints and streaks all over them, and I feel like I could probably sit down and give them a full scrub down weekly and I still wouldn't be totally happy with it.
So, I was really excited to try OZ Polish to see how much easier it made the task. It's meant almost any finish – wood, tile, stainless, laminate, and marble included. But, of course, I was the most hopeful that it would make my appliance-cleaning struggles a thing of the past.
OZ Polish is basically an all-in-one cleaner – it cleans, polishes, and leaves a protectant on the finish to help you have to clean it less often. I tried it on all of our kitchen appliances and, well, the results speak for themselves!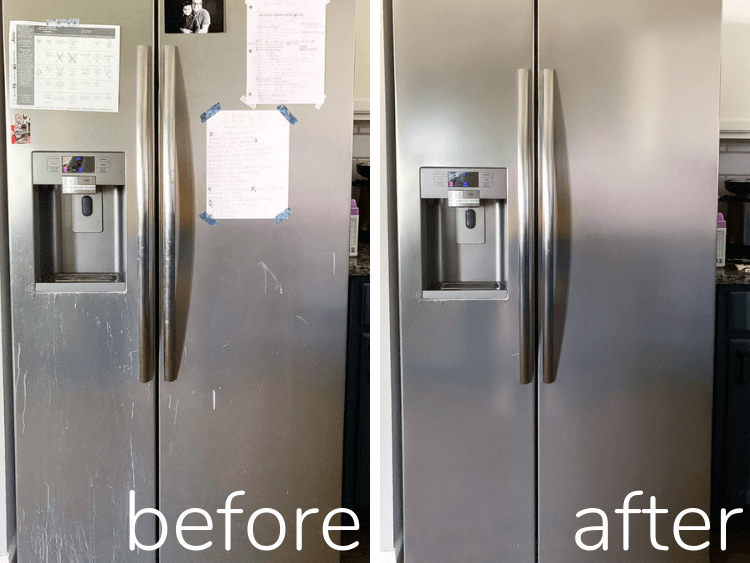 This guy is definitely going into my regular cleaning rotation – I love that it's so versatile, because I don't have the storage space for tons of specialized cleaners!
Product Used: Mohawk's OZ Polish
Time taken: About 10 minutes.
I feel really great about knocking these pesky little tasks off of my to-do list, and it's motivating me to try to get a few more done soon, too! I shared a couple of these on Instagram as I worked, and y'all were so excited about the idea, so keep an eye out for another round of the tiny to-do list soon!
I think the next things I'll tackle will probably be swapping out all of the mis-matched light switches and outlets (drives me nuts!) and doing paint touch-ups around the house. Are you in?! It sounds like a perfect thing to tackle once the kids go back to school in the fall!