Y'all! Another month has passed and now Corey and I are only five short months away from living in Austin for good! It also means that it's been a month since this blog was born and I wrote a post about being 6 months away. Time flies, huh?
In honor of crossing another month on the calendar, I thought I'd write another list about moving to Austin. Only this time, I'm going to talk about the things I will miss dearly when we leave College Station. I mean, this town isn't all bad!
So, I present: Things I Will Miss Like Crazy When I Leave College Station
1. Cheap movies!
This is hands down what I will miss most about this town. Our local movie theater is so incredibly cheap it's almost criminal. Corey and I can both go see a movie for under $10. Closer to about $7 if we go to a matinee. That's total, y'all, not per person! Ca-razy. But awesome.
2. My friends
Most of the people I became close to in college have left and moved on from this little ol' town, but I've recently reconnected with a few friends who are still here, and I've become very close to most of the people I work with. It's going to be very hard to leave them when August rolls around!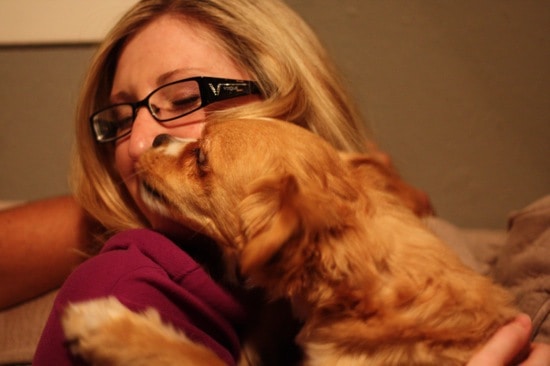 Cullen will miss our friends too!
3. Distance
I know that in my last list I said that I was ready to be closer to our family, but I'm not gonna lie when I say that being two hours away from all of your family definitely has its perks. Our weekends are almost always totally ours because we don't have any other family obligations, and when we do go visit our family it is always much nicer because they're excited to see us and there is no room for drama.
I really am ready to be closer to our families, but I think that a small part of me is going to miss the distance when we're a mere 20 minutes away from both sets of parents and we suddenly see them every week instead of every other month or so.
4. Our home
I'm so, so incredibly excited about finding a new home in Austin and buying our first house together, but I will definitely miss the little home we've built for ourselves here. The duplex we're living in is one that I've wanted to live in ever since I moved to College Station almost 4 years ago, and I'm a bit sad that I'll only get to enjoy it for a year before we have to leave.
See those brown curtains? Yeah, those were part of the ugly bachelor brown that I've since eliminated from the room!
I know I haven't really shared many photos of our home yet, and I plan to change that very soon! I want to document the first home Corey and I shared before we leave it in 5 months, so get ready for a house tour later this week!
5. Aggieland!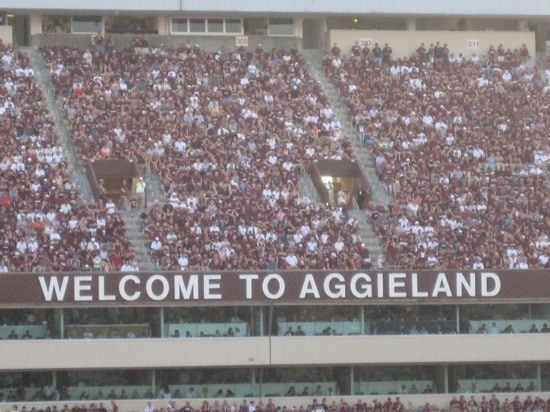 Okay, so THIS is actually what I'll miss most about this town. I'm fiercely loyal to my college, and I will miss being only 5 minutes away from it. I'll miss the craziness of living on sorority row when rush week comes around, I'll miss the sights and sounds of football season, I'll miss screaming my head off at football games, and I'll miss the amazing feeling of knowing I'm completely surrounded by fellow Aggies.
But you know what? We'll be back. Often. We plan on continuing to attend football games as much as possible, and we plan on making lots of trips back to our first hometown!
In a mere 5 months, we'll be starting a huge new period in our lives. We're so excited about the adventure that's coming our way, and even though we'll miss some things about College Station, we are READY to be home!
How do you feel about the town you attended college in? Do you ever miss it?