Alternate title: "Why I'm So Excited to Get the Hell Out of College Station"
As of today, Corey and I have 6 months until we are leaving College Station and moving to Austin, hopefully forever. Our lease ends on August 1, and we are so excited to get out of here as soon as we possibly can.
I've lived in College Station for about 3 and a half years now, and while it's not a terrible place to live, I miss my family and my hometown desperately. So today, in honor of the 6 month mark, and because I love lists, I'm going to give you the top five reasons I am dying to get out of this crazy town.
1: People drive like idiots here.
I know everyone says that about where they live, but I really truly mean it. Stop lights aren't so much a law as they are a mere suggestion. I've seen as many as 8 cars go through a light after it has turned red. I've been almost t-boned by many different people who just chose to ignore stop signs, and I can't even tell you how many people I see texting while driving on a daily basis. Now, I know people in Austin aren't perfect drivers, but I can handle the kind of crazy that Austin drivers have to offer. College Station drivers? I totally can't handle them.
2: We have NOTHING entertaining to do here.
We have very limited shopping choices, and while there are a few other entertaining options, once you've seen 'em once you don't want to go back. There is one mall within about a 100 mile radius and it looks like it's straight out of 1975.
(Source) It might not look bad from the outside, but trust me on this one.
Oh, and this mall recently lost one of its only redeeming qualities: Gap. That's right. My town doesn't even have a freaking Gap anymore.
The most exciting thing to do around here is head to Northgate on a Friday night and hit up a few bars. Fun, right?
Sure, if you like creepy, awkward, drunk college dudes following you around all night. It's a blast.
3: My family is 2 hours away from me.
I know many people live pretty far away from their families and do just fine with it, but that does not apply to Corey & I. We spend quite a bit of time with our families, and driving 2 hours both ways every time we want to gets old very, very quickly.
A typical weekend visiting Austin involves us trying to figure out where we'll stay, what we'll do with our dogs, who all we will spend time with (there is NEVER enough time to spend with everyone who we want to see!) and who will watch our dogs while we are spending time with said people. Then we have to pack, drive for two hours with two very antsy dogs in our backseat, go spend time with family, which usually ends up being needlessly stressful because of the dogs, and then drive back two days later, exhausted and grumpy.
Sounds like quality family time, right?
4: I have friends in Austin.
I used to have friends in College Station. Exhibit A: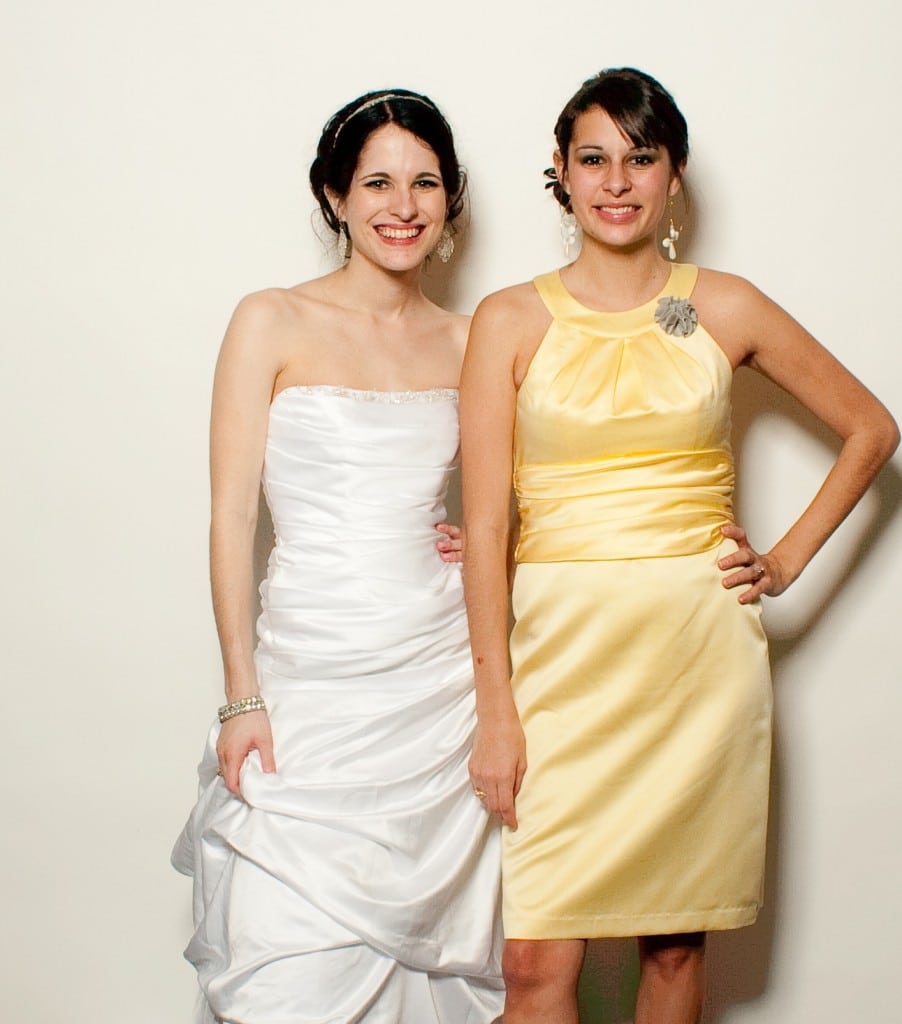 My BFF Audrey and I, at my wedding
(Photo by She-N-He Photography)
But, you see, we graduated. And all of my friends left. And I'm…stuck…here.
5: I'm ready for the transition period to be over.
I feel like Corey and I are in a bit of a transition period in our life right now. We just got married, which is awesome, but we're stuck in this town with jobs that we know we won't have for much longer, acquaintances that we're afraid to turn into friends (because, um, we're leaving!), and a house that we don't feel completely settled in.
I'm ready to be in a home that we know is ours, in a town that we can grow into and grow old in. I'm sick of all this waiting around – I'm ready for the rest of my life to officially begin!
I promise that I really don't hate College Station. It's a nice town…I'm just ready to be back home.
Have you ever felt like you were in a transition period in your life? How did you deal with it?