One of the easiest (and cheapest!) ways that I like to switch things up around the holidays is to completely re-vamp my gallery wall so that all of the pictures are Christmas-related. It's a bit of a pain to take all of the frames down and change 'em out, but the end result is so worth it!
I did this last year, and when Christmas was over all I did was flip things around so that the Christmas pictures were behind the regular, every-day ones – that made things super easy for me this year! All I had to do was grab the frame, switch it up, and put it back on the wall! Of course, I had to add a few new and different things to the collection this year, thanks to the never-ending supply of amazing free prints you can find on the internet, but in the end the whole project took me maybe an hour and is a fun touch that really makes the whole house feel a bit more festive.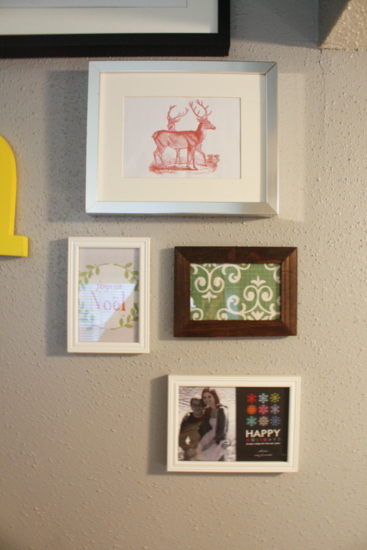 Probably my favorite new additions to the gallery wall are the super adorable faux-chalkboard prints I found at Nest of Posies. They're gorgeous, and I love how they look on the wall – I want to find a place for all 5 of them somewhere in my house!
There are also a few other random things scattered around on the walls, like one of our Christmas cards from a few years back, some leftover wrapping paper from last year, some Christmas sheet music that I printed out, and even a few gift tags that I printed and taped to an old drop cloth (looks kind of like burlap and makes a great faux mat!)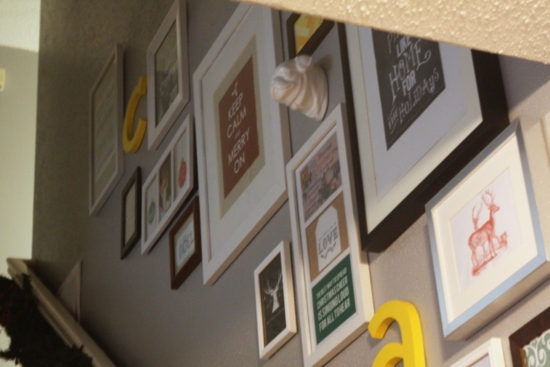 It's a small touch, but it's just another one of those little things that makes the whole house feel like it's Christmas! Plus, it's nice to have a few new things to look at on the walls for the month of December!
Do you change up any photos on your walls for the Christmas season? Any other awesome resources for Christmas printables?