When I did my reader survey a few weeks back, one thing I  saw over and over was that you guys want some more personal posts. I'm always happy to oblige, and it's been a long time since I've done a day in the life post, so I figured it was about time we do another. If you want to go back in time, you can see what life was like right after I had Jackson, and what it was like last summer when he was a year and a half old.
I did this post one day recently when we had a Monday off of work – those "bonus days" are always my favorite so I wanted to capture what it looks like in this phase of our life.
* * * * * * * * * *
7:30 – I can hear Jackson talking in his room. He's usually pretty happy to hang out for a while before I go get him, so I grab my phone and check Facebook while I wake up.

7:50 – His talking is getting louder and whinier, so I hop out of bed and make sure Corey's awake. We don't have to go to work today, but I know Jackson will be asking for him when we get downstairs.
Jackson is awake and ready to party! I get his diaper changed and we head downstairs for breakfast.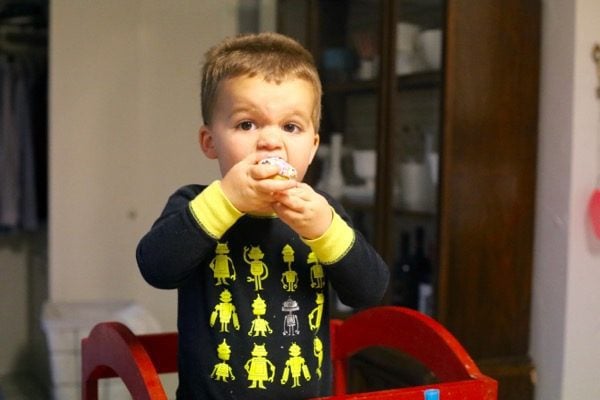 8:00 – Jack and I are eating donuts for breakfast this morning. He convinced me to buy them at the grocery store the other day so we're finishing off the last of them. He eats breakfast in the tower every morning, so I sit at the island with him while he enjoys his fruit and his sprinkle donut.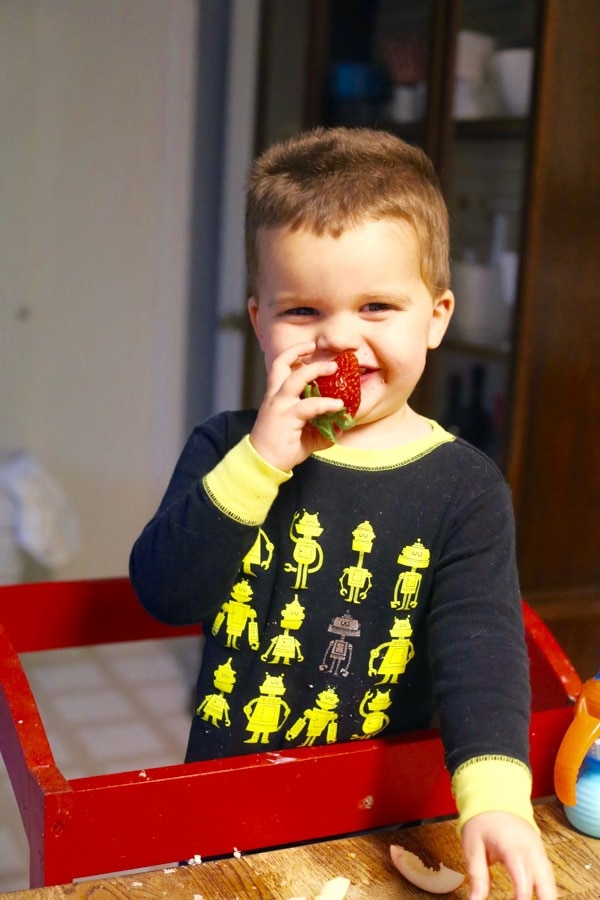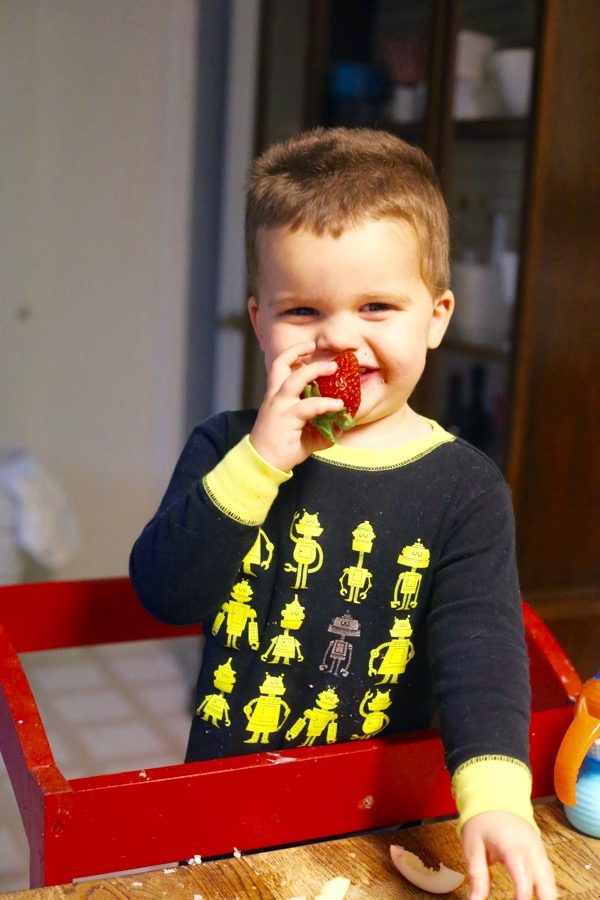 8:30 – We're both finished with breakfast and I've managed to get a little bit of cleaning done in the kitchen while he was eating. We head into the living room to play and Jackson requests to watch Lilo & Stitch. It's a rainy day (it's been raining in our neck of the woods for three days straight at this point, and it's supposed to keep raining all week!) so I don't even fight the fact that we'll be watching more television than usual today.
He grabs his coloring books and crayons and we settle onto the couch for some snuggles, coloring, and television. Corey joins us at this point, and we're both feeling pretty excited about the lazy day stretching ahead of us.
9:15 – Jackson has lost most of his interest in the movie and is up and playing. He runs around the living room playing mostly by himself while Corey and I sneak in a bit of work on our computers. Occasionally he'll bring us a toy or stop to watch the movie for a minute.
9:50 – I'm done with the work I had, so I hop up to do some cleaning. Jackson goes upstairs with me while I put laundry away, and he watches the garbage truck as it goes down our street. He flits between helping me clean, playing with toys in his room, looking out the window, and talking to Corey, who is hanging out in the room with me.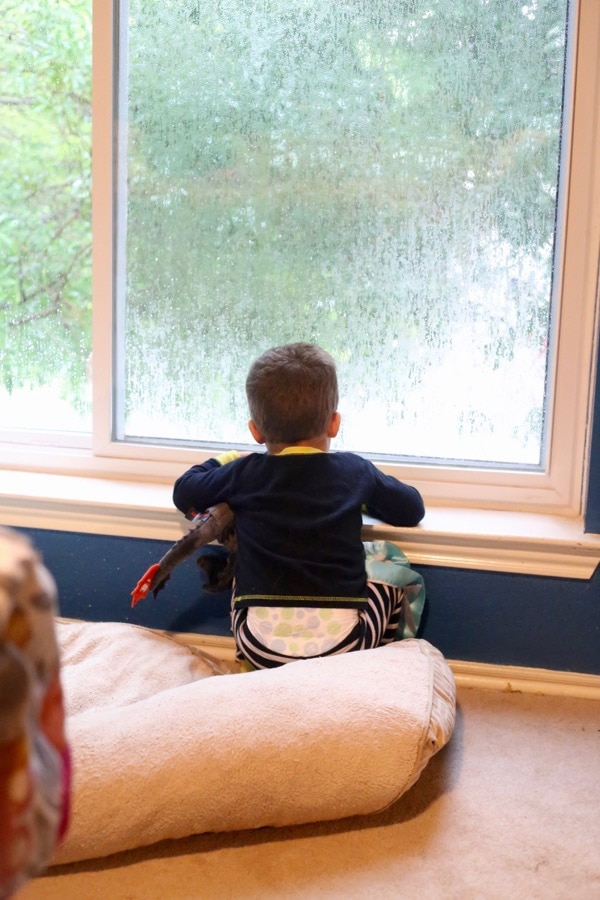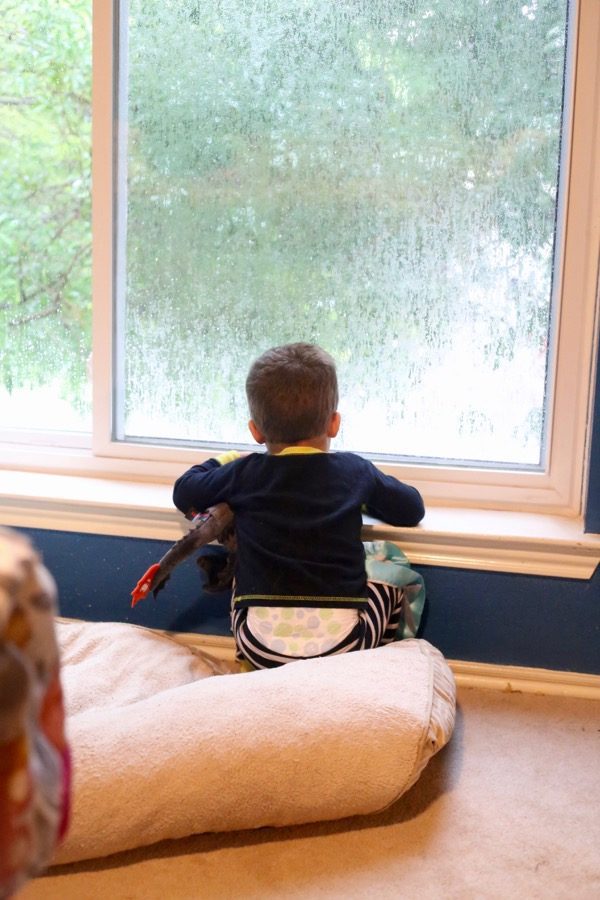 10:30 – Jack is ready to head downstairs and I'm done with my cleaning. We pull out some toys and plop down on the floor. It's still incredibly dreary outside, so I light some candles and turn on some music. We all hang out in the living room, playing with toys, chatting, and just being together. These are my favorite times of day – Corey and I aren't distracted by work or our phones, Jackson is having a blast playing in his play kitchen and bringing us food, and we're just hanging out. It's lovely.
11:30 – Jackson has started to incessantly request snacks, so we decide it's lunch time. He asks for a peanut butter and jelly sandwich, and Corey and I have leftovers. While we're eating, Corey and I also go ahead and work on packing Jackson's lunches for the week ahead (I shared all the details of our process over on Hellobee a few weeks ago).
Jackson is in a hungry mood today (some days he eats almost nothing), so he's at the island eating for a while. I manage to get most of his lunch stuff cooked and packed, and I get the kitchen back in order. Once Jackson finishes eating, he runs into the garage to play while Corey gets some work done on his computer in there.
12:30 – Nap time! Jackson doesn't fight it at all today, so I know he's worn out. We head upstairs and read a book, then he asks for Corey to go up. He's going through a phase of needing a million things before he'll go to sleep (like a big kiss, a tiny kiss, one more song, tuck my feet, no tuck my feet again, etc. etc. etc.) so Corey's up there for a few minutes before Jackson quiets all the way down.
Corey and I both have some stuff to get done, so we head to our respective computers to work throughout nap time. I do some blogging, some work on the blog class I'm currently taking, and deal with a phone call I have scheduled. I try to squeeze in as much as I possibly can during these couple of hours, because it's rare for me to have a day during the week when I can actually work on blog stuff at my favorite place in the house during the daylight hours!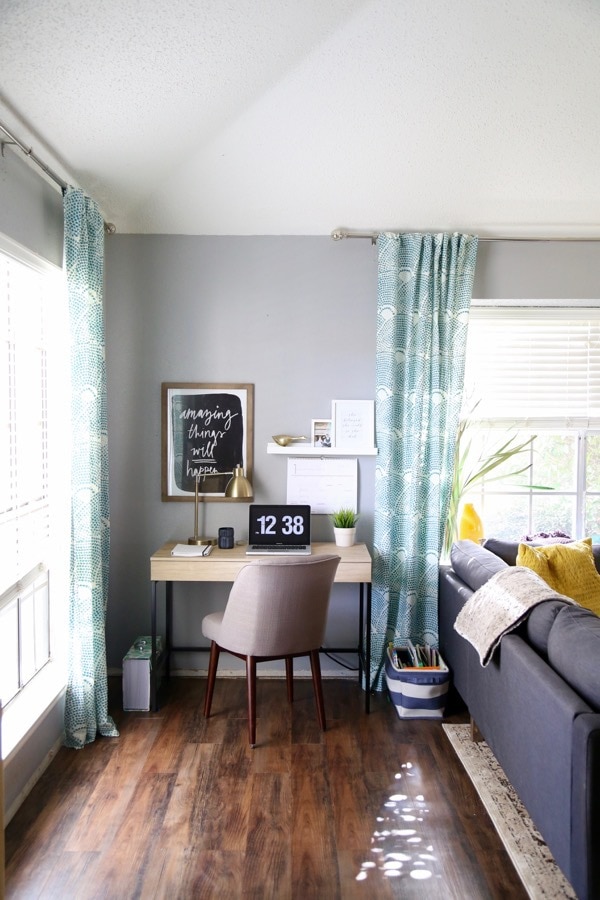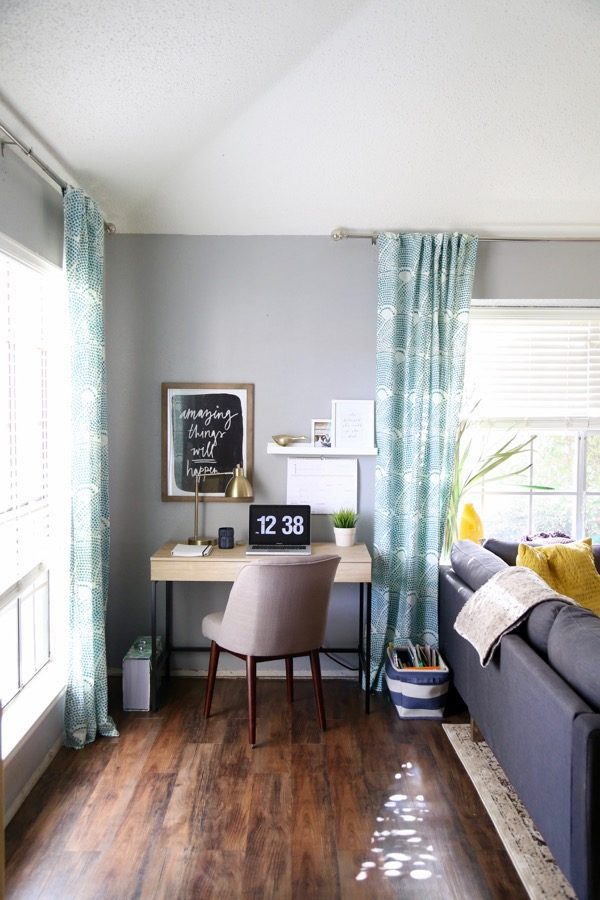 1:30 – Corey comes out and asks if I want to play a game. I pause my work, and we play one of our favorite quick games – Biblios. After we're done, I have a little bit of time to finish up what I was working on before…
2:15 – Jackson is awake! He's up much earlier than usual (typically naptime is over around 3:00), but there's no denying the fact that he is wide awake. When I go up to get him, he tells me it's his birthday and he needs cake. He settles on a compromise – a cookie while I give him a haircut.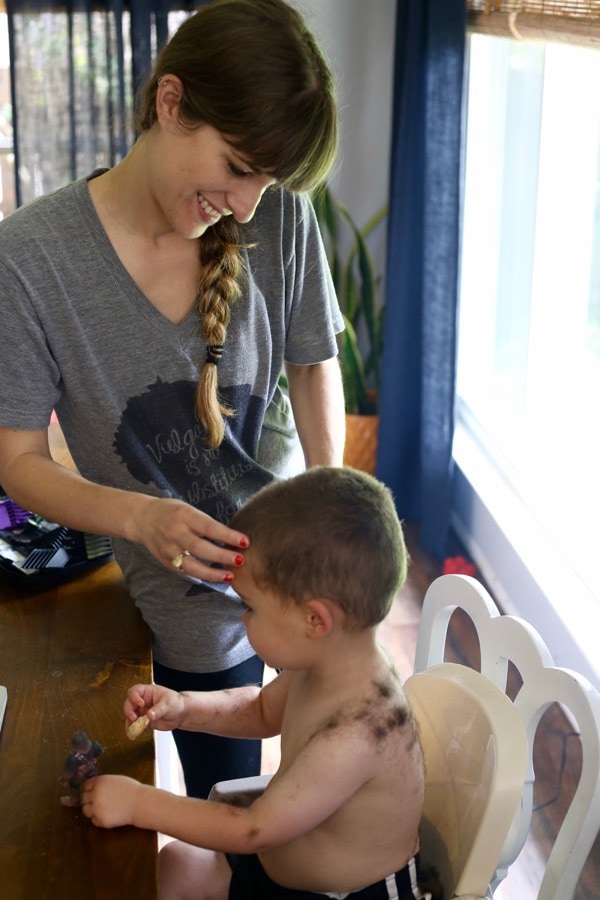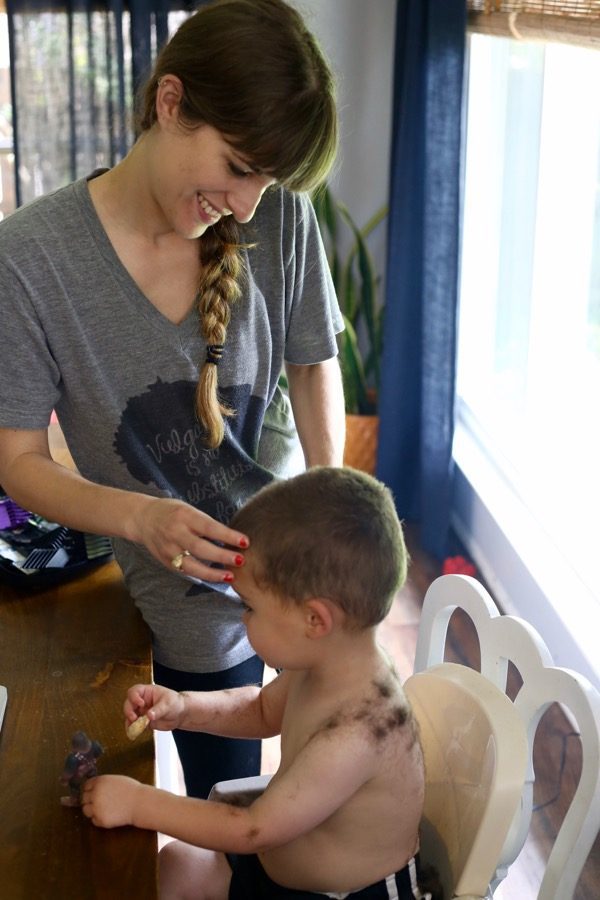 He's pretty used to our at-home haircuts at this point, so he happily watches a garbage truck YouTube video while I cut his hair. When we're done, he is covered in hair and needs a bath. It always takes a little convincing when he needs a bath in the middle of the day, because he's so used to them being right before going to sleep. I have to promise him several times that it's not bedtime. He has plenty of fun despite his reservations.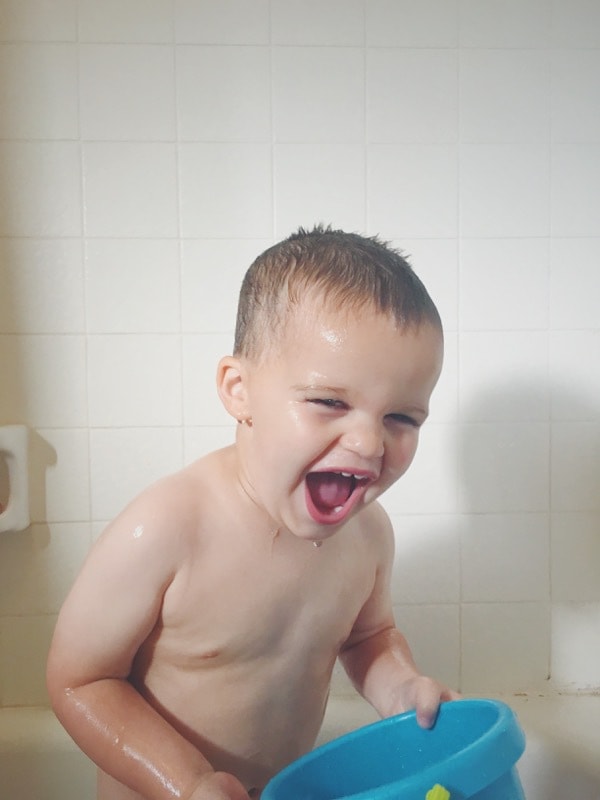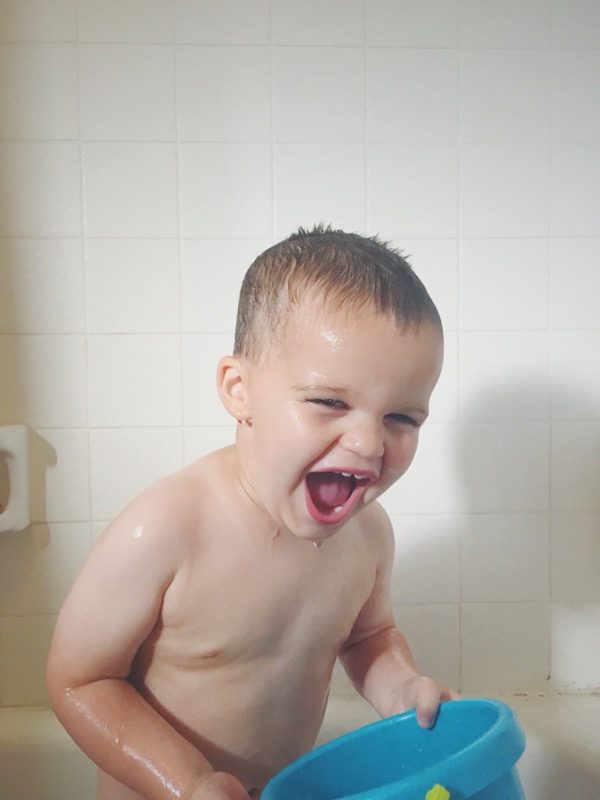 3:00 – He's all clean and dressed. He has a quick snack in the island because he didn't like the cookie I had offered him earlier, then he requests to watch Lilo & Stitch again. We can't go outside (still raining!) so I agree.
3:30 – He's wiggly and silly and tells me he's done watching the show. Corey has to leave to go to work for a few hours, so Jackson and I play and wrestle in the living room for a while.
4:00 – I notice the rain seems to have let up (for now) so Jackson and I hurry to get our shoes on and head out the door for a walk to the mailbox. It feels good to leave the house and I can tell he's thrilled to be outside. He chats with all of the neighbors we pass and insists on carrying some of the mail back to the house.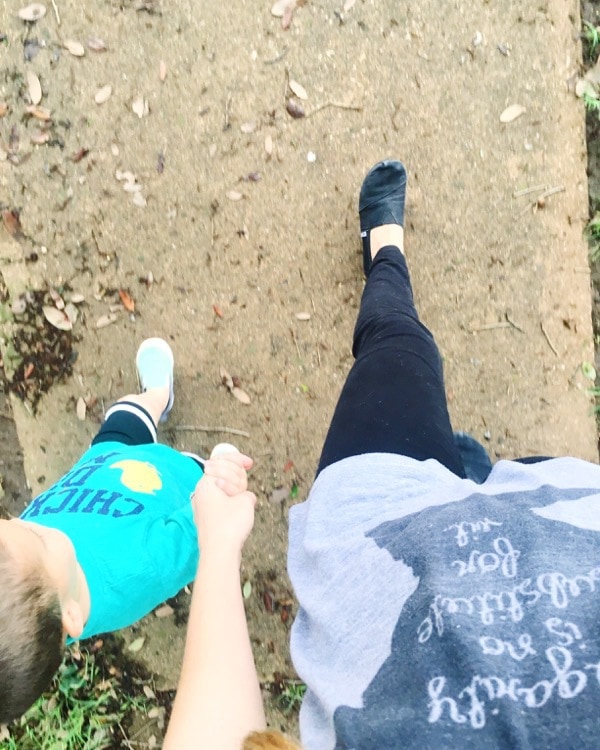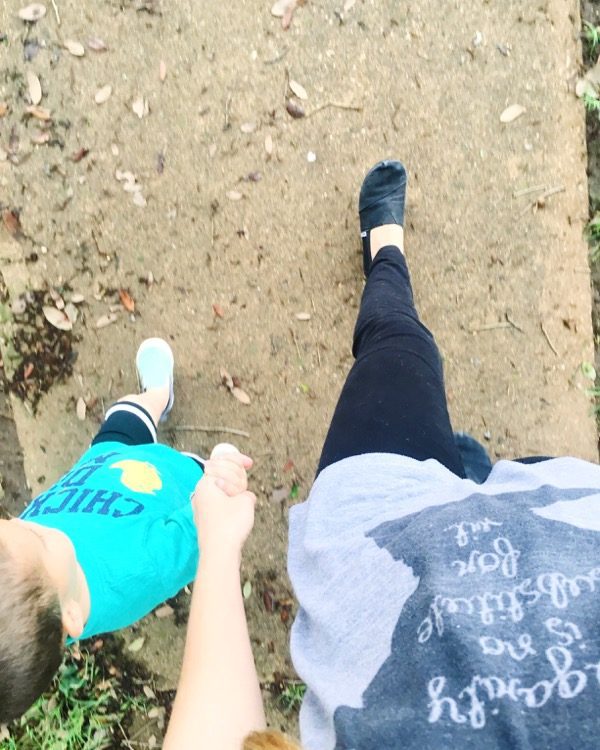 When we get back, I start on dinner – a whole roasted chicken with risotto and roasted eggplant.  While I cook, Jackson plays with the magnets in the living room, draws on our chalkboard door, and runs around the house being silly.
5:30 – Dinner is in the oven and it's just a waiting game now. Jackson is eating separately from us tonight (a rarity, but sometimes necessary when Corey's working late), so I prep some food for him and get him set up at his little table in the living room. He's thrilled because he never gets to eat here, and I'm able to get a little bit of cleaning and other dinner prep done while he eats.
6:15 – Jack is done eating and it's time to get him ready for bed. We head upstairs and do the whole nighttime routine. He seems a little wired, which is a sign to me that he's overtired from his short nap this afternoon. Corey gets home just in time to help put him to bed, so he reads with us, then we cross our fingers that he'll actually go to sleep soon and head downstairs.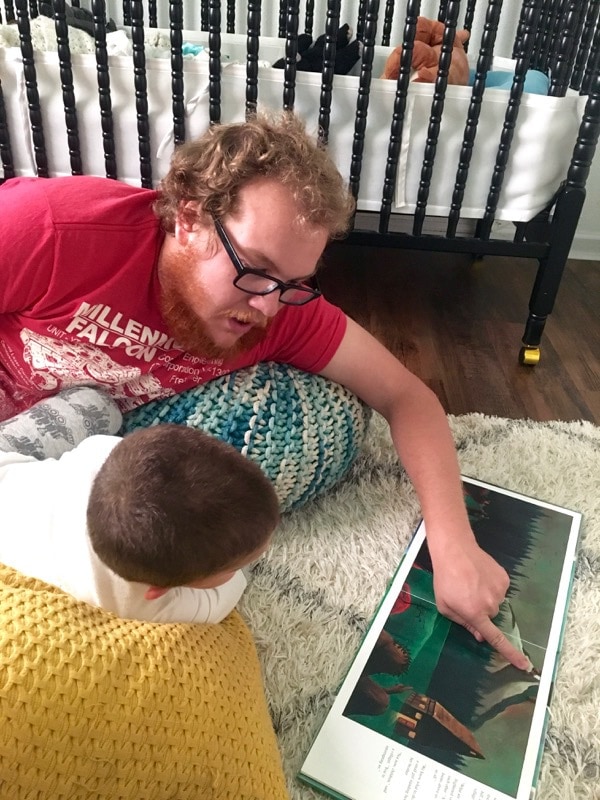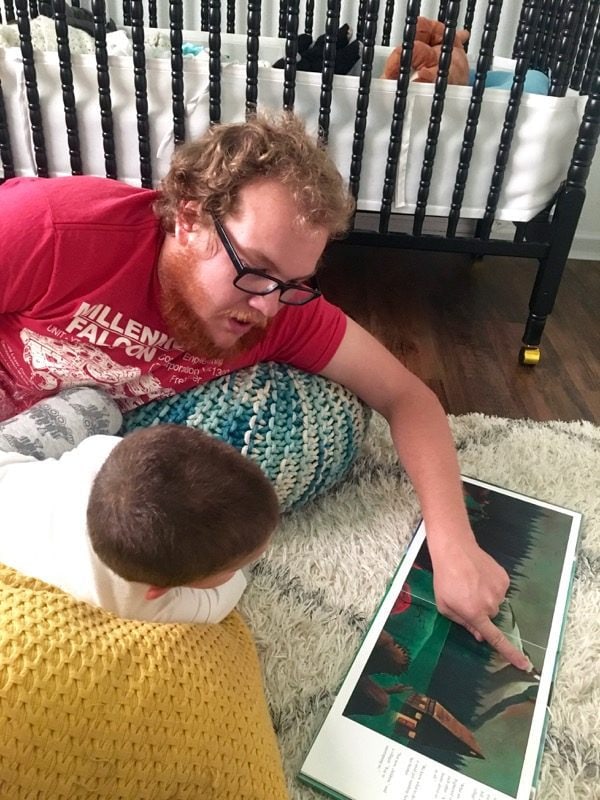 6:40 – We decide to eat on the couch tonight, and we load up an episode of Scandal.
9:45 – Three episodes later, we're all caught up! We don't usually get to watch this much television at once, but Corey's going to be out of town for work most of the rest of the week, so we decided to soak up all of the lazy time we could get. We wrap up a few things downstairs and head to bed!
* * * * * * * * * *
Whew! The days seem so quiet until I write it all out like that! It's always so fun for me to take these little snapshots of what our life looks like right now, because I know it's going to change drastically again before I know it. It seems like when you have a kid, things never stay the same for very long!
What does a typical day off look like for you?