If you read our house tour, then you'll know that this is what our living room looks like: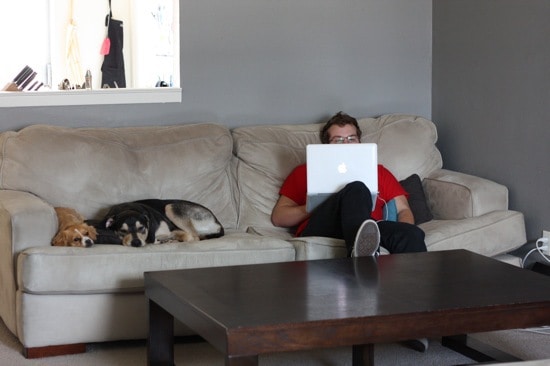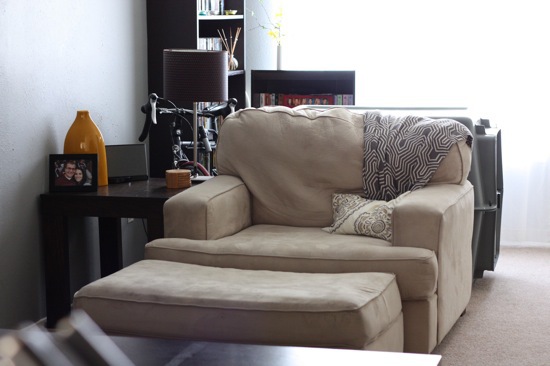 Well, I'm excited to report that it looks pretty much completely different now.
Confused? Let me explain.
Corey and I have big plans to replace our couch and love seat someday (soon!) with a big sectional. We're dying for something a little more pet friendly (read: not white) and easier to clean.
We really loved the coffee table pictured above, but there's no way it would ever work with a sectional since it's so gigantic. So, we knew that once we replaced the couches, the coffee table would have to go too. Luckily, we both had pretty much the exact same vision when it came to what we wanted to replace it with. We wanted to fuel our mid-century modern obsession with a cute, round coffee table.
Unfortunately, that drool-worthy table costs a whopping $600, so it wasn't really in the cards for us. We figured it would take us quite a bit of searching to find something that fit the bill. We had a very specific table in mind, and nothing less was going to satisfy us.
Well, you know how these things work out. When you're least expecting to find what you're looking for, it's suddenly staring you in the face. One day we were browsing Cragislist Houston when we saw it. The perfect table for us was sitting in Houston, just waiting for us to come get it.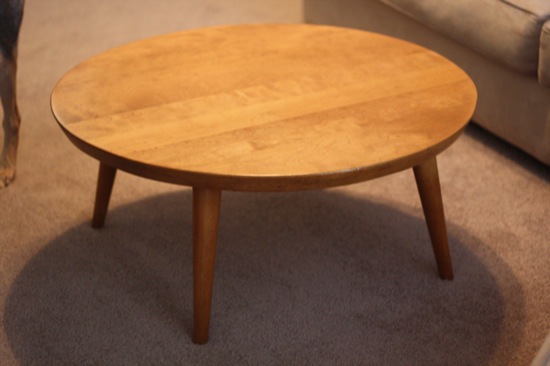 Obviously it needed some work before it really fit in at our house, but since when have we been known to turn down the chance to spruce up some furniture?
We excitedly called the owner and set up a meeting for that weekend, but first we had to get rid of the old stuff. We posted it on Cragislist and in a stroke of insane luck managed to have it picked up the night before we went to get the new one.
Of course, Corey had some trouble letting go of the first furniture that he was able to call his own.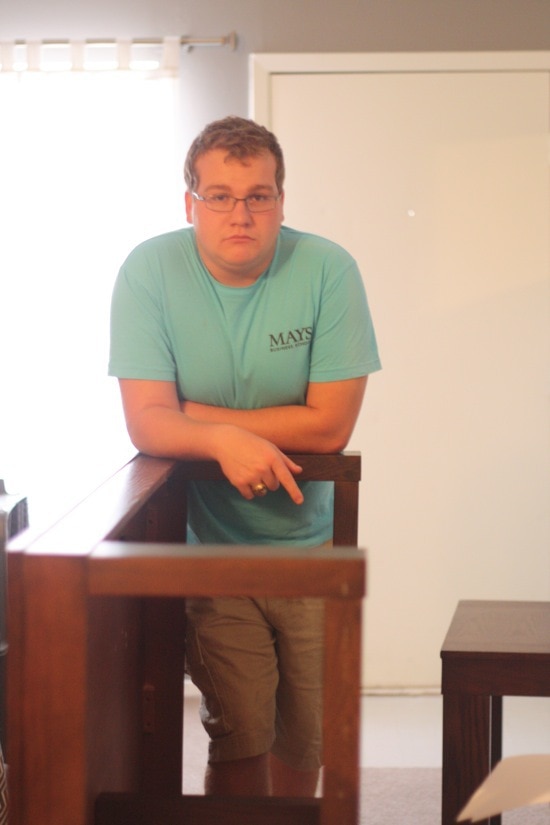 But, alas, it was too late and the furniture was sold. The new owners came to pick it up, and our living room was suddenly looking very empty.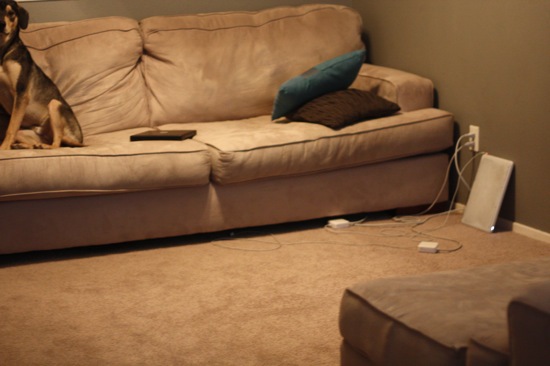 But not for long! We woke up bright and early on Saturday morning, ready to go pick up our new table.
When we arrived to pick up the table, the seller informed us that she also had a lamp she was looking to get rid of. She said she'd take $10 for it. We walked back to her garage to check it out and were pleased to find that it was extremely cute – and would probably cost a lot more than $10 if we had found it anywhere else!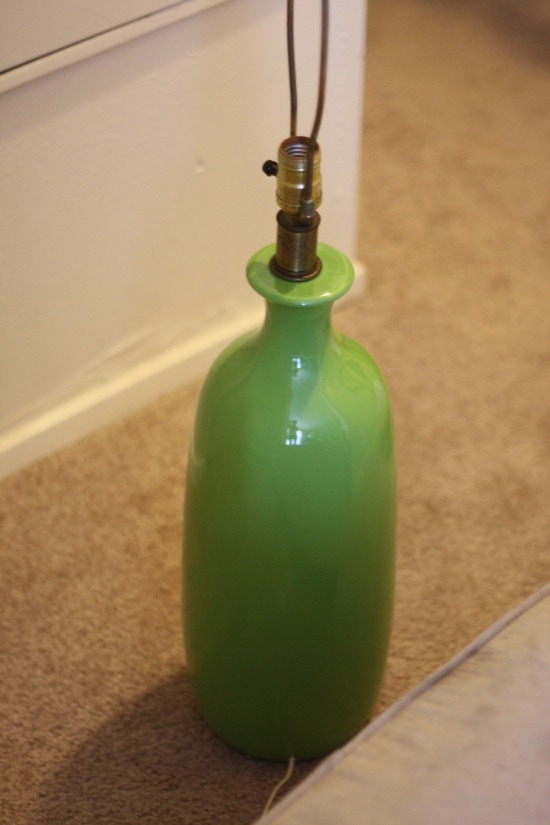 You can't tell in this photo, but the base of the lamp (just the green part) is probably close to two feet tall – it's HUGE!
The lamp is the perfect color for our office – so that's where it's currently living. That poor room has a little bit too much going on in it right now (what with the colorful chair, magenta lamp, and now this one), but hopefully once we get a bigger house we'll be able to spread out the brightly-colored love a bit more.
We happily loaded the table and the lamp into our car and headed home. When we got back to the house, we thought about just plopping the new table down where the old one had been, but we figured before we did we would try out a few different configurations. Corey has been itching to move the couch to actually face the television for some time now, and with a smaller coffee table we thought it might actually be possible.
So, the furniture moving began!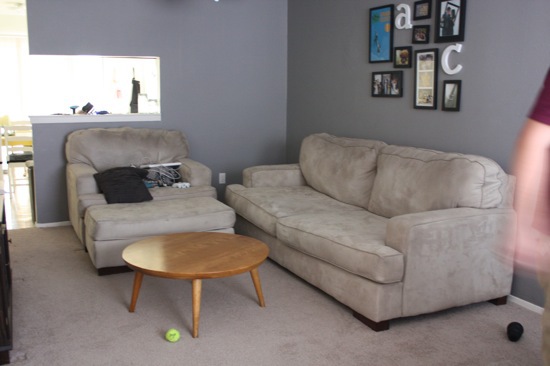 This was the first configuration we tried. We were both very excited to find that the couch would work in that position, but we weren't so sure about the rest of it. I liked this set-up in theory, but the ottoman was a bit awkward since it was covering up almost half of the couch, and there was a ton of unused space in the corner between the chair and the couch.
We knew we were on the right track, however, so we kept going.
When we were in Houston, we couldn't resist popping into Home Goods to look around. See if you can spot a little sneak peek of one of our finds next to the couch!
We were getting much closer with this one! I liked how this one got the dog kennel away from the entryway, but I didn't like how it was still one of the first things you saw when you walked in – and it was visible from almost every angle in the room.
I quickly decided that this was the perfect set-up, with one minor adjustment…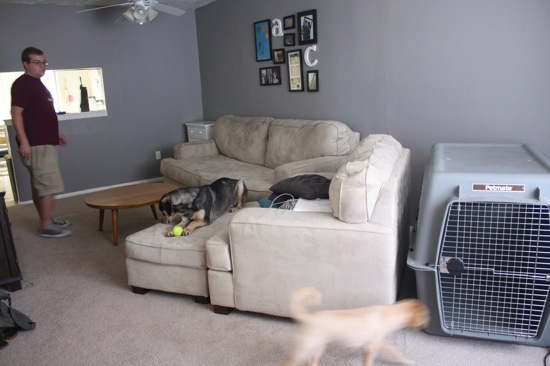 There we go! The kennel is still pretty visible in the room – we can't avoid that – but now it's hiding behind the chair (much like it was with the old coffee table), and it's only visible if you're standing on this side of the room.
We're loving the new set-up so far – the dogs have a lot more room to play with the smaller coffee table, and it's much easier to watch television when you're actually facing it!
Even though we were really pleased with how everything was looking, we couldn't get too relaxed yet. Corey had some sanding to do, and I had lots of research to do – I had never stained a piece of furniture before, and the coffee table was about to become my first!
Have you rearranged any rooms lately? Don't you just love how it gives the whole room a new life?!