Over the last few months, Corey and I have made quite a bit of progress in our master bedroom (you can see the entire progression here), but one of the things that has continued to drive me absolutely insane is the complete lack of anything on the walls – especially above our bed.
I've had a really hard time coming up with something that I thought would work, because we already have a ton of color in the room and I didn't want to overwhelm the area above our bed with a ton of pattern or color. And our headboard is tall enough that there really isn't a ton of room for any large art.
I've always been a little bit obsessed with the Zinc letters at Anthropologie, but I could never bring myself to buy them because they're a whopping $18 a pop. Luckily, this pretty little blog post comes along with a quick tutorial on how to re-create the look, so I was set.
Corey and I had a brainstorming session about what word we could use. And here's what we landed on: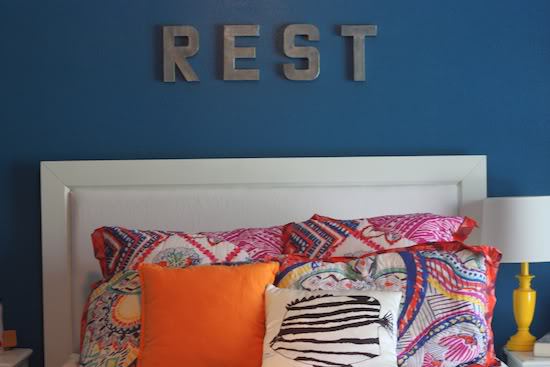 We liked the idea of using the word "Rest" because our room has so much pattern and color – we thought it would be fun to contrast that with some calm. This project was incredibly cheap and easy to accomplish – all you need is some acrylic paint in both black and metallic silver, and some paintbrushes (I grabbed a pack of 4 for 99 cents!).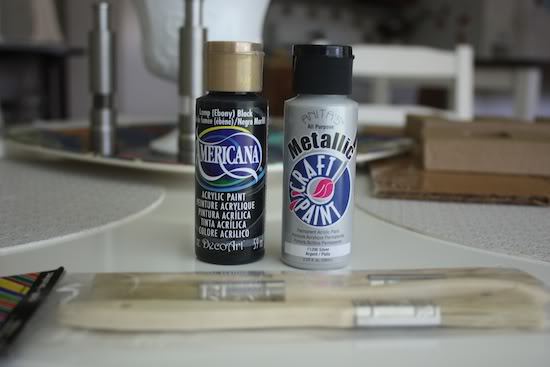 First up you paint the letters black. I was a little worried about this step because it felt counter-intuitive to paint it black when I actually wanted it to be silver, but trust me – it works! The paint dries really quickly, so you don't have to wait long in-between steps.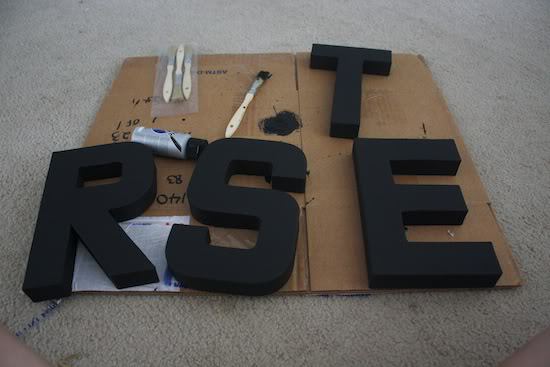 Now comes the fun part. You get a little bit of silver paint on your brush (just a little!) – be careful not to overdo it, or your letters won't look quite as rustic. Your brush should look a little something like this: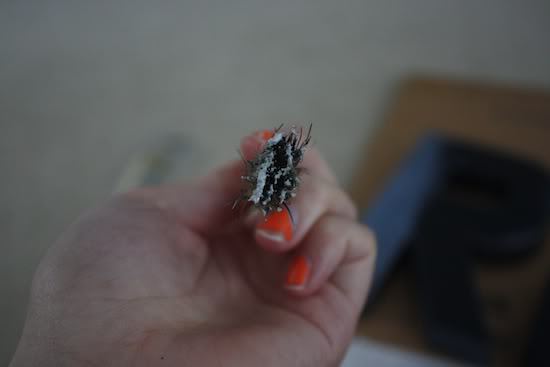 And then you brush it on! Try to use long, light strokes – you want the silver to show up, but you don't want it to completely cover up the black.
And that's it! Insanely easy.
Of course, then you have to hang 'em. I won't lie – I got about three quarters of the way through the project when Corey stopped me and asked how I was planning on hanging these. I had no idea. They don't have any holes or anything on the back, so we were pretty stumped at first, but after talking through it a little bit we decided to use velcro – cheap, easy, and effective!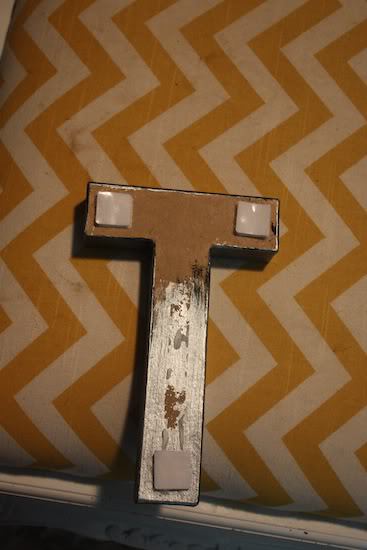 We stuck the velcro on the back of the letters and then stuck 'em to the wall – it worked out nicely because we can easily adjust the letters a little bit if we need to. And the final product?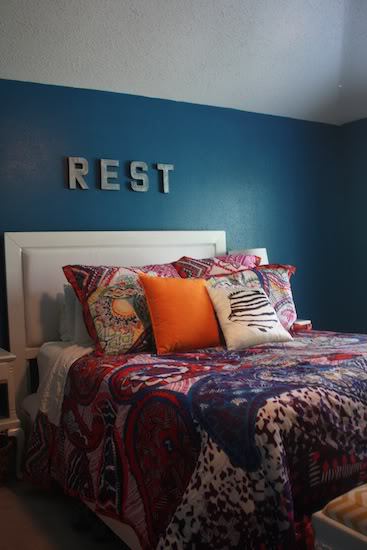 In the photos the letters look really small, but it looks better in person. This obviously isn't all we're going to do up here, but we're still working on figuring out the solution for the rest of the space. I'd like to come up with some sort of bracket or parentheses to go on either side of the letters, and we're also toying around with the idea of getting something to hang above our lamps on either side to add a little more to the area. We'll see where we end up, but for now I'm loving the look – it's a good start!
I'm super impressed by how great the texture of these letters looks up close – I was definitely skeptical about how it would work with the paints, but it turned out to have a really great texture!
I love that we finally have something above the bed instead of it being a big blank slate, and I love the industrial, rustic look it adds to the room. Now we just have to decide what else to put up there!
What word would you like to hang up in your house?