Or rather, a really large problem that I'm kind of trying to downplay.
Now, before I get started and you go getting the wrong idea, I would just like to say that I adore my dog. He's sweet, cuddly, and wonderful. Plus, how could you not love this face?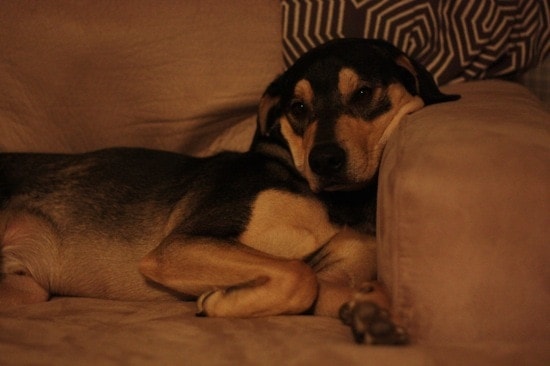 But. Ranger can be a…handful. To say the least. It's not really his fault. After all, I've heard that lab puppies are notoriously destructive and can be very difficult to deal with. Corey and I count ourselves lucky that he's not among the lab puppies that like to eat walls.
But, you see, he really loves hanging out on our ottoman. You know, this one: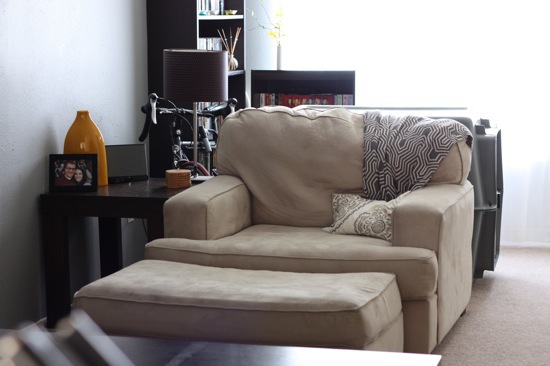 He's a big fan of napping there, or just hanging out and watching tv (seriously, he watches tv. But that's another post for another day). And it's totally fine that he hangs out there. It's pretty darn cute, in fact.
The problem comes in when Cullen runs by. Or walks by. Or looks at Ranger. Or, you know, breathes. Because then Ranger decides that it is time to play. Right now. And he launches himself off of the ottoman, sending the ottoman flying into the wall behind it.
Do you see where this is going?
This has been happening on a regular basis for the last 7 (almost 8 ) months that we've lived here, but we hadn't really thought much about it. Our walls are pretty dark and it's hard to notice any damage or anything.
Until…the other day Corey and I noticed something looked a little strange about the wall by the ottoman.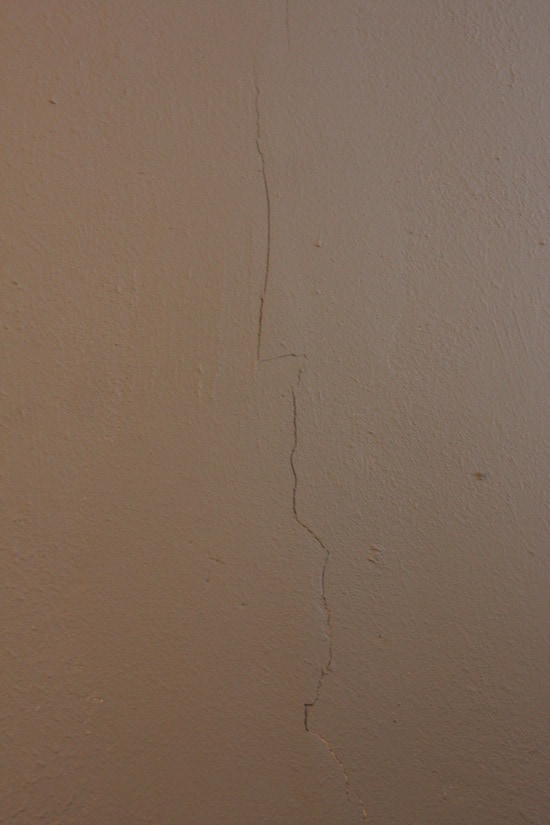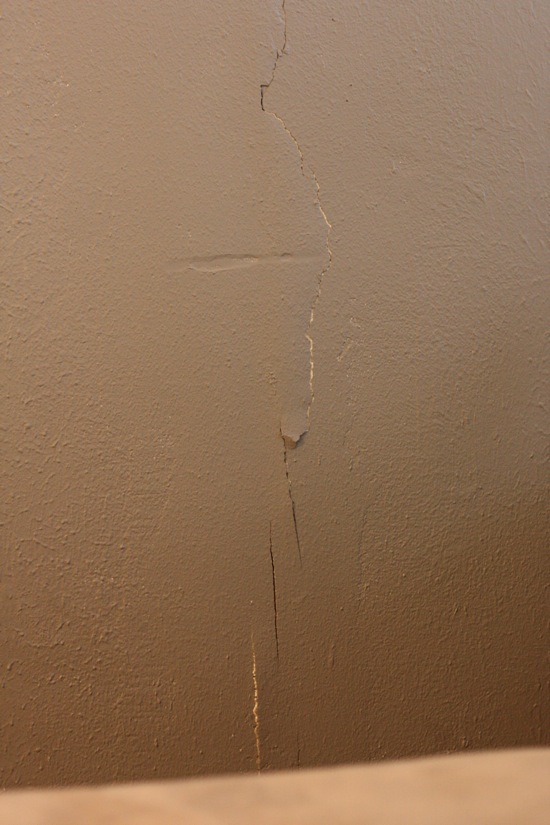 Um…uh oh?
It starts at the bottom of the wall and goes about 3/4 of the way up. Now, in our defense, this wall was already very damaged when we moved in. There was a pretty large crack a few feet off the ground (you can see it in the second photo), and I'm guessing that Ranger's ottoman launching has just made a pre-existing problem worse. Much worse.
We have no idea what to do about this problem. Currently, we just keep the ottoman pushed up against the wall so that when he jumps off of it, it can't move. However, that isn't exactly aesthetically pleasing. In fact, it looks downright silly. Plus, what the hell are we supposed to do when we're moving out and the landlord notices the HUGE CRACK IN THE WALL?!
"Oh, sorry, our dog likes to throw furniture."
Yeah, that should go over well.
So, my question is, can we fix this? Is there something Corey and I can do to fix it on the cheap so that we don't lose our entire deposit (and maybe then some) when we move out, or are we just totally screwed? And, please, someone tell me about your dog's destructive tendencies – I need comforting.