Remember how I shared that I totally didn't enjoy making snow globes last week?
Yeah, it really only got worse.
I've seen this idea a billion times all over Pinterest, and it looks so easy and oh so fun, so I figured there was no way we could screw it up. I was wrong.
We started off with a few cute supplies from Hobby Lobby – some mini trees, glitter, and a few other accessories like reindeer and some street lamps. We plopped down on the floor and got to arranging – I went with a classic set-up…
And Corey tried something a little more complicated (it lights up and everything!).
We glued our stuff to the lids of our mason jars and left it for the night to dry. A few days later, once it had set up completely, we came back to add the water and the glitter, and that's kind of where everything fell apart. We filled the jars with water and excitedly added some glitter….and it floated.
Womp womp.
We tried a few different things to get it to sink, but no luck. We tried a few other options, like chunkier glitter and even those faux snow flakes you can buy for villages, but nothing really worked. We knew we could add something to the water to help the glitter sink, but there was another problem – the dye on my trees immediately started to come off and stain the water black. So not cute.
We spent a few minutes being completely frustrated at how big of a failure this was, and then we decided to just start fresh and make no-water snow globes. We set all the stuff on the windowsill to dry over a few hours, then we started all over.
This time, we just added glitter to the bottom of the jar and screwed the lid on. Done! And really, in the end, it's way easier this way.
So, this project was kind of a big fail – we didn't get to do it the way we had planned, and they really aren't as cute as I had pictured them in my head. But I'm so over it – they'll sit on our windowsill until Christmas is over, and maybe next year once I've had some separation from them I'll like 'em a little more.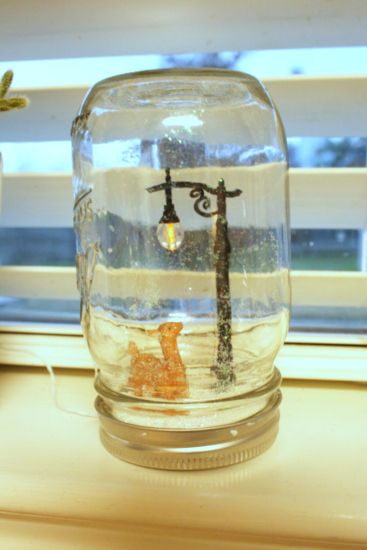 Have you had any Christmas project failures this year?