Remember last week when I shared that Corey and I were building a console but it was far, far from finished?
Well, it's done now! We finally got our butts in gear and got it put together and painted, and I'm so excited to share.
I won't get into the details of exactly how it's done, because the full instructions are in Ana White's book and she does a much better job of explaining it than I ever could. I didn't have much to do with putting this all together – I let Corey take the lead here, and he did a fabulous job, as usual.
We were a little concerned when we were starting out and built the first side and realized it was shorter than we had anticipated.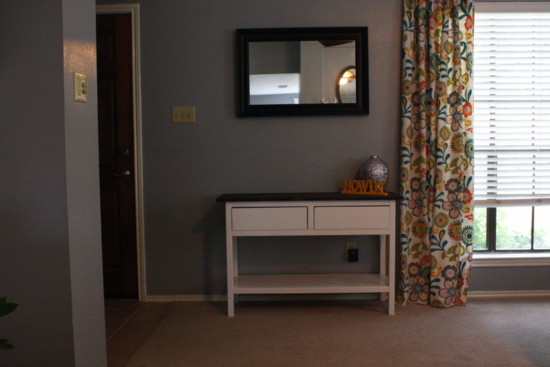 We got very nervous, but we decided to bring it in and see how it measured up against the little table we already have in there – it's just little shorter, and definitely not as tall as we'd like, but it works! We typically don't like to do "just for now" solutions, but we know that this will be exactly that – we love the console but it's just in here until we find our dream antique piece, then it'll go live somewhere else in the house. So, it's definitely not the end of the world for it to be a bit smaller than we eventually want. Anything is better than that tiny little white table!
Once we knew we were on the right track, it was back out to the shop to finish putting it all together!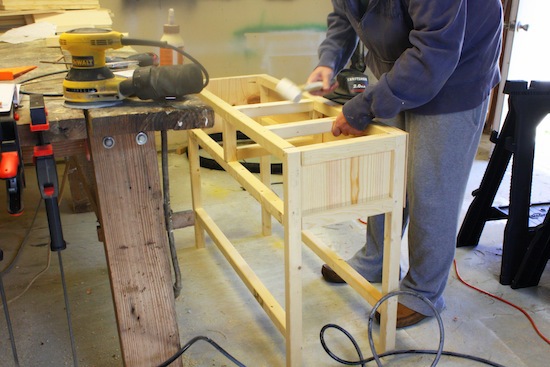 After we had it all put together, it was time for me to step in and finish it off. We debated doing a fun color, but decided against it – this will sit right next to our (very) colorful curtains and we really just wanted something that would blend in nicely and not stand out too much. So, we decided to go with white on the bottom and a stained wood top. Simple, pretty, and versatile enough that it'll be a no-brainer to move it to another room once we find a better fit for the space.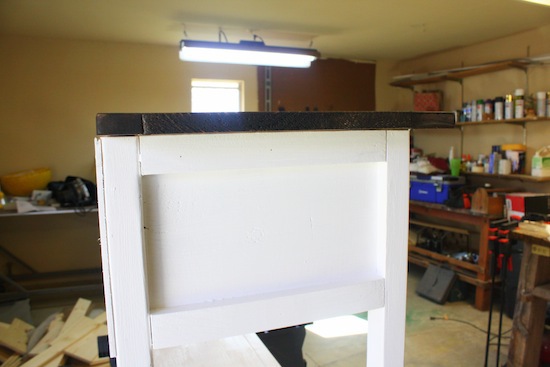 And once it was painted? Time to bring it in! It's still not completely finished in these photos because we haven't bought drawer pulls or baskets for the bottom shelf yet, but you'll get an update as soon as that's all finished!
These photos turned out pretty dark for some reason (maybe because I was in a hurry to snap photos and get our Christmas village set up!) – but you'll get a lot more (and better) photos when I share the village soon, promise!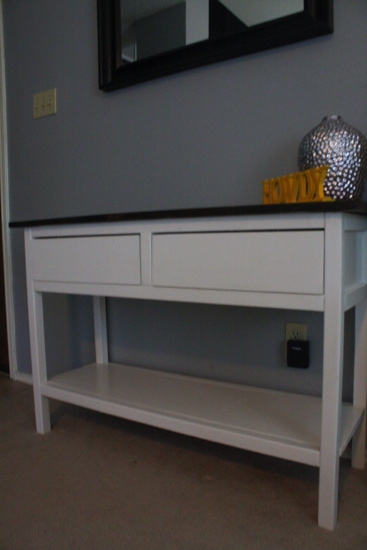 It's still definitely not the perfect piece for this space, but it is so (SO SO) much better than what we had there before. And it's such a good feeling to look over at this little guy and know we built it with our own hands. We're so proud of it, and it's oh so exciting to finally have a larger console over here. We're pretty pleased with how it turned out – and are even more excited about it now that we've got it all set up for Christmas with our Christmas village, which I can't wait to share soon!
Now we just have to track down some drawer pulls (we already found some baskets) that can take it up one more notch. Wish us luck!
Have you ever built a piece of furniture for your house? How about getting a piece of just-for-now furniture until you can find something better? It's not ideal, but sometimes it works!