Y'all, I love Anthropologie. I love to go in there and drool over all of the amazing home decor items and the absurdly expensive clothes, and I really really love to explore the clearance section and see what amazing things I can score. Anthropologie is basically my happy place.
But.
(Isn't there always a but?)
I'm pretty disappointed in Anthro right now. Back in October, Corey and I scored some amazing bedding from them on clearance and, while we weren't sure about it at first, it ended up being one of our favorite things in our whole house. The colors were perfect, the pattern was busy and fun, and we felt like it brought our whole room together.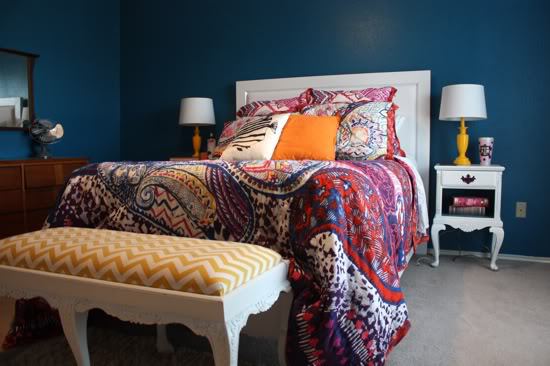 Well, we lived in bliss with our beautiful bedding for approximately 6 months before it completely fell apart on us. Seriously – it started basically disintegrating.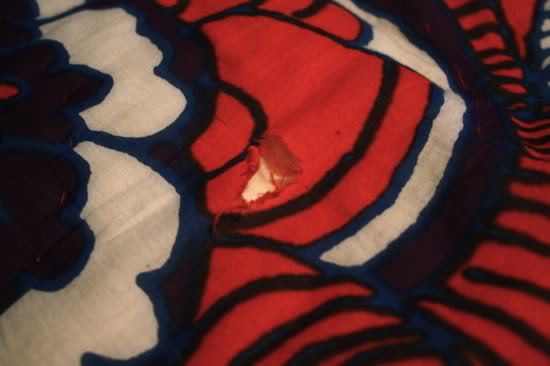 Yeah. Big tear. And that wasn't even the worst of it. There were tons more tears (and these were in addition to the ones I had already patched back in February) and we got to a point where we just couldn't live with it anymore. We decided it was finally time to throw in the towel and get rid of it. We were both incredibly disappointed that something from a retailer that brands itself to be so high-end fell apart so quickly, and we couldn't believe that our new bedding only lasted us 6 months before we had to throw it away.
After saying goodbye to our beautiful Anthro bedding, it was time to find a replacement. The only problem was, there was no way we would find something quite like that bedding, and we were spoiled. We wanted something colorful (but not too colorful) with pattern (but not too much pattern) and we both wanted to love it as much as we loved our old one.
It was basically an impossible task.
We searched (and searched and searched and searched) for the right bedding, but we really couldn't find anything that called to us – and anything that we found that we could both agree we loved was over $200 for the duvet cover alone. We were convinced that there was no hope for us.
But finally, after almost three straight months of searching, we found something we are both happy with. Notice I just said happy – we aren't in love like we were last time, but we're definitely in serious like, and it's good enough to tide us over until we can save up some pennies (and nickels and quarters) and buy the duvet cover of our dreams (you know, once we find it). It's the Malin Rund from Ikea, and while it doesn't have nearly as much personality as our last bedding did, it's made of a much sturdier material and we're confident that it'll last longer than 6 months. (It's a sad day when you know something from Ikea will last longer than something from Anthropologie, no?) We definitely like it, and it's a huge upgrade from the plain yellow blanket our bed has been rocking for the past few months, so we're not complaining.
Have you ever been disappointed in the quality of something you bought from a supposedly high-end store?