Corey and I have been working our butts off so far this summer on our backyard and patio – it's always been a pretty pathetic area that we haven't put any time or energy into, and it's high time we did something about it.
You can see the before photos here to get a good grasp of exactly how sad it was looking, and so far we've painted the workshop, made a tiered ladder planter, made over a metal bar cart, and added a tree swing to the front yard. Oh, and we just shared our patio makeover earlier this week!  Our exterior spaces are definitely looking a little better, but we still have a long way to go.
For me, one of the biggest keys to making an outdoor space feel welcoming and cozy is adding great accessories. You can have a freshly mowed lawn and some pretty furniture, but if you don't have the fun accessories and other things to make it feel like an extension of your home, the space won't ever reach its full potential! We've been slowly gathering some fun things over the course of the last few months, and my mind is always blown by how many gorgeous ideas and accessories there are out there.
A few things I still really want? I'd love to get a bird feeder so Jackson can enjoy watching the birds in our backyard, we just added some linens + pillows to make our eating area feel a little cozier, and I need to upgrade our patio lighting game, because right now we're just working with a pathetic little light on the side of our house. I feel like I could probably go really crazy with accessorizing this space (although, isn't that true of every space?) so I'm trying to remind myself to keep it simple, easy to clean, and functional.
But going just a little overboard isn't a terrible idea, right?
Here are a few things I'm really loving right now – I can definitely vouch for the highball glasses (we have them and LOVE them), the welcome mat (it's really good quality!), and the watering can (cutest! watering can! ever!), but the rest are still on my "wish list". Although, that bird feeder might just find its way into my cart soon…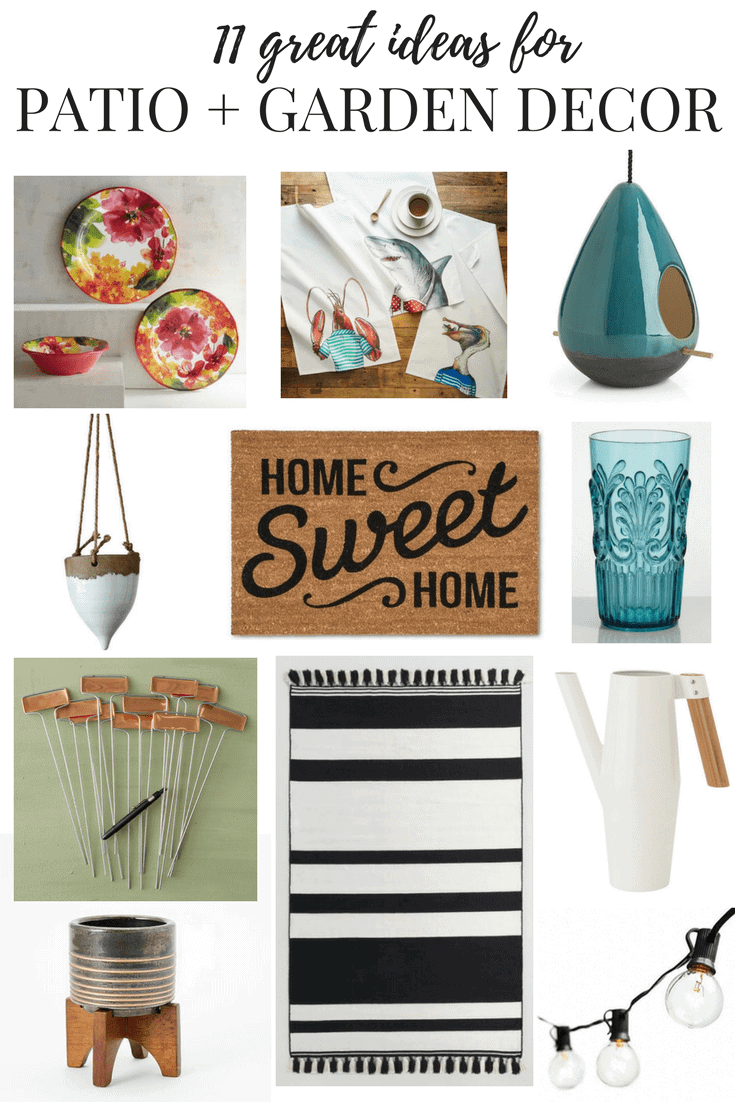 (All links are in the order they appear in the image above. This post contains affiliate links. Click here to read my full disclosure policy.) 
There is so much good stuff out there for patios and gardens right now! I've been so inspired lately as we have worked on our backyard, and I can't wait to finally get to share the patio reveal with y'all – it's looking so much better!
What's your favorite source for outdoor decor and accessories?