You guys! My birthday is tomorrow!
I know we all like to complain about getting older, but I'm a sucker for a good celebration and birthdays are so much fun to me. This is the first time in many, many years that my birthday has fallen on a weekend and I'm pretty pumped that I don't have to work.
This is one of my last birthdays before I quit aging anymore (I've decided I'll keep going until I'm 29, then I'll just hang out at that age until there's no possible way I can pass for it anymore), so I might as well live it up.
My family is big on gift-giving (and on letting each other know what we want!) so we all have Pinterest wish lists where we can keep track of the things we want throughout the year and reference it when we're buying gifts for one another. My wish list is constantly changing and shifting, but here are a few of the things I'm wishing for the hardest this year: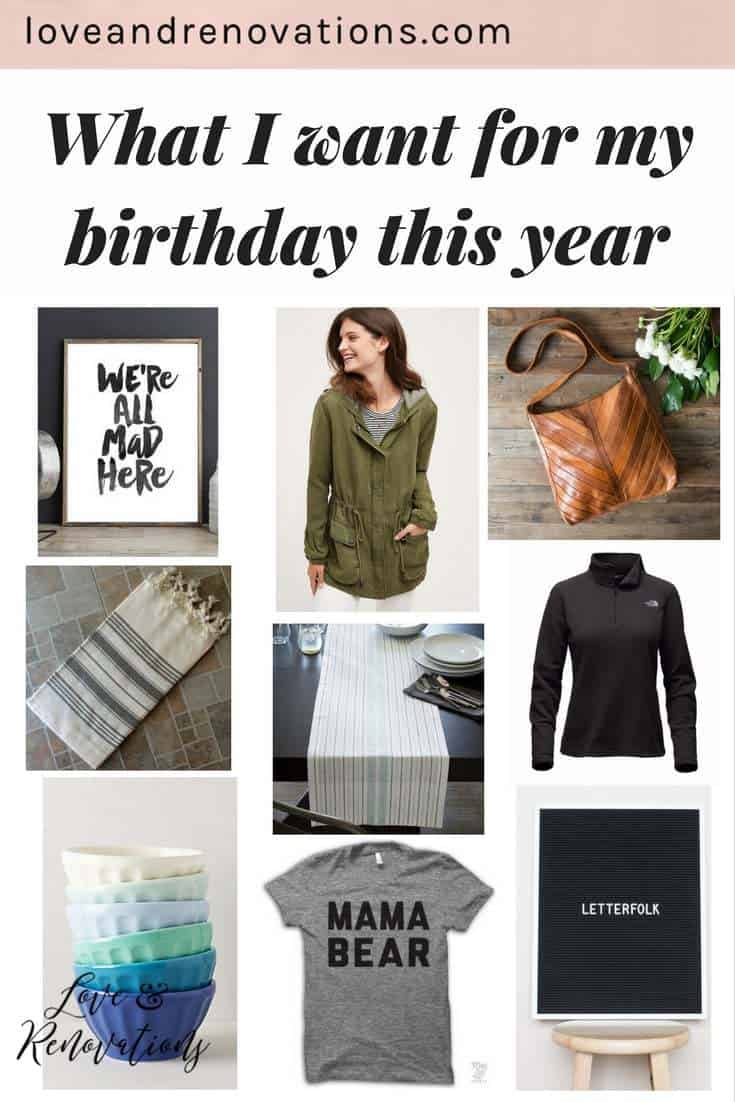 (This post contains affiliate links)
We're All Mad Here Print – Wordsmith Prints on Etsy // Alice in Wonderland is my favorite book/Disney movie of all time. I collect various copies of the book (I think at last count I had 7?) and we even made some DIY art with a quote from the book! I think this is such a cute little print that would look great in our living room gallery wall. I love that it's a little quirky and funny but references something so near and dear to my heart.
Arlette Hooded Anorak – Anthropologie // I've never bought a piece of clothing from Anthro in my life, but we were there recently and I saw this jacket and immediately fell head over heels in love. Corey has heard me talk about this dang jacket so much that I'm sure it's making him crazy. I've seen some similar ones at Nordstrom and Gap, but they aren't quite as soft, cozy, or well-fitting as this one. I'm hoping that if nothing else this goes on a good sale at the end of the season!
Joanna's Favorite Crossbody – Magnolia // I'm not a big purse girl – I carry the same purse all the time and only switch it out when it falls apart. I wear crossbody bags exclusively and I usually buy them from Target, which means I replace them every year or so. I'd love to get something a little nicer that will actually last me a long time. This bag is absolutely perfect!
Turkish Towel – Amazon // I've been dying to try Turkish towels for a while now! I keep hearing such great things about them, and they're so dang pretty. I absolutely love wrapping up in a giant, fluffy towel after a good shower, though, so I'm a little hesitant to try it. I asked on my Facebook page a while back and it sounds like most of the people there haven't tried them either. Have you? What do you think about them?
Belgian Flax Linen Table Runner – West Elm // I really want to get a couple of different table runners for our dining room table so that I can have it look a little nicer on a day-to-day basis. We recently bought some colorful plates for our table, so I want to stick to pretty neutral designs for the runner. I love the simple/organic feel of this one, and the blue would tie in perfectly with the rest of the colors in the room!
Glacier 1/4 Zip Hoodie – North Face // I've resisted the North Face craze for years but lately every time I see someone wearing one I wish I had one! They look so cozy and stylish, and I wear pullovers like this almost constantly in the winter. This would be a great sweater to keep in my classroom on cold days, and I really should invest in a pullover sweater that will last me for a long time!
Assorted Latte Bowls – Anthropologie // Ever since we bought our new, colorful plates I've been thinking about what we can do to make the rest of our open shelving a little more fun! These little colorful latte bowls are the perfect solution. I love that you can buy a mixed set of colors, so it'll add to the mismatched feel we already have going, and they're such pretty hues! I've looked at these a lot in-store, and they're a really great size and feel nice and thick. I'd love a couple of these mixed sets!
Mama Bear Shirt – Thug Life Shirts // I have at least 3 different Thug Life Shirts on my Pinterest wish list at any given time. I love the sassy sayings and they look so cozy! This would be a perfect weekend shirt for hanging out around the house or running errands – and I also really love this one!
Letterfolk Board // You follow Letterfolk on Instagram, right? This amazing little company was started by some bloggers that I've been following for years, and I can't believe how quickly it has taken off! These boards are genius, and I absolutely need one in my home. I think it would look perfect in the gallery wall in our living room!
What's on your wish list right now?