Great bucket list ideas to help you create seasonal bucket lists for your family. If you're looking for ways to get your family having more seasonal fun, these lists will be perfect for you!
You may be asking yourself, what is a bucket list?
A bucket list is, technically speaking, a list of things you want to do before you "kick the bucket". Of course, that description can be a bit morbid and many people use the term to indicate anything from a life-long list of things they want to accomplish down to just a quick list of things they want to accomplish within a certain month.
In our family, we use the term "bucket list" to refer to our seasonal lists of things we'd like to do as a family. I'm always looking for ways to get my family to be involved in as much seasonal fun as possible, and I find that the bucket list is a great way to do that!
Here's how our bucket lists work:
I create a quick list of things for our family to do in a specific season. Typically, my lists range from 20-30 items. We generally print our family bucket lists out and hang them on the refrigerator so we can all see them throughout the season and cross things off as we do them. From there, we make it a point to try and cross at least 1-2 things off the list each week until the list is complete.
These lists are fun to create for just about any season, but I have to admit my favorite bucket lists to create are holiday lists! Christmastime is my favorite holiday, and so our holiday bucket lists are always a bit more special. Be sure to check out our DIY advent calendar to see how we like to be intentional about celebrating around the holidays.
The Bucket List Resource Page:
Over the years, I've created and published many different seasonal family bucket lists here on the blog. They tend to get lost in the shuffle if I don't track them carefully, so I decided it would be helpful to create a central location where all of our family bucket lists can come together in one place. And that, my friends, is how this page was born!
Here, you can find all of our seasonal bucket lists from over the years – some include a free printable, and others are just great ideas for what you can put on your bucket list. Either way, I hope this is a helpful way for you to find bucket list ideas for your family! This list will be updated each season as we add to it, so be sure to check back regularly!
Seasonal Bucket List Ideas
To check out a bucket list, simply click on the link that takes you to the list for that year – I've noted which ones include printables and which ones don't, to make it a little easier if you're looking for something specific!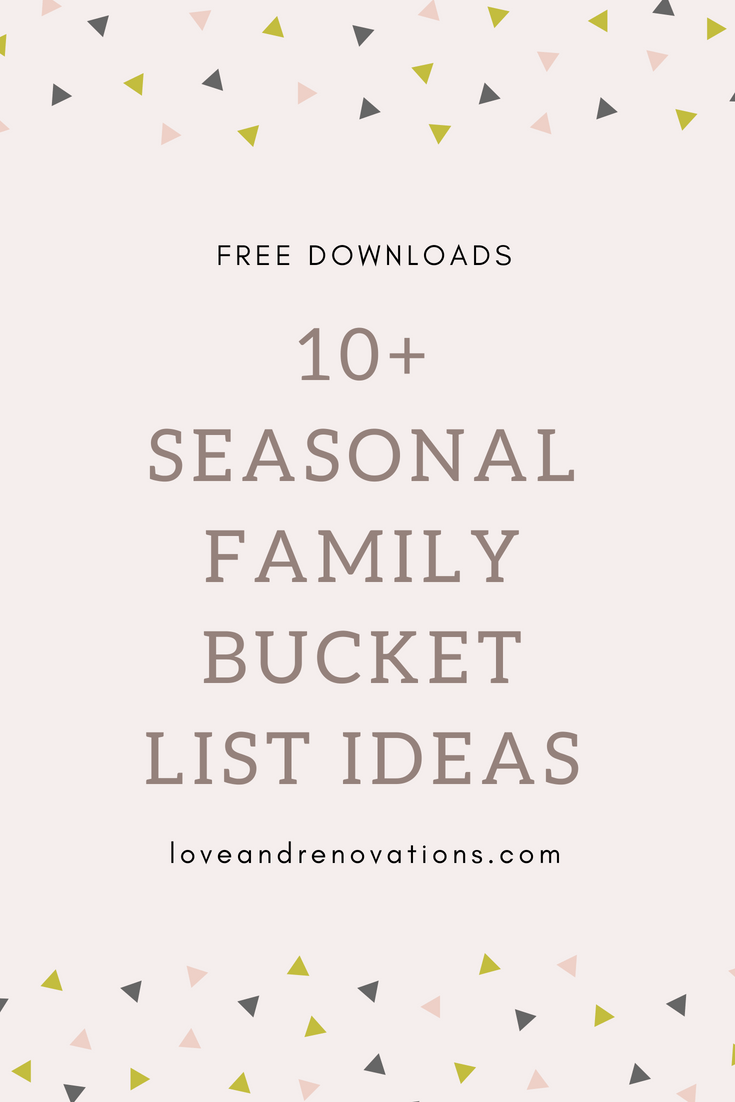 Winter Bucket Lists + Christmas Bucket Lists
2015: Our 10 Favorite Christmas Traditions
2016 DIY Activity Advent Calendar (Great DIY idea!)
2016 Winter Bucket List (Includes a free printable!)
2017: Favorite Christmas Projects & Traditions
Spring Bucket Lists
2016 Spring Bucket List (Includes a free printable!)
2017 Spring Bucket List (Includes a free printable!)
Summer Bucket Lists
2016 Summer Bucket List (Includes a free printable!)
2017 Summer Bucket List (Includes a free printable!)
2018 Summer Bucket List (Includes a free printable!)
Fall Bucket Lists
2017 Fall Bucket List (Includes a free printable!)