Do you ever just go to IKEA and wander around without any intention of buying anything? Just gathering inspiration?
I know, you're laughing at me because it's just about impossible to walk out of that store without purchasing something, but every once in a while I genuinely love to take a leisurely stroll through IKEA without any plans to buy a dang thing. I soak up inspiration, take notes on things I might like to come back for, and I always end up with several ideas for projects I want to try or changes I want to make in my home.
I did this a few weeks ago, and I thought it would be fun to come back here and share my inspiration, along with some new products that you don't want to miss out on this summer. Basically, it's like we get to shop together without actually being in the same place at the same time.
And I love shopping with my friends.
So let's do it.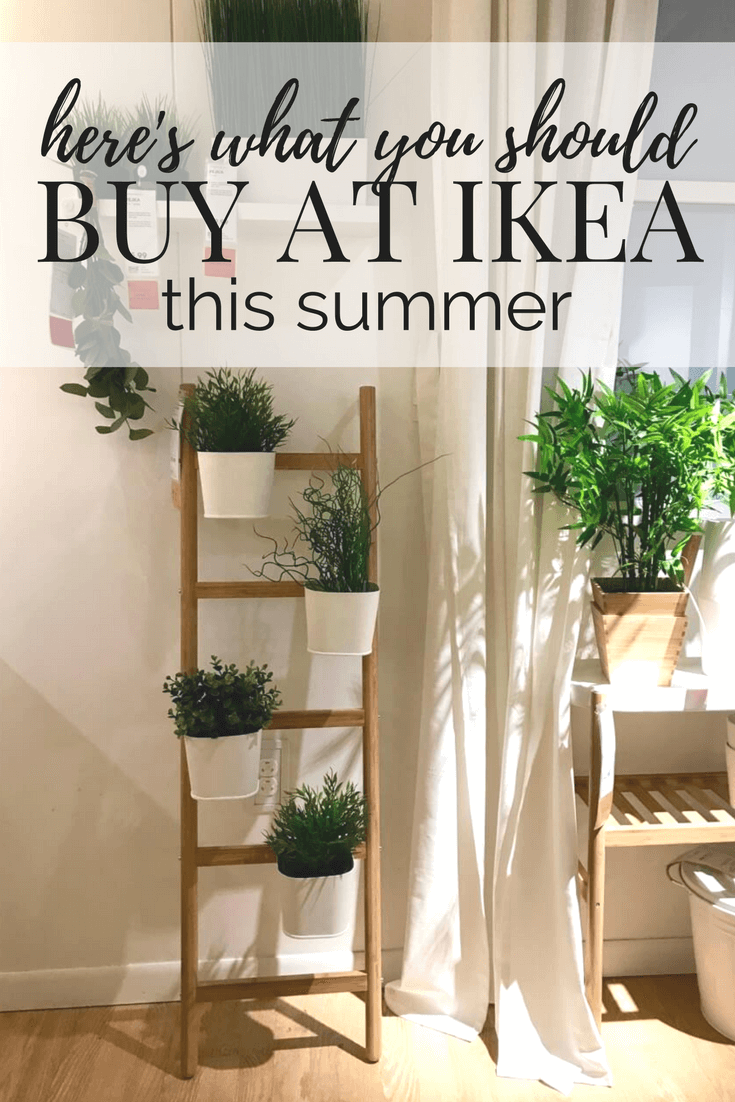 Okay so first of all, I'll remind you that I was taking these photos with my phone and that the lighting in IKEA is dreadfully bad. So, please excuse the less-than-stellar photos. I promise they'll still leave you full of ideas and inspiration.
Let's start with a few things that aren't necessarily new, but that I've been lusting after for long enough that I think it's high time I grab a few. IKEA's plant and outdoor game has been on point for the last few seasons, and I'm really loving all of their planters and plant stands right now.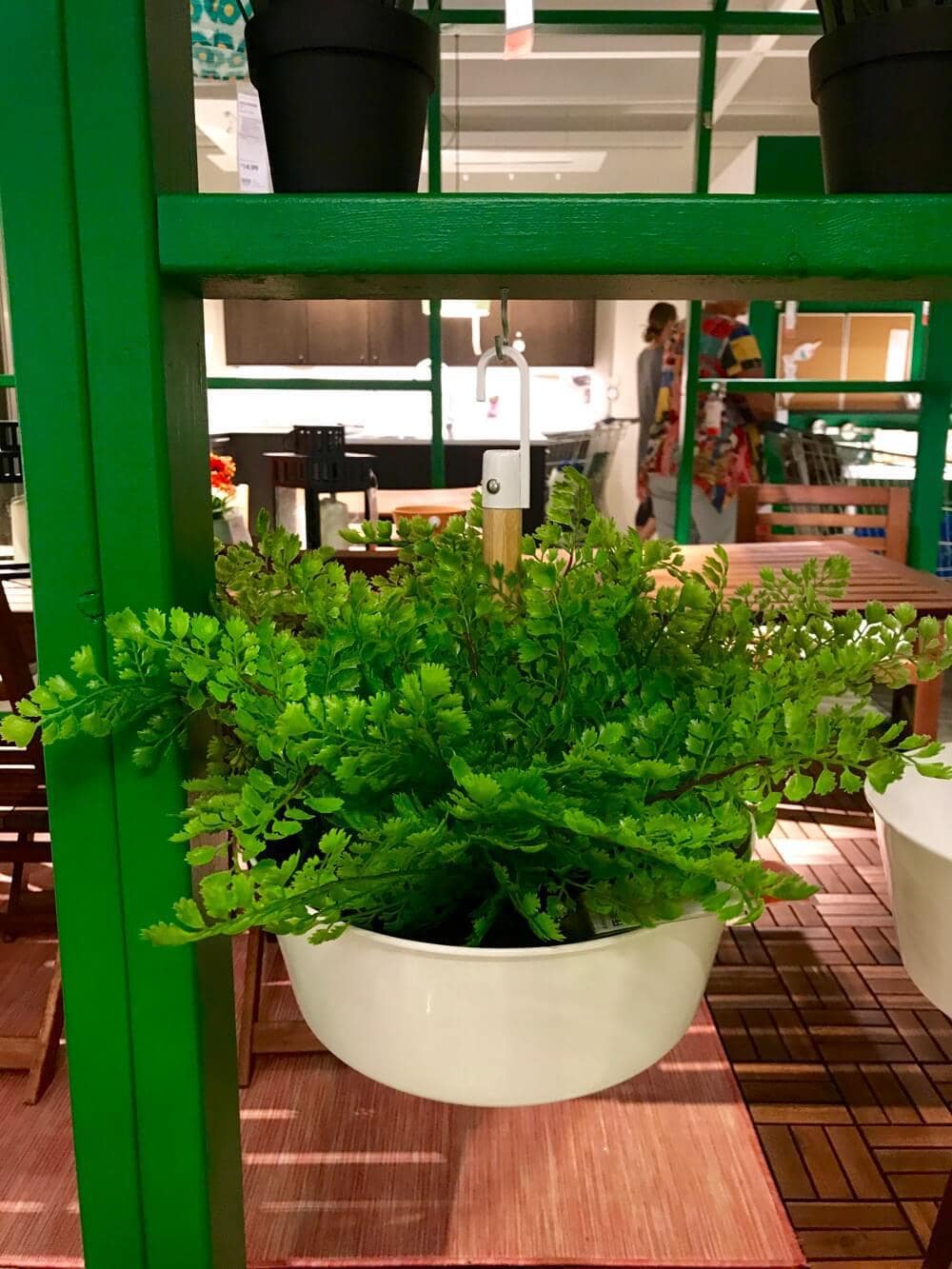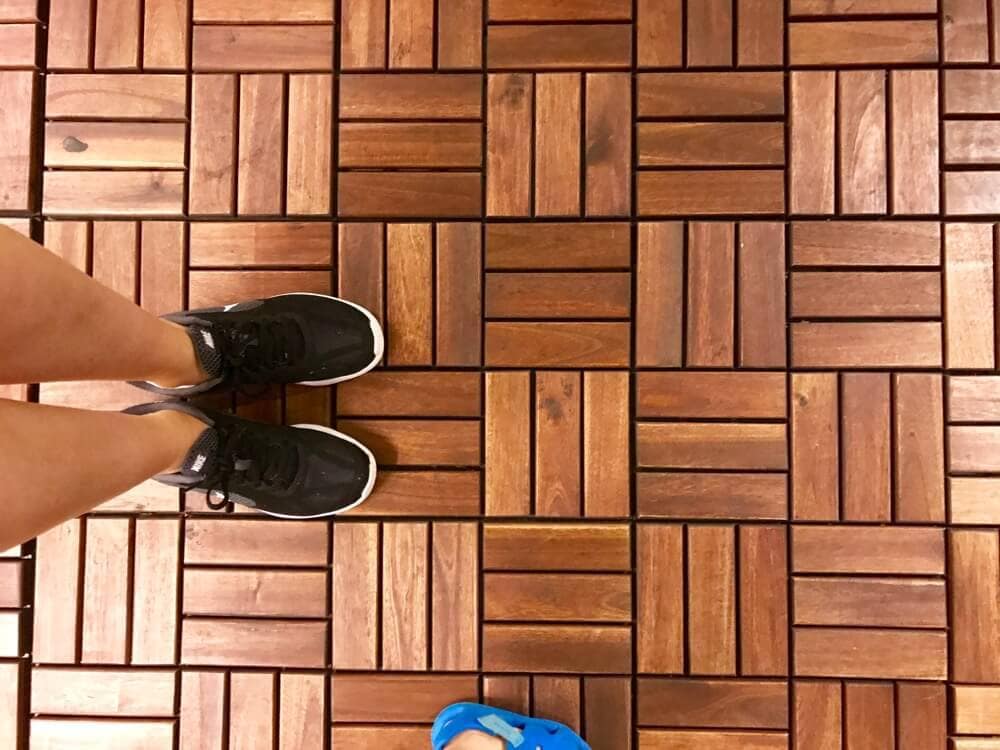 I adore these little white BITTERGURKA hanging planters and how versatile they are. You can hang them by themselves or you can stack a few to create a really fun hanging display. I'm seriously considering a few of these for the back of our house – wouldn't they look so cute on our patio?
I've also been in love with the RUNNEN decking for quite some time. It's so affordable (just over $3/square foot) and it looks so amazing. How fun would this be as a way to cover up an old concrete patio?!
Oh, and let's chat plant stands (because HOLY COW):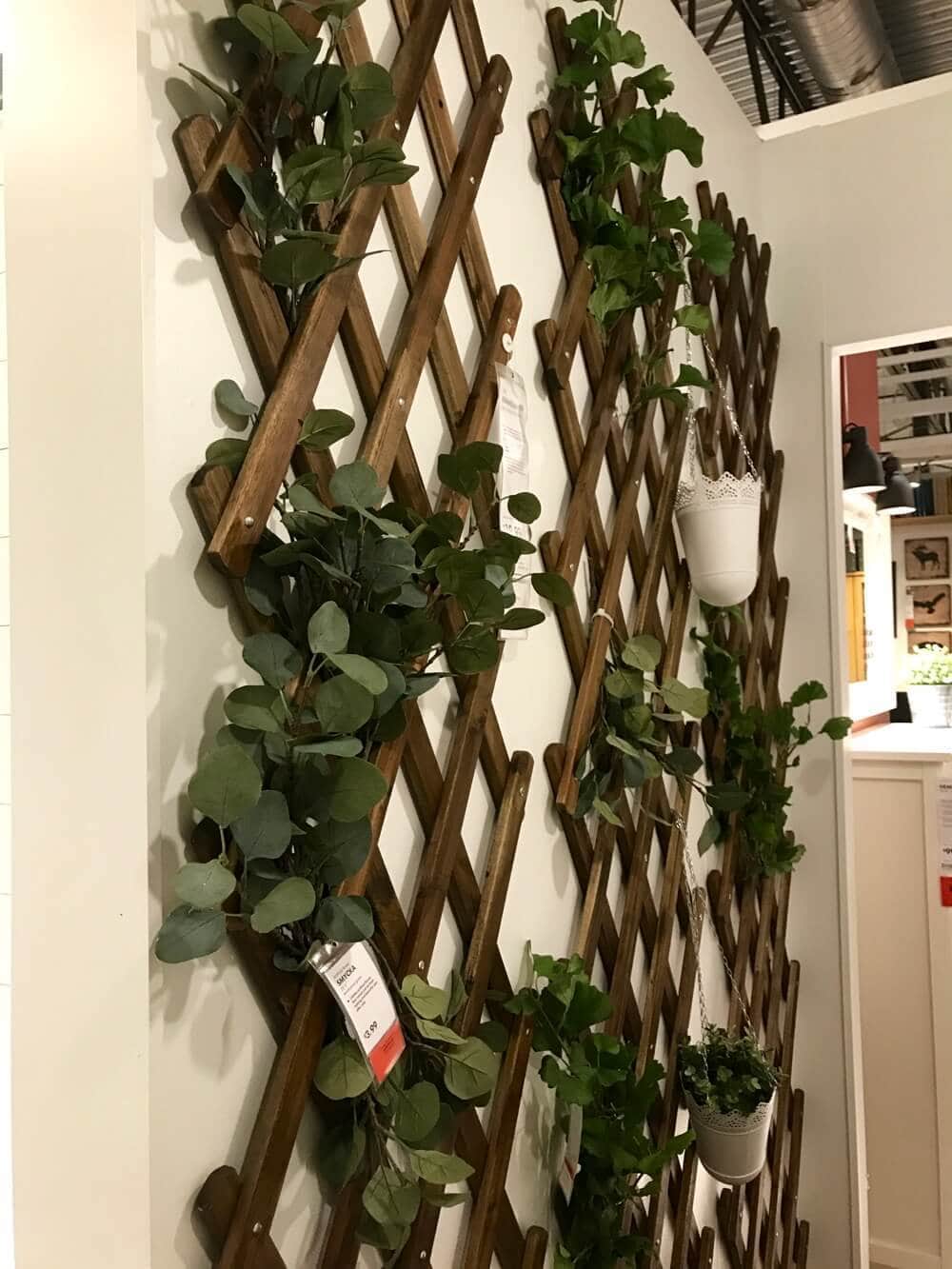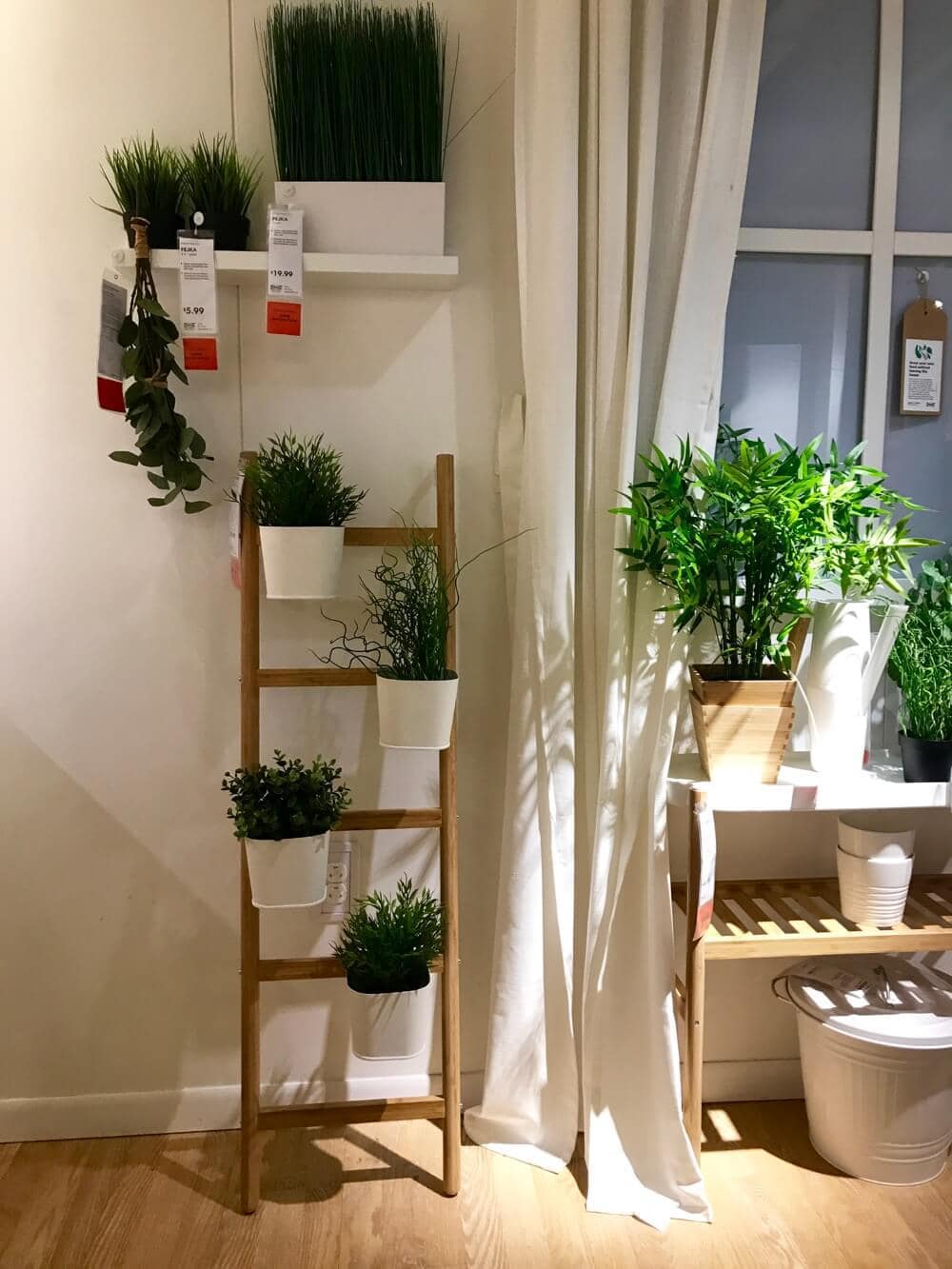 It looks like I didn't take photos of all of the ones I was looking at, but I have to say that IKEA's plant stand selection is so good right now. I seriously wanted to buy at least three different ones, and the only reason I didn't was because I didn't have a good spot in mind in my house for them. But you can rest assured that I'm already thinking about where I could possibly put them and doing some planning for next time I'm in the store!
The first image is the ASKHOLMEN trellis, and it literally stopped me in my tracks when I came across one of their little apartment setups that had a wall full of them. It was stunning! They used all faux plants on theirs, but I think it could look cool to do it inside with a mix of faux and real plants. I have a spot in my kitchen that I think could be a prime candidate for this treatment!
The second image has a couple of the SATSUMAS plant stands. I really do want to buy all three of them. They're so pretty! I love the style they've got, but more than anything else I think I really just love the idea of plant stands! I feel like IKEA has really cornered the market on modern versions of these guys, and I'm dying to snag a few. I also really loved this ASKHOLEMN plant stand, and if our patio was just a little bit bigger I would have grabbed one to put out there.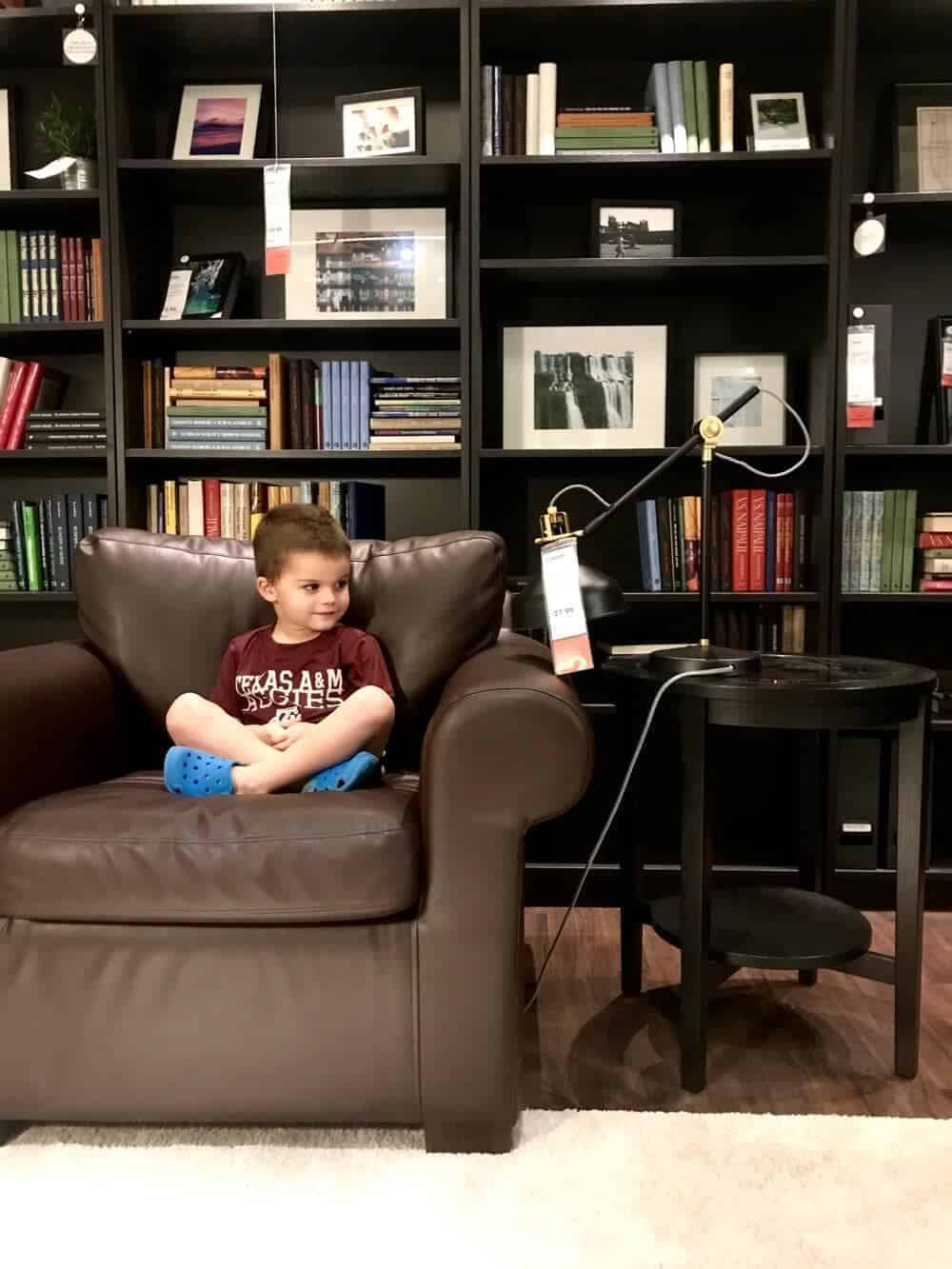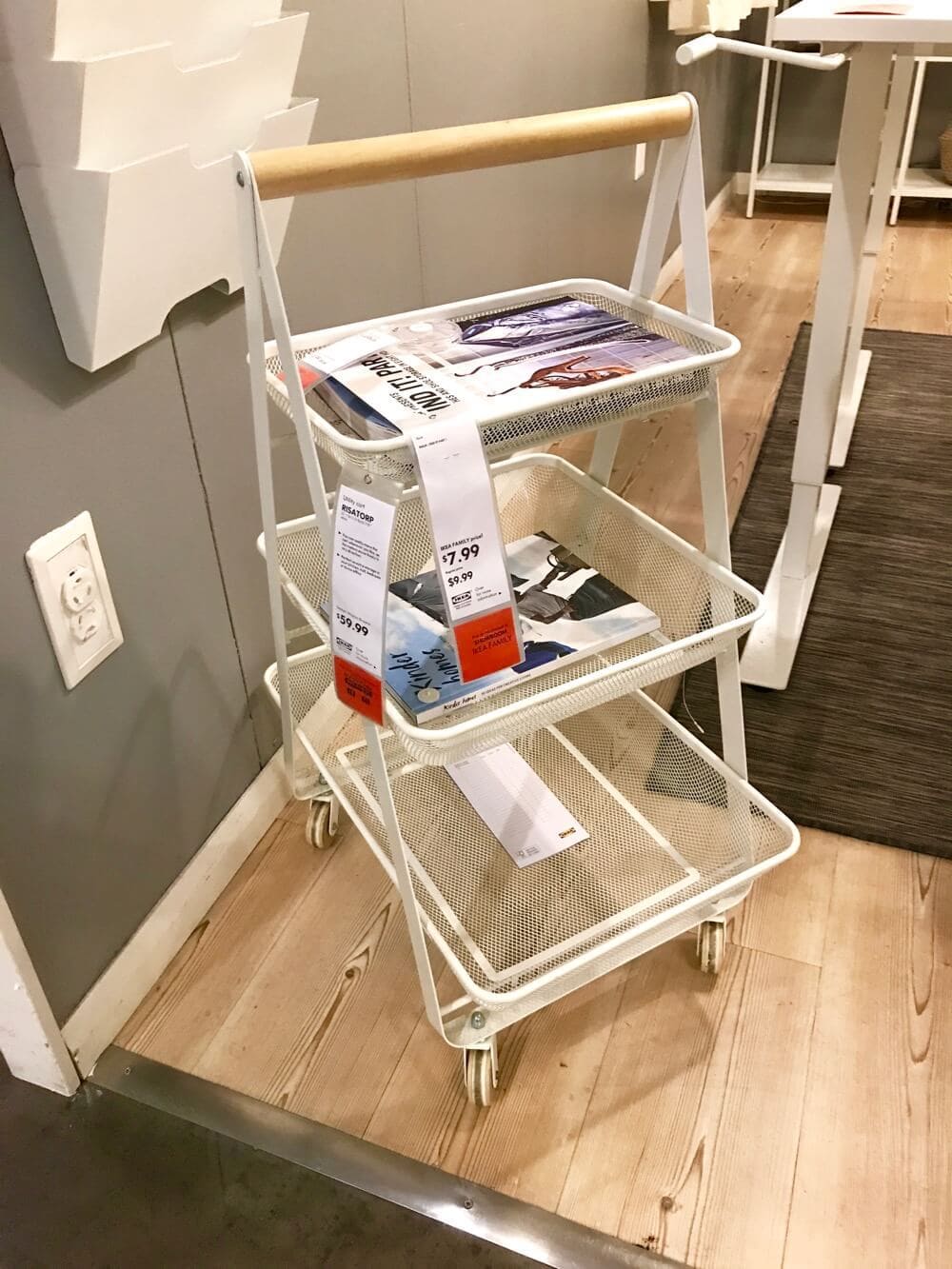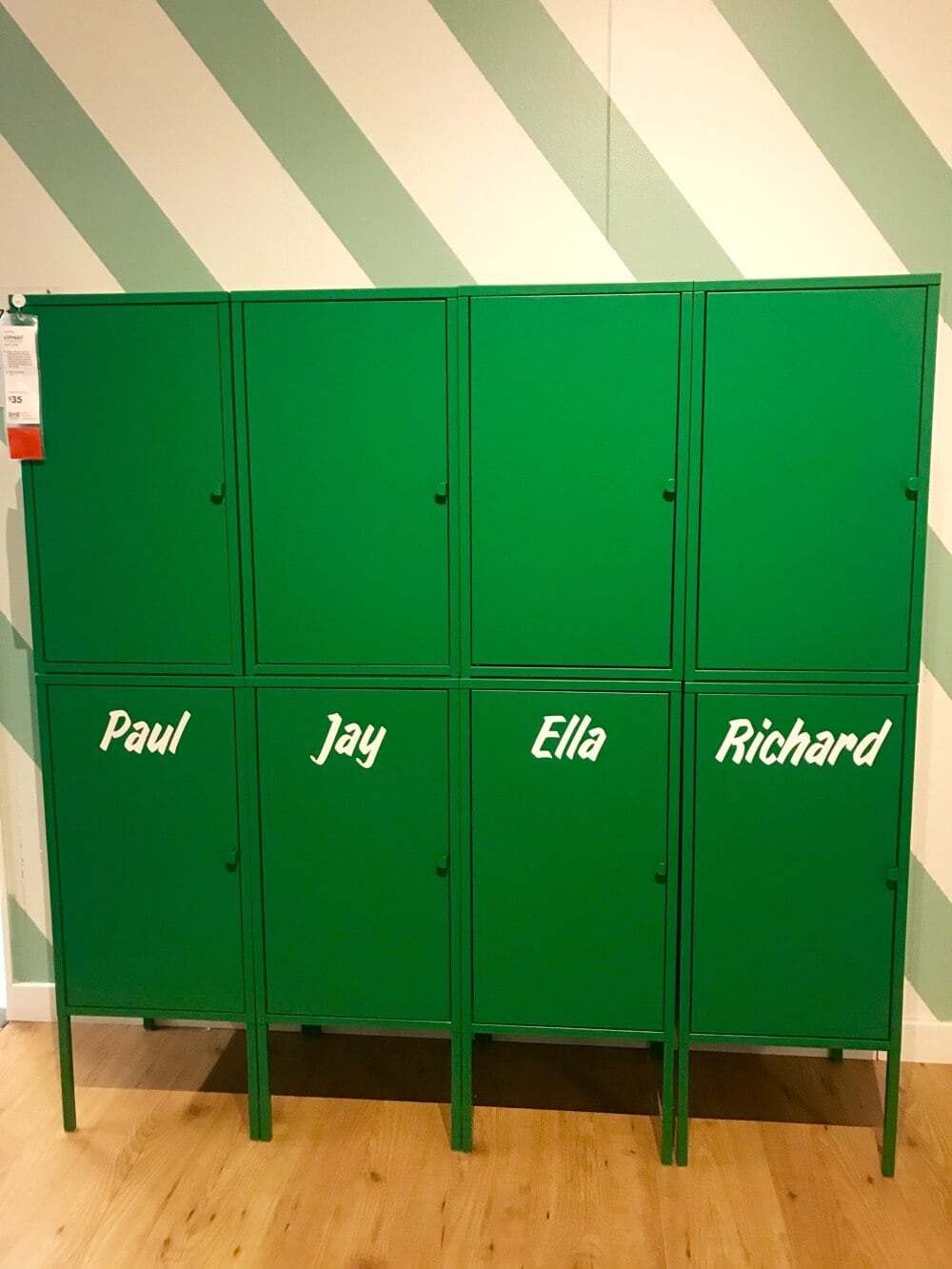 I thought the RISATORP utility cart was a really fun new alternative to their RASKOG utility carts. This one feels a little less modern and has a more airy look. This would be fun on a patio to hold potting supplies, or great in a kitchen or even a bathroom to stash regularly-used stuff. They even suggest it as a place to store fruits and veggies that don't belong in the fridge – how smart is that?!
I know these LIXHULT storage cabinets aren't new, but I was really struck by how they had them set up in this little display. They looked just like regular old lockers, and you had to look really closely to see that they weren't just one big piece. My favorite thing about these is that the possibilities are endless with how you display them. You could go monochromatic and a little more traditional like the shot above, or you could just go crazy like so: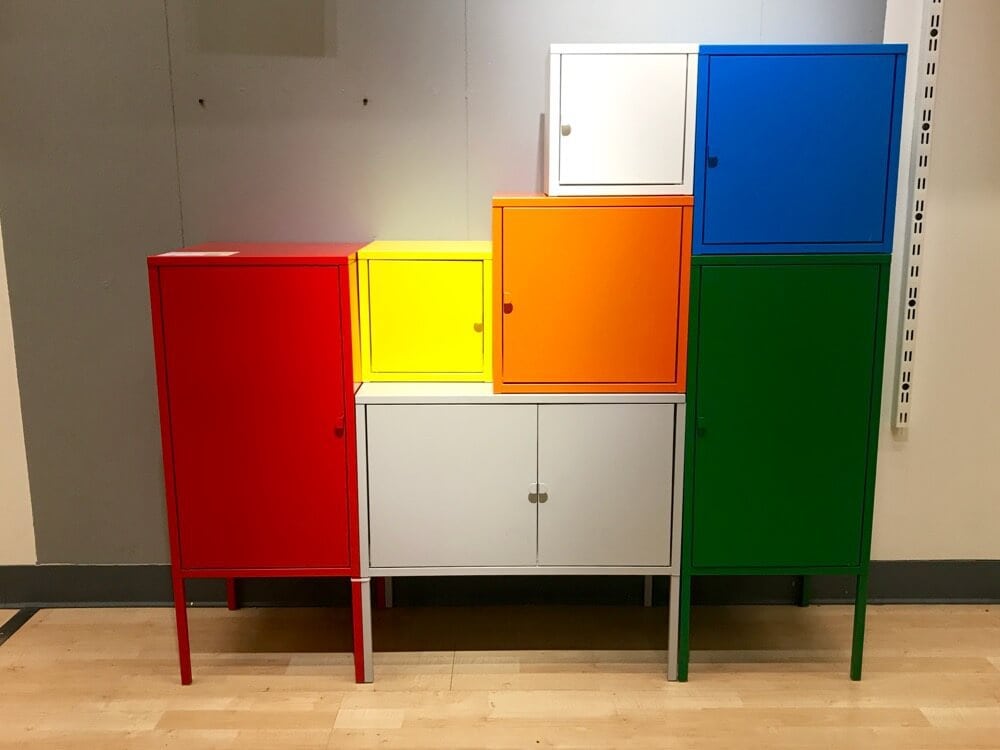 So. Much. Fun.
Oh, and speaking of storage cabinets, this industrial IKEA PS 2017 was really fun – Jackson loved the cool latch used to open it and I loved the utilitarian feel of it. This would be great in a mudroom!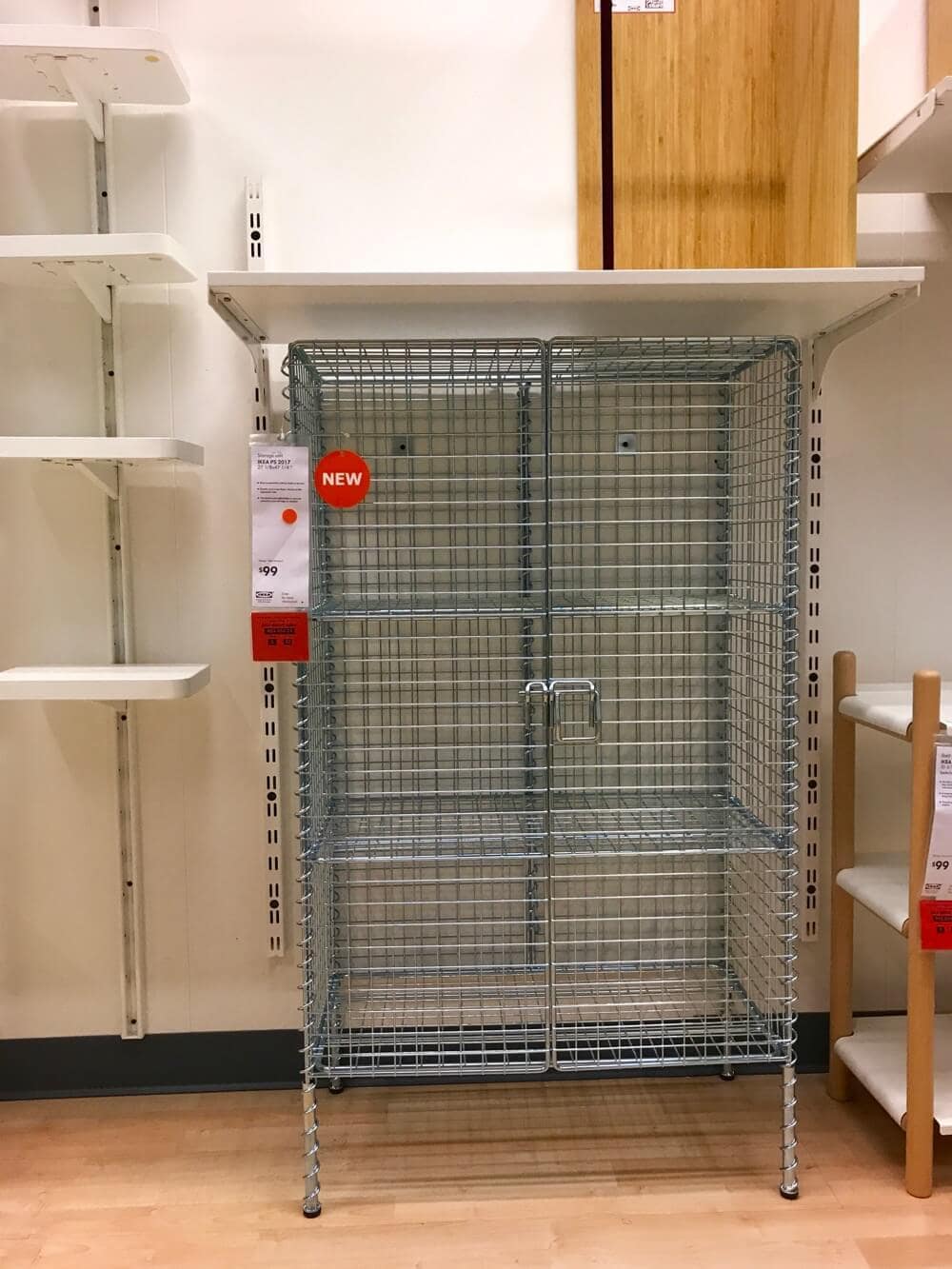 Okay, let's move on to some more cozy furniture. Like the STOCKHOLM sofa. Hubba hubba.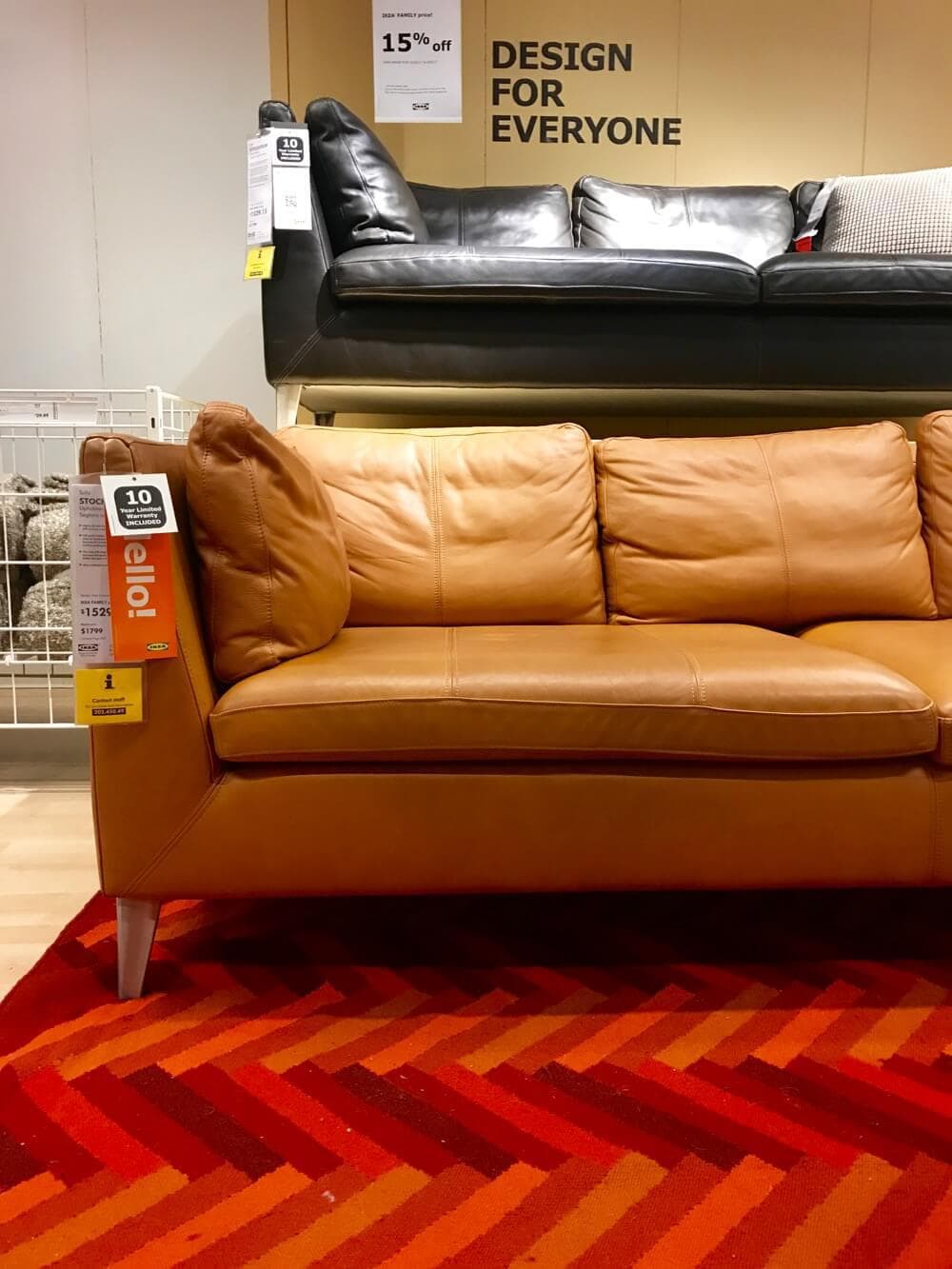 I've seriously been all heart-eyed over this guy since the day they released it, and it makes me want to curl up and take a nap every time I see it in-store. The color of the leather is just perfect, and the floor model has this perfect, worn-in look that makes me think that this sofa would only get better with time.
OH. BY THE WAY. This chair. I need it.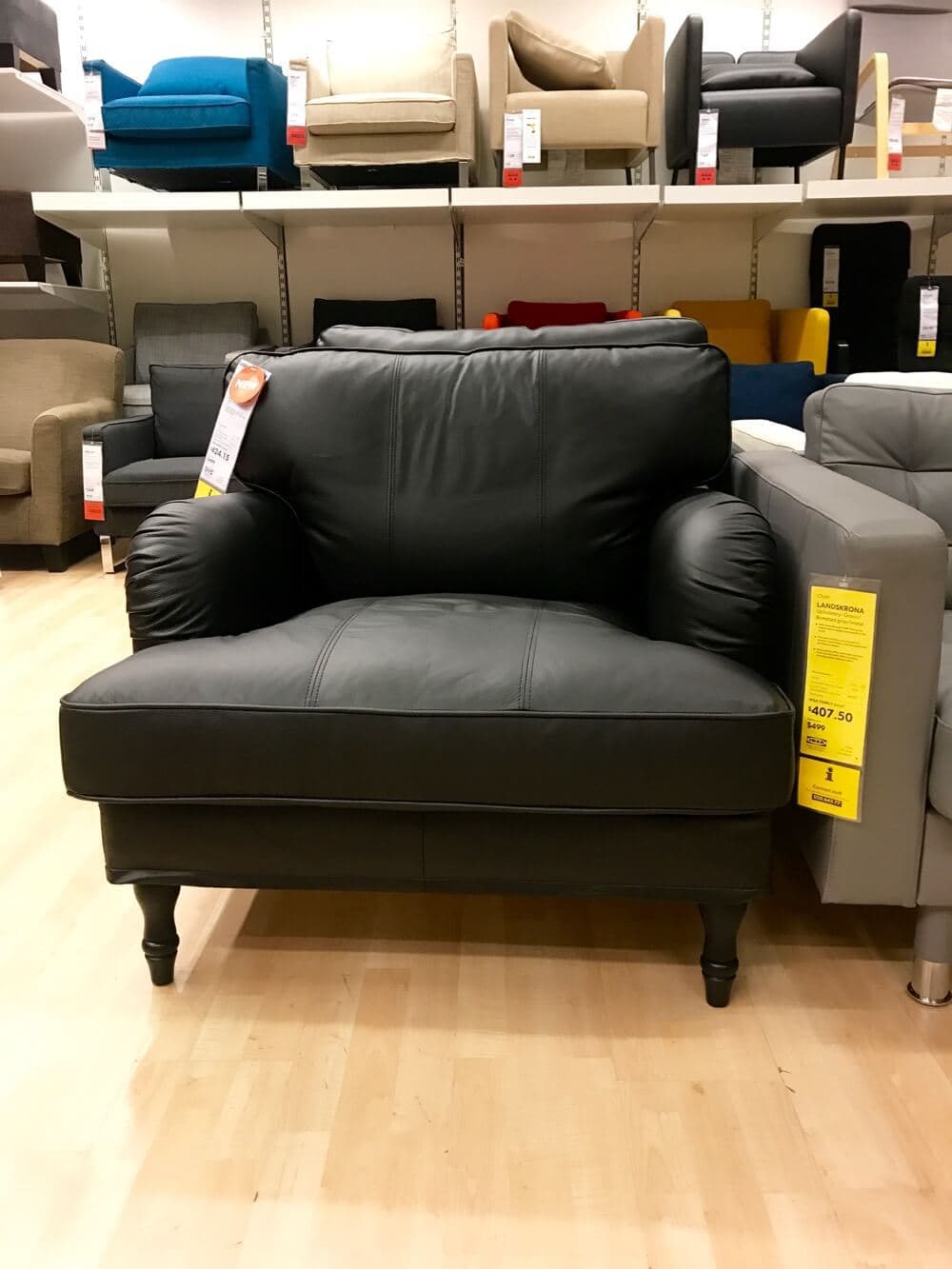 It's the STOCKSUND chair and the seat is so deep and cozy and the lines are so curvy and gorgeous and I seriously just want to buy twelve of them and have nothing else in my house. Would that be weird? I think this would be perfect for a lounge-y reading nook in a bedroom or sitting opposite a more clean-lined sofa in a living room.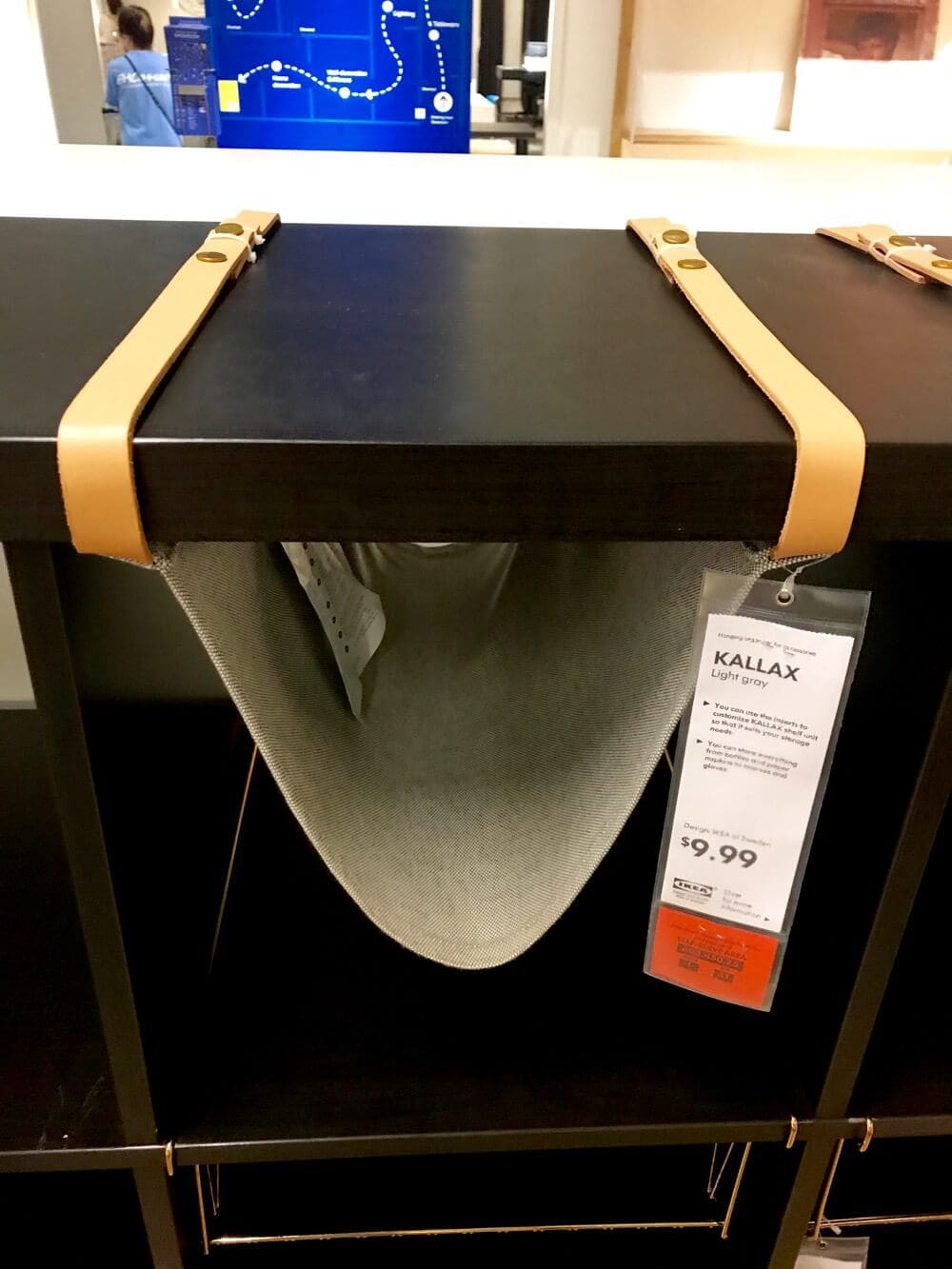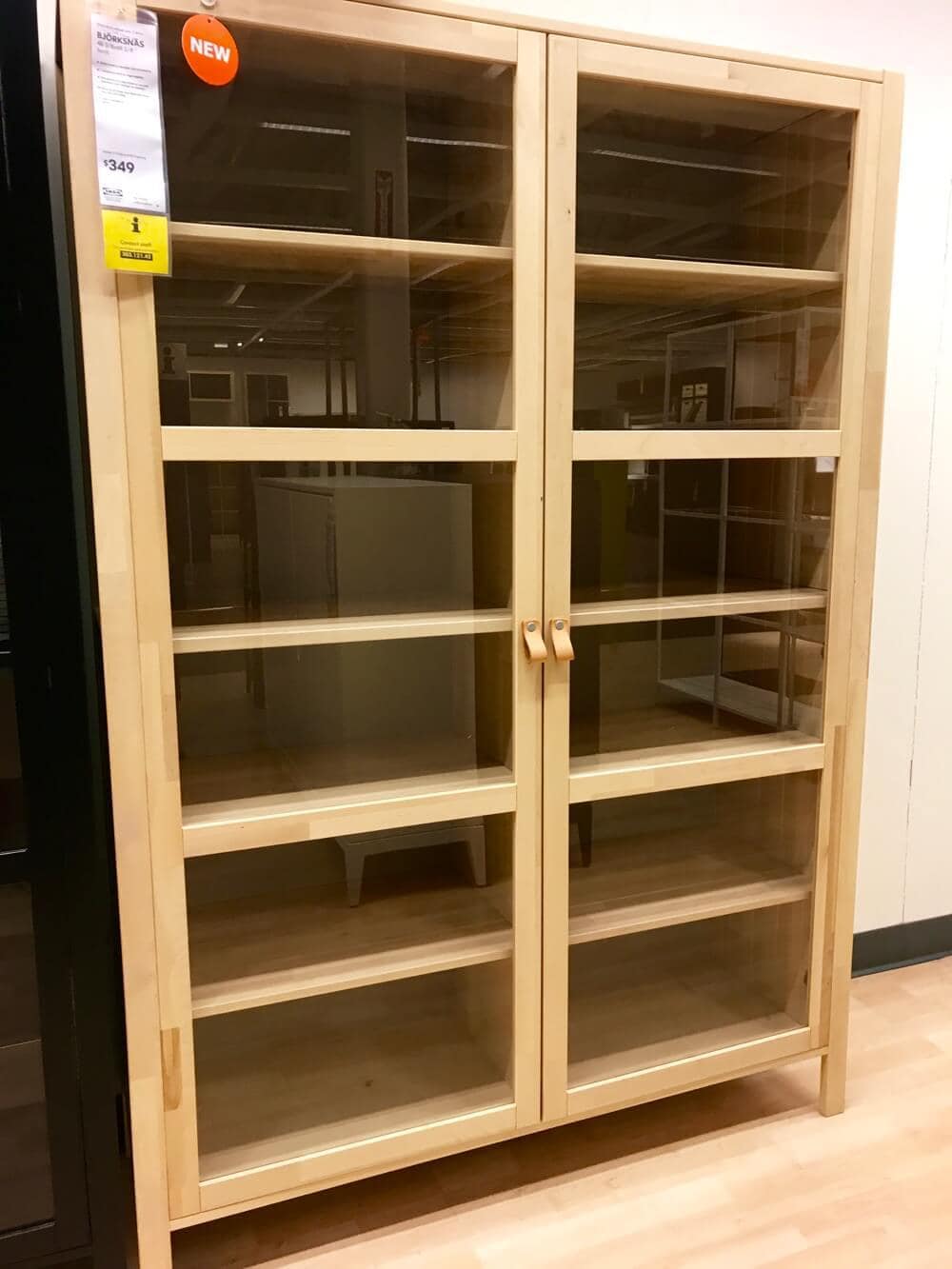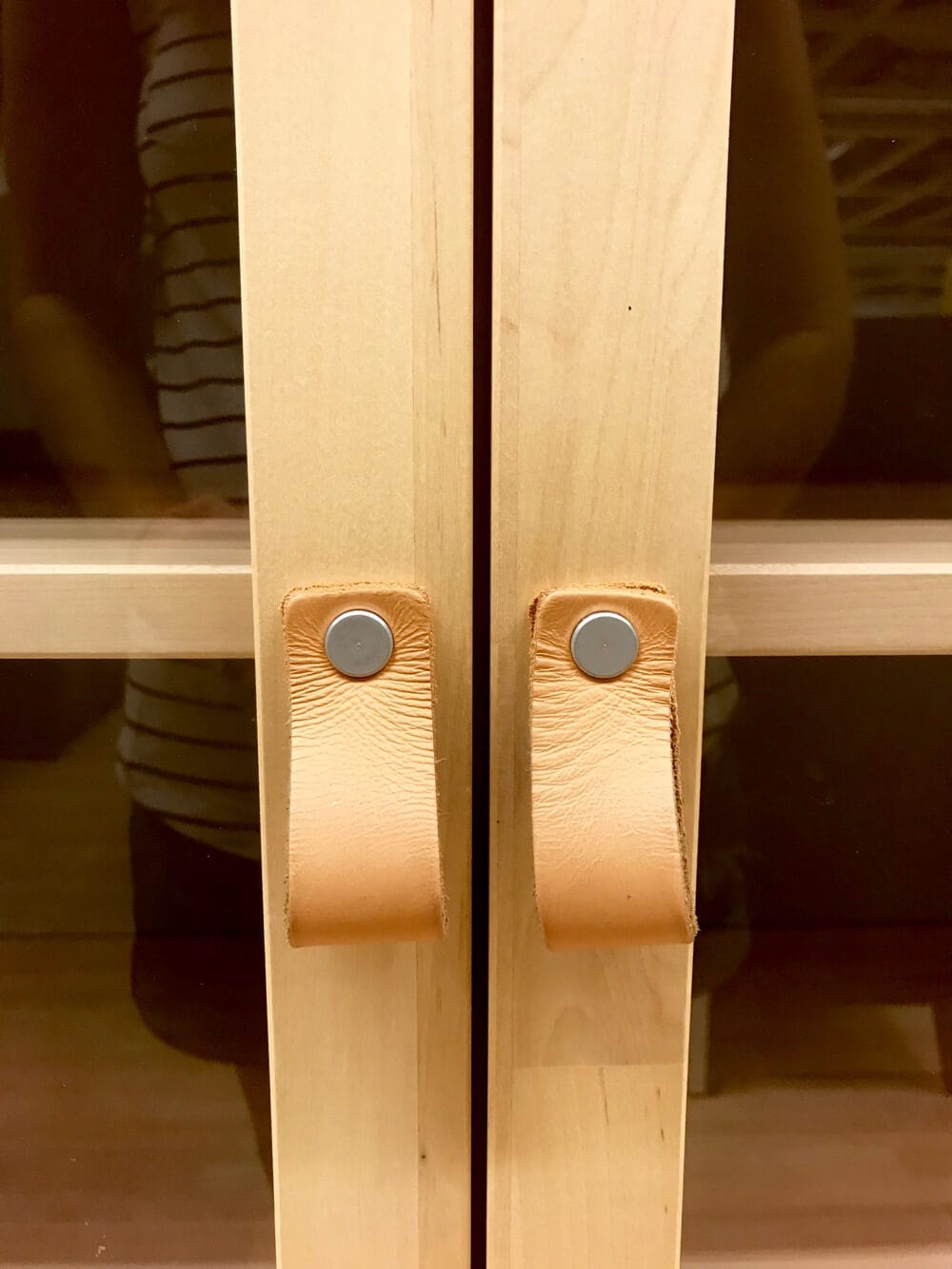 The KALLAX hanging organizer made me stop in my tracks – the leather + gray fabric combo is so perfect, and it's such a fun little feature to add to an otherwise boring bookcase. I have no idea what you'd really use it for (I mean, doesn't it make the shelf underneath pretty unusable?), but holy cow I love it. The wire basket you can see in the bottom of that photo is also pretty amazing! I love that they have so many great accessories to customize these basic bookshelves.
I also swooned a little (and practically ran across the store to see it a little closer) when I saw the BJORKSNAS cabinet. I adore the leather pulls (if you want to try to make your own, I did it and it's so easy!), and the simple lines of it. This would be stunning in a dining room with all of your pretty serving dishes!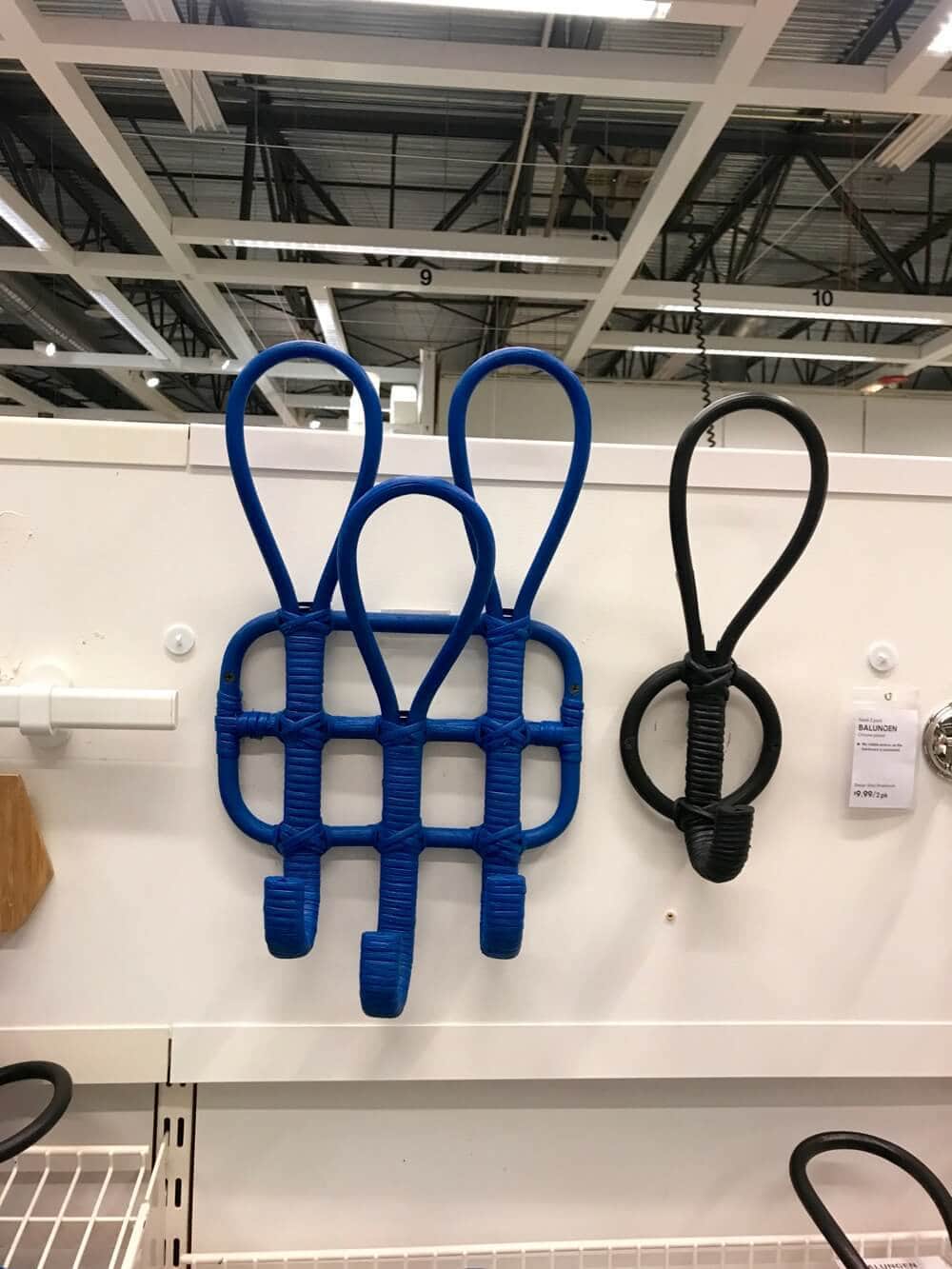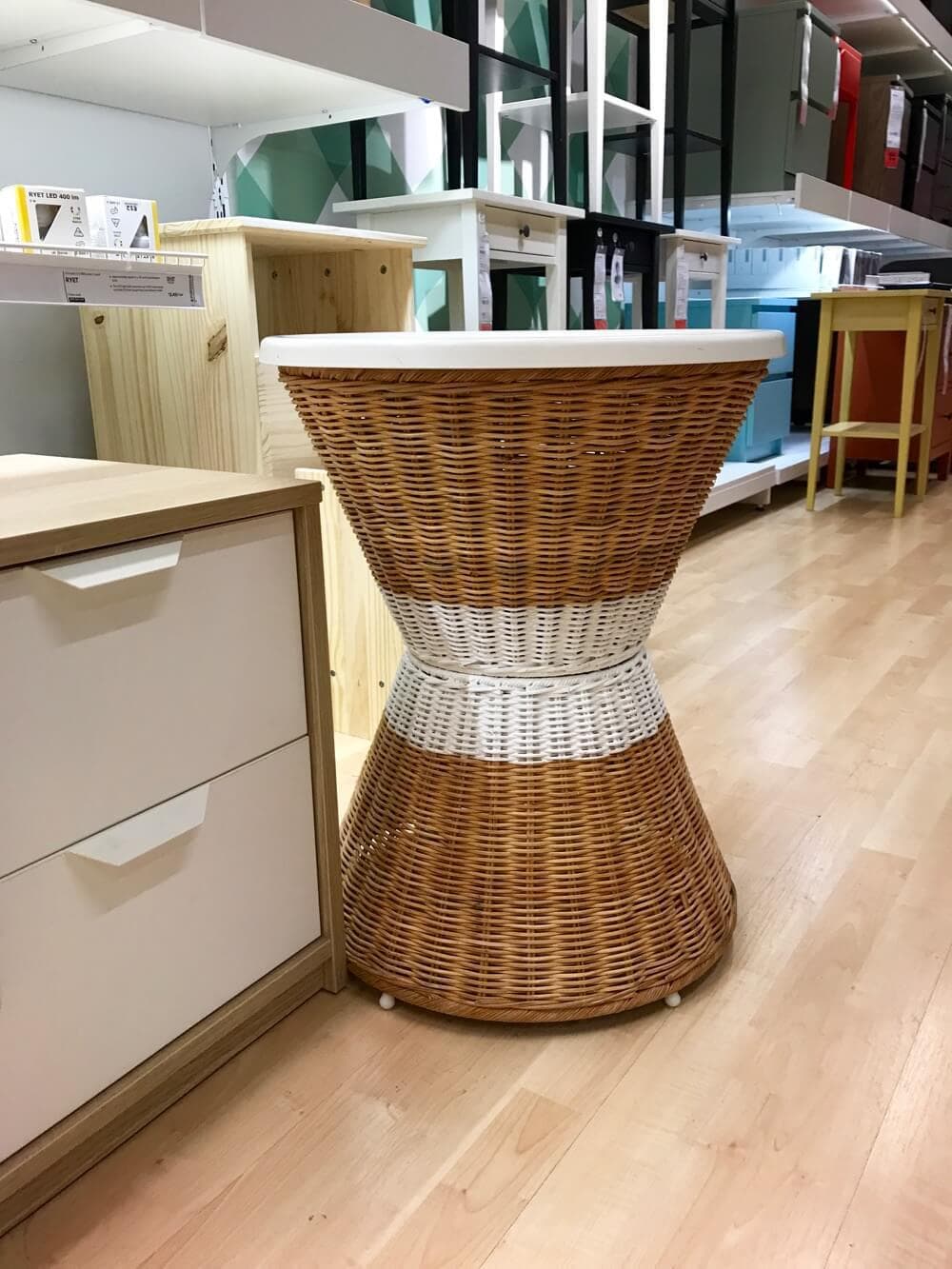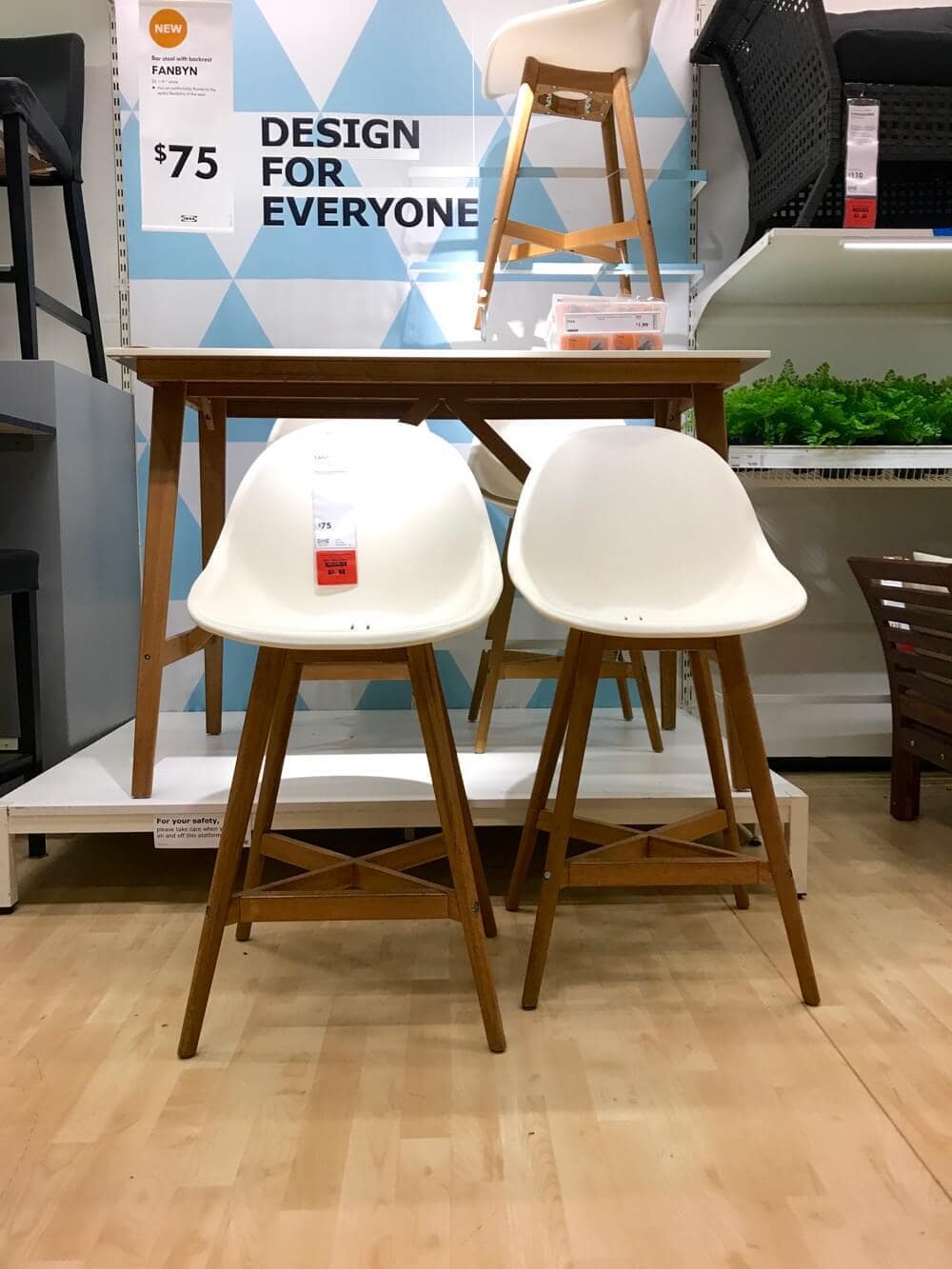 These cute little woven AVSIKTLIG hooksare so fun, and they have a few different colors and sizes. I think a collection of them would look so great in an entryway to hold coats and bags, or they'd also be a really fun option to hold your wet towels in the bathroom!
The SANDHAUG nightstand is currently my top option for a side table in our bedroom. I've started to do my morning devotional time in the chair in our bedroom and I desperately need a little table to set next to it – I love that this one has room to store some stuff, it's pretty light visually so it won't feel crowded, and it would add some great texture!
The FANBYN bar stools are probably one of my very favorite things I saw on this trip. I'm seriously debating if our kitchen is large enough for these to go at our island (unfortunately, I don't think it is). I think they're basically perfect, and they're so comfortable too. I love the table that goes with them, but I think they'd look even better paired with something a little different.
Whew. Are you feeling inspired yet? I'm almost done, I promise, but before I go I have just a couple more things we need to talk about.
First, do you play the "favorite kitchen" game at IKEA too? Corey and I always ask each other which kitchen setup we like best, and I think we take the game a little too seriously because we love looking at all of the mock kitchens they have and dreaming of how we could implement pieces of them in our own house. So, natrually, I have to share my favorite kitchen from this trip with you. Because, oh my gosh, it's gorgeous.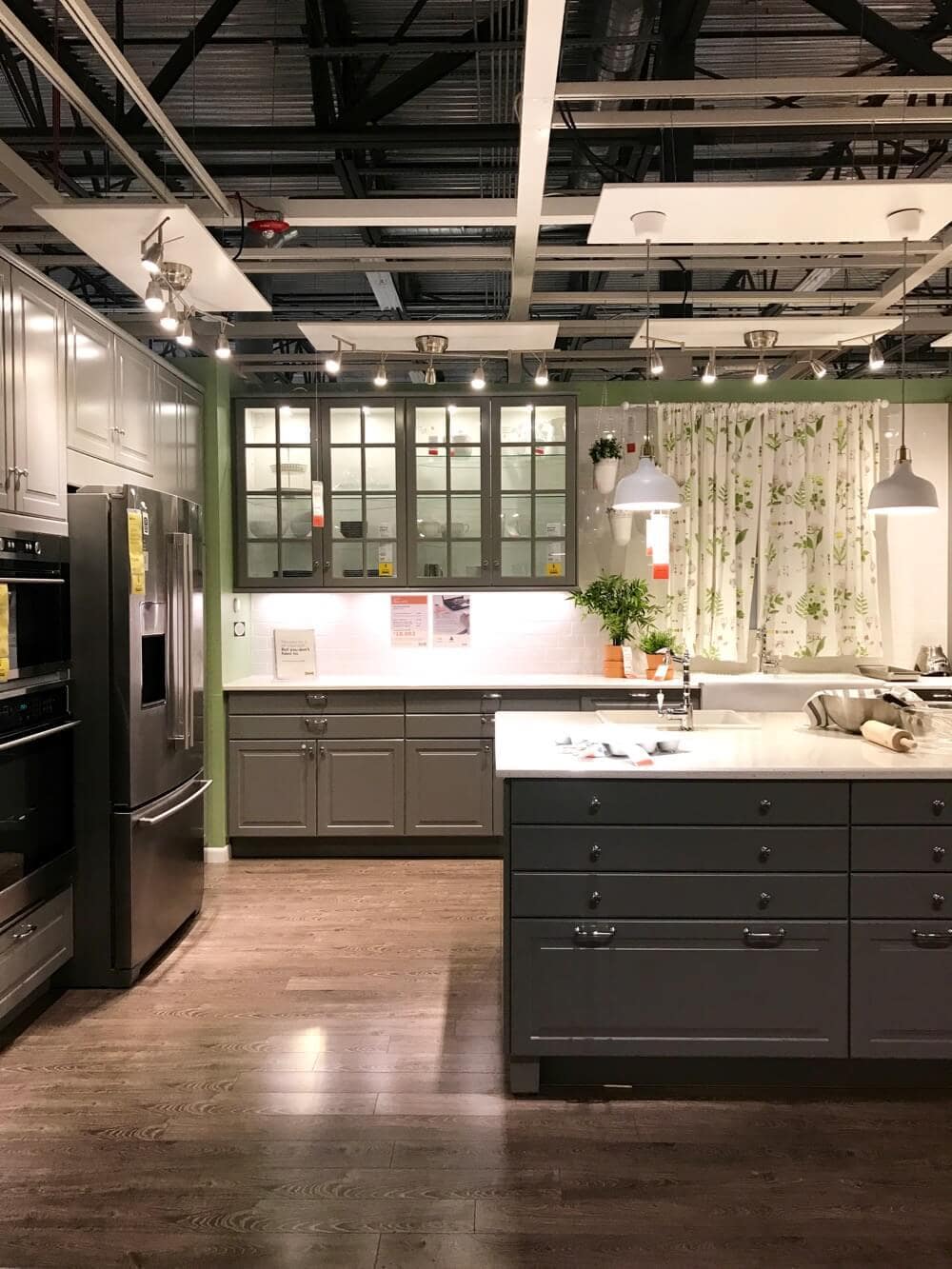 I love the gray cabinets, the glass doors, and that giant island. The green accents aren't my thing, but I do love the idea behind a pretty patterned curtain and a pop of color on the walls! I wonder if I could just plop something exactly like this kitchen into my house? Do you think it would work?!
One of the things that really got my head spinning was looking at the countertops – it's about time for us to replace our painted kitchen countertops, and we're starting to debate options. I had been staying away from the idea of butcher block counters, because we've got black cabinets already and it just seemed like it would be so heavy. But, I've really been drawn to darker and moodier kitchens lately, and then I saw this: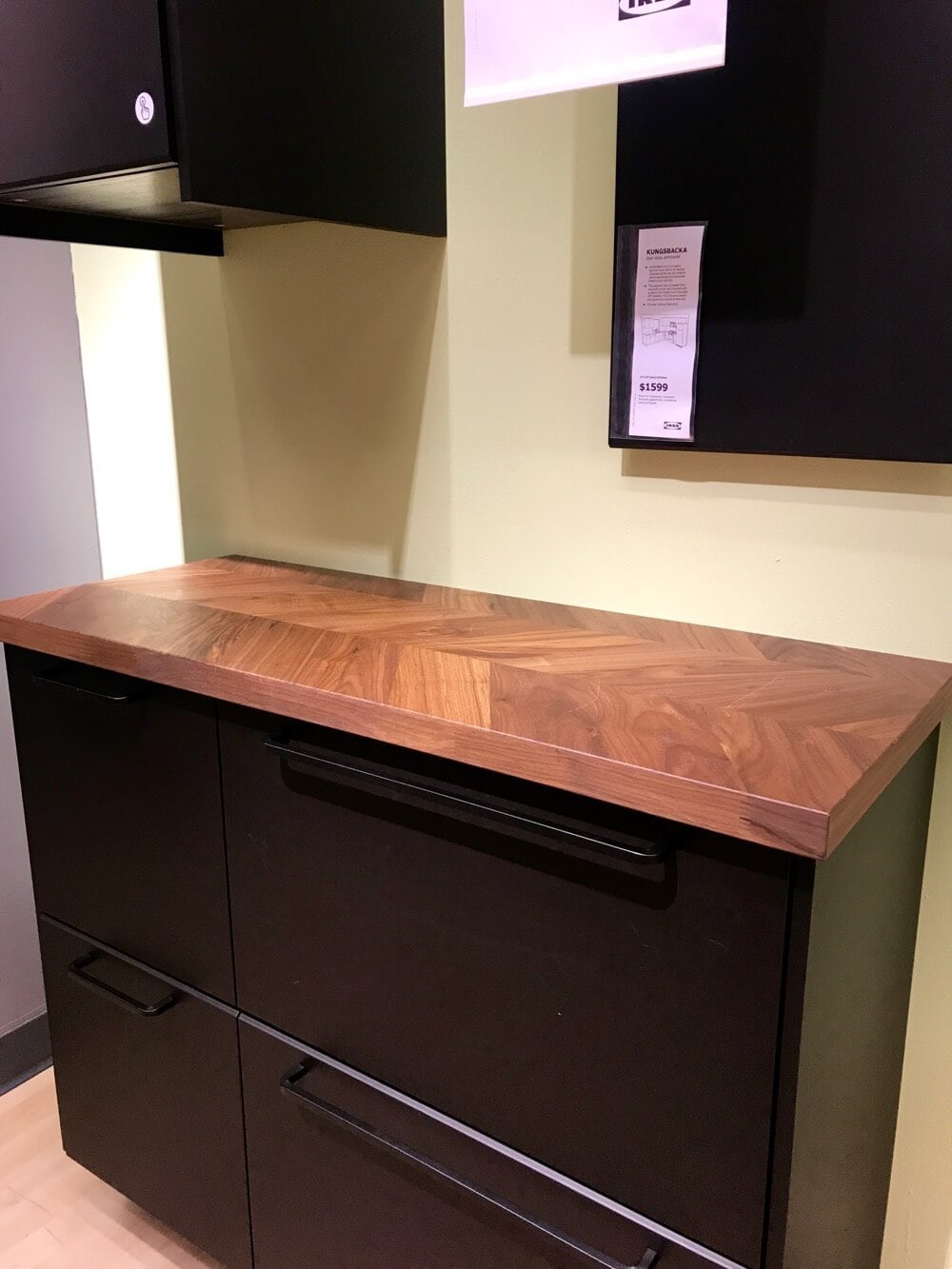 So pretty, right? I love the way the dark butcher block looks with the black cabinets, and it really got me thinking that this might be a viable option for us. Our island already has a butcher block top, so we'd have to think about if we want to keep it as-is or switch it up for something a little different, but I'm definitely going to be considering this for our kitchen!
Okay, so what do you think? Are you feeling as inspired as I am? I'd love to hear what your favorite IKEA finds are right now! Oh, and if you don't have an IKEA in your area, I rounded up a few options that you can order from Amazon. IKEA does have online ordering, but the selection is relatively limited and you don't have the bonus of Prime shipping. You do have to pay a bit extra to order on Amazon, but it's definitely a good option if you don't have a store locally – IKEA's basic shipping is $10, so as long as the price difference isn't more than that, you're still saving money! This post contains affiliate links. Click here to read my full disclosure policy.
What are you loving from IKEA lately?