Corey and I have never been big on celebrating the new year. We used to go to a party every year, and it was a  lot of fun, but the party doesn't happen anymore and we haven't taken the time to find another tradition for the end of the year.
Honestly? In the last three or four years, we've been in bed before midnight every time.
I know. We're boring. And pathetic.
But it's lovely.
Now that we have a kid, though, I find myself wanting to celebrate every little holiday with a little more enthusiasm, so I'm looking for inspiration on how to celebrate New Years Eve with our little family.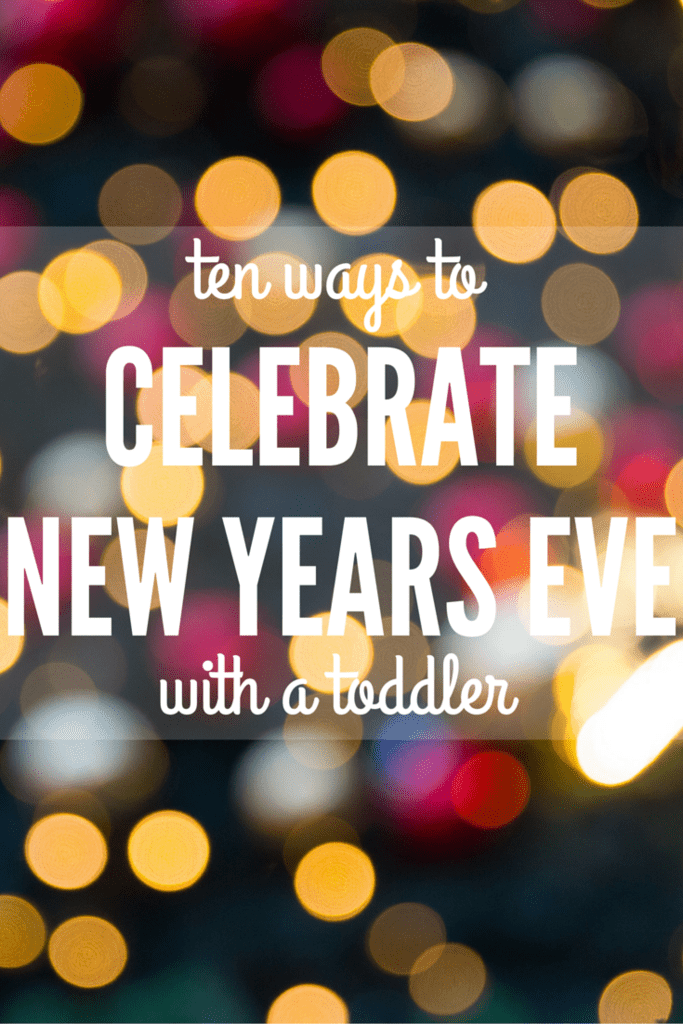 You know I'm a sucker for a good tradition, so I'd like to settle on something that we can do year after year…we haven't figured out exactly what that will be yet, but here's what is on my list of ideas for new traditions to start:
Have a noontime celebration. No one wants to keep a toddler up until midnight, so pretend like the big celebration is at noon instead. Your toddler doesn't know the difference, and if you've already celebrated it means you can go to bed early! You could also just set your clocks a few hours ahead so it "feels" like it's closer to midnight, when it's really just bedtime!
Made a special meal. Have breakfast for dinner…cook something fancy…eat cookies for dinner…just try something fun and different! Bonus points if you choose one meal to make every year!
Have a movie night. Make popcorn and hot chocolate, curl up with some blankets, and make a big deal out of a special family movie night. You can even make it an extra special treat and start it around bedtime so they can stay up late!
Have an activity countdown. I've seen it done with balloons, but if popping them would be too scary you could just do envelopes with each hour written on them and a fun activity inside. With older kids you could do the evening hours leading up to midnight, but if you need your toddler in bed on time, you can do it in the afternoon! The activities have to be anything fancy – blowing bubbles, going for a walk, making cookies…even everyday activities feel special when you turn them into a countdown!
Look at pictures from the year. Jackson loves to look at pictures of "baby Jackson," so I'm thinking it would be fun to gather around the computer and relive all of our favorite moments from the year. It's also a great way to start deciding what photos to include in our family yearbook!
Drink sparkling grape juice. I remember as a kid, on New Years Eve we always bought those fancy bottles of sparkling grape juice that looked just like champagne. My friends and I would drink them out of champagne flutes and feel so fancy and grown-up! Jackson doesn't drink juice regularly, so he would love to have this as a special treat.
Have a dance party. We do this spontaneously on a pretty regular basis, but being intentional about it would make it feel  a bit more special! Crank up the music, push back the furniture, and bust out your best moves. It always feels like a special day when there's dancing involved.
Have a family slumber party. I don't know if Jackson would handle this well, but I adore the idea of all piling in a bed together or making a fort in the living room to sleep in together. We could roast marshmallows in the fireplace and pretend like we're camping!
Have a family game night. Last year we had friends over and spent most of the day on New Years Eve playing lots of games! They have a toddler too, so our kids got to play together while we all hung out…Jackson is getting close to old enough to play some very simple games, so we may try to introduce some this year!
Watch the ball drop…from last year! If you want to have the big countdown experience of watching the ball drop and celebrating but you don't want your toddler up that late, just pull up a video from a year or two ago. You can pretend like it's the real thing and celebrate like crazy!
**********
I'm still undecided on exactly what we'll do, but I'm more excited about New Years Eve than I have been in a long time now that Jackson's old enough to celebrate a little bit! What are your favorite end-of-the-year traditions?