Need some ideas for how to get your kids to help you with the chores around the house? Here are some great chore chart ideas for the kids in your life – it works great for our preschooler! 
One thing I think all parents struggle with is how to get their kids to be more involved around the house. It's hard to get kids to be willing to actually help with cleaning and other chores, and it can be really frustrating to figure out what works for your family.
The one tool that has been a total game-changer for us is the chore chart.
I know, I know. It sounds overly simple. You've tried it. It won't work for you.
Hear me out.
We implemented this chore chart a few months ago for Jackson, and it has totally revolutionized how chore time goes in our house. Jackson is much more willing to help, I spend less time nagging, and everyone is a little happier.
So, how do we do it? Let me give you the rundown:
Chore Chart Ideas: Get Your Kids to Help With Chores!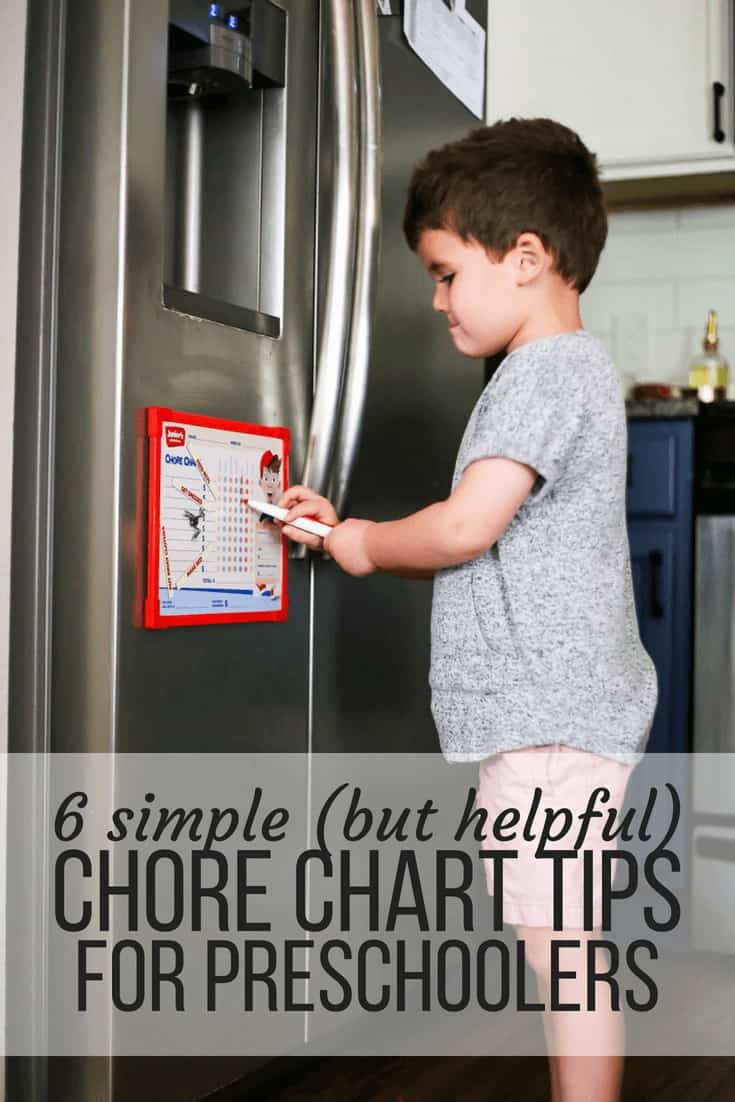 Start by choosing your chores. We use this chore chart from Dave Ramsey because we love his methods, but you can make your own if you don't want to buy one. This chart comes with magnets for each chore so you can choose what you want your child to work on and easily swap it out – and that's my biggest recommendation for your chore chart – make it easy to change things up, because you will want to tweak it. I recommend choosing 4-5 chores to start with and try to have a variety of quick and longer chores. We like to have one or two "gimme" chores (like getting himself dressed, which he does every day no matter what), and no more than one really difficult chore (which, for Jack, is cleaning his room).
Decide on a "commission". Choose a small amount of money that your child can earn for each chore they complete. Jackson gets a quarter per chore – which means that if he does all of his chores every day, he can earn $1.25 a day. It's enough for him to quickly save up for small toys (he loves to buy blind bags and small Imaginext toys), but not so much that we feel like we're bleeding money.
Be consistent. Every time they do a chore, they get their commission. Immediately. Every. Single. Time. Your child needs to quickly learn that doing chores will lead to good things, and they need to see the benefits of following the plan. It's also important to encourage your child to do their chores every day. At first, it will feel a little like you have to force them to do the chores (because you will), but it will quickly become a part of the routine and will be something they want to do.
Let them do what they want with their money. This is one of the hardest (but also the most important) parts. Once your child has some money saved up, they get to do whatever they want with it. We have a couple of different envelopes (for giving, saving, and spending), but Jackson isn't quite old enough for that concept so he currently just saves all of his money for toys he wants. Sometimes it's hard to watch him blow his hard-earned money on a bouncy ball from the machine at Old Navy or on a toy that I know will break in five minutes, but that's a lesson he has to learn on his own. We've already seen him becoming more aware of what he likes to spend his money on and become more cautious about saving up, and it's totally worth the frustration to see him learn these lessons!
Stop buying junk. Once your child starts earning their own money, it's time for you to cut back on the random toy purchases. It's hard to always say no when your child requests little treats and toys, but I just remind Jackson that he has his own money and he has to spend it. It really cuts back on the random requests for dumb things at the store, and it's nice to have a simple excuse to fall back on every time (rather than having to decide every time if I'm going to give into the request or not). Of course, that brings me to my next tip…
Have the money with you. This is one of the harder parts for me – when you head out to the grocery store, to Target, or just about anywhere, you have to have the money with you. If you don't have it, they can't spend it. Older kids can be responsible for remembering this on their own, but the younger ones really just won't remember – it's on you.
And really, that's it!
This simple little system has made a huge difference in our day-to-day lives and has really made things so much more simple for us. Jackson has gotten so much better about completing his chores without complaining, and it makes everything a lot easier.
Plus, it's so nice to not have to be the one in charge of cleaning his room or feeding the dogs anymore.
It's the little things, right?
We've talked about chores a few times here on the blog – here are some other chore ideas for younger kids! 
I'd love to hear your chore tips for getting kids more involved – what's the process at your house?