I'm taking some time off for maternity leave right now – while I'm gone, I'm sharing a few guest posts from some blogging friends. Today, I hope you enjoy this post from Heather at My Life Well Loved – it's all about house cleaning hacks for busy moms! I have a feeling I'll be using a lot of this advice in the next few weeks…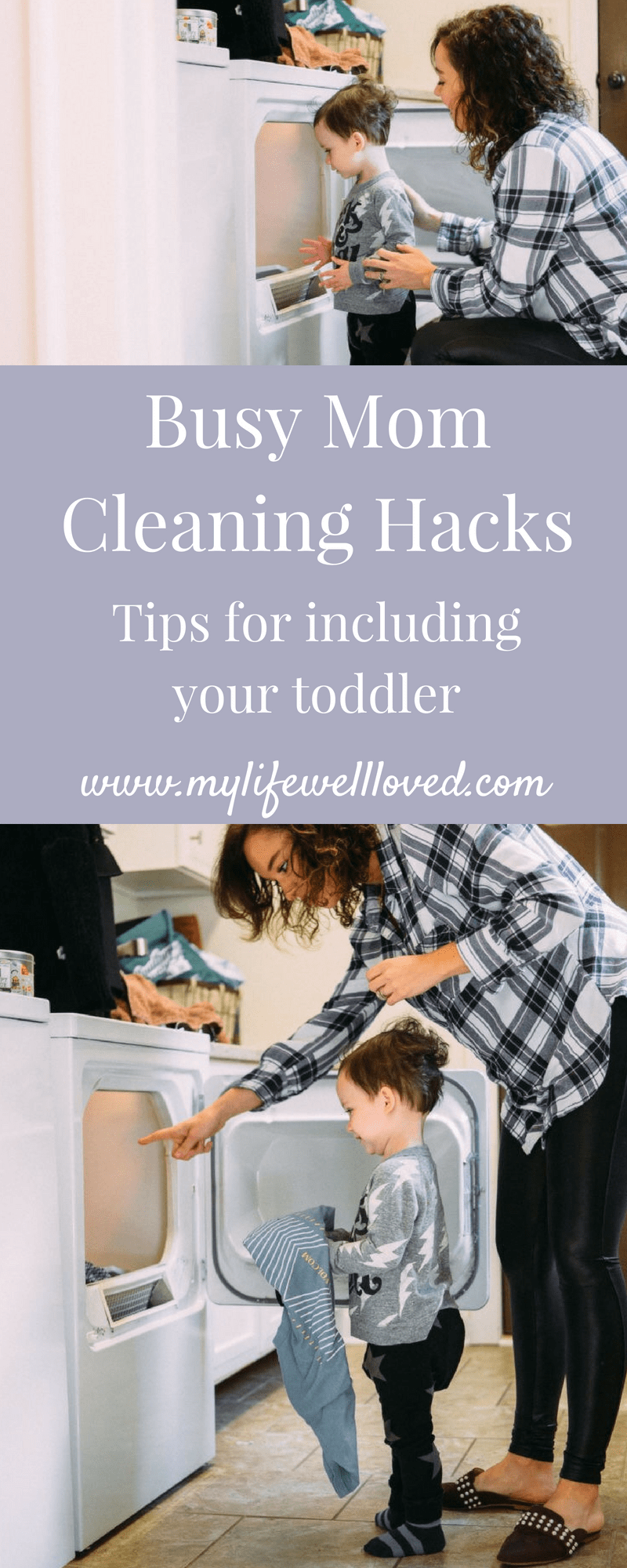 Hi there! I'm Heather, a healthy life + style mom blogger at MyLifeWellLoved.com and a Pure Barre teacher. I am mom to my sweet almost 3-year-old Leyton and am currently expecting my second baby boy in B'ham, AL with my hubs! I'm passionate about keeping a healthy lifestyle and a big part of that is being able to keep things clean and tidy while trying to balance everything else.
As a busy mom, cleaning is one of the last things I want to spend my time doing. These days it seems like cleaning is one of the banes of my existence. I do have to admit, my hubs is very clean and very neat and that has rubbed off on me a good bit but, it's still hard to find the time and to fit everything in. From what I hear from you my audience on Instagram and Facebook, it seems like many other mamas struggle with this too.
Cleaning Hacks for Busy Moms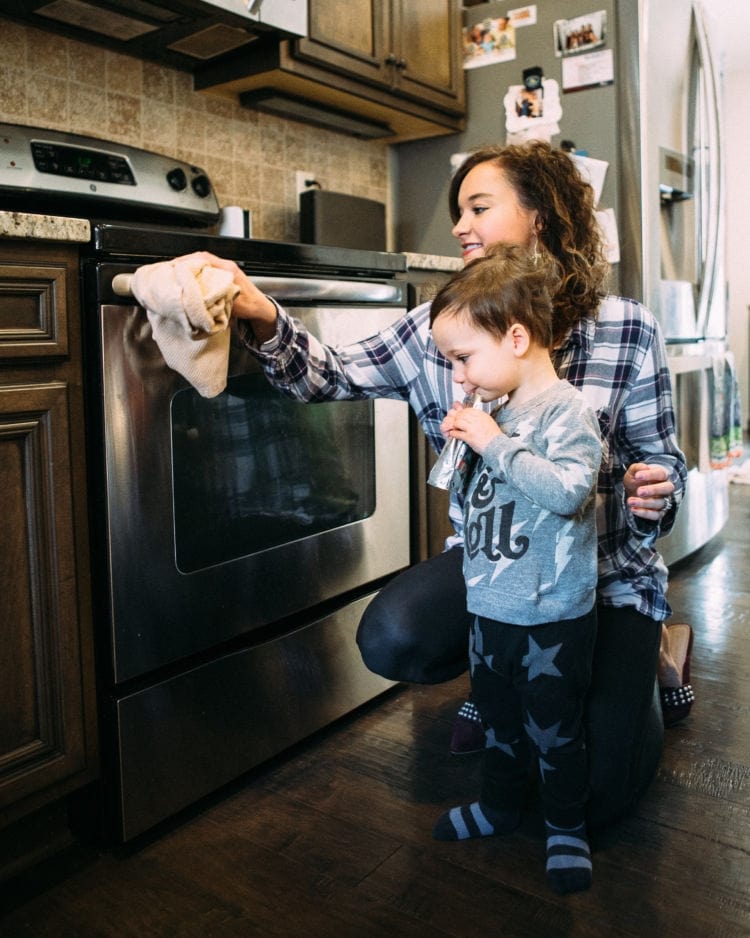 One of the things that helps me the most is

creating a schedule that works for me.

I like to carve out time between caring for Leyton, photo shoots, and travel to have a sort of "catch up day" for changing sheets, cleaning up, putting away laundry, getting rid of clutter, or scrubbing down the bathroom sinks. I typically am home with Leyton two days a week and find that one of those days has to be set aside to get everything done in our home.

You can file this tip under a unique hack to keep your home in check:

host company once a week.

We used to host our church small group in our home every Wednesday and have found that this is a way for us to keep ourselves from letting our home get too out of control. This means even if it's setting our favorite music for 30 minutes and making sure that we spend that time straightening out everything and run through to clean up major eyesores, it's still SO much better.

Extra tip: we usually listen and dance to Leyton's favorite songs so that he's singing and dancing along with us!

This certainly is no deep clean, but it does keep us accountable to keep our home clean and picked up enough to host friends and family.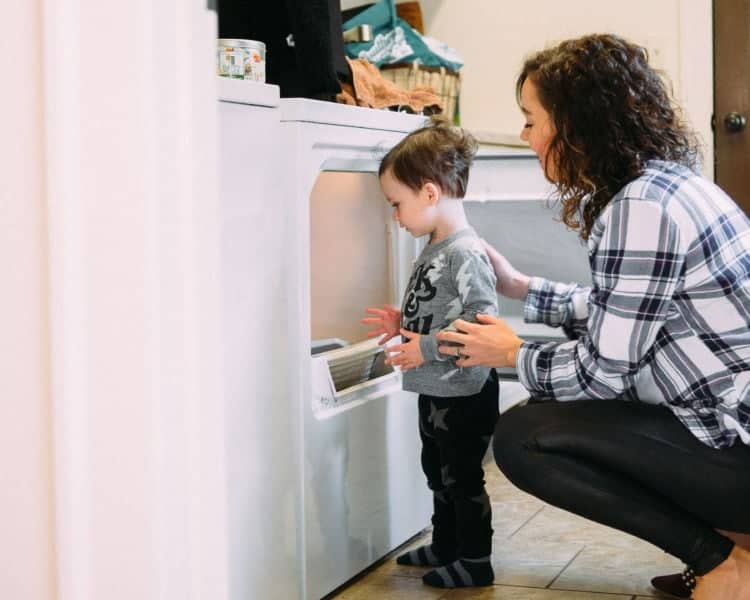 One of the most helpful tips I have discovered as a mom and wife is

communication.

Early on in our marriage, my husband Eric and I had big misunderstandings about who would do what and how to divide it all up. Now, we try our best to check in with each other and what we can help each other with throughout the week to lessen the load for each other.

On Sundays, we talk through what is coming up in the next week including our meal plan and everything around the home that we need to tackle. We used to have a system that whoever cooked, cleaned up but now many times Eric will cook meat and I'll cook the veggies and he'll clean up the kitchen while I help put Leyton to bed. Communication has been a key in our household running smoothly and I am super grateful to have Eric be so willing to share the responsibilities around our home. Sharing our most frequently asked marriage questions and tips here!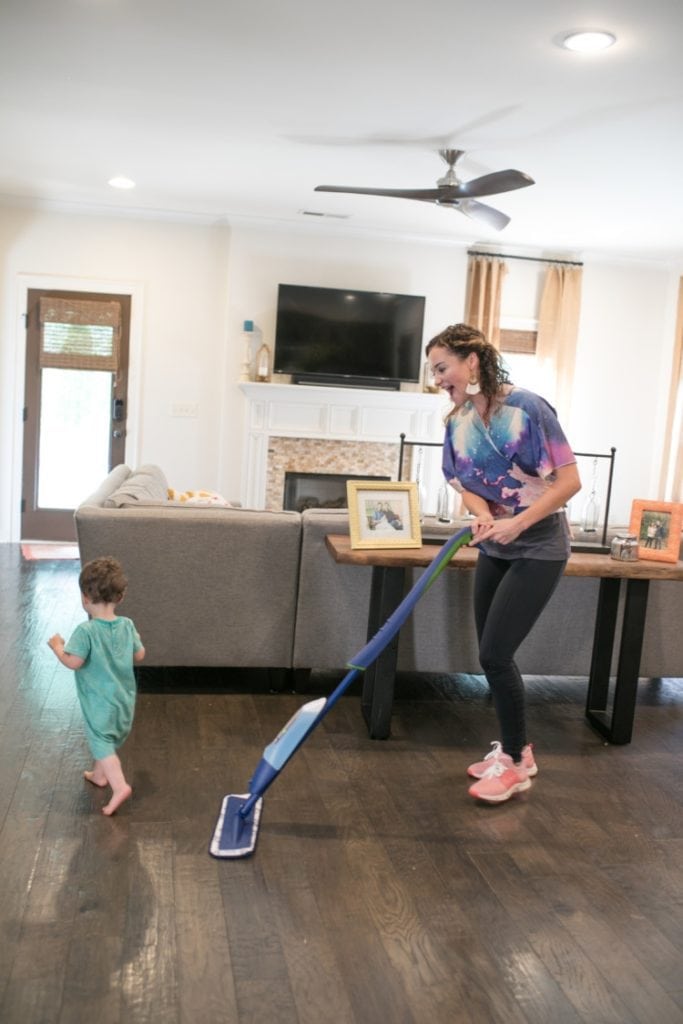 Finally, as I learn to navigate motherhood and as Leyton gets older I have found ways to incorporate Leyton's playtime with cleaning time. It is fun to have Leyton "help mommy" and see how much joy and pride he actually takes in helping me! To be fair, sometimes the "help" actually slows us down, but it's worth the valuable lessons he is learning – and the fun times we have together!
Here are 8 simple "chores" your toddlers can help with!
Clean up toy area

Empty small trash bins

Laundry turnover

Sweeping and Swiffering

Feed pets

Wipe table/ high chair

Lay bath toys to dry

Raking
To get even more toddler chore ideas, check out THIS POST! Don't forget to come find me on Instagram at @MyLifeWellLoved and make sure to say HI!
Amanda here – I love these ideas! I'm particularly a big fan of the idea of having people over regularly. I mean, one of my goals is to host people more often anyway, and I know it would help me keep my home a lot cleaner!