Are you getting sick of talking about the garage yet?
I kind of am.
But don't worry – we're almost done (for a while, at least).
Remember when we were painting the garage and there was that big corner of ugliness that housed our water softener and water heater and that stuck out like a sore thumb in every photo?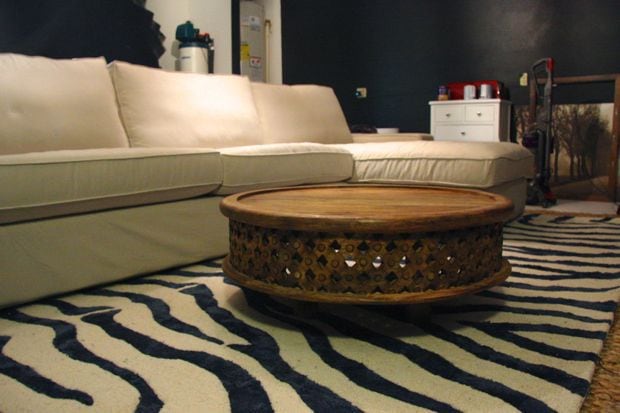 Well, it looks like this now: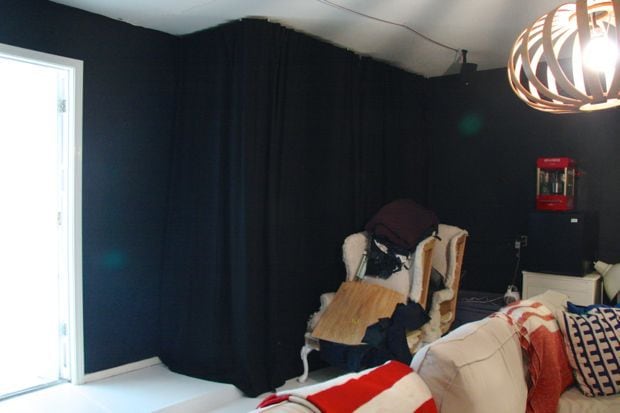 We had originally wanted to build a wall in this area for a more permanent solution to hiding the ugliness, but after talking about it we realized that 1) it would be expensive 2) it would be a pain in the ass 3) it would limit our access to the water softener, possibly creating problems if there needed to be repairs done down the line and 4) it would be EXPENSIVE.
So, we decided to go with curtains.
Now, I know that black curtains just add to the overall dark (and currently a little depressing) state of this room, but there are a few things that went into this decision. First of all, the whole point of this room is for it to be a media room. We aren't hanging out in here playing board games or chatting, we generally just come in here to play video games or watch a movie. So functionally, dark curtains that blend right in with the dark walls help add to the overall movie-theater-vibe and don't distract from the main purpose of the room. Secondly, adding these curtains definitely closes off the room a bit, and we worried that with a bright color or a noticeable pattern, it would make the whole area stand out even more and make the room feel even more choppy – the whole point of putting these curtains up was to disguise that whole corner, and I think these do a fabulous job of that.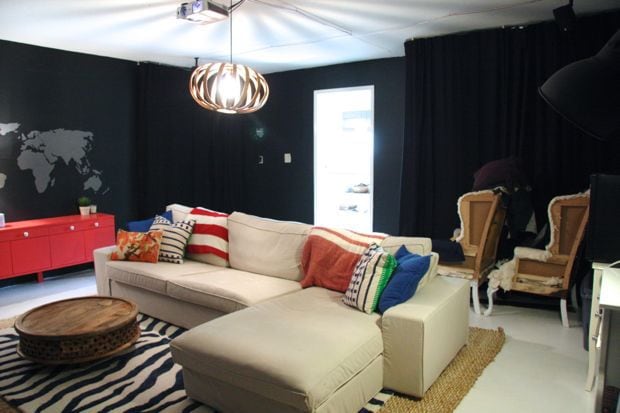 We used the Kvartal curtain track system from Ikea for the curtains – it hangs from the ceiling, which was perfect for us, and is cheap to boot. We also just used regular old black Ikea curtains, partially because they have the best prices and partially because they have super long curtains that we knew would work floor-to-ceiling without us having to stress about ending up with a high-water look.
We have talked about adding a ribbon trim around the edges or something to make them at least a little prettier, but for now I think they're fine. The point isn't to be gorgeous, it's to be functional, and once we get a little further along with actually decorating this room, we'll have a better idea of if we want to leave 'em or dress them up.
We also decided to go ahead and add another set of black curtains on the other side of the room where we're keeping Ranger and Hadley's kennels.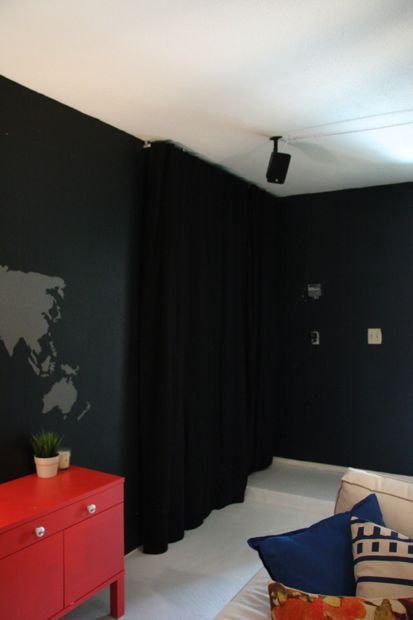 It's decidedly NOT an attractive corner, and since the kennels have become a bit of a landing ground for random stuff, it just looks cluttered and awful all the time.
But with the curtain solution, they blend right in and you barely even notice this area. This set of curtains doesn't close the room off nearly as much as the other one does, since it basically runs flush with the wall. We love that we can close this little area when we have people over or when we're not using the kennels, but it still stays open during the day when the dogs are in and out of the kennels.
I think overall this helps the room feel a bit more put together, even if it does make it feel darker. Now that the big stuff is mostly done (we still need to add trim around the air conditioner and door, replace the rest of the outlets with white ones, along with several other big, down-the-line projects), we can finally start accessorizing a bit more. I'm antsy to get that far wall cleaned up and get some art or SOMETHING on the walls so we can hopefully brighten the space up a bit. We're also going to be adding a second light fixture and bringing my elliptical down here so the reading room can actually be a reading room and not a reading room/workout room/dumping ground for furniture we don't have any other space for.
Overall, my feelings on this room are still pretty neutral. I LOVE the function of it, and I'm so incredibly happy that we have it – Corey and I use it all the time for movie watching, and it's so nice to have this room be usable space rather than just a giant storage room (since we never actually used it for car parking). But, in terms of the actual design this room is much more Corey's room than mine. I'm not complaining – I get my way in most of the decorating we do around the house, so I'm more than happy to give up control of a room to make Corey happy. So, that means that some things get done differently than I would do them if I were in charge, but I still have faith that this room will come together and be something Corey and I are both happy with.
For now, I'm just happy to have a giant screen to indulge in my N64 binges!
Anyone else using some not-pretty-but-super-functional fixes lately?