Every year we absolutely love to hit up Cost Plus World Market to play their Treasure Hunt game – today I'm sharing all of the details on how you can join in too! This post is sponsored by Cost Plus World Market.
We have a lot of Christmas traditions that are important to our family – we do an activity advent every year, we love decorating gingerbread houses, and we go out to look at lights all the time.
But, no joke, the tradition Jackson asked about the most last year?
Going to Cost Plus World Market to participate in the Treasure Hunt.
Have you ever done this? Every year for most of the month of November, Cost Plus World Market hides something in their store (this year it's a golden Christmas cracker!), and if you find it, you win up to $100 in rewards instantly. We've never managed to win but we have been in the store when someone else won. I always think it's hilarious to watch everyone casually peeking in all of the nooks and crannies of the store to try to be the first to spot it, and we always go at least a few times during the season to try our luck.
This year, Cost Plus World Market asked little old me to help promote the Treasure Hunt and I'm so excited. So today, I'm here to give you aaaaall the details on how you can play along, and with our collective efforts surely one of us will win, right?!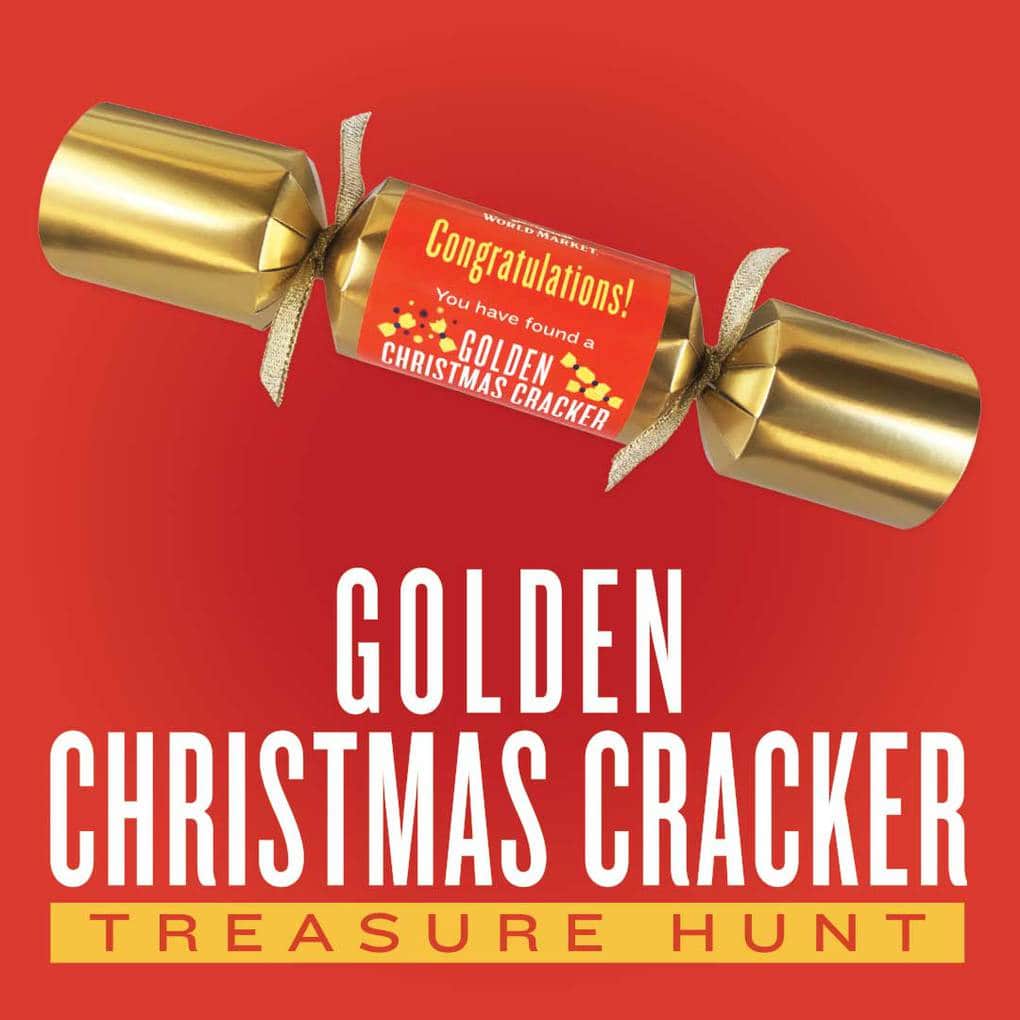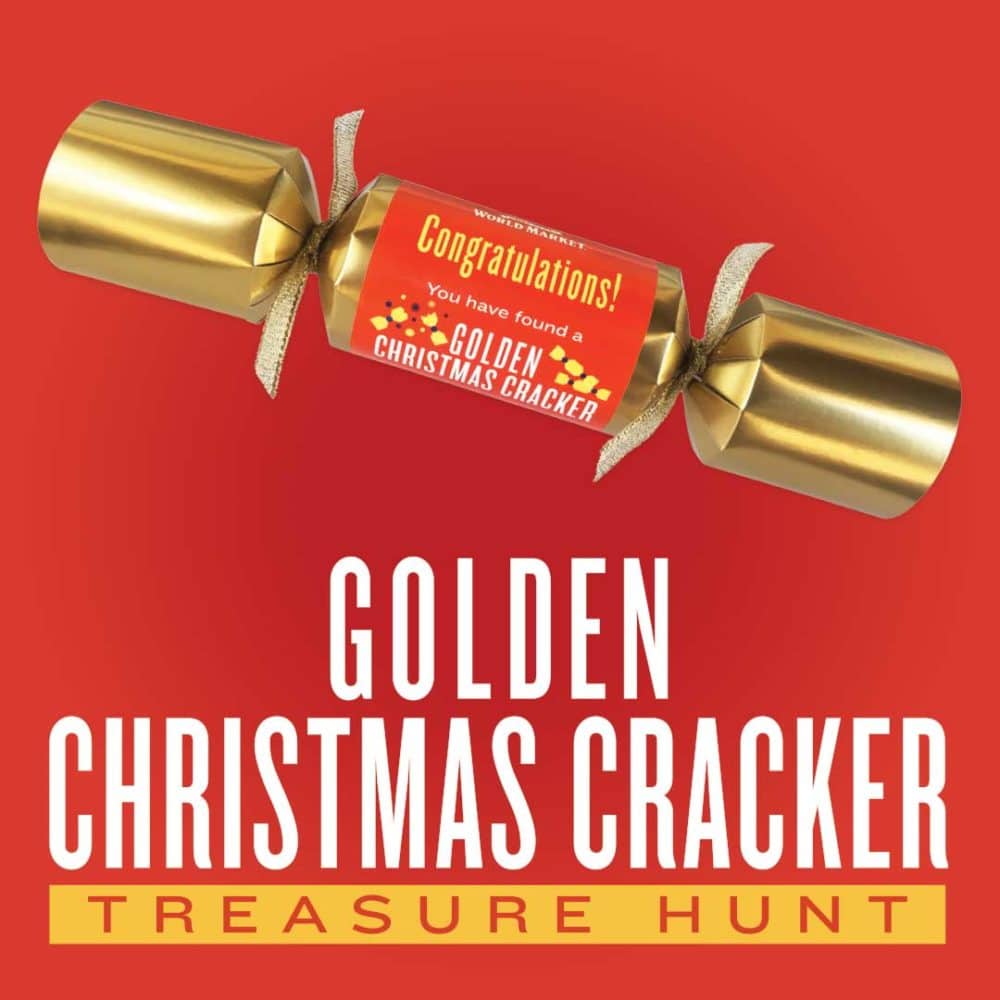 COst plus World market golden christmas cracker treasure hunt
the details:
WHEN? Runs every day from 11/1 (TODAY!) through 11/27. Game 1 is from store opening to 3PM, and then it resets and the second game runs from 4PM to store closing.
WHAT CAN I WIN? If you find the golden Christmas cracker, you can win a $20, $50, or $100 reward to Cost Plus World Market!
WHERE? You have to head in to your local Cost Plus World Market store to play. Use the store locator here to find the closest one to you. I'll be playing in the Cedar Park location right outside of Austin, so if you spot me there be sure to say hi!
HOW DO I PLAY? Every day your local store will hide 8 golden Christmas crackers around the store (4 in the morning, 4 in the afternoon). They'll also release a clue every day to help you find it – you can find the clue in store, on their website or social media, or you can just tune in to my Instagram stories every day because I'll be sharing it too! Once you know the clue, head in and start searching! If you find the cracker, you can immediately trade it in for your gift card. You can only win once during the entire promotion period, even if you hit up multiple stores. You can read aaaall of the nitty gritty on the rules right here.
Note: Employees and designated shopper are not eligible. See the Terms of Participation for all the details!
WHY A CHRISTMAS CRACKER? Christmas Crackers are those little decorative party favors that are popular during Christmas, New Years, and other holidays. They usually have a little hat and some trinkets inside, and when you pull them apart they pop (or, you know, crack), and reveal some fun surprises. Cost Plus World Market has the largest collection of Christmas Crackers during the holiday season, so it only seems fitting that they'd use those for their treasure hunt this year! When you pop your winning cracker, you'll find a $20, $50, or $100 reward, along with a paper crown, a joke or riddle, and a couple of little novelty gifts. Psst: You can see CPWM's collection of Christmas Crackers right here!
I can't wait to head into the store and start searching. Each day, I'll be sharing Cost Plus World Market's Golden Christmas Cracker Treasure Hunt daily joke and clue for your chance to win. Be sure to follow me over on Instagram stories for your daily clues. Today's joke and clue are below – are you ready?!
Here we goooooo:
DAY ONE CLUE:
Today's Golden Christmas Cracker is hidden next to something ORANGE.
I really also have a bit of Christmas shopping to do while we hunt, so this is perfect timing! I want to get a few new pieces for the new house (specifically, I need some stuff for entertaining since we always host Christmas at our house, and probably some new Christmas decor while we're at it!). Here are a few things I'll be keeping an eye out for: