Since Corey and I currently live in a two bedroom duplex and have been living away from our parents' homes for about 4 years now, we have pretty much everything we need when it comes to moving into the new house. We definitely don't have enough belongings to fill up the house yet (thank goodness), but our rooms aren't going to look sparse and unfurnished.
However, there is one (pretty essential) piece of furniture we don't yet have – a dining room table. The only dining table we own is this one, that currently sits in our kitchen.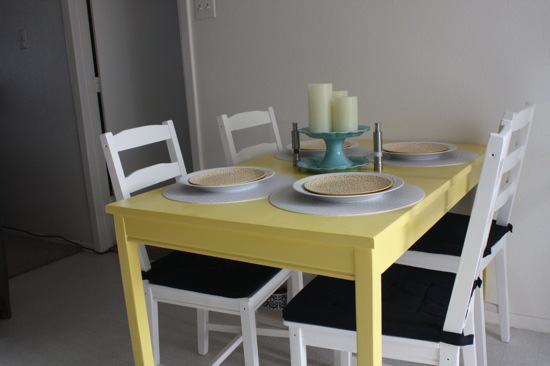 This table is perfectly fine for us for now – we don't have guests over very often because most of our friends have moved out of College Station, and our little duplex doesn't have room for anything bigger than this.
But when we move (in two and a half weeks!), we'll have a little problem. There's a perfect little breakfast nook in the kitchen that will fit this table nicely…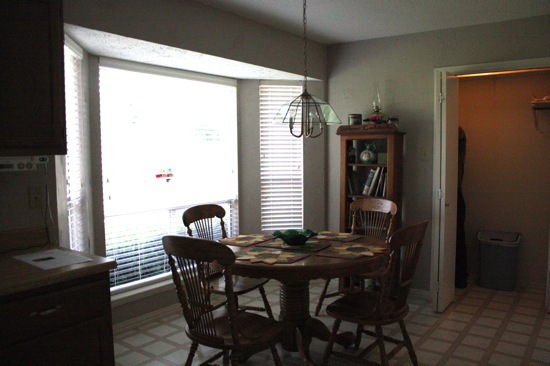 But then there's also this wonderful invention called a dining room. And we don't have anything to put in it.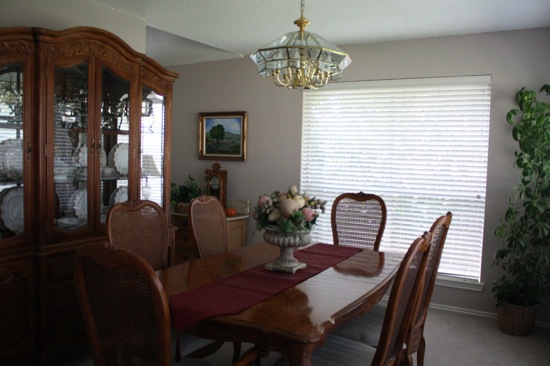 Well, that's technically not true. We have 8 chairs.
Yup, eight dining chairs. And no dining table. In our defense, the dining chairs aren't refinished yet and are in need of a major overhaul before we're ready to use them, but it has become pretty clear to us that we're going to need to fix this situation soon, or else we're going to end up with a room full of chairs and nothing else.
We've gone back and forth for a while now on what we want to do for a dining room table. We even played around with the idea of Corey building a table, but we had a hard time finding plans for something that we truly loved, and it was a lot of work to add to our list of things that needed to get done – especially when we want it as soon as we can get it.
After searching for a few weeks, I was beginning to lose hope, and then I found it. The table.
The Carroll Farm table from West Elm. Drool. Corey and I immediately knew that it was the perfect table for us – simple, clean lines, dark finish, and gorgeous chunky legs. Now, a table like this isn't hard to find – it's pretty simple. But the key is that this table comes in two sizes – one that seats six, and one that seats 8. This was huge for us, because we really wanted a table that seats 8, but neither of us loved the idea of having a table with leaves – we wanted a solid table, no leaves. That's a bit harder to find.
So, this table was perfect, we loved it, and we figured we were set. Since we haven't actually moved in yet (have I mentioned that we move in two and a half weeks??!) and the table was listed as backordered until the end of August, we figured we'd wait a little while to order it and see if maybe we could catch it on a sale or something. No rush, right?
Right.
Until yesterday morning when I got a chat message on Gmail from Corey, telling me to take a deep breath. I asked why, and he told me our table was gone.
Poof. Just like that. Removed from the website.
WHAT?
I double checked to make sure he wasn't just going crazy, and when I realized it was actually gone I had a minor panic attack. I immediately grabbed my phone and called up customer service at West Elm, hoping I'd be able to score a table, even though it was removed from the website.
When I finally got someone on the phone, I explained to her my dilemma, and I quickly realized that this lady had no idea what she was doing.
How did I know this?
Because she kept repeating "I have no idea how to look that up."
Seriously? Isn't this kind of, um, your job? She seemed a bit panicky, but I finally got her to look up the table and after insisting to me for a good five minutes that the table had just disappeared from their records, she finally managed to find it in a backorder list. She couldn't tell me if they were going to be putting it back on the website or not, but she could tell me that they had the backorders coming at the end of August.
Okay. We were making progress. I asked if she could add me to the backorder list so that I could get one when they came in on August 25th. She said that would be fine, and started to take my information. She had just told me how much my table was going to cost me and we were about to be finished when her computer deleted my order. She started to get very nervous (she was a bit high strung) and began quickly taking my information again. I calmly gave it to her…and then she told me my total.
And it was $100 more expensive than the total she had given me 45 seconds prior.
I (naturally) questioned that and tried to understand why in the world the price had jumped, and she told me that her computer was showing the table as $100 more than it was when it was on the website.
I was a little bit confused.
They took it off the website AND raised the price $100? Call me crazy, but that does not make any sense to me. I tried to explain to her that I didn't understand, and she began panicking once again and repeatedly told me, "it's what the computer says, all I know is what the computer says, I can't do anything about it."
Well, lady, I understand that but can you at least agree with me that this is a little bit strange?!
I told her that I'd have to talk it over with my husband, thanked for her time, and got off the phone feeling extremely frustrated and sad. This table was the only table I had managed to find that I really liked after weeks of searching, and it was gone! I called Corey to explain the situation, and he said he would see what he could do.
Five minutes later he text messaged me saying that he'd ordered the table at the original price.
Yeah. He's amazing.
Apparently when we had looked at the table a few weeks ago he had added it to his cart to see what the total cost with shipping would be, and he had never taken it out. So, he was able to just complete the transaction he had already started and get the table at the lower price. Score! And cue my GIANT sigh of relief.
 So, at the end of August we have our dream table coming to us. I'm so glad that we managed to snatch one up before they were completely gone, and I can't wait to see how it looks in our house.
Have you ever had a website take something away that you were planning on buying? Or, have you ever dealt with panicky customer service people? They always make for some interesting stories!