For the past few years, Corey and I have done an activity advent each December in order to ensure that we do some fun, Christmas-y things in the days leading up to the 25th.
Last year, we had an activity for every day in December – it was a blast, but some days we felt pressured to do the activity, even if we didn't have time, and we didn't get to do a lot of the activities because the weather didn't corporate (for example, it was 80 degrees on the night we were supposed to light a fire!). So, this year I decided to just create a general bucket list for the month instead – it accomplishes the same purpose, but is a little more flexible. We can pick and choose which days we do different things, and we can cross out multiple items in a night/skip some nights if we aren't feeling it.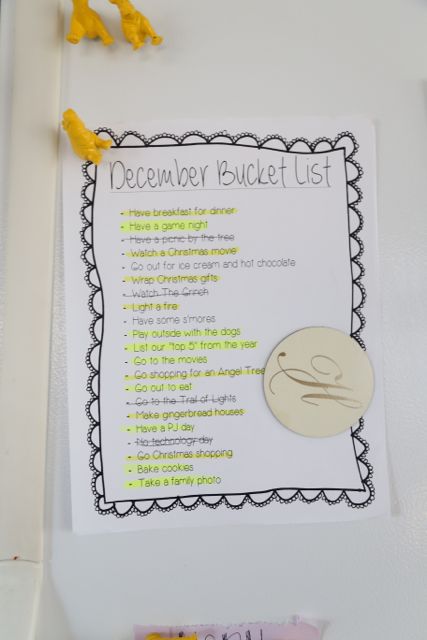 So far, it's been great – we're feeling the Christmas spirit, but we aren't stressing out about getting it all done. In the end, the purpose is just for us to have fun, so we don't want to worry too much about actually crossing all of them off…as long as we feel like we get the most out of our holiday season, I'm happy!
I really enjoyed updating on our activities last year when we did this, so I figured I'd do the same this year – this week I'll share everything we've crossed off the list so far this month, and next week I'll try to pop back in with a quick update on the other things we accomplish. Hopefully we'll get all (or most!) of them done by the 31st.
The above photo was taken earlier in the month, so we've actually knocked off a few more items since then – in addition to what you see crossed off, we also:
– Had breakfast for dinner
– Made gingerbread houses
– Went out to eat
We've had several fires already this year – we had quite a cold spell earlier this month, so our fireplace was basically always going.
We also have watched our fair share of Christmas movies already – we've been in the mood for cheesy Hallmark-y movies, so we've been streaming some of them from Netflix and basking in the incredibly cliche plot lines. They're definitely not high-quality movies, but they make you happy every once in a while, you know? Of course, the dogs are loving all the movie watching – it means more cuddles on the couch for them!
We also did gingerbread houses with my family this past weekend. It's turned into a yearly tradition and I LOVE it. It's so much fun and has definitely become one of my absolute favorite nights of the whole Christmas season.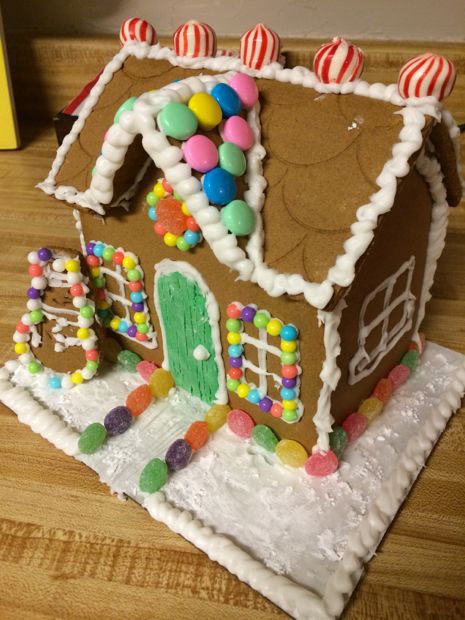 This week is the last week for both of us before our Christmas break, and we're hoping to cross a few more things off the list throughout this week and over our two week break. It's been a super stressful past few weeks at work for me, so I'm counting down the minutes until work is no longer a worry and I can start truly enjoying the rest of my holiday season!
What do you like to do in the weeks leading up to Christmas? Anyone else have a bucket list going?