This shop has been compensated by Collective Bias, Inc. and its advertiser. All opinions are mine alone. #GladeHolidayJoy #CollectiveBias
Can you believe we're only a week away from Thanksgiving?! I'm so excited to celebrate with my family next week, but as you know I've already got Christmas on the brain (and it seems like the rest of the world does too…just me, or did the Christmas season start abnormally early this year?!). I'm so excited to share this post with you because, as you know, I've been stretching my styling muscles a lot lately, and I feel like I'm finally getting pretty good at it – this year I have a feeling my Christmas decor game is going to be way better than it ever has before!
Today I've got a little sneak preview of what might be in store for our Christmas decor this year, along with some tips on how to style the perfect Christmas vignette. I've also got some tips on how to make sure that your home smells absolutely freaking fantastic all season long (and really, all year long)…because I'm sharing my newest air freshening obsession. But, more on that in a second. First, let's chat about this gorgeousness.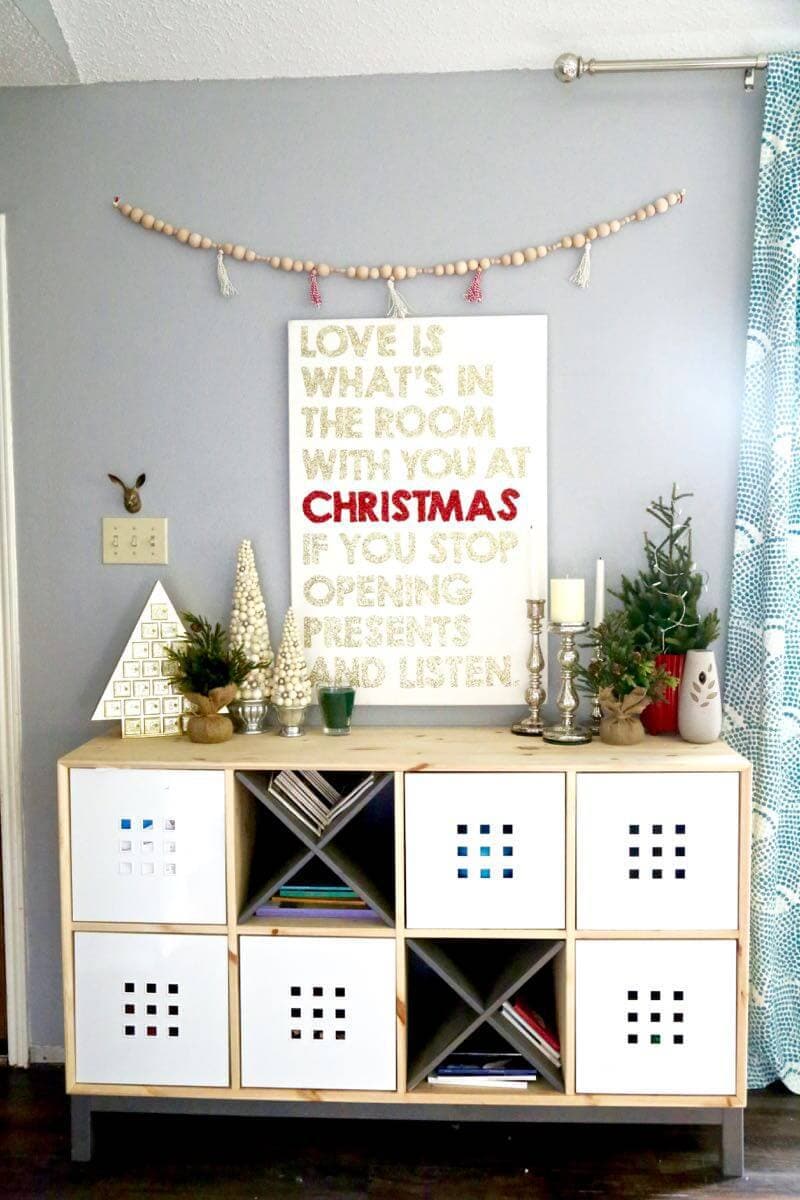 Ahhhh! Aren't you so excited for Christmas?!
I'm in love with how this little vignette turned out, and I think it's some of the best Christmas decorating I've ever done. But, um, confession – I've already taken it down and replaced it with my fall decor, because it just feels wrong to me to have my home decorated for Christmas before Thanksgiving. But I have a feeling I'll be looking back to these photos for inspiration next week when I'm decorating the house for real!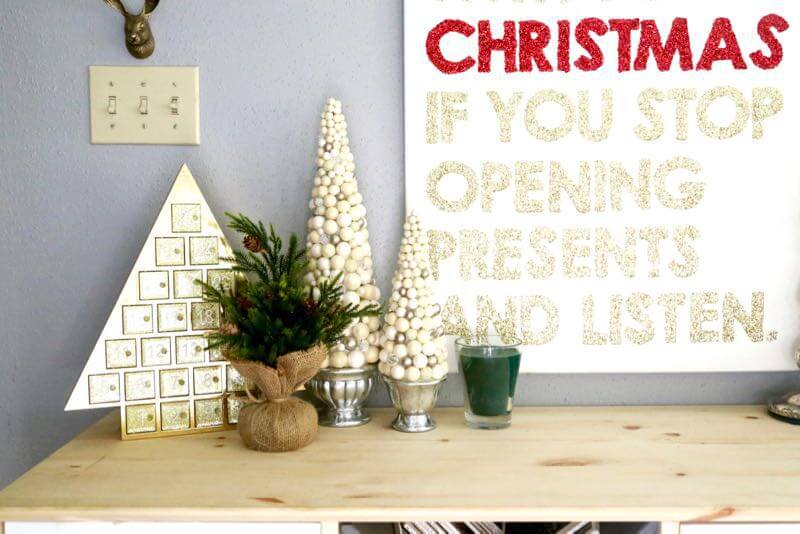 So, let's talk about my tips for creating a gorgeous Christmas vignette – we all know I'm no expert, but you really can't go wrong if you follow these guidelines:
Stick to a theme. Christmas decor, in particular, can start to look a bit cluttered and chaotic if there's a lot of it and it isn't very well thought-out. I tried to avoid this here by picking a loose theme (Christmas trees) and placing mostly items that fit within that theme. Not only does it keep it from feeling too cluttered, I feel like it's really visually impactful to see all of those gorgeous trees all together! I did the same thing last week with my fireplace vignette – I stuck to all candles for the mantle. This is really a foolproof way to make a pretty vignette if you don't really know what you're doing (like me).
Add some candles. You can't go wrong with candles – ever. Especially at Christmastime! I really like to sprinkle candles throughout just about every little vignette I create, because there's just something about that soft candlelight glow that makes every area feel a lot more special. Just be careful not to put too many scents close together. For this vignette, I put one pretty green Glade® Large Jar Candle in the Woodland Spruce

™

scent (it's so Christmas-y!) and then stuck to scentless for the other candles. When I'm lighting candles around the house, I try to only light 1-2 scented candles per room – and definitely only 1 if the scent is a stronger one, like this Glade® one.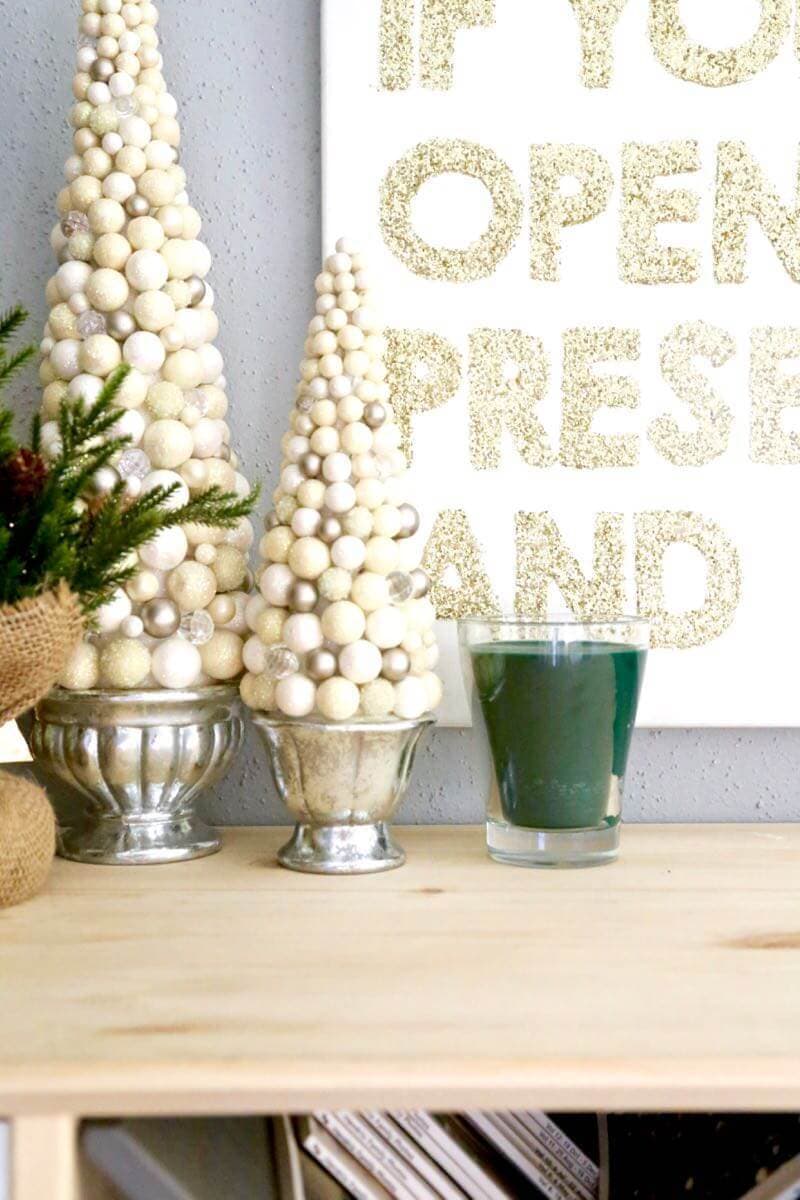 Swap out the art. This is one of my favorite general tips for decorating for the holidays – it's so easy to trade out some art pieces around your home for most Christmas-y decor, and it makes a huge difference! I made this glittery canvas a few years back and it has held up really well over the years…it's starting to get pretty dirty from being in storage most of the time, though, so I may have to make another at some point soon. I haven't done this in a few years, but I also used to tuck Christmas prints and quotes behind the regular pictures in frames around my house – then, when it was time to decorate for Christmas I just swapped it around so the Christmas stuff was in front! It made it really quick and easy to change things up, and I loved having our staircase gallery wall full of Christmas prints. Maybe I'll do it again this year!
Add varying heights. This is one that I sometimes struggle with, but it gives a vignette so much more depth if you really make sure that you've got a good variety of heights and sizes in the things you set out. I like to look at it from a bunch of different angles before considering it done, and right at the end I always snap a picture of it to see how it looks on the camera. Obviously I do that in part because I'm a blogger, but it's a great tip even if you aren't – things just look slightly different on camera than they do in real life, and you'll often catch little things you can change that you might notice with the naked eye!
A DIY touch makes a huge difference. Christmas decor is so fun to shop for, but like anything else, it can feel a little bland if everything you decorate with could be found at your local home decor store! For this vignette, I've got my DIY canvas art but I also have a wood bead & tassel garland that I made – it adds a cute, whimsical touch and I think it makes the whole thing feel a little more special.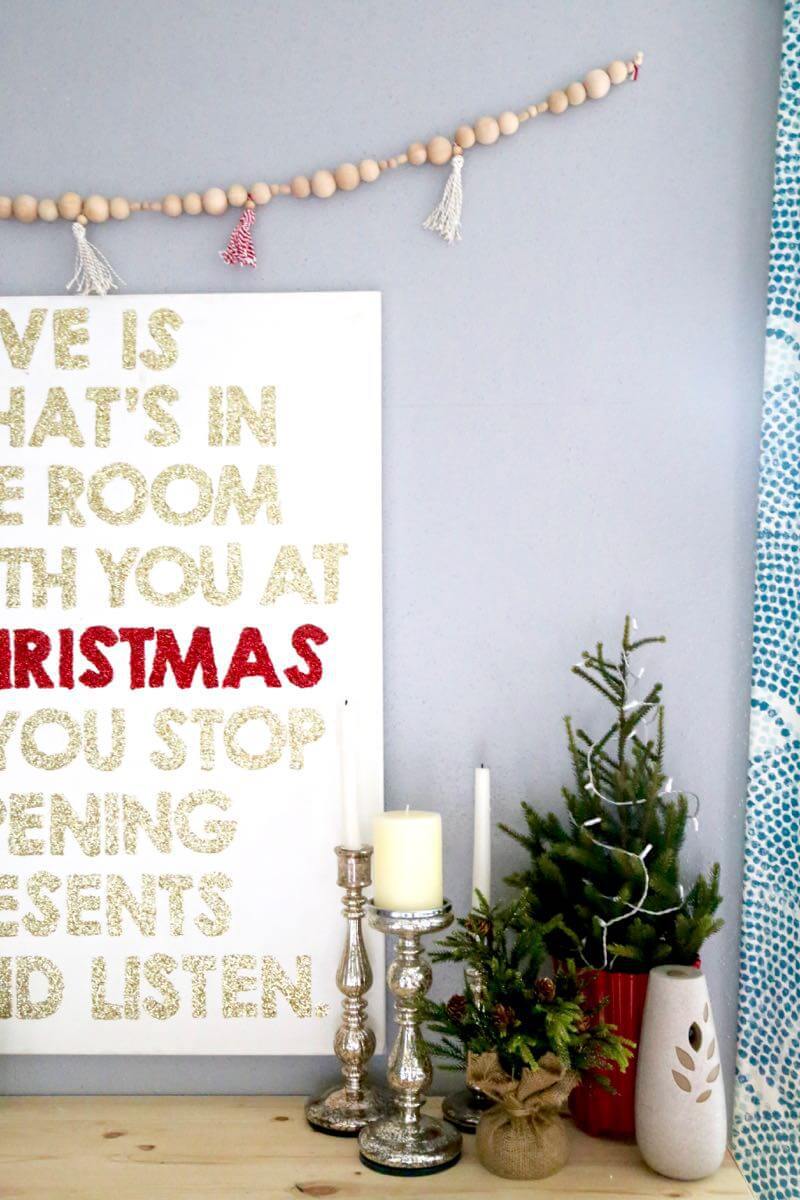 I'm loving how this turned out and it's making me absolutely giddy to decorate for Christmas.  I can hardly believe it's almost time to start celebrating the holidays, and I'm so so excited to start totally embracing the holiday cheer.
Okay, so I promised I'd also talk about my newest air freshening obsession. I'm beyond head over heels in love with this automatic spray room freshener. I bought it a few months ago and I feel like it changed my life. Our house can sometimes smell less than pleasant thanks to the dogs and the toddler, but with this thing, I don't have to worry about that anymore. Ever. Seriously. EVER. I love it so much I bought one for my classroom, too!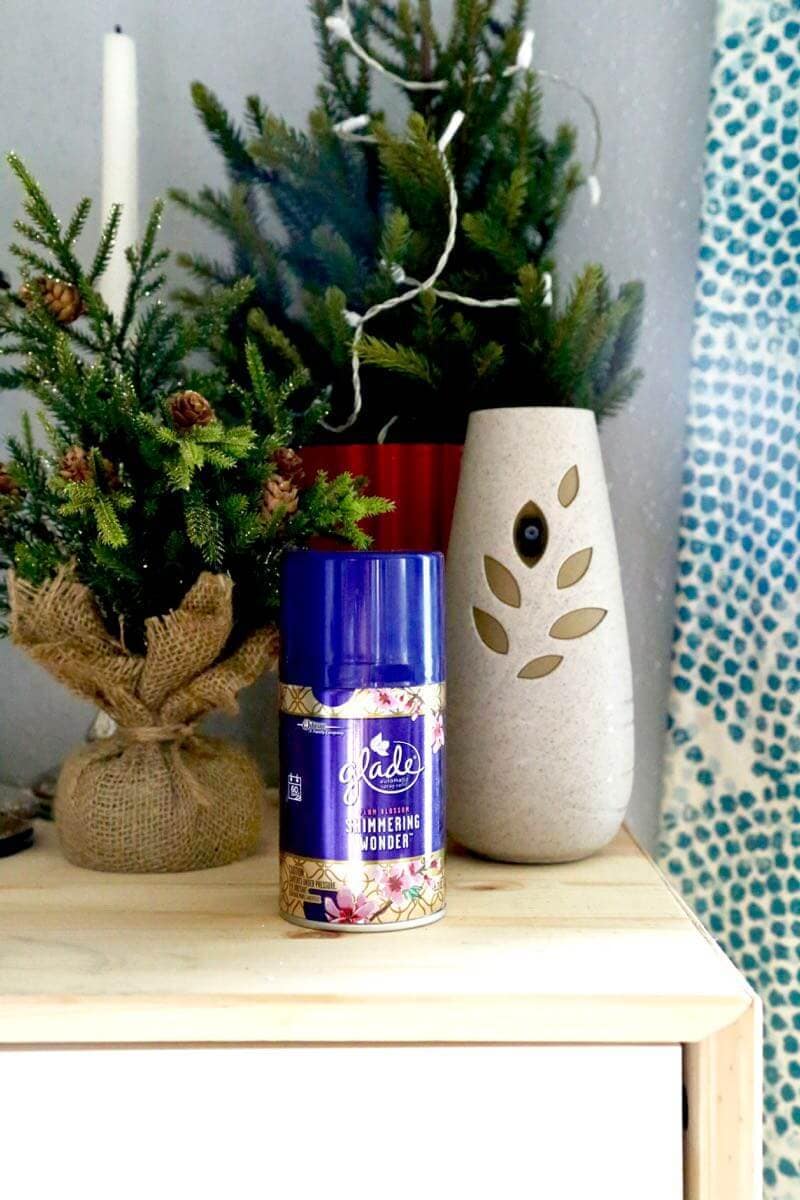 This, my friends, is the Glade® Automatic Spray Starter Kit with a Shimmering Wonder™ (Plum Blossom) Spray Refill. We've tried a few difference scents, and while I normally gravitate to more neutral scents (I'm a sucker for any scent that includes the words "clean" or "fresh" in the name), I love how Christmas-y this one is! This is really the easiest way to keep your home smelling fresh – you just pop the spray into it, add a battery, and sit back and let it do the work. There are a few different settings for how often it sprays…we keep ours on the lowest setting and it's really perfect for us. Every 36 minutes there's a quick spray of air freshener, and every time I take a big, deep breath, close my eyes, and smile. It's practically intoxicating to have your home smell that fresh and clean all the time.
I know. I'm a nerd. These sorts of things just get me so excited!
We got our Glade® Automatic Spray Starter Kit at HEB – which, for those of you who aren't in Texas (I'm so sorry) is the most wonderful grocery store on the planet. Seriously, when we were house shopping five years ago I told Corey that I wouldn't buy a home if it was more than 5 minutes away from an HEB. We're under a mile away from ours, so we did pretty good.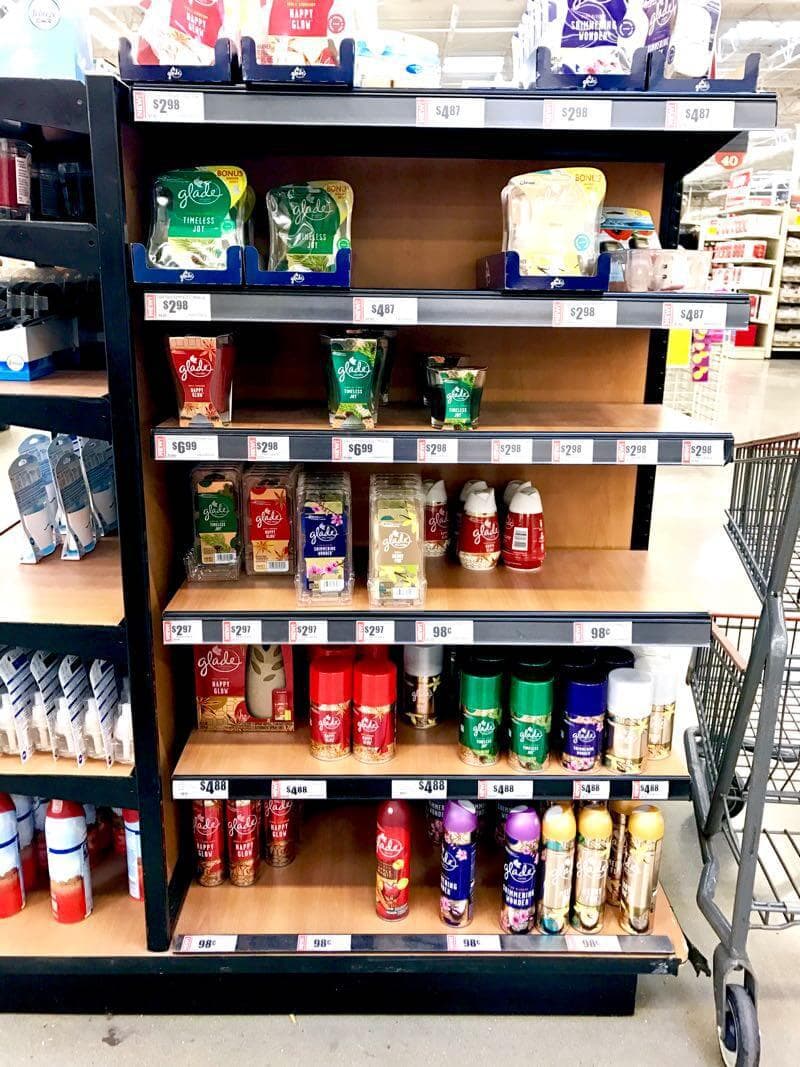 Our store has the seasonal scents on these little 4-way displays – but you can also find the regular kits and scents in the aisle with the air fresheners. My mom has the Merry Fun™ (vanilla) scent at her house right now, and I love that one too!
So, bottom line is that if you haven't tried this thing yet, you absolutely must. Especially this time of year, it really helps me feel prepared for guests at any moment (which seems to happen a lot during the holiday season) because if my home smells good, somehow any other mess doesn't matter so much. It gives me one less thing to stress about to know that my home will always smell clean, and that's absolutely invaluable this time of year when things get so busy!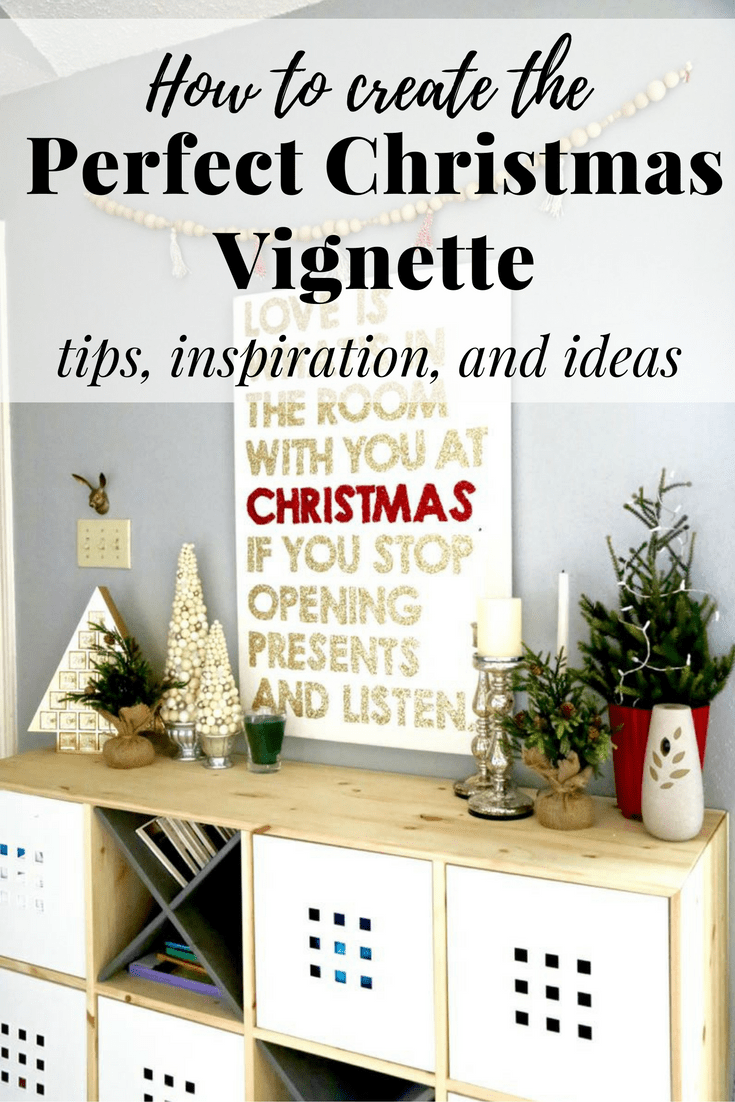 Have you ever tried the Glade® Automatic Spray Kits? Are you as obsessed with clean smells as I am? Oh, and I'm dying to know – have you started decorating for Christmas yet?!
Psst – if you want to keep up with Glade® on social media, you can find them on Facebook, Instagram, Twitter, YouTube, and Pinterest!