I had the itch to make some cute DIY thanksgiving decorations, so I whipped up this little DIY "Thankful" chalkboard for us. Get all the details on how here!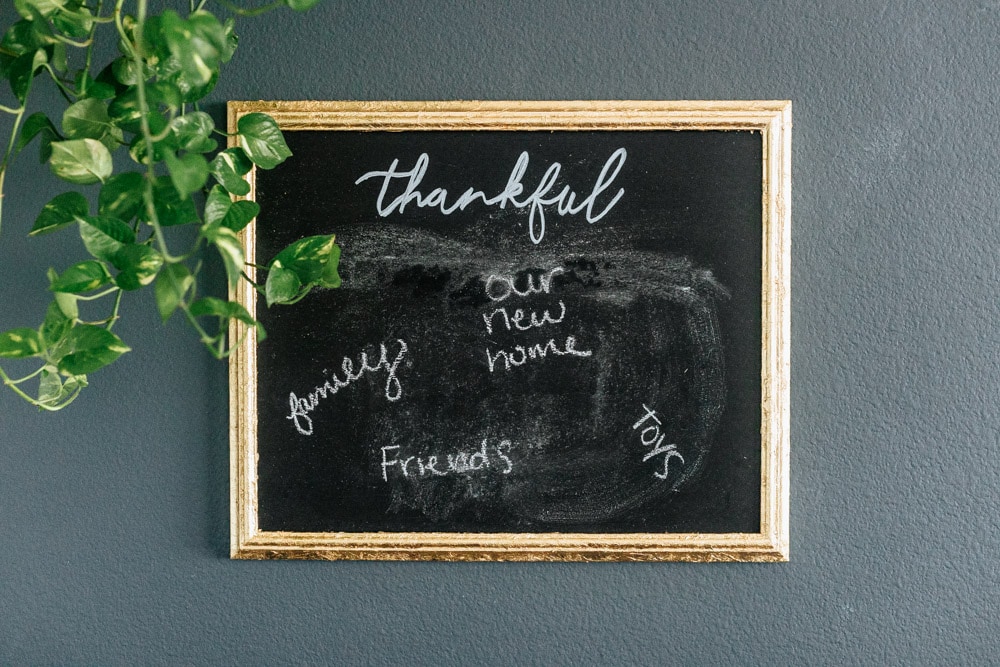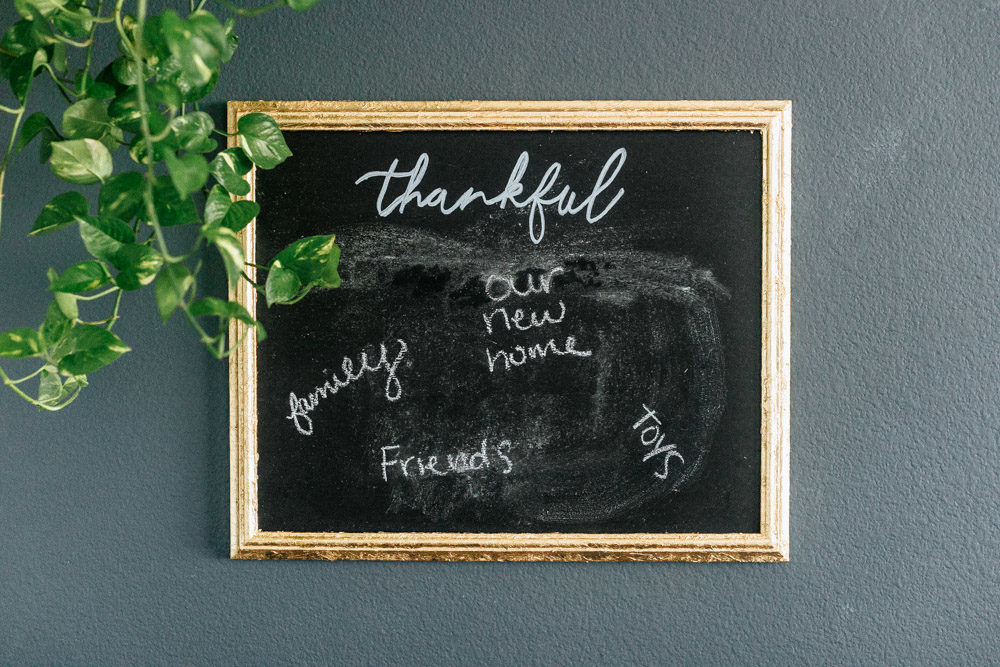 We might be moving this week, but that hasn't stopped me from getting the urge to do at least something to decorate for the upcoming holidays. We don't host Thanksgiving at our house so I don't typically do much to officially decorate for it, but I wanted to do something intentional this year to help our family remember to be extra thankful for all of our blessings.
Jackson is at the age where he's old enough to really get what Thanksgiving is all about, and he's starting to write too, so a little DIY "thankful" chalkboard where we can write all of the things we're thankful for this Thanksgiving felt really appropriate.
Plus, what better time to create some decor for your house than a week before you move?!
What can I say, creating is the best way to blow off some steam!
Today I'm going to share the tutorial for this quick and simple DIY Thanksgiving chalkboard sign, and I hope it inspires you to do something intentional in your home to celebrate thankfulness too!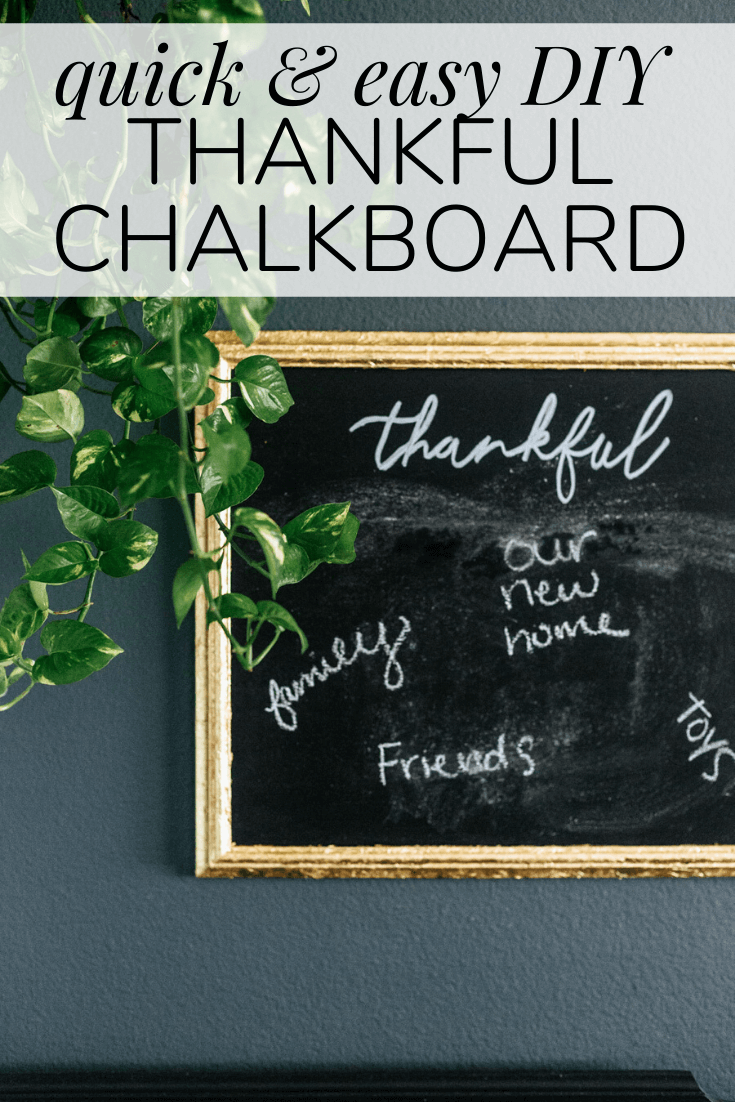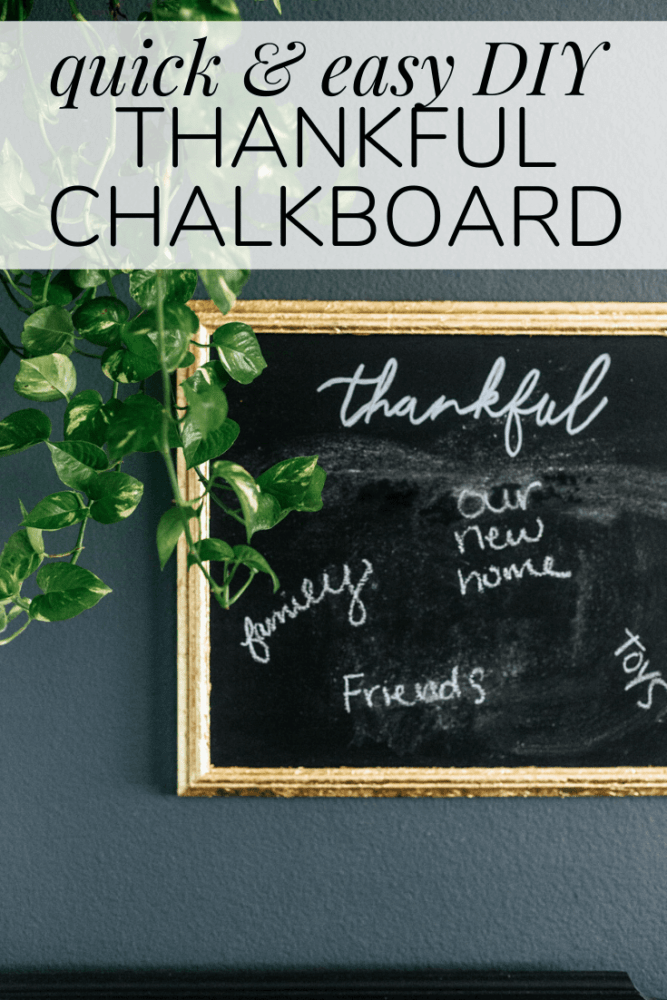 This post is sponsored by Mohawk Consumer Products and contains affiliate links.
I made a super quick video to show the process of making this, so be sure to watch that if you want to see the project in action!
DIY Thanksgiving Decor: Thankful Chalkboard Sign
Materials Needed:
An old, thrifted frame
1/4″ plywood
Foam paint roller
preparations
Your first step is to gather your materials – I went to Goodwill and found this 16X20 frame for $6.99 – it doesn't matter what the art is or really even what the frame looks like, as long as it's a shape you like!
If it's your first time working with gold leaf, I'd recommend a less intricate design – it can be tricky to get it looking good on a piece with a lot of curves, so simpler is better.
Once you've got everything gathered, start by cutting your plywood down to fit your frame (a jigsaw is probably your best bet, here's my tutorial for how to use one!), and then painting it with your chalkboard paint. I used a foam roller and did two coats of chalkboard paint.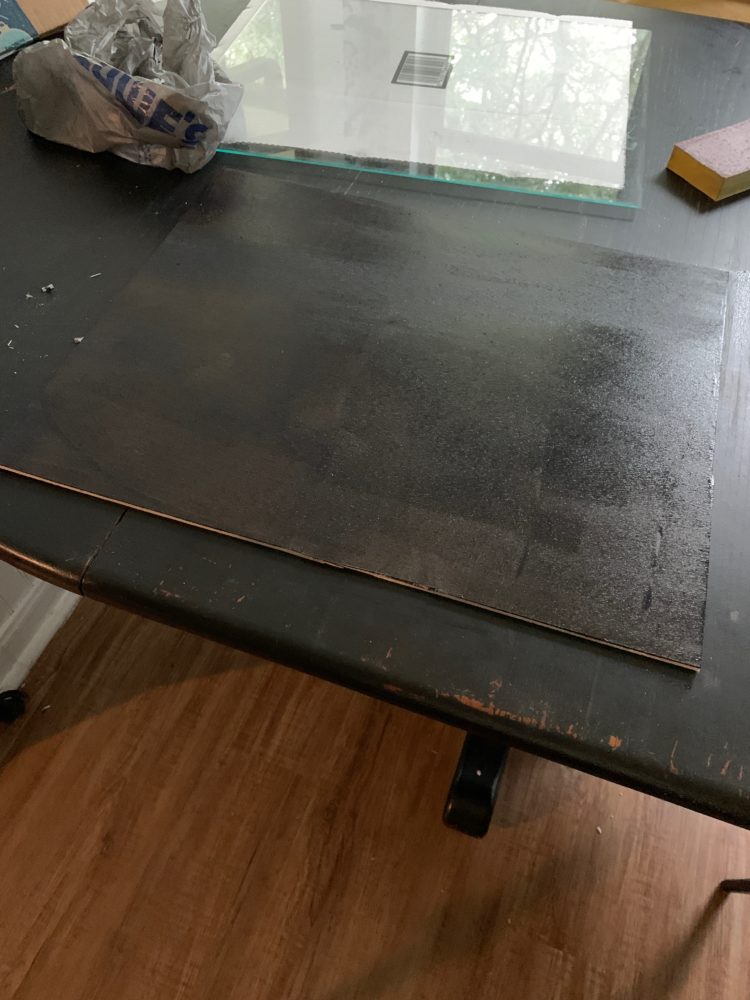 adding the gold leaf
I decided to add gold leaf to my frame – it had been a while since I had used it and I thought it might be fun to try it out again. It's also a great way to get a more unique look on a frame than you would just get with painting it!
I used Mohawk's gold leaf and sizing liquid, and it's really simple to use. The can is giant, so it would last through a zillion projects (that's an exact number, I calculated). Or, you could just gold leaf your entire house.
Basically, I'm just saying you'll buy this stuff once and it will get you through all the gold leafing you could ever want to do!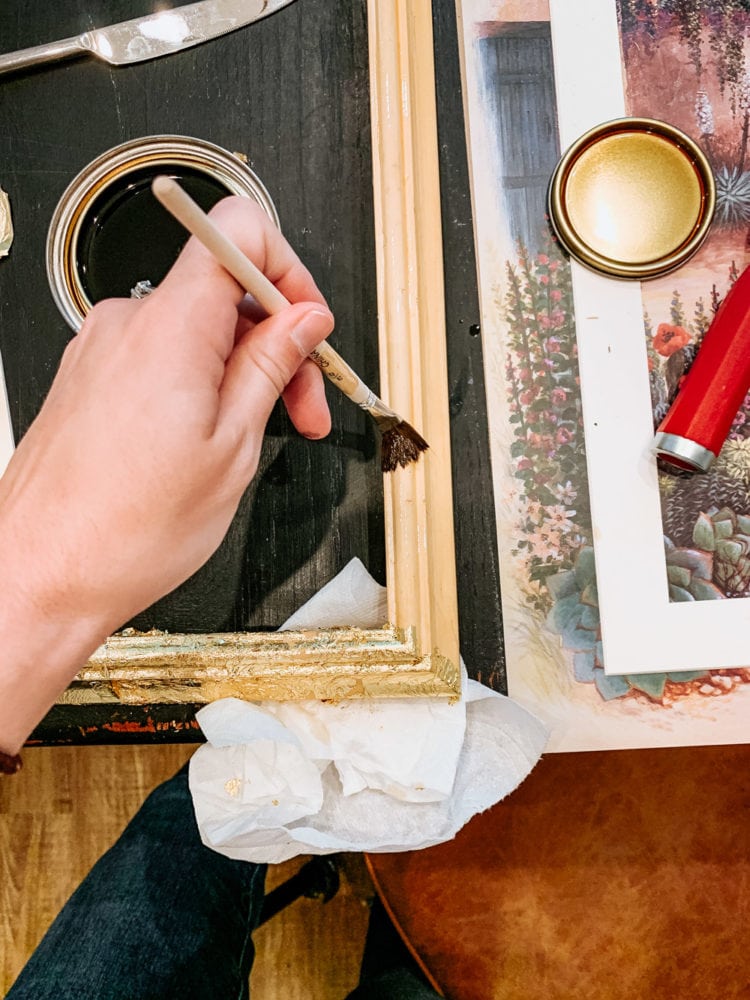 How to apply gold leaf
Grab a small paintbrush and paint the entire frame with your sizing liquid. You don't need to worry about doing it in sections, because this stuff has a nice, long working time.
Allow it to dry for a few minutes until it starts to feel tacky. I found that my sweet spot was about 4-5 minutes after I painted it. And, remember, it'll stay tacky for a long time so you don't need to rush!
Grab a gold leaf sheet and gently press it into the frame. Use your finger or a clean (small) paintbrush to press it into the frame and gently remove the excess.
Don't worry too much if it's not perfect. It's a very flow-y process and you can apply multiple layers.
Once you've applied the first layer, gently brush off any excess and go back and apply more sizing liquid and gold leaf to any bare spots or areas that don't look great.
Allow it to fully dry for several hours before handling it.
Optionally, you can seal it using a clear spray sealer for added durability.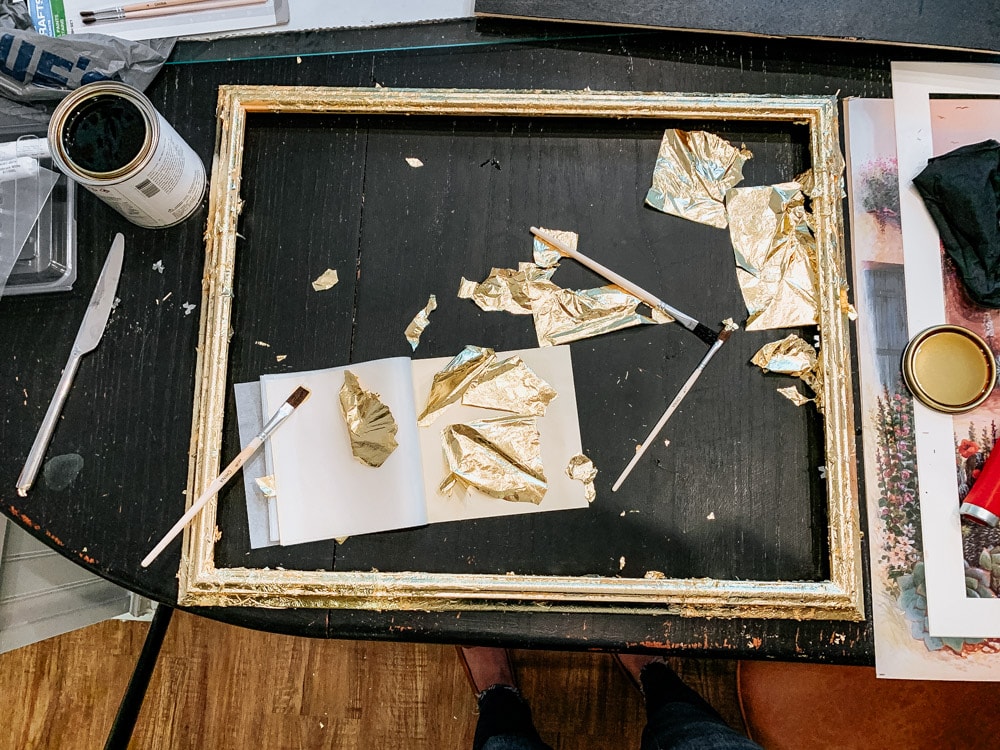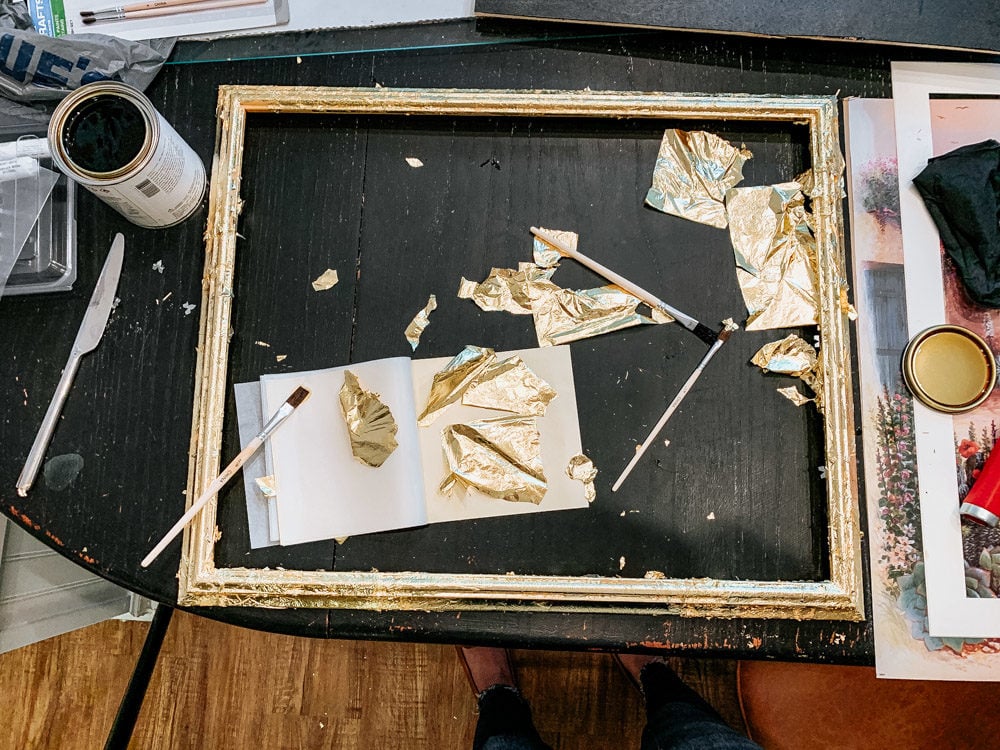 Putting it all together
While the frame dried, I printed out the word "thankful" in a cute font and traced it onto my plywood. To transfer it, I just colored all on the back of the paper with a white crayon, then placed it where I wanted to write the word and traced over the printed word with a pen.
When I removed the paper, there was a light outline, perfect for me to trace!
I used a Mohawk Consumer Ultra Mark Marker (In Innsbruck White) to write the word – I love to do lettering on signs with pens like this because you have way more control than you do with a brush, and I'm always so satisfied with the results.
These markers are meant for touch-ups on wood (Mohawk has tons of colors, so if you have some wood furniture that needs to be touched up a bit you should definitely check them out), but they also work great for applications like this!
I just carefully traced over my letter outlines and allowed it to dry, then I was ready to put it all back together!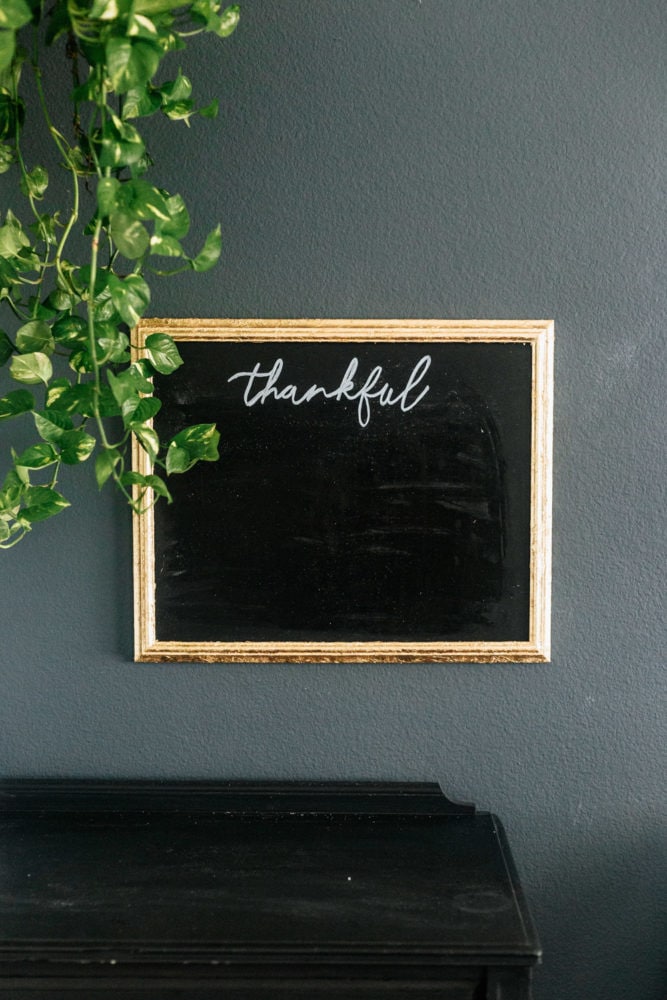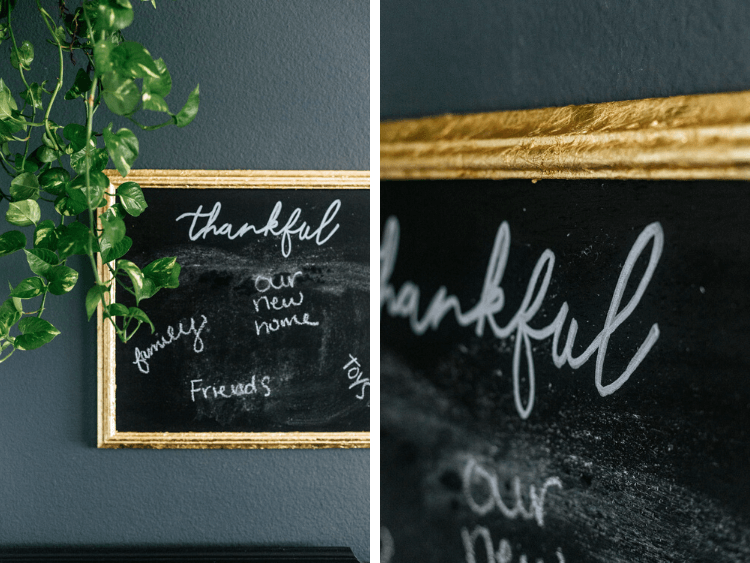 This has been a really fun family activity already – Jackson loves to write what he's thankful for, and it's been a great way for Corey and I to slow down a little and intentionally recognize what this holiday means to us as well.
There are so many different ways you could use a thankful chalkboard in your house during the Thanksgiving holiday – you could change it up every day, you could have the family just add things to it as you think of it, or you could take turns choosing something to write on it!
How do you discuss thankfulness with your family this time of year?!