I think I say this every year, but fall is the best.
I love the crisp air, the falling leaves, the football, and the food. Fall is also the only season (other than Christmas – is "Christmas" a season?) where I actually go all-out decorating my home specifically for the time of year. I love to bust out all of my pumpkins and deep colors, and it's so fun to see my home shift a bit along with the changing seasons.
I've done a couple of fall-related roundups before (see my post about great Thanksgiving tablescapes here and gorgeous fall decor you can find on Amazon here), but today I wanted to round up some fun DIY fall decor projects – they're all pretty simple, and they'd all make a gorgeous addition to your home.
Happy decorating!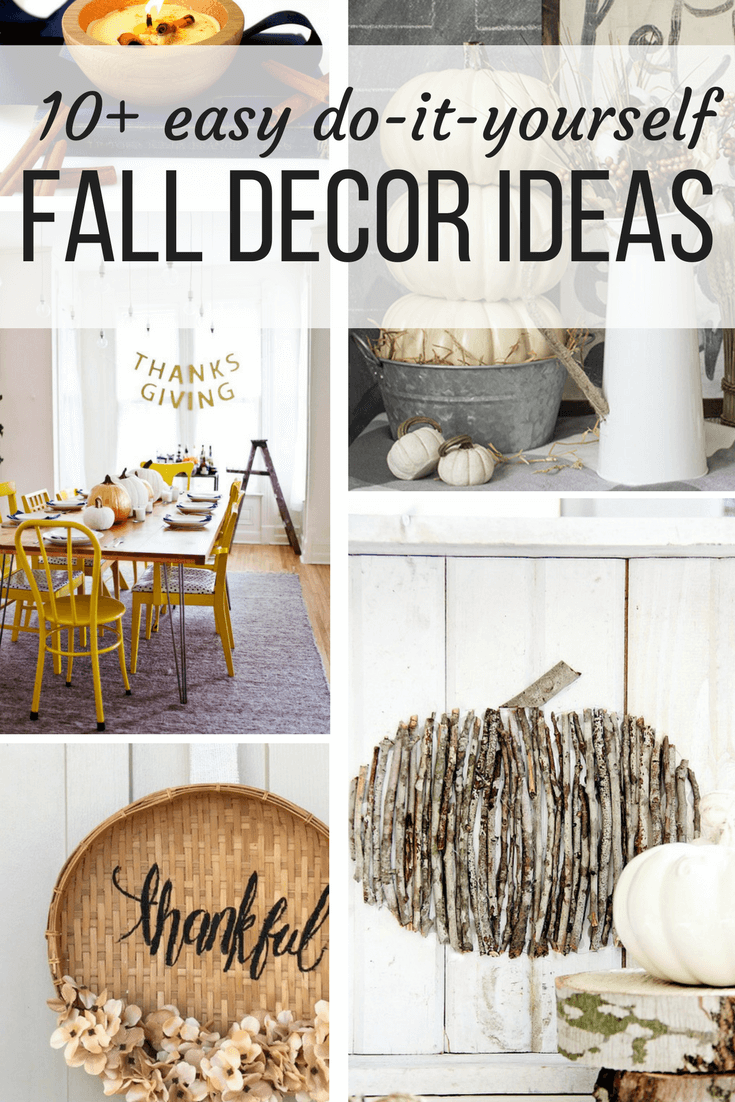 DIY Fall Decor Ideas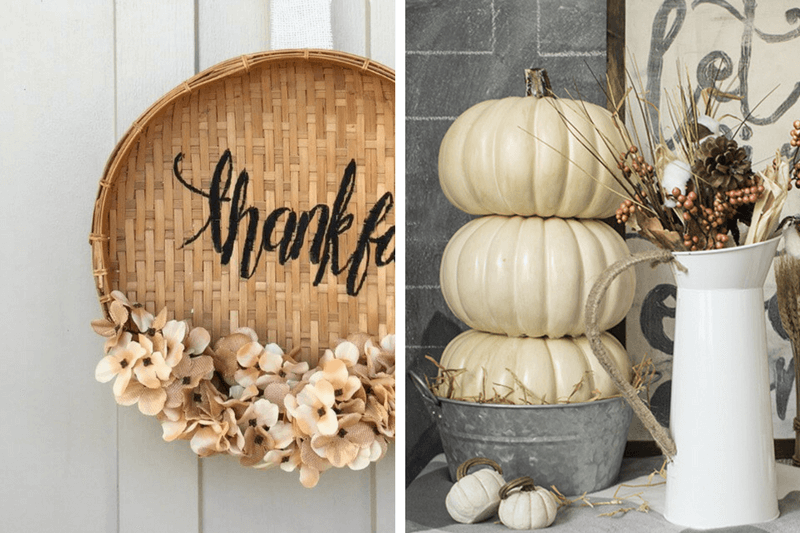 Twelve on Main| Homemade Lovely
I love a good fall wreath, and I'm always a big fan of an out-of-the-box approach. This pretty basket-turned-wreath is a genius idea, and it woud look so charming hanging on a front door! I'm also a huge advocate for turning cheap, ugly dollar store pumpkins into gorgeous decor, and that pumpkin stack is such a smart way to do that! I'll definitely be making one of those this season.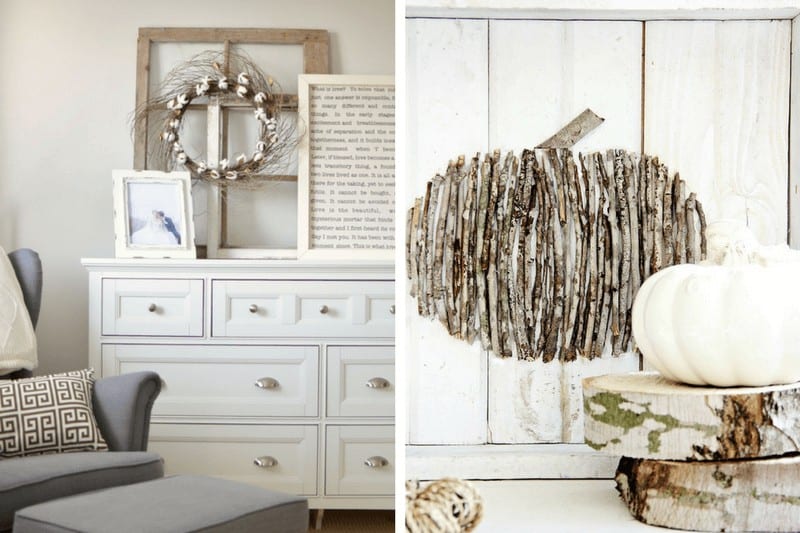 A Burst of Beautiful | Thistlewood Farms
Cotton wreaths are so charming, and I honestly have no idea why I've never actually made one before – they are just so gorgeous! I love this simple one and it reminds me that I'd really like to start hanging wreaths inside my house on occasion. I've never had a great spot for one, but I'm going to have to work on that this season. Oh, and is there anything you love more than a basically free DIY project? That pumpkin created out of sticks is just plain adorable and it's such a smart idea.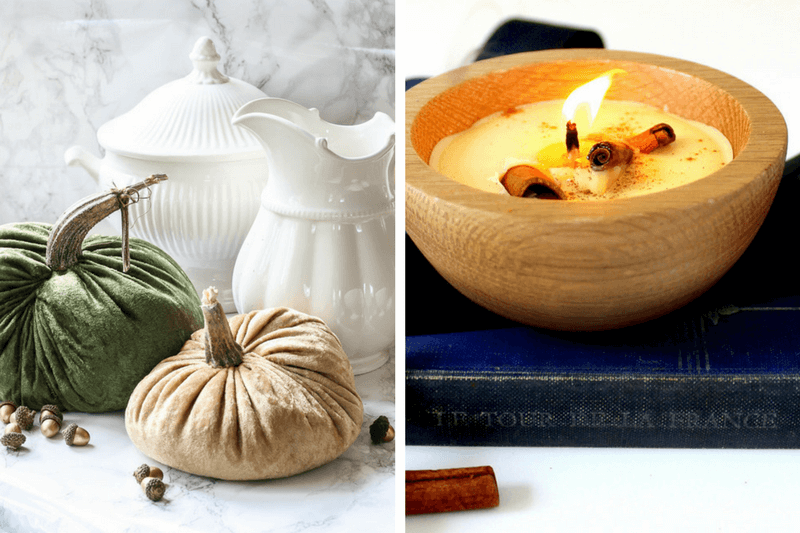 She Holds Dearly | Tag & Tibby
Velvet pumpkins never fail to make me smile – I think they're such a sweet addition to any fall decor, and I love the pretty colors they always come in. I've never considered making my own, but this tutorial looks so simple I just might have to give it a shot. And, as far as the candles – we all know I love to make my own candles, so I'll definitely be giving this a shot soon. I adore that wood bowl for the holder, too!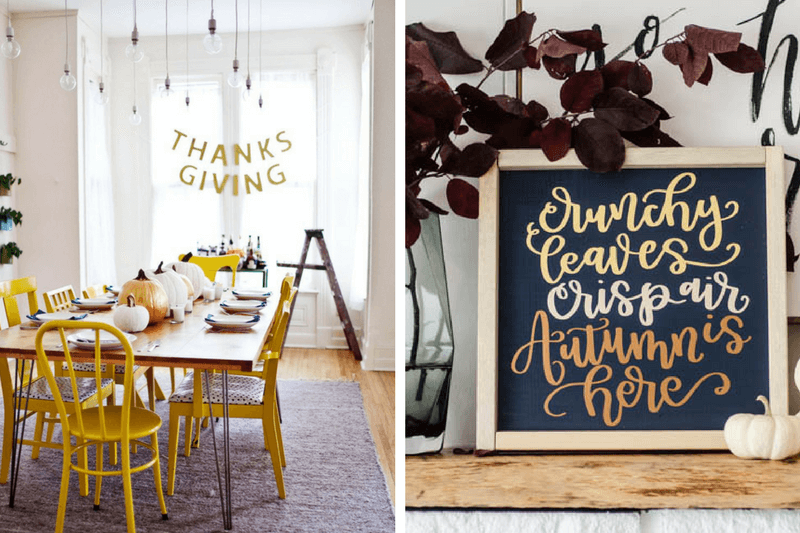 A Beautiful Mess | Lemon Thistle
This simple Thanksgiving banner looks so pretty hanging in the window, and it's just made with cheap letters you can get at the craft store! I never think to make my own banners like this (though I always love them when I see them at places like Target!), so I think this is a pretty smart idea! I also love the pretty DIY fall sign – I never feel like I can do something quite this cool looking, but the tutorial makes me feel like maaaaaybe I could tackle it!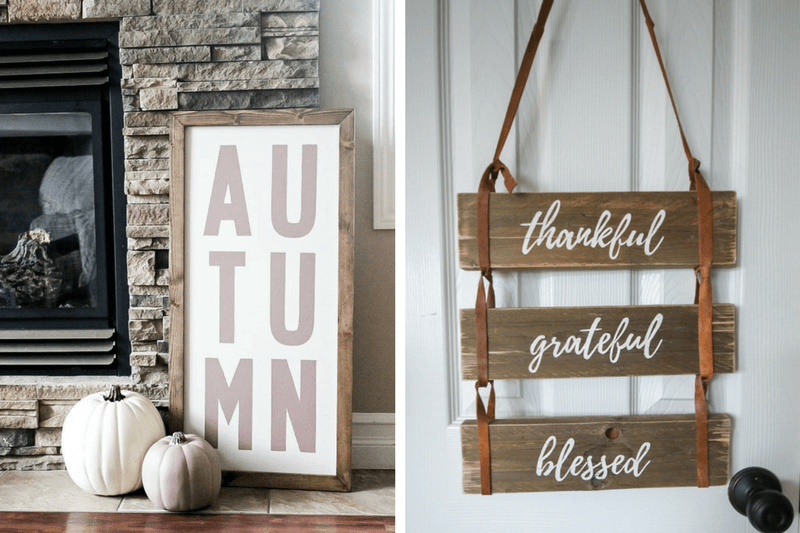 Love Create Celebrate | Making Manzanita
I love this pretty Autumn sign – and if you've ever seen it before, then you'll know that it's an extra smart decor idea because you can flip the sign around and it becomes a Christmas decoration! I love a piece that can do double-duty, and it's so nice to have a few things that can easily transition from fall to the Christmas season. I also love that pretty leather and wood sign – the combination of leather and rustic wood is just one of my favorite things ever, and this would look adorable hanging on a front door!
Are you feeling inspired yet? I'm antsy to try a few of these projects – fall is such a great time for a few DIYs (who doesn't love crafting with pumpkins?!), so I have a feeling I might be using some of my down time to get a little creative!
Oh, and, of course, I can't finish this post without sharing a few DIY fall decor ideas from my own archives!