I'm going to be cliche here and say, can you even believe Easter is right around the corner?
Jackson's already asking about Christmas.
I feel like he's probably got the right idea because this year is flying.
Easter is coming, whether or not we're ready to admit that we're already that far into the year. We're going to be dying Easter eggs soon, and in just a few weeks it'll be Easter! Already!
How does that even happen?
We don't do a ton in the way of gifts for Easter – we spend the day focused more on family and the true meaning of the holiday. But, it's still a fun tradition to have a little Easter basket, and Jackson is already looking forward to hunting Easter eggs, so we definitely don't skip it altogether.
I've been thinking lately about what I can put in Jack's Easter basket that isn't stuffed with sugar or too terribly annoying to have around the house. I don't want to spend a lot of money on it, and I don't want it to be too focused on food. But, I still want it to be fun!
I figure I can't be the only one struggling here.
So, I whipped up this easy list of more than 50 ideas for Easter basket fillers for toddlers and preschoolers.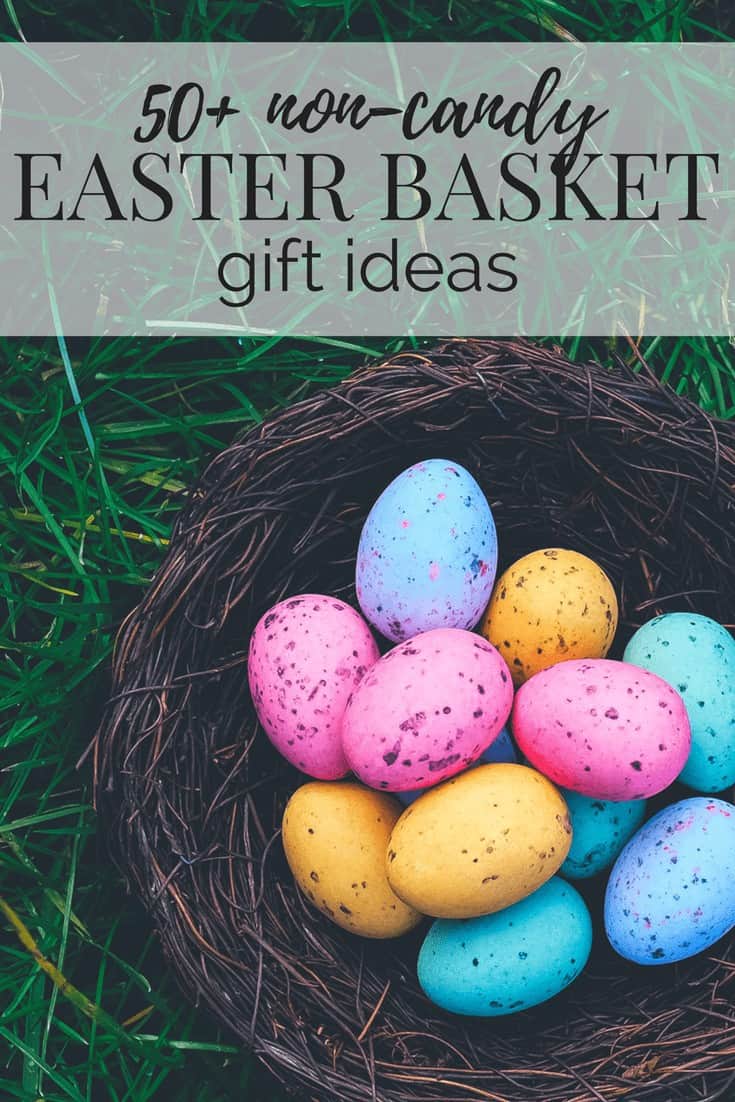 This post contains affiliate links. Click here to see my full disclosure policy.
Non-Candy Easter Basket Gift Ideas for Toddlers & Preschoolers
Silly Putty
Bubbles
Stickers (Jackson is super into these sticker books)
Socks (character socks are always fun, and I adore these!)
Chalk
Crayons
Coloring books
Mashems (we can't get enough of these in our house)
Play-Doh
Board books
Small puzzles
Bouncy balls
Bath toys
Nail polish
A stuffed animal (I love this one!)
Bubble bath
Flip flops
Headbands
Hot Wheels cars
Small action figures
Balloons
Cheap jewelry
Bath crayons
Small Lego sets
A new bathing suit
Window decals
Toy gardening tools
A toddler umbrella
Chapstick
Keychains
Washi tape
A new hat
A harmonica
A frisbee
Beach toys
A water gun
A flashlight (I swear, it'll keep them entertained forever!)
Cookie cutters
A disposable camera
What do you like to stuff your Easter baskets with?