If you're looking to change up the flooring in your home, it can be a little overwhelming to know where to begin when it comes to budgeting and planning. Today, my friend Cynthia is here to give you some tips on estimating flooring needs and costs!
*****
Hey, friends! Just a friendly reminder: I'm on maternity leave right now and am having a few dear friends guest post for me in my absence. Today's post is from the absolutely incredibly Cynthia of Home Beautifully – and if you're one of the (tons of) people who love hearing about our vinyl plank flooring, you're gonna LOVE this post! Enjoy!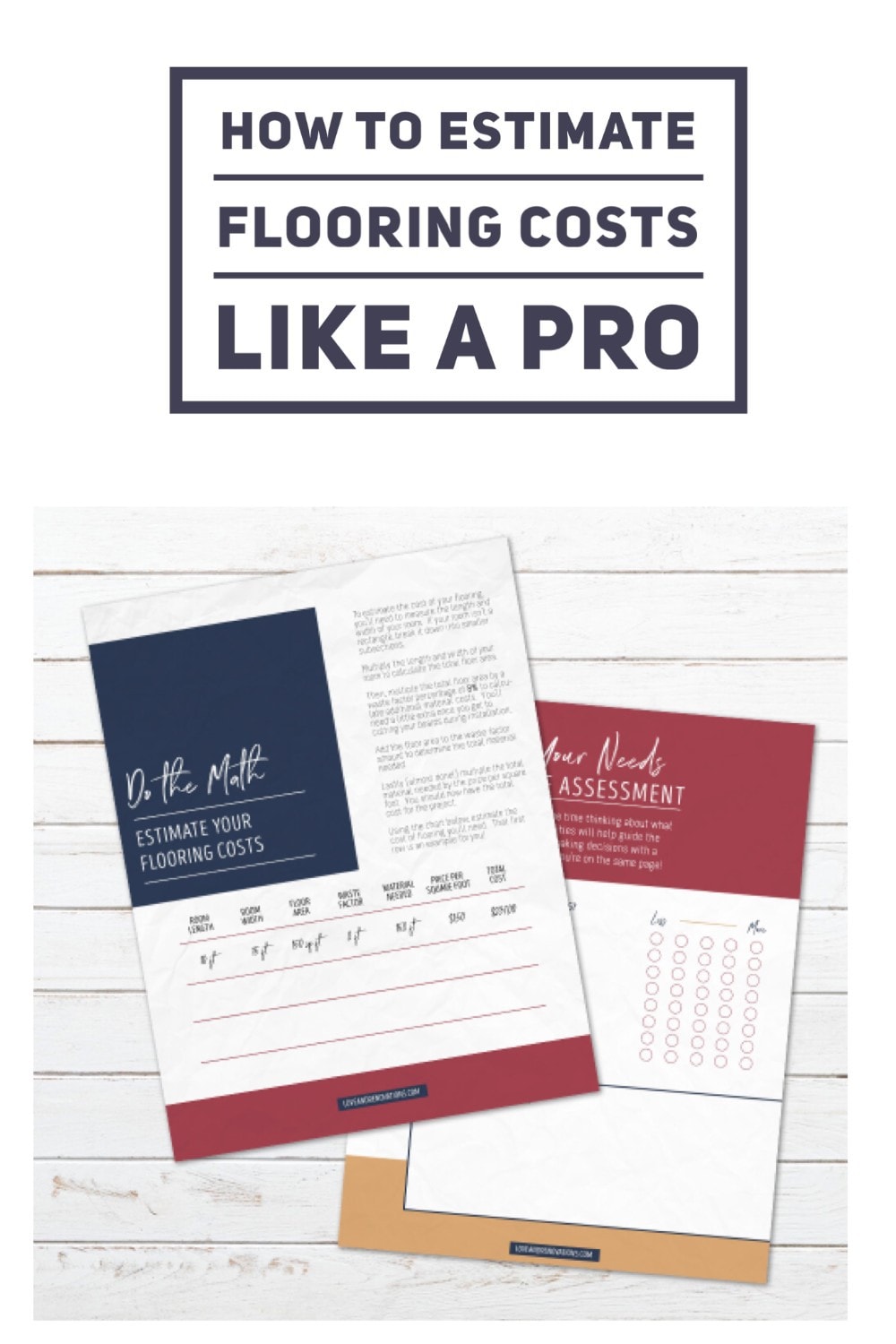 Hi, Love & Renovations readers!  If you know anything about me and the tribe over at Home Beautifully, you know I love decorating on a budget!  So, keeping costs in mind?  So important.  Today, I'm so excited to join you today to chat all about how to start estimating flooring.
And even better, this post features two worksheet's that are part of Amanda's amazing free guide all about vinyl plank flooring.
Curious to dig in?  Keep on reading!
How to Estimate Flooring Costs Like a Pro!
Can I be honest for a second?  Everything (literally every single thing)  I know about flooring, I first learned from Amanda.  And when my in-laws got stuck trying to figure out how to even START thinking about installing new floors, guess who I turned to?
Mother in law, meet Love & Renovations.
Before I went down the rabbit hole of reading about flooring on this site, I really had NO IDEA that there were so many incredible options.  Great floors on a DIY budget?  Love & Renovations is total proof that, yes, it can be done.
Here's the thing: I love it when my in-laws come to visit.  I made out like a BANDIT in the in-law department.  But I tell ya, those two cannot — I repeat CANNOT — make up their minds when it comes to flooring.
They intended on finishing their floors months ago, and they still haven't even picked the kinds of floors they want.
So it occurred to me, after reading every. single. post. on this site, that they were stuck because they haven't really pinpointed their priorities.  What do I mean?  Friends, let me introduce you to the first step in estimating flooring.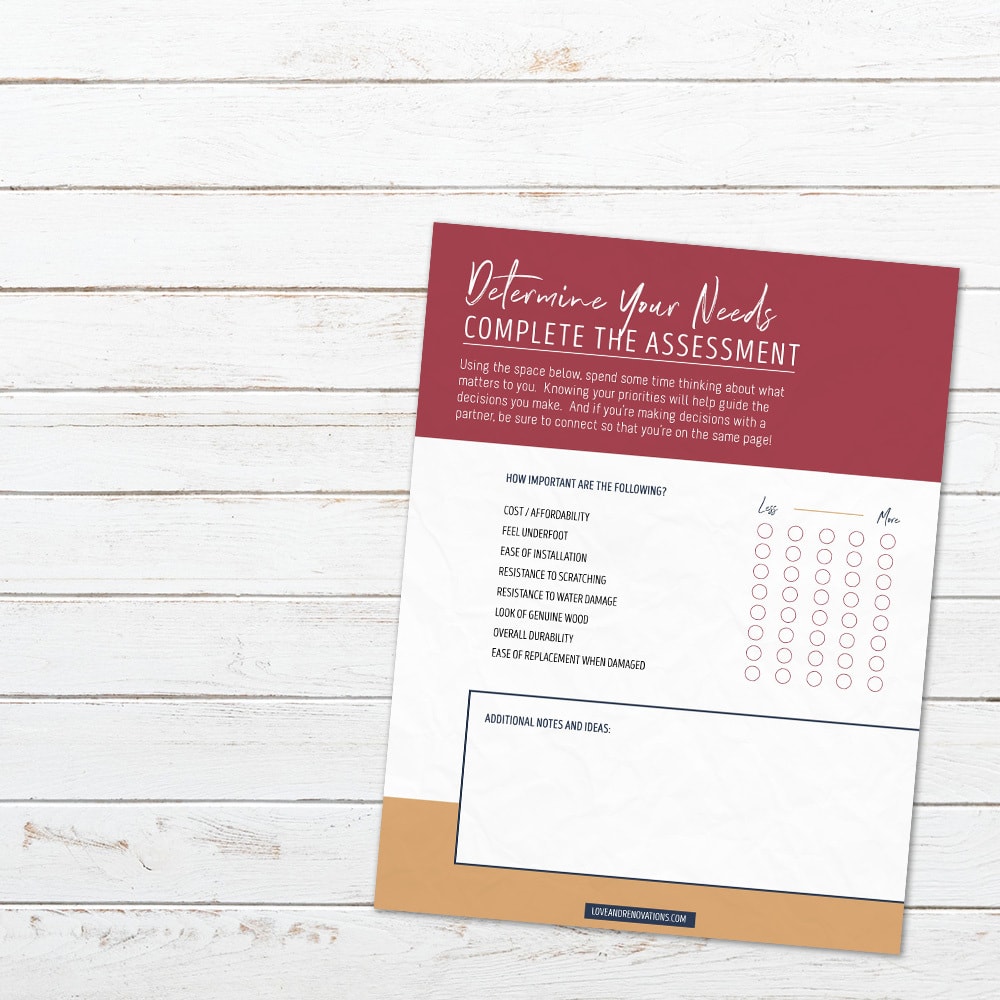 Assessing Your Flooring Needs
The thing is, there are SO MANY considerations when it comes to picking out flooring.  And figuring out those priorities are so important before you even begin estimating flooring costs.
Like I learned in Amanda's ebook, Vinyl Plank Flooring: Pro Secrets, flooring options range from VIP to value.  And it would be easy to think that the most expensive types of flooring out there would be the best for every home.  Turns out, though, that's not exactly true.
NOTE: Wanna learn more about the eBook? Just fill out the form below!
And this is where my in-laws are stuck.  Because they haven't figured out what's most important to them, they're stuck with a set of priorities that are at odds with each other.  And round and round they go, stuck in the muddiness of their unclarity.
So how do you get clear on what you want?
This handy worksheet, which is part of Amanda's free ebook, helps you pinpoint what's most important to you when it comes to choosing and estimating flooring.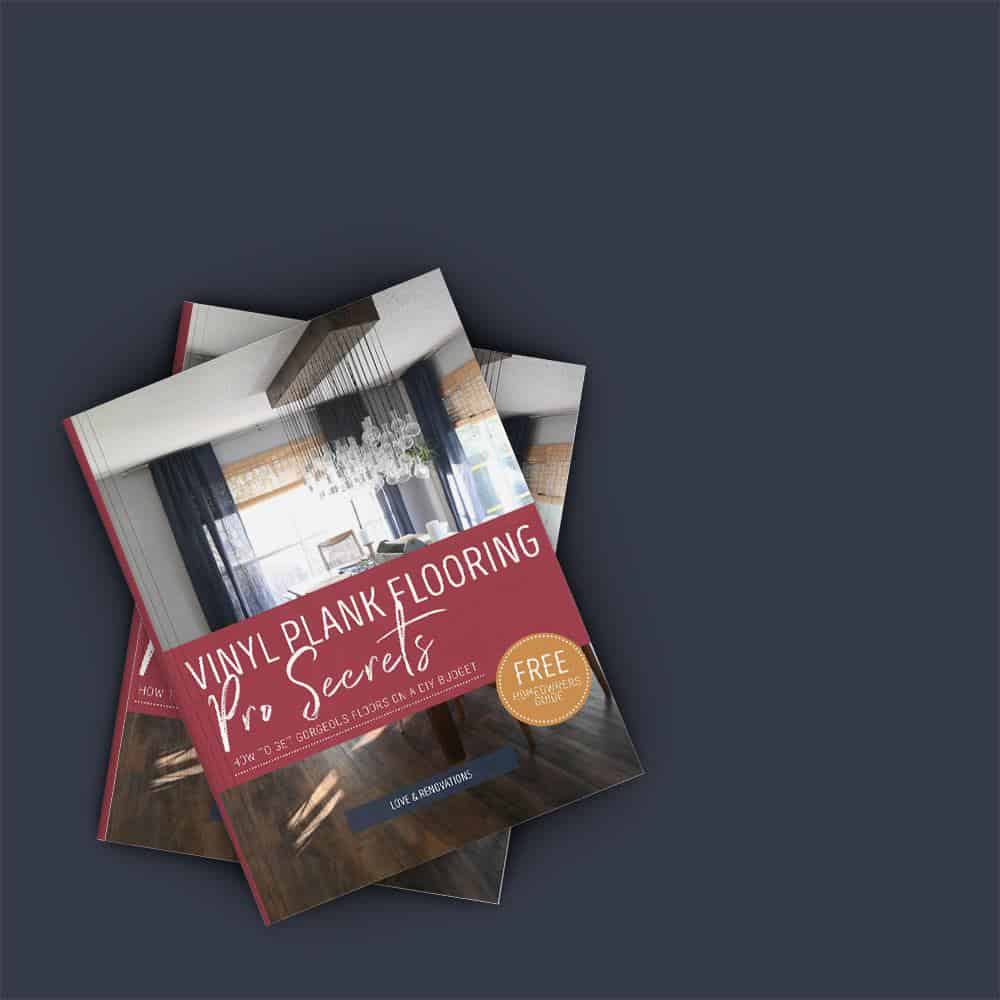 Do you have dogs and care about scratches?  Are your kids tromping wet mud in the house?  Do your toes have extra spidey senses that detect the feel of wood grain?  Or are you pinching pennies to get the house done as inexpensively as possible?
Sitting down to ask yourself these questions is SO important before you begin diving into the billions of flooring options.  And you know what?  If you have a spouse / partner / life homie who may or may not agree with you, I encourage BOTH of you to complete the worksheet.
Maybe even complete the worksheet individually, then talk about it together.  Over wine.  Or chocolate.  Because both help DIY conversations, in my own personal experience.
Once you identify your priorities, then you're ready to move onto the second step.   You guessed it: estimating flooring costs.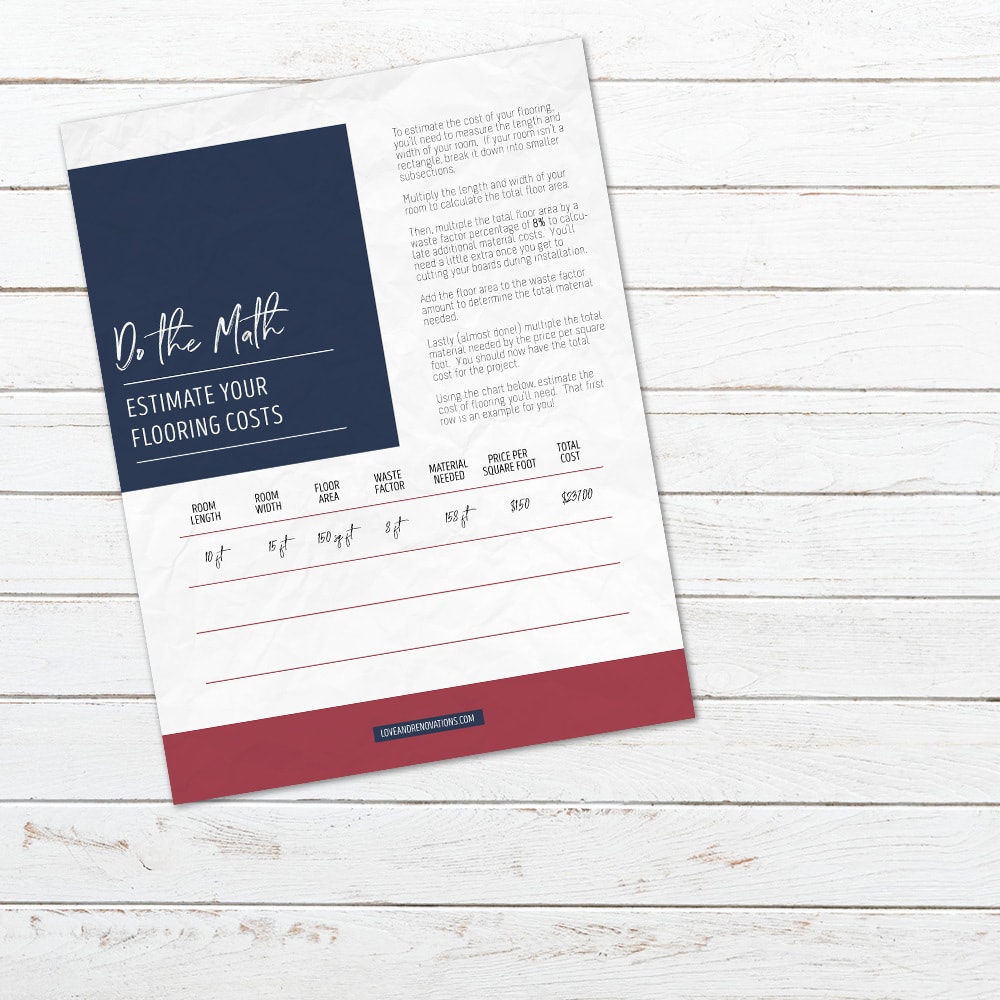 Estimating Flooring Costs
Okay, okay, I'm going to admit something to you. I LOVE math.  Like, love it.  In fact, I taught math for a long time.
But if you're not like me and you hate math, then let's all take a big deep cleaning yoga breath together.
IN… OUT… IN… OUT…
Feel better?  Okay, let's do this.  (I believe in you.)
To estimate flooring costs, you're going to need to do some easy calculations.  Namely, you'll need to measure and multiply.
The second worksheet (also part of the free guide) walks you through step-by-step exactly how to estimate flooring costs without ending up crying in the corner.
And something else that's important, the worksheet also shows you exactly how to include a waste factor so that you know you're estimating enough flooring to include awkward angles and odd cuts.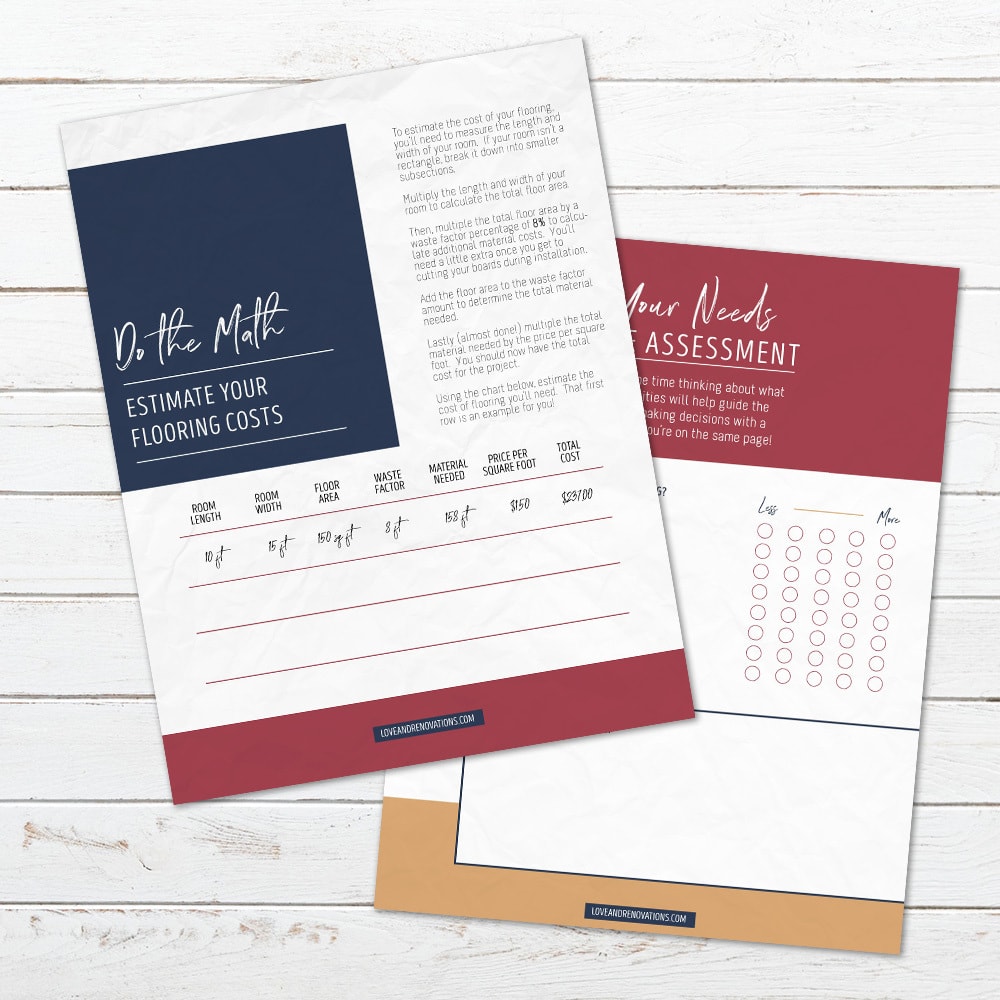 I really hope you love these worksheets!  Pop a comment below with any questions you might have about estimating flooring and assessing your flooring needs.
As I always say over at Home Beautifully — signing off with lots of love, from my house to yours, Cynthia
More Vinyl Plank Flooring Info & Posts