Happy Saturday! Are you as excited for the start of fall as I am? I've been longing for cooler weather and fall decor for weeks now and it's HERE! Picture me dancing around my living room, tossing pumpkins all over the place and wearing a scarf.
I'm nothing if not enthusiastic.
I gathered a fair amount of fall decor for our house last year, but I've been itching for some more lately. Of course, we aren't really buying anything right now since we're getting ready to sell our house, but I can look, right?! I've been really impressed lately with Amazon's selection of home decor, so I thought it might be fun to do a quick roundup of affordable fall decor on Amazon.
You ready? Let's do some window shopping together.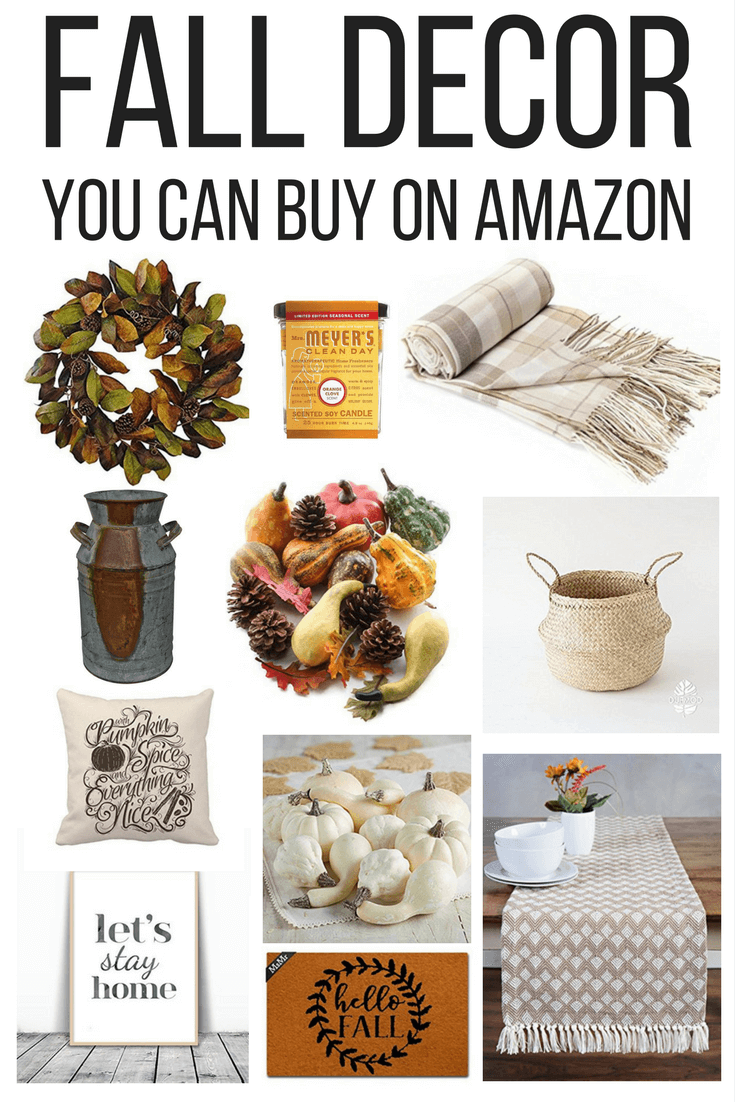 This post contains affiliate links. Click here to read my full disclosure policy. 
Fall Decor on Amazon
Magnolia Wreath // Mrs. Meyer's Orange Clove Candle // Plaid Throw Blanket // Rustic Jug Vase // Faux Autumn Gourds // Seagrass Basket // Pumpkin Spice & Everything Nice Pillow // Faux White Fall Gourds // Let's Stay Home Print // Hello Fall Welcome Mat // Diamond Table Runner
Oh my gosh, are you as inspired as I am? Who knew there was so much gorgeous fall decor on Amazon?!
I'm definitely adding a few of these to my wish list – I shouldn't buy anything right now, but I may not be able to resist that magnolia wreath. And a little candle can't hurt, right?!
Ugh, let's be real – I want it all!
Have you decorated your home yet? I had no idea there were so many fantastic options for fall decor on Amazon. I need to remember to check there more often when I'm shopping for the house!