Looking for some ideas for your family command center? This simple DIY command center is a great way to organize your family, and it's beautiful to boot! This post is sponsored by FriXion.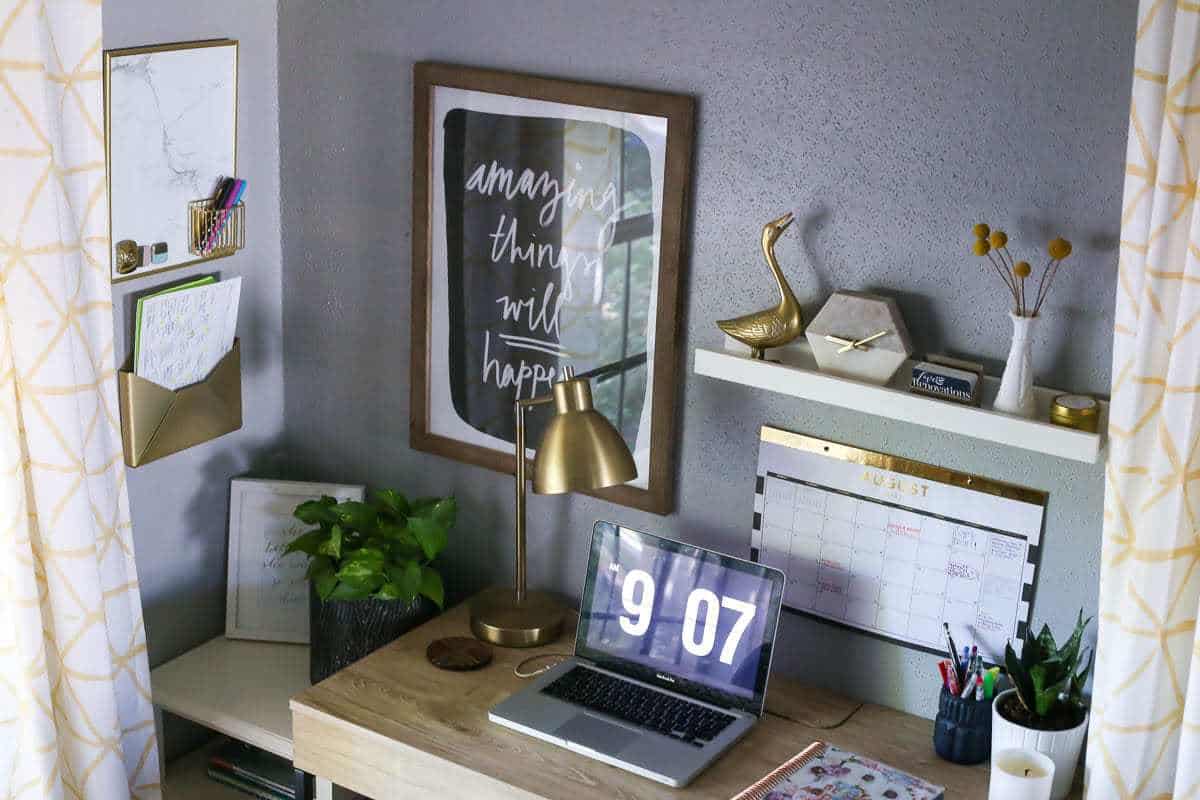 Do you ever see those hyper-organized, beautiful family command centers that are all over Pinterest and just drool a little?
Because I do.
I love looking at those beautiful walls full of organization – the calendars, the baskets, the dry-erase boards. It's all enough to make me a little weak in the knees. But, despite my obsession with these little gems of organized goodness, I hadn't taken the time to put one together for myself…until now.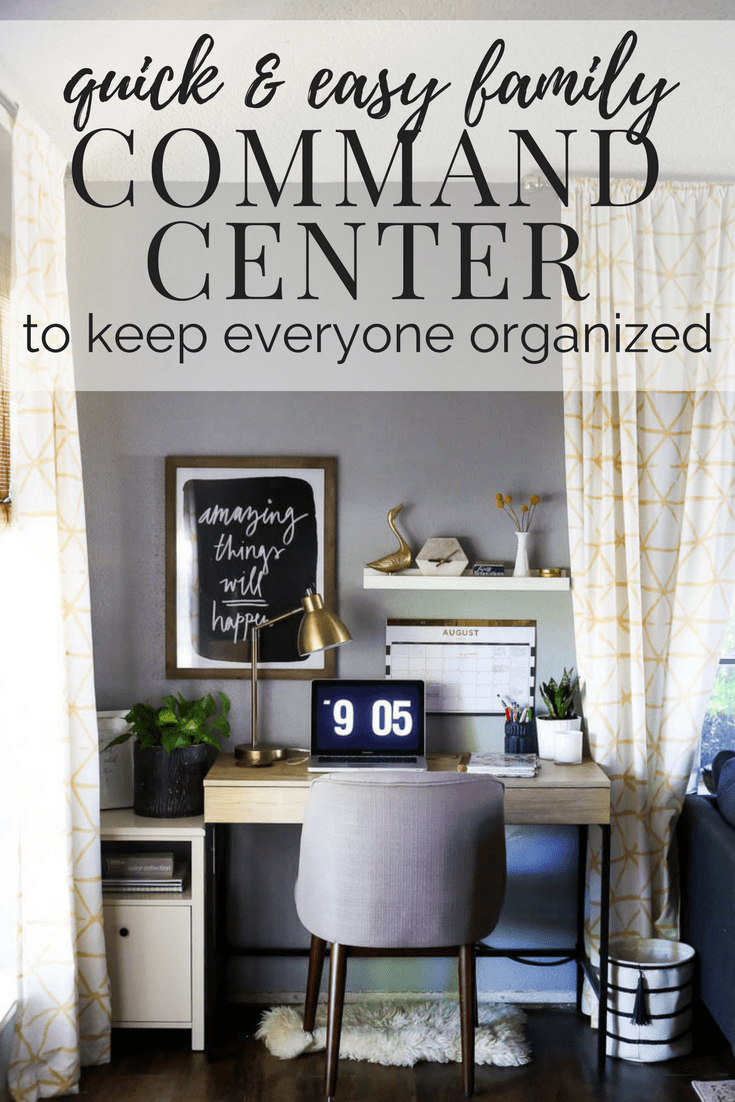 I know I just recently talked about this little nook in our living room and how I had been craving simplicity here, but I was still missing something. I needed a big family calendar, and I was finding that as I was working I kept having to push papers all over the desk to try to keep them out of my way. So, I decided to take a few small steps to make this corner of our home even more organized, and at the same time create a mini family command center that will help keep everyone in the family organized, not just me.
I love the calendar, and the little gold basket to hold my papers, and the faux-marble dry erase board but I think my very favorite addition to my office nook are the pens.
I know.
You're rolling your eyes. But seriously you guys – if you're a planner junkie like I am then you know the importance of a good pen. You need one that writes smoothly, won't smudge, and won't bleed onto the next page. You need plenty of color options so you can color-coordinate your entire life, and oh by the way – wouldn't it be nice if you could erase if you make a mistake?
Allow me to introduce you to my new BFF, FriXion ColorSticks Erasable Gel Ink Pens, and Erasable Marker Pens.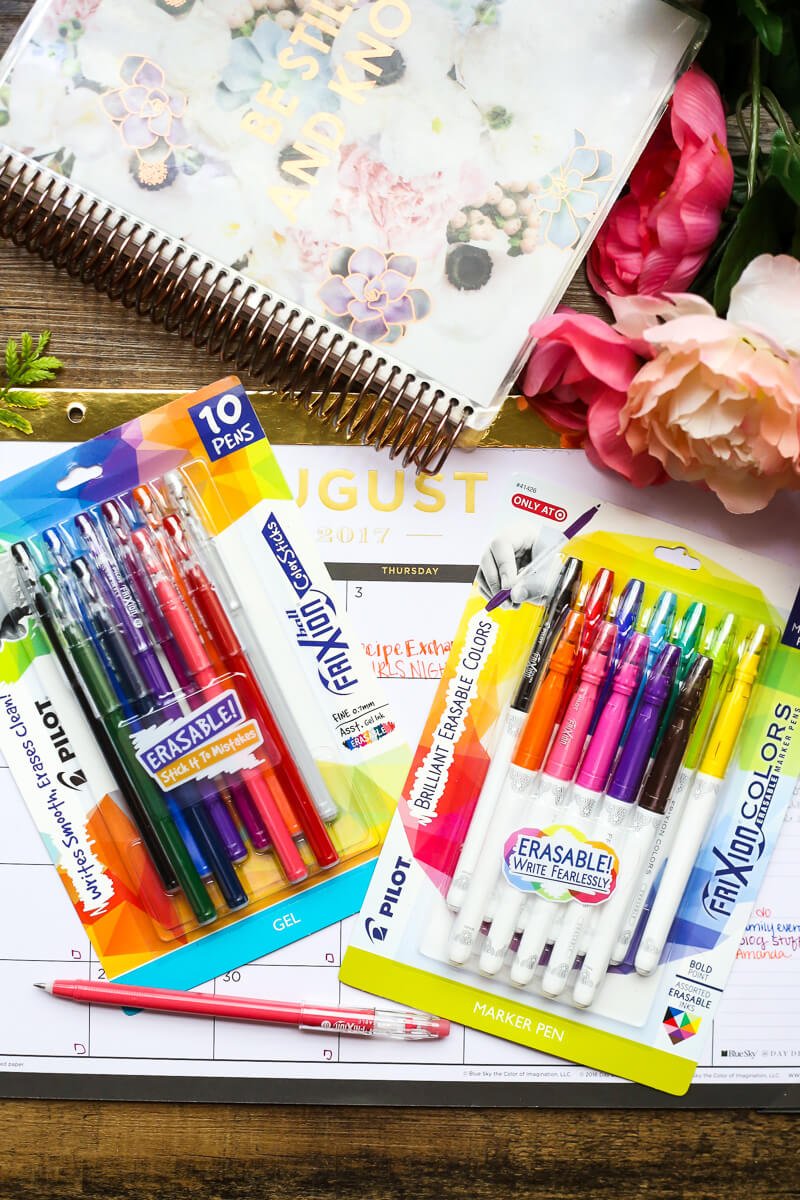 YOU GUYS.
I know you've probably tried erasable pens and markers before. They don't work all that well, they don't erase thoroughly, the erasers leave a big giant mess, blah blah blah.
Not these. I'm not even exaggerating when I tell you I've busted these things out at a restaurant and written all over the menu just to show my friends how amazing they are. They work. I even created a little video because I knew you probably wouldn't believe me (I wouldn't believe me either).

I'm telling y'all, if you are half as obsessed with your planner as I am then you need these pens. I love how both the pens and the markers write, and the erasing works so well it's kind of magical. Apparently, they work so well because the heat generated by the friction on the eraser causes the thermosensitive ink to become clear, and the writing disappears completely. I don't fully understand it either, but just trust me – it's awesome. I've been using these pens and markers every day in my planner (read more about my planner here – it's the best ever) and I can't say enough good things about them.
So, what else did I do to make this corner a little more functional? First, I added a big calendar for the whole family – Target has great dry erase calendars, but I always prefer the paper versions. I love that with these pens I can erase things from the calendar when they inevitably get rescheduled, and having a big family calendar has really helped Corey and I make sure we don't miss anything and we're on the same page about what we have coming up.
I also re-arranged things to have as little on the desktop as possible (I like to spread out when I work, and I hate a cluttered desktop) and added a little dry erase board and a wall-hanging basket for stray papers. With these tiny little additions, the whole house feels more organized because this is now the hub of all we have going on. It's not quite as elaborate as some of the family command centers I've drooled over in the past, but it's perfect for our little family and it makes me pretty weak in the knees too.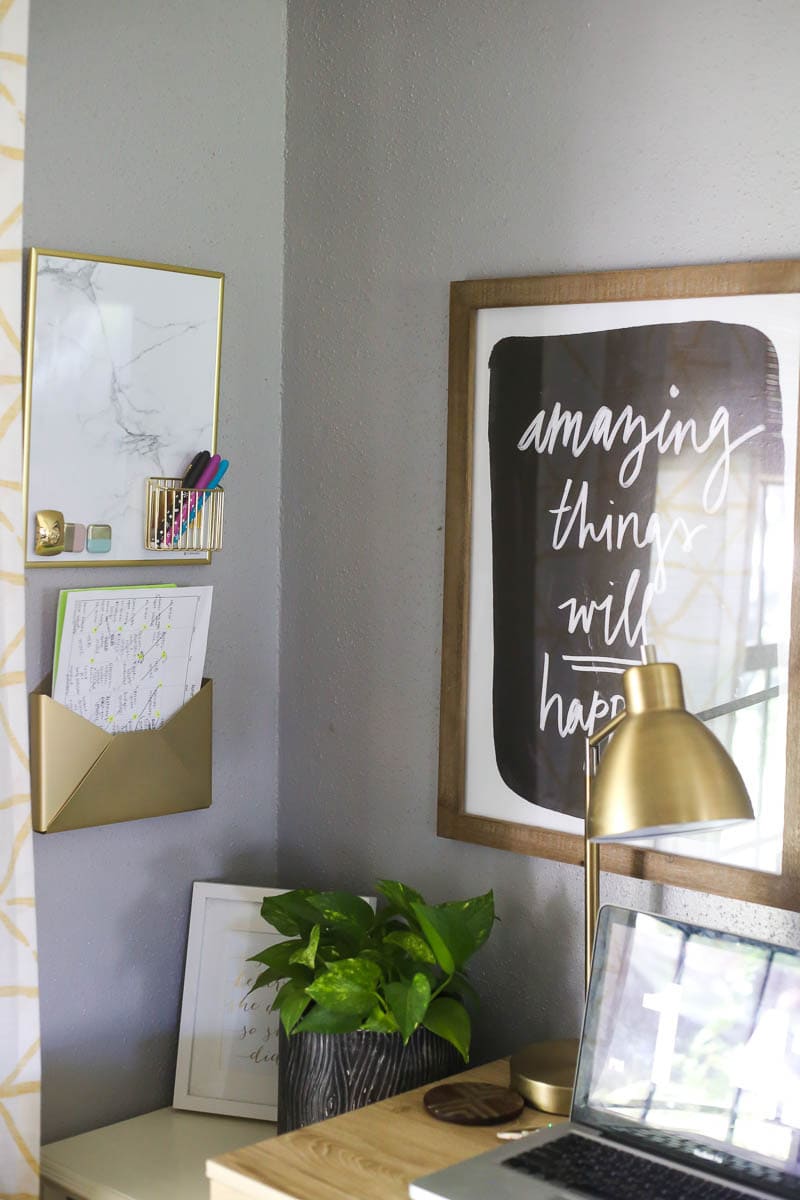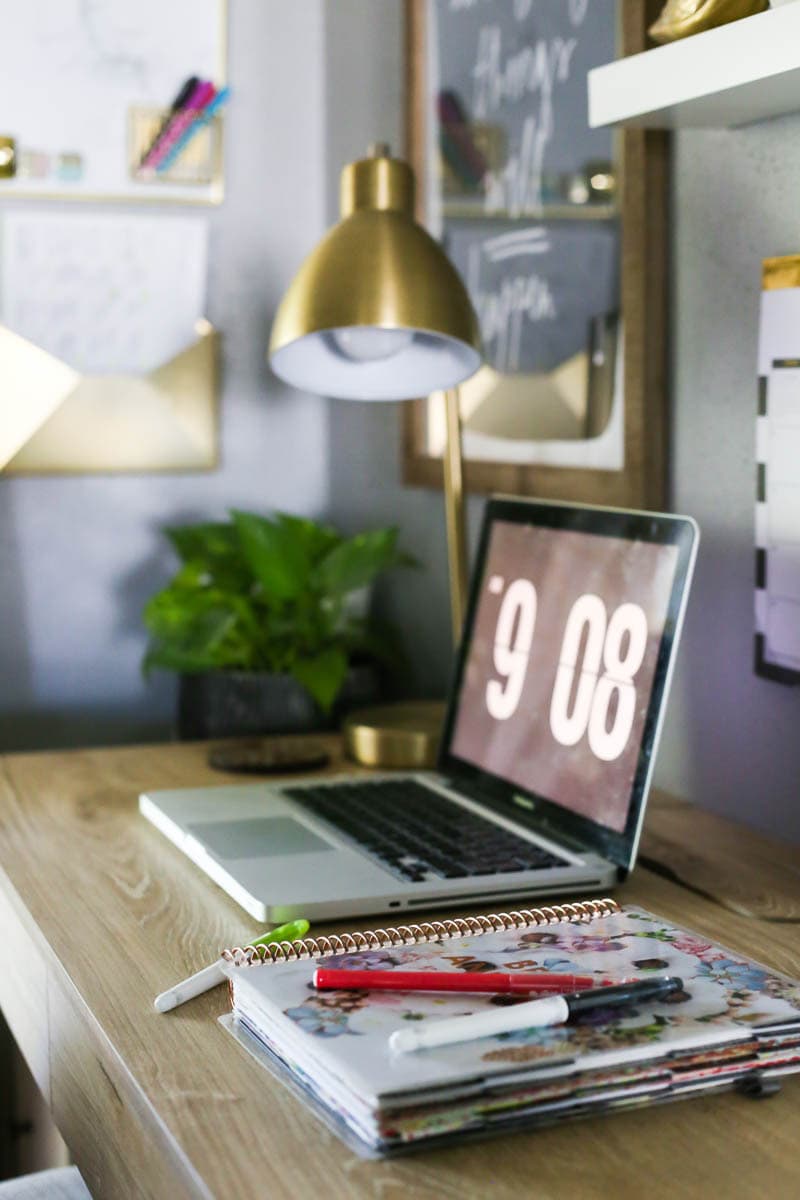 I wanted to share a few basic things I learned when I was going through this process – it can be overwhelming to figure out how to turn that Pinterest inspiration into reality! Thankfully, this doesn't have to be a difficult thing to put together, and with just a little bit of planning, you can have a totally organized family command center that makes you weak in the knees!
Tips for Creating a Family Command Center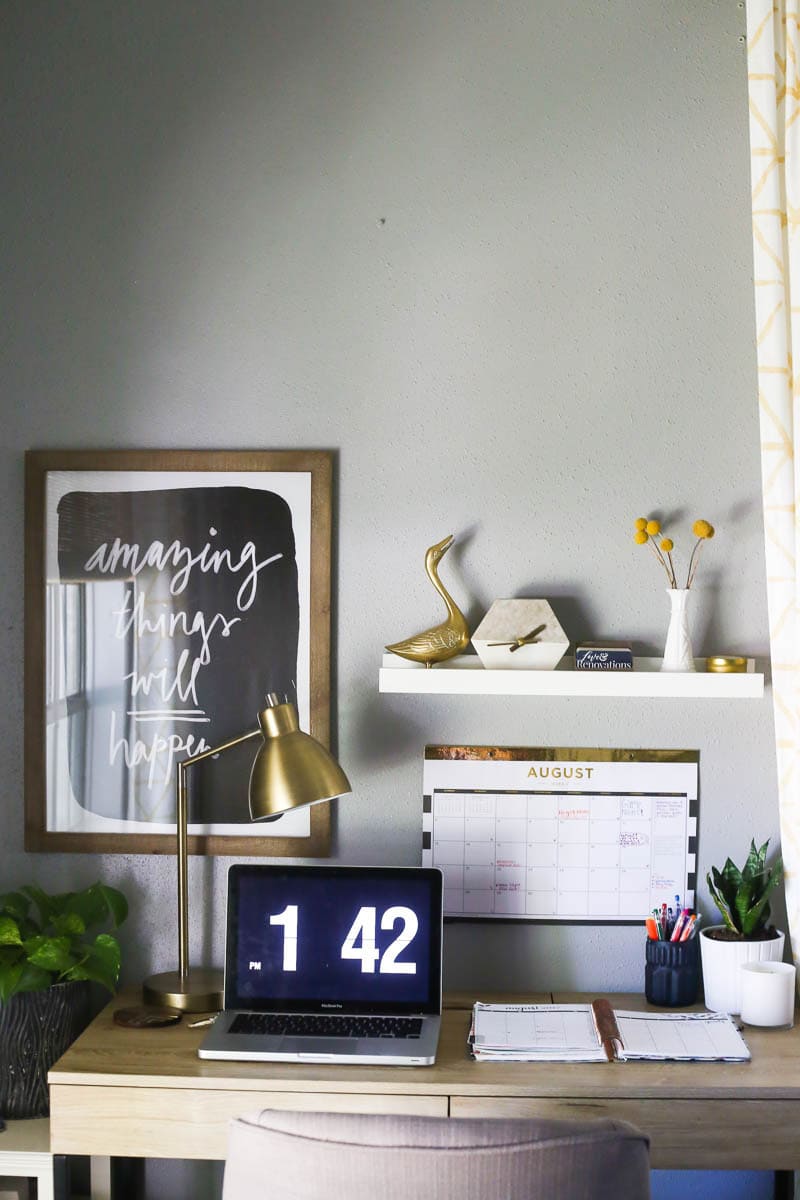 Think about what your family needs. When I was planning this, I found myself drooling over all of the gorgeous command centers all over Pinterest that were huge and way more complex than mine. They were so pretty and inspiring, but they had way more than what we actually needed. As busy as we are, we're a small family without a lot of outside things happening (like sports, etc.), so we don't need anything quite as complicated as some families do.
Consider how you use your space. Like I said before, I had a hard time figuring out where I wanted to put a command center until I spent a little time thinking logically about what works best for our family. We don't have a formal entryway and there really isn't any extra room in our kitchen, but my little office nook is the perfect spot to keep our family organized – it's out of the way, it's easy to access, and it's the perfect size for everything we needed to get ourselves together.
Don't go overboard. Sure, that cute family command center wall on Pinterest had 12 different baskets and three clipboards, two calendars, and a chore chart…and it looked fantastic! But, do you really need all of that? You're actually adding clutter to your life if you go crazy and add way more than you need to an organizational wall – and you'll never use it, so it's a waste of time to put together. Try to think about it in terms of solving actual problems that you have in your family – for us, that meant a place to keep stray papers, a family calendar, and a place to jot down quick notes!
Make sure there's a place to control paper clutter. If you ask me, this is probably the number one key to a family organizational center! We've all got a ton of paper coming into our house on a daily basis, and it can be hard to keep it under control. We established a system for this last year, but there's still some day-to-day stuff that's hard to keep track of. If you're going to be working on a wall or space in your home to act as a family command center, I highly recommend making sure that paper organization is a part of it!
Make it pretty. I think we all know by now that we're a lot more likely to use an organization system if it's pretty, right? It's tempting to rush through a project like this and just get it done so you don't have to deal with it anymore, but if you spend a little extra time and effort to make it look nice, you're going to actually want to use it on the regular! That's Organizing 101, y'all.
Involve the whole family. It's a family command center, right? Well, if you just set it up and don't bring anyone else into it, then you're the only one who is gonna ever use it. The key to making sure that this is functional for the entire family is to get input from everyone in the family, be sure you're meeting the needs of everyone who will be using it, and all be on the same page about how to use it. For example, if I'm going to come up with a color coding system for the calendar (which, obviously I am), then I'm absolutely going to make sure that Corey knows what it is in case he wants to add something. And, if I've designated a specific basket as the place all of my important paperwork goes, I'm going to make sure the whole family knows exactly where to put any papers they want me to deal with. It's simple, but important if you're wanting to get everyone involved!
Do you have a family command center in your home? Have you ever tried these pens? I'm telling you – you're going to want to get yourself some. They're a life-changer!