Well, it's official. We've made it to the last day in February, which means it's the last week of our Organize-A-Thon. I don't know about y'all, but this month of organizing has been absolutely huge for me.
For those of you who have no idea what I'm talking about, way back in the beginning of February I challenged everyone to a "February Organize-A-Thon," the only rules being that you had to organize SOMETHING each week throughout the month of February. Corey and I started off by tackling our completely out of control office, then we moved on to some stuffed-to-the-brim closets, and cleaned out and organized our garage so we can actually use it now. And that brings us to this week.
I don't know if you noticed, but we took on some seriously large organizing projects throughout this month, and once it was time for us to pick our last project we actually had a really hard time coming up with anything. Most of the major areas in our home are now completely organized and clean, so for once (and someone should write this down, because it's probably the only time it will ever happen) we really didn't have much to organize!
Of course, just because we didn't have a large room or space in mind to organize, that doesn't mean that we didn't have anything to do. Trust me, we still have plenty of little areas in our home that need help. So, we decided to take on one of the smaller (but painfully annoying) unorganized spots in our home: our entryway console.
First of all, I feel like I should acknowledge that this table is all wrong for this space. It's too short, not big enough, and doesn't provide nearly enough storage for what we use it for. This poor little guy has to work triple duty as a catch-all for keys and loose things we come home with, a place to corral coupons and gift cards, and a place to store our cameras and the cords to connect them to our computers. On top of all that, it ends up being used as a place for us to toss random little items that we don't use every day but still need to access easily, which means that these three little drawers are usually completely stuffed to the brim.
Wanna see how bad it's gotten?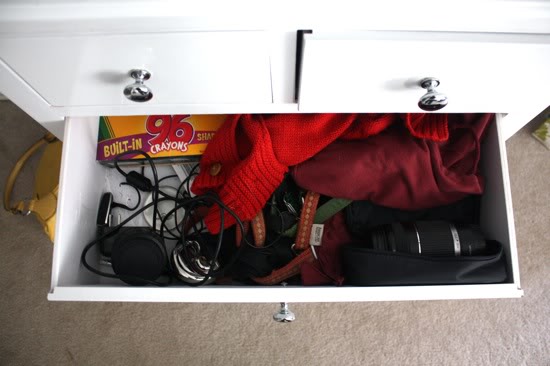 Just imagine trying to actually find something in one of those drawers – it's impossible! The ideal solution is to replace this guy with something better suited for the space (with a ton more storage), but that isn't in the cards for us just yet. So, this weekend, we declared war on the junk in these drawers and decided to start from scratch.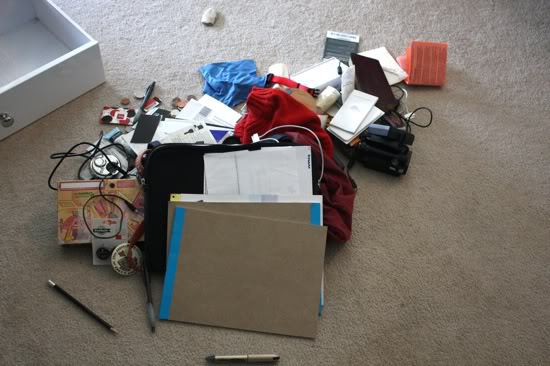 Yes, this is how I start any organizing project. I dump everything out onto the floor so I'm forced to look at each and every item. Luckily (sadly?), in most of our past organizing projects (like the office and garage) this step was already done for us – we just had to start going through all of the crap that was lying on the floor!
Once we had everything out on the floor where we could see it, we organized it all into piles. We quickly realized that there was an entire pile worth of things that we either didn't need or didn't use often enough to need easy access to, so we were able to easily eliminate a good amount of things in this console just by moving it to a different spot (or getting rid of it altogether)
After less than five minutes of organizing (seriously, this project took less than FIVE MINUTES!), we had three little piles left that needed to stay in the console – one for each drawer.
I put everything back into it in a nice, organized manner, and soon enough we were left with something that is much more usable.
We now have a drawer for coupons, important papers, keys, and other things we might need to grab on our way out the door: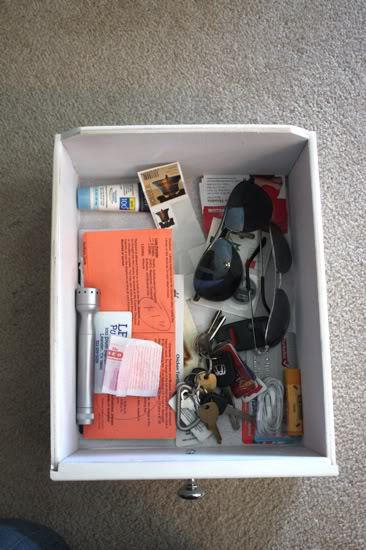 A drawer for random dog stuff (collars, leashes, sweaters, and toys):
And a drawer for all of our cameras, cords, and other random electronics:
I'm so excited to have this completed and organized. Out of all the areas we've organized over the last month, this is hands down the one we use the most, as we're constantly grabbing things out of this console. Now that I can actually close the drawers without fighting against everything in them, I think my life will be a lot more streamlined!
And just like that, we've got a much more organized home!
Don't forget, next week I'll be featuring all of your organizing projects, so if you're interested in having your project featured, be sure to shoot me an email at [email protected] or comment here with your links.
Do you have an often-used area in your home that's desperately in need of some organization?