Two weeks down, two to go!
For those of you who missed last week's post, Corey and I have issued a challenge. Each week during the month of February, we'll be tackling one area of our home that is in desperate need of organization, and we'll come back here to share what we accomplished – and we're hoping you'll do the same. I've seen a few posts popping up here and there from readers who are taking us up on the challenge, and it's been a blast to see what you've done in your homes! I'll be doing a big roundup post at the end of the month that shows off what everyone did, so if you're playing along be sure to email me your photos (or blog links) at [email protected] so I can include you. And don't worry if you don't stick it out for the whole month – even one week of organizing is better than nothing!
And now that we're all caught up, let's get to this week's project.
After taking on such a huge amount of organizing last week, Corey and I decided we wanted to do something a little less intimidating this week. Thankfully, we had three small closets that were crying out for some help – and that were driving me absolutely insane every time I needed something from them.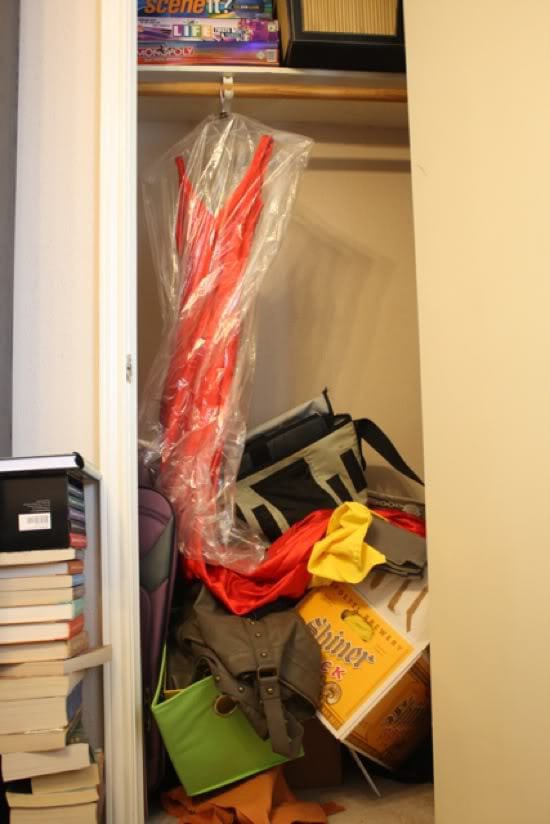 Our office closet, which technically we cheated on and cleaned last week while we were already in there.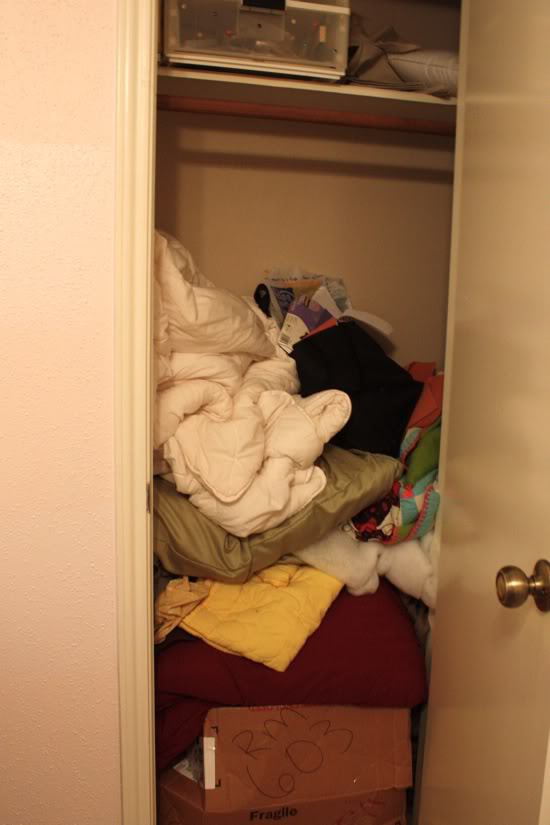 Our guest room closet.  And, yes, that is an unpacked box you see sitting in the bottom of the closet. We've only lived here for six months now – it's totally normal to still have unpacked boxes, right?
Let's start with the office closet – we went ahead and organized it last week while we were doing the rest of the office, but I figured I'd save the photos for today.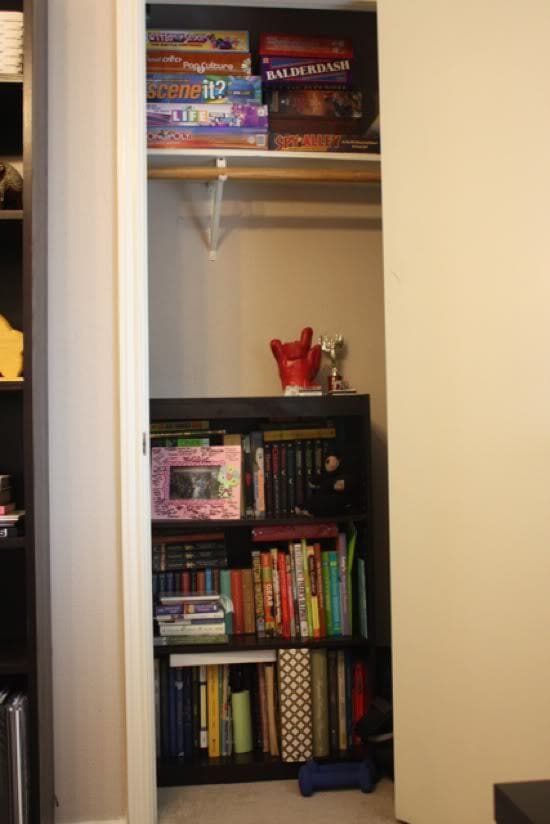 Basically, we just tossed our small bookcase in here and put all of the books we didn't want sitting in the room on it. It keeps the visual clutter in the room to a minimum, which I love, and keeps all of our books easy to access.
We also moved some stuff around to other areas of the house – like moving our luggage down to the garage and some of the craft stuff and fabric into the guest room closet. Since we don't have kids, these closets are all about storage, so we figured our best plan was to have a designated "job" for each closet – this is the game and book closet (as well as the "random cords and computer gadgets that we can't throw away but don't have a place for" closet).
The last one we tackled, which was our big job for this week, was the guest room closet. We started off by emptying out the whole thing, so we could start with a blank slate.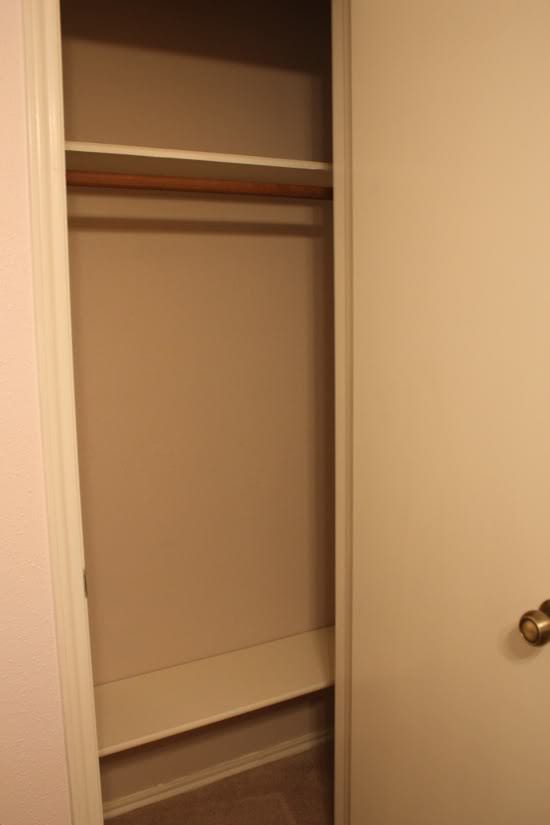 Or course, once we had the closet emptied out, the room looked like this: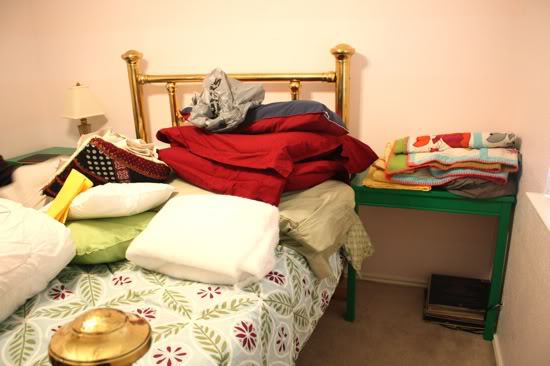 Lovely. We quickly decided that this closet was going to be dubbed the "craft closet," so we needed to find another place for all of the extra linens and pillows. Luckily, we were able to get rid of a giant portion of the stuff that was in here (does anyone really need 10 extra pillows for guests? Because we had at least that many) and what we decided to keep fit easily in the linen closet in our guest bathroom.
Up until this weekend, I had absolutely zero organization system for my craft supplies. I had a bag. Full of crap. So, I promptly dumped it out on the floor in order to force myself to actually do something about it.
After grabbing some plastic drawers that were hanging out in the garage, we finally managed to get my craft stuff organized and easy to access.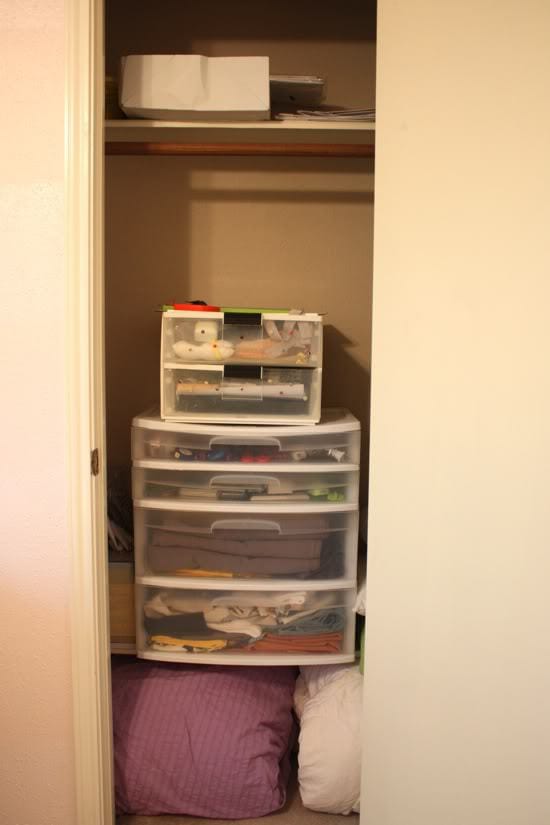 And just like that, our closet looked a lot less crazy.
I can't even tell you how much of an improvement it is to have these closets organized. I'm a lot more likely to actually DO some crafting now that I can access my supplies easily, and I won't have to drive myself slowly insane every time I need something from one of these closets.
An added bonus is that now I can actually close our guest room closet door. That's always nice.
Oh, and just to keep you updated on how things are looking in the guest room, we added our old yellow chair to the desk so we can actually use it, and I'm a pretty big fan of how it fits into the room. We aren't going to be keeping yellow accents in there long-term, but it's a fun pop of color until we figure out what else we want to use.
And with that, we're one step closer to having an organized home!
What did you organize this week?