January is typically the time of year where everyone goes crazy with cleaning, organization, and all of that. The new year always seems to do that to people. But me? Ehh. I mean, don't get me wrong, I love organizing just as much as the next neat freak (maybe even a little more), but I went through all of January reading organization post after organization post on all of my favorite blogs, and somehow I think that just reading about other people getting organized was enough to satisfy the cleaning bug in me. For a little while.
But now January is over. And everyone else has already got their house straightened, organized, and ready to face the year.
Me, on the other hand? Well, I'm still working with this in my office.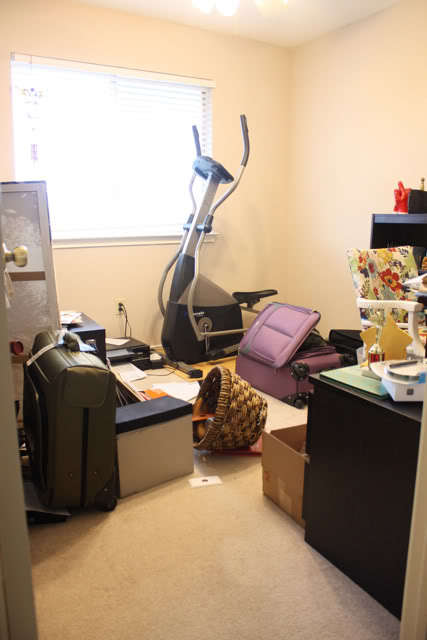 I can't believe I'm actually showing you these photos. That is actually what our office looks (looked!) like. I don't even know how it managed to get to that level of chaos, but I do know that every day when I went in there to work out I could feel the sanity slowly leaking out of me.
It was bad, y'all.
I don't like to point fingers or anything, but I just feel the need to add the disclaimer that I asked Corey about a month ago to organize this room. And again, I don't want to put blame on anyone else, but I can't help but notice that it's not actually organized.
Sometimes if you want something done, you've just got to do it yourself, right?
Or, you know, you've just got to wait until it's Saturday morning and your poor unsuspecting husband thinks he has a nice, lazy day ahead and then you tell him that he does not, in fact, get to relax because the two of you will be spending the day doing the job he failed to get done by himself.
And then – you take it one step further by telling him you are challenging him to a February Organize-A-Thon. Let's be honest, the office isn't the only area of our house that's in desperate need of some organization – we have plenty of 'em. So each week this month we'll be tackling a different area in our house, getting it clean, organized, and back in working order.
So, for week one of our challege we spent several hours of our Saturday morning in that room organizing every last inch of it. And soon, we had it looking a little more like this: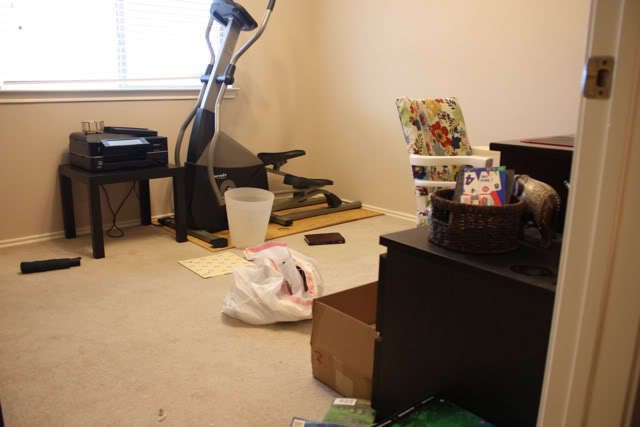 Whew, better right? But we obviously weren't done yet. We still had some furniture shuffling to do. You see, now that our guest room is starting to look a little prettier, we decided it was high time we got Ranger's kennel out of the room.
So, after some re-arranging, we were left with this: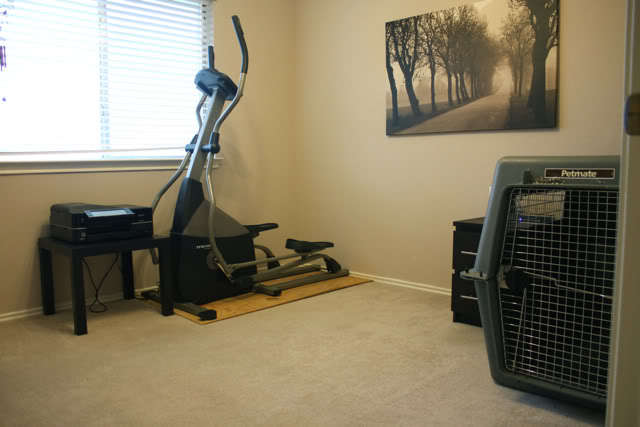 It is such a relief to have this room organized now! It's still not pretty (thanks to the lack of actual purpose in the room, ugly wall color, and no decorations) but it's so much more functional now.
Plus, now that I found a new home for most of our books (we'll get to that later), I got to play around with staging the bookcase. It's far from perfect, but it looks much better and it gave me some practice in arranging the shelves – that's one of those things I've never quite gotten the hang of!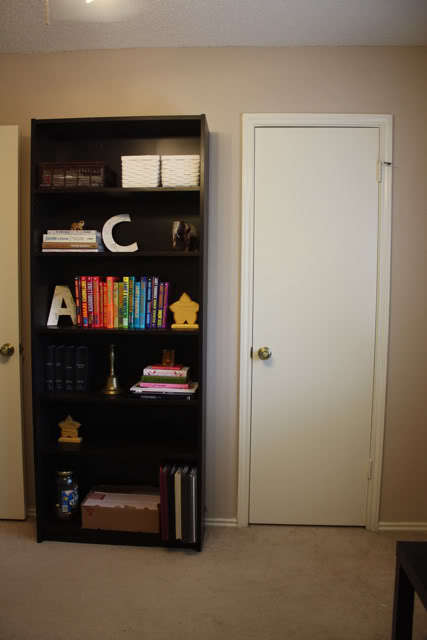 Now when I walk in the office to work out, I feel myself relaxing instead of stressing out even more – let's hope we can keep it this way this time!
If you're wondering where the desk went, we decided to move it into the guest room for the time being. We don't use the desktop computer very often so it's being stored in the garage, and we have a nice clean desk to use as a workspace when we need it (or, at least, we will once we toss a chair in here!).
I have to say I'm pretty proud of us – this is a great start to our commitment to organize something in our house every week! And I might have even been able to let go of the fact that I had to step in to help Corey get this done – I have to admit it was a pretty huge job!
And now, here's the part where I leave you with a call to action.
Want to join us in our February organizing challenge? All it takes is a commitment to organize one room or area in your house every week this month. You could tackle a whole room like we did, or just your junk drawer. Whatever part of your home is causing you stress.
Just leave a comment letting us know you wanna join in (so we know we're not alone on this!) and if you feel brave enough to share your "before" photos with the world, you can blog about your organizing project (or, if you don't have a blog, just email me at [email protected] with your photos) and I'll feature everyone's projects at the end of the month.
I always feel so much better when I get another little area of our home organized, and I always hate it when things are cluttered. I'm excited to see how much we can do to get our home back in order over this month, and I hope we have some company in the challenge!