For the first few weeks that we lived in our new house, this is what our dining room looked like: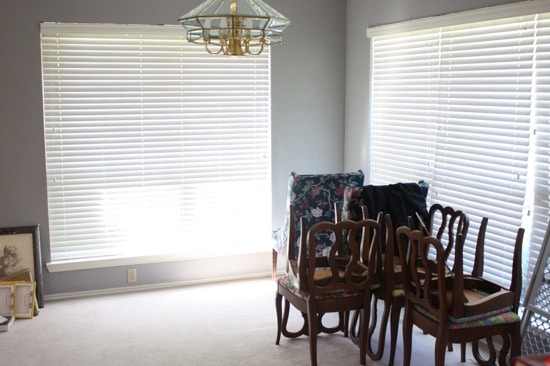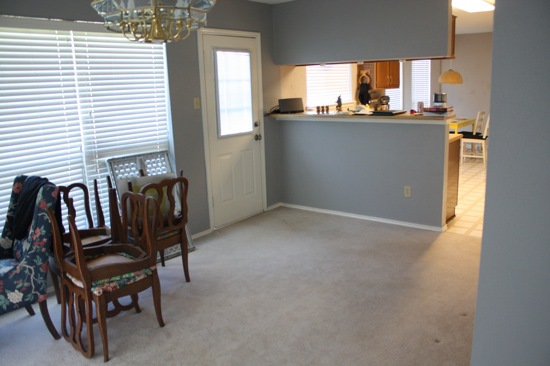 We had eight chairs to go around a dining room table (8 very ugly, desperately in need of a makeover, chairs) but no table to put them around.
We had ordered a table from West Elm  that we were very excited about, but it was backordered and we had no hope of actually receiving it anytime soon. They had told us it would come at the end of August, but we had read many horror stories of people having their orders pushed back over and over, and we had horrible visions of not actually receiving our table until Thanksgiving. So finally, fed up with waiting, we decided to give the search one more try and see if we could find something we loved just as much as the Carroll farm table we had ordered from West Elm.
And, thankfully, Crate and Barrel came through for us in a major way. I don't know if we just missed this table the first time around, or if it was a newer table, but when Corey found the Basque table on their website, he was in love.
I wasn't convinced at first – the "honey" color was a bit lighter than we had originally wanted, and according to the reviews, the darker "java" color had a bad tendency to scratch. I was, however, convinced that if I didn't get a dining room table soon I was going to go crazy, so Corey and I headed out to Crate & Barrel to check the table out in person.
Lucky for us, they had both colors on display in the store, so we could compare. We absolutely loved the rich, dark color of the "java" table, but the scratches were bad. And very, very visible. Granted, it was a floor model in the store, so it probably had a lot more wear and tear than a regular table would end up with, but we didn't want to get a table that we had to be super careful around. So, we headed upstairs to look at the "honey" color.
It. Was. Gorgeous. We both agreed that it was a beautiful table, and the color was much closer to what we wanted in person. After talking about it a bit, we also decided that a lighter table was probably actually a better option for us, because we want dark wood floors someday, and we want the table to contrast a bit with the flooring rather than blending right in. So, our decision was made. I wasn't completely thrilled with the choice, as I still much preferred the look of the West Elm table, but Corey was head over heels in love with this one, so I figured I could compromise. Plus, this table could be delivered a mere three days later, so that might have swayed me a little bit.
The table we had seen in the store was the larger, 104″ table, that was said to be able to seat 10. We loved how wide it was – we've always wanted to have a table wide enough to set food on as well as fit everyone, but thought that one might be a bit too long for our space, so we asked a salesperson about the 82″ size. She assured us that the smaller size was the same width, and the only difference was the length. We happily ordered the 82″ table and went along on our merry way.
I was at work on the day the table got delivered, so I had to spent my entire day anxiously awaiting my chance to finally see our dining room all filled up. When I got home? I found a beautiful new dining room table in my house.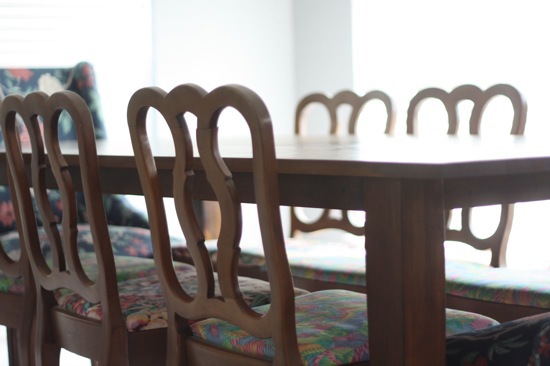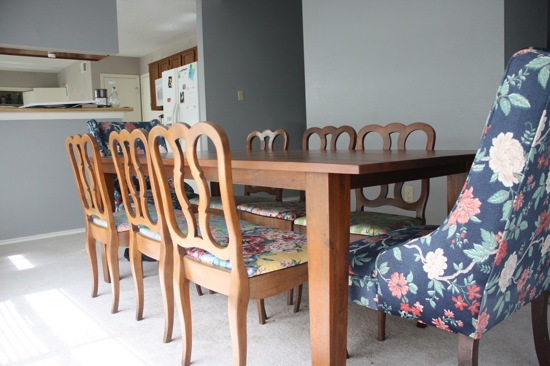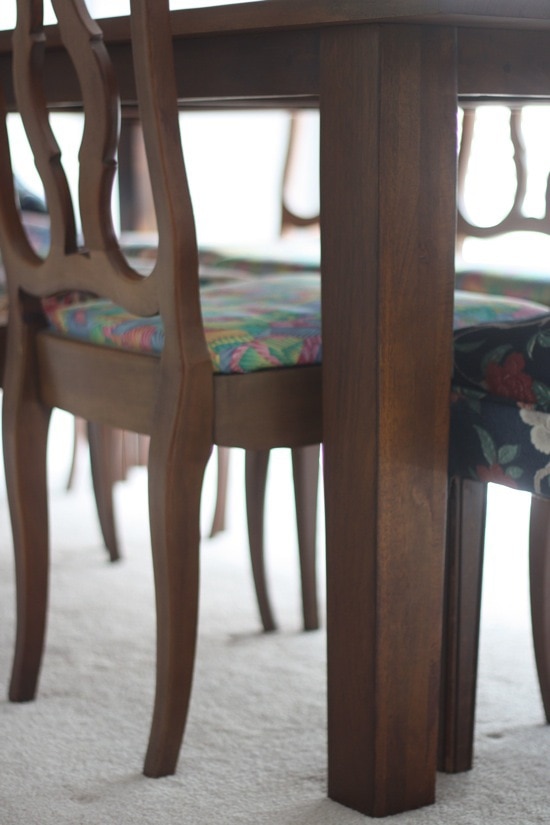 But, upon further inspection, I noticed a few problems.
For one, our eight chairs were a bit…crammed…under the table.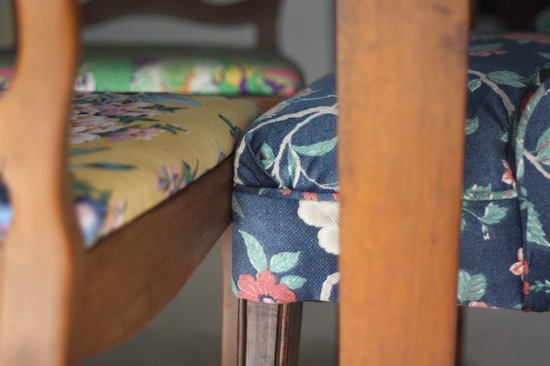 Another problem? It looked pretty tiny in our much-larger-than-we-realized dining room.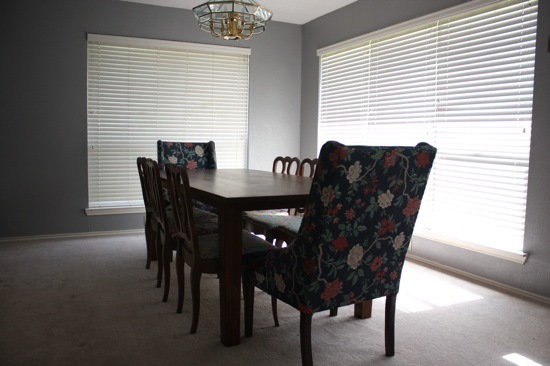 As you can see in the above photo, it also was NOT anywhere near as wide as we were expecting it to be. In fact, if we put our placemats on the table, there was only about 5 inches of space in-between them for us to place anything else – definitely not enough room for a table full of food!
At this point, I was entirely sick of the whole table search, and I kind of wanted to just give up. We had been dealing with tracking down a table for a few months at this point, and I was not about ready to start over. But, neither of us were happy with the table, and we knew something had to be done, so I set off to do a bit more research.
I made a few calls and did some asking around, and found out that Crate & Barrel would let us exchange the too-small table for the bigger version for no extra delivery charges – all we'd have to do is pay the difference in price between the two tables. We happily agreed, and then they told us the delivery date – a day about two and a half weeks in the future.
We were pretty disappointed, since we had gotten such a quick delivery the first time around, but the new delivery day was still a good week sooner than the earliest day we could possibly get the West Elm table. Plus, now that we had both seen the table in person, we were in agreement that this table was the one for us.
We waited the two weeks, and the table finally got delivered this past Thursday. And we are in lurrrrrrve. I've officially been babbling on about dining room tables for almost 1,000 words now, though, so I'll give your eyes a break and come back in a couple of days with the final table reveal.
Trust me, it's worth the wait.
Have you ever had a super hard time getting just the right piece of furniture for your home?